The perfect introduction to gay french bike tours. We begin on le Loir, a quiet river that weaves amongst French villages untouched by time. Bike along pastoral roads to tiny Troo, where townsfolk live in hobbit-style caves, explore Chateaudun and Chambord, and walk through quaint medieval towns.
Here's the perfect introduction to biking in Europe. Many gay and lesbian cyclists couldn't think of anything better than a week on a bicycle. But those with less experience may prefer to start with a shorter trip. This 5-day tour, which combines nicely with a few nights in Paris, is the perfect solution.
We begin on le Loir, a quiet river that weaves amongst French villages untouched by time. Bike along pastoral roads to tiny Troo, where townsfolk live in hobbit-style caves. Visit the crumbling castle ruins high above picturesque Vendome. Explore the historic castle and colorful gardens of Chateaudun, all the more charming because it is off the usual tourist beat.
Then, we cross to the larger Loire river, ending at the region's most famous creation: Chateau Chambord, so enormous that the French king Francois I nearly bankrupted himself having it built. By the time you finish, this five-day trip will seem too short! In fact, perhaps you should stay another week and see more during our Valley of the Chateaux bicycling tour!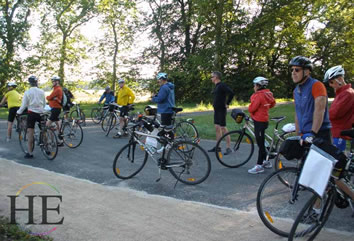 • Stroll down a flower-lined canal in Vendome, known as "Little Venice".
• Bike along the tranquil Loir river, its pastoral roads lined with hobbit-style homes built in caves.
• Enjoy a festive lunch in the picturesque village of Troo, a fascinating but little-known village riddled by underground caves and tunnels.
• Explore picturesque Chateaudun, site of a 1000-year-old castle perched high on a river bluff.
• Walk the medieval streets of such forgotten towns as fortified Lavardin, and Meung-sur-Loire where Joan of Arc won an important victory.
• Picnic at the largest of the Loire chateaux: the 440-room Chambord, designed by Leonardo da Vinci; then wander its nook-filled roof, where you'll feel like a pawn on a giant chessboard.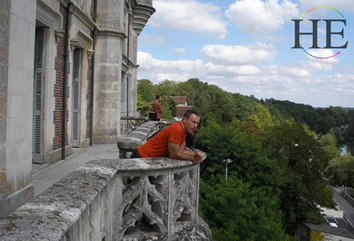 Day 1 - A Town Frozen in Time

Our holiday begins in the delightful, very European town of Vendome. We'll spend two nights in this canal-laced spot. You'll want to visit the flamboyant Holy Trinity church. The ruins of the hilltop castle offer superb views of the town. At dusk one evening we watched a surreal performance, as thousands of starlings circled the church spire in an ever-changing formation; France's answer to the lava lamp, perhaps.
But most enjoyable is merely to stroll the streets of this pretty town, slate roofs and ancient belfries overhead, decorated everywhere with flowers and fountains. One riverbank offers a changing display of floral sculptures. Stop for a chocolate-covered pastry when the temptation becomes too great; and retreat to enjoy it under the chestnut trees of a canal-side park.
We start the trip with our Welcome Dinner tonight, but get a good rest tonight since you've got a lot to see tomorrow.
Day 2 - A Le Loir Circuit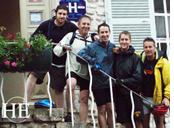 Awake to the sound of a distant carillon chiming out this song, once Joan of Arc's call to arms. Now you understand why Vendome is mentioned twice!
We've planned a loop today, bicycling westward along the north side of the Loir, and returning on the south side, with a kaleidoscope of sights.
The troglodyte homes of Asnieres await us in the morning. Troglodyte means "Neanderthal" to most of us; but the real meaning is "cave dweller." These attractive homes, built into cliffs, take advantage of the natural insulation of the earth; their inhabitants are not only modern, but are considered quite lucky.
Stop for a mid-morning pastry at the sidewalk cafe in Montoire. Then admire the elegant Renaissance homes that decorate the streets of this riverside village. The railway station commemorates a more sobering chapter of Montoire's history: It was here that Marshal Petain capitulated to Hitler in 1940.
Today's destination is a small village named Troo. You've probably never heard of it; indeed, most Parisians have never heard of Troo. It has no famous churches or museums, yet over several visits, our hearts have been won over by the quiet charms of this village that time forgot.
We'll leave our bikes at the bottom of the hill while we enjoy lunch at a small cafe, then walk to the top for grand views of the Loir valley, and a visit to the small 12th-century stone church. Also at the top of the hill is the "Grand Puits", known as the "talking well" because of the strong echo from its depths of 150 feet.
The soft rock of this hill is riddled with caves and tunnels, some natural, others carved out by humans. We explore one where townspeople hid Jewish children during World War II. And before we leave, we visit the Grotte Petrifiante. In the midst of this stalactite-encrusted cave sits a baptismal font used in the fifth century, covered in limestone deposits. Entrance is via the backyard of an elderly woman, who is happy to show off her vegetable garden as long as we're there.
Our return to Vendome includes more highlights: The romantic castle ruins of Lavardin; a train tunnel at St. Rimay that played a footnote role in world history; and another style of troglodyte homes in Rochambeau. By the time you return you'll have worked up quite an appetite — and we know a small restaurant that does wonders with glazed duck breast
Day 3 - Where Poppies Bloom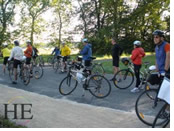 Today we meander along the placid Loir river.These roads are a joy, winding through the countryside and along the river's edge. Depending on the season, we may pass a field of blood-red poppies, swaying in the breeze. Several fun detours await: we particularly recommend the crumbling hilltop ruins of Freteval chateau.
Farther along the Loir comes Montigny, a handsome clifftop castle overlooking the river. Because it has rested in family hands, Montigny remains richly furnished; we have sometimes been able to arrange private tours, often by a family member.
Before leaving the grounds, a peek at the family pet collection provides sights that you wouldn't have expected on a trip to France: emus, ostriches, wallabies, pheasants, and nandus. (No, we'd never heard of nandus, either.)
We often say that this is our most idiosyncratic route, taking us to some entertaining and off-beat spots not seen by the typical tourist. Yesterday Troo was one such destination; today, let's hope the semi-retired miller at Courgain is in.
The Courgain watermill, perched where a tree-lined road crosses a small branch of the Loir, is typical of the mills that once dotted Europe's countrysides. The jovial miller, a semi-retired man who maintains the structure half as a hobby, half out of pride, and half because there's still grain to be ground, shows how it all works. Then he pulls over a rusty old chain hanging from a hole in the ceiling, and explains that millers of yore would simply stick their foot in the stirrup, engage the clutch, and get a water-powered ride up to the second floor — "a ride to heaven," he explains in French. Any volunteers?
Sometimes it requires our guide to go first. Then as soon as he has good-naturedly dismounted on the second floor, the miller looks around. "With such a big group, we should do two at a time," he announces, and two more men volunteer, each putting their foot into half of the stirrup. "Oh, closer," he explains in French, pointing to the narrow trap-door. "Like you are in love." Ah, like that! Amid a few giggles, assorted twosomes get their ride into heaven.
And then, we roll into Chateaudun, dominated by one of the region's oldest fortress-chateaux. Stroll the courtyard of this historic building, high over the Loir River. As recently as 1870, it was the site of a battle in which 900 French held out for a full day against 12,000 Prussians attackers. Enjoy the fragrant rose garden adjacent to the chateau, then join us for a drink down in the riverside park.
Return to our hotel via Rue St. Lubin, past half-timbered homes that are half a millennium old.
Day 4 - Chateaudun to Beaugency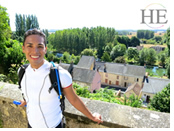 Today's route takes us to the bigger Loire River. En route we visit the Frouville Windmill, a reminder of the era when wind power was used throughout this region to grind wheat and corn.
The picturesque fortified town of Meung-sur-Loire lies on the Loire. Stop for lunch here at an inn that dates back to the time of — and is mentioned in — The Three Musketeers.
Meung-sur-Loire's centerpiece is a grand old castle once owned by the Bishops of Orleans. Most memorable here are the deep dungeons known as oubliettes. It would have been sinful for the bishops to commit murder; instead they threw their enemies into the oubliettes, then tossed down bread and water until the victims died of "natural causes".
An easy optional excursion, across the Loire, quickly takes us to Notre Dame de Clery, a basilica dating to the 14th and 15th centuries, which includes the tomb of Louis XI. Those with extra energy can bicycle on a quiet road atop a riverside levee to Orleans, with its grand cathedral.
Then, from Meung-sur-Loire, a designated bike route takes us to Beaugency, a river fortress in Joan of Arc's day that retains much of its medieval character.
Here, in Beaugency, we get a true sense of the Loire, the last wild river in Europe — every other river of this size is dammed and controlled. The Loire, alone, continues to rise dramatically with the melting snows of spring, and levees along the bank are a constant reminder of this river's hidden power.
Beaugency's arched stone bridge dates to the 14th century. An after-dinner stroll offers elegant moonlit views of the medieval Chateau Dunois, the 11th-century castle remains, and the ancient Devil's Tower, once a strongpoint of the town's defenses
Day 5 - Grandest Chateau of All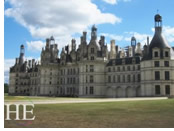 Our highlight today is Chambord, largest and grandest of the Loire Valley chateaux. The numbers alone tell the story: 440 rooms, 365 windows, 13 main staircases, and countless back stairs. It was built 1518-1537, under Francois I, who first razed an earlier chateau on the site.
The expense of the new palace nearly bankrupted Francois, and he delayed payment of ransom for his kidnapped sons so that he could keep the construction on schedule. When it was finished, he proposed to divert the Loire to flow past his new toy, but that was too big a job even for Francois. He settled instead for the smaller Cosson River.
Leonardo da Vinci lived in nearby Amboise, and died there in 1519. There is strong evidence that he was primarily responsible for Chambord's design. As you examine it from a distance, note the many exceptions to the building's superficial symmetry. The famous double-spiral staircase adds evidence of Leonardo's involvement: He had once designed a similar staircase for a bordello, to ensure that customers who were arriving did not meet those who were departing. And while we're on the subject: Chambord's whimsical roof, practically a small village in itself, is said to have been the site of many assignations.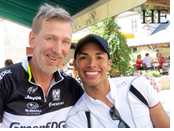 Leaving the chateau, we'll bicycle through the 13,000-acre forest where the Sun King, Louis XIV, once hunted wild boar. If you have extra time, it offers extensive hiking trails.
Today's destination is Blois, and you'll have a great view, from across the river, before arriving in town. A few of us stop for a snack at a lively cafe, and soon most of the others in our group have spotted us as they bike past, and join us.
Blois was once home to the French king, and naturally boasts another grand chateau, which you'll probably want to visit after breakfast tomorrow rather than today. Tonight we'll have a festive closing-night dinner at one of the top restaurants in Blois. Afterward, those who still have energy can watch the glow of sunset over the slate rooftops, then trot off to rue du Puits Chatel, a street guarded by the same gargoyles since medieval times — and home to Blois's gay bar.
Day 6 - Blois and Departure Day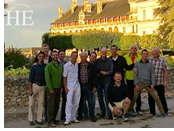 Our trip officially ends after breakfast. You can depart as early as you wish, but please try to schedule time for a morning in Blois, touring this charming city and its unique chateau.
The Counts of Blois were a power to be reckoned with in the Middle Ages: one married the daughter of William the Conqueror and gave birth to a future king of England. But the city's chief notoriety came in 1588, when the powerful Henri, Duke of Guise, schemed here against King Henri III. The king thereupon had him murdered, in a chamber on the second floor of the Francois I wing. The duke put up quite a fight when he realized what was up, and it took eight men to carry out the king's orders.
Four centuries, and four architectural styles, are represented in the chateau of Blois: the original structure was built by the Counts of Blois in the early 13th century in feudal style. Later came the Gothic-Renaissance eastern section, with the entrance and decorative brickwork. Francois I added the Facade des Loges in a decorative Italian style. Finally, in 1634, the Duke of Orleans, was exiled to Blois, and drew up plans to replace the entire structure. A new western wing was built in classical design, but the Duke ran out of funds before his demolition plans came to fruition.
Today, Blois remains an intricate maze of cobblestone streets, hidden courtyards, and winding stone stairways. Yes, visit Blois Chateau, but also allow time to explore the rest of this town, including the fragrant rose garden overlooking the Loire.
Do you have extra vacation time to spend in Europe? We suggest you save it for after the trip, rather than before: Chances are, there will be others from this week's adventure who would like some company for a weekend in Paris or other travel in Europe. If you'd like to stay in France for more cycling, consider our Valley of the Chateaux tour, which begins the next day!
Extension - Valley of the Chateaux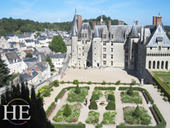 For travelers wishing to spend more time bicycling in France, consider extending your fun with HE Travel's Valley of the Chateaux Tour immediately following. For 200 years, the kings of France outdid one another as they built palaces along the Loire Valley. Bicycle to Amboise, Chenonceau (where gay Henri III held drag parties), and Azay-le-Rideau. Our gay French bike tours are the perfect way to travel between the castles of France.