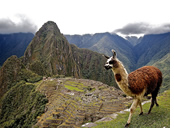 Hike one of the most remarkable trails in the entire world on our gay Incan Trails tour on the Salkantay Glacier route. Sleep in comfort along the way by staying in amazing mountain lodges for 5 nights. Experience breathtaking views while hiking in a land of enchanting mystery. Our reward after hiking past glaciers, tropical forests, ancient temples and small villages is our destination: Machu Picchu, Lost City of the Incas.
At its peak, the Inca Empire stretched for hundreds of miles up and down the spine of the Andes, with a complex web of trails connecting villages, cities, and shrines. A haven for serious hikers and explorers, the area surrounding Machu Picchu in Peru offers natural beauty, history, and enchanting mystery. Each day our gay hiking group will ascend and descend the Salkantay Inca Trail to witness new vistas, see incredible ruins (only visible by walking the trail) and live in the actual footsteps of those who built this path nearly 600 years ago. Each day the anticipation of seeing the Lost City of the Incas, Machu Picchu itself, will pull us upward into the clouds, then down the forested slopes to the citadel. Before and after our hike we will also spend time touring Lima, Cusco, and the Sacred Valley.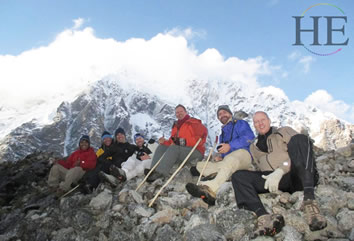 • Bike around Lima for an introduction to Peru's colonial sites, world-renowned restaurants and nightlife.
• Begin your altitude adjustment at 11,000 feet in Cusco, long the center of Andean civilization.
• Meet our team of experienced Quechua guides and the horses that will accompany us on our hike.
• Traverse the Salkantay Inca Trail that National Geographic Adventure Magazine named one of the 25 best treks in the world, and is the only Incan trail that visits both a glacier and a lush tropical forest.
• Wonder at the snow-covered summit of Mount Salkantay.
• See archeological sites only accessible by hiking during our four days of hiking and three nights of camping along the trail.
• Explore the magical citadel of Machu Picchu itself.
• Hike up Huayna Picchu – the mountain that's at the center of almost every photo of Machu Picchu.
• Take a train and bus back to the lush Sacred Valley.
• Witness the beauty of the Sacred Valley and the Urubamba River.
Starting in 2020, this tour no longer has camping along the trail. Instead, enjoy a good nights sleep in Mountain Lodges along the way!
If you prefer a warm hotel bed and a more relaxing train and bus journey to Machu Picchu, consider our Machu Picchu Luxury Gay Tour.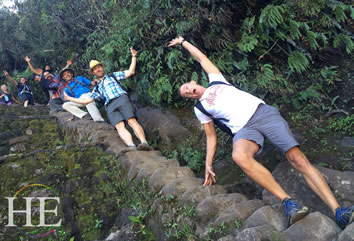 The exquisite vistas and remarkable sites along the trails of the Incas have attracted intrepid trekkers for the past several decades. The Salkantay Inca Trail provides a physical challenge which rewards hikers with views of Machu Picchu from a rare vantage point. Our ten-day tour offers a taste of Peru with an emphasis on hiking the Incan Trails and discovering the history of the Incas.
Please note exact itinerary for tour days in Lima and Cusco may be subject to change.
Days 1 - 2 - Lima, Peru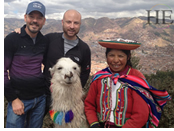 Most tour members arriving during the evening of Day 1 or early in the morning of Day 2. For anyone in Lima during the afternoon of Day 1, we can offer an optional evening culinary tour for an additional charge.
After breakfast on Day 2, we will hop on bikes and take a cycling tour of Lima city including the Plaza Mayor, the Government Palace, the Cathedral and Archbishop's Palace. We will also enjoy a visit to a collection of Inca and Pre-Inca arts and artifacts, and tour the Larco Herrara Museum with its extensive erotic art collection. Our lunch and dinner will be at two of the restaurants that have put Lima on the international culinary map.
Days 3 - 4 - Breathe Deep: Cusco, the High Altitude Incan Capital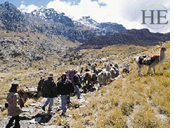 This morning we take a short flight from Lima to Cusco. After arrival in Cusco, we will check into our deluxe Cusco hotel and begin adjusting to the altitude in preparation for our upcoming mountain trek. Cusco is a lovely colonial city with plenty of diversions, and a chance to slow down and enjoy Andean hospitality, after our long days of hiking. On our arrival day, lunch will be on your own, but we will gather for a special dinner this evening.
During our full day in Cusco, we will have a city tour featuring Santo Domingo Monastery, the Cathedral and the Temple of the Sun. We will also head a bit out of town to visit the ancient walled complex of Sacsayhuaman, known for its tightly formed walls made of massive stones, and held together without mortar.
The evening will be free to check out the hip San Blas neighborhood where you can roam the ancient streets and shop at the square that is filled with native art galleries and craft booths. Cusco's main square also features lovely shops and tempting restaurants, where you can stop for dinner, which is on your own today.
Day 5 - Footsteps of History: Hiking the Salkantay Inca Trail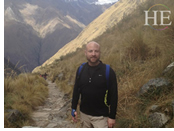 From approximately 1450 to 1530, the western coast of South America flourished under the vast Incan Empire. At the height of their reign, the Inca were worthy of comparison to the ancient Roman society. Their many achievements include superior roadways, government, and counting systems. Lasting roughly a century, the Inca culture was highly sophisticated, but most information about them was lost during the time of Spanish conquest. Today archaeologists continue to uncover some of the buried mysteries to further our knowledge of the Inca, and during our trek, we will discover more about this fascinating culture. The following itinerary is typical of the trek but may fluctuate based on weather conditions, campsites available and the progress of the group.
We have an early departure today and a half-day drive toward our trailhead at Challacancha (12,690 feet). We'll stop in Limatambo, an ancient Incan town with fascinating ruins at Tarawasi. We will also pause for coffee in the village of Mollepata before continuing up to our winding mountain road to Challacancha We'll meet our horsemen and the horses that will carry our overnight gear, and begin our hike, gradually ascending to the base of Mount Salkantay. Our campsite tonight is at Soyrococha (13,800 feet) in a dramatic setting with a magnificent view of Salkantay Mountain, the second most sacred peak to the Incas, and its glacier (warm clothing is a must, along with a sturdy poncho in the event of rain!).
Day 6 - Hike to Lake Humantay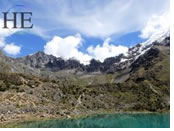 After breakfast, we will begin our ascent up the slopes that border the plateau behind our lodge. An hour and a half later, our hard work will be pay off as we enjoy our a first glimpse of the lake's glistening turquoise waters and the Humantay glacier looming overhead. Upon arrival, we will have a chance to relax, enjoy a snack, meditate in the tranquility of this magical spot, and participate in a traditional ceremony to honor "Pachamama" (Mother Earth). After our descent back to the lodge, the staff will be waiting with a well deserved hot lunch. The afternoon will be at our leisure to relax, enjoy a massage, or soak in the outdoor hot tub for a spectacular view of the Salkantay Peak at sunset.
Day 7 - Crossing the Salkantay Pass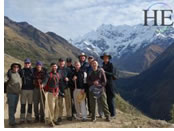 After an early start, we will begin our ascent toward the Salkantay Pass. We will circle Humantay Peak, gradually making our way along expansive plateaus connected by enormous boulders, remnants of the Rio Blanco Valley that was once bisected by a fast-flowing river. The last and most challenging part of the ascent is conquering the mountain switchbacks that will lead us to the pass, the highest point on the trek (15,213' / 4,636m). The journey continues with a dramatic descent through fields of large boulders and natural stone formations often shrouded in fog, followed by a very welcome hot picnic lunch. After lunch, we will take some time to rest before the final hike through the area's bucolic countryside; its rolling hills will eventually lead us through marsh-like plateaus to the Wayra Lodge at Wayraccmachay.
Day 8 - The Cloud Forest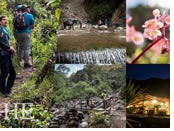 After a leisurely breakfast at Wayra Lodge, we will continue the descent toward the cloud forest along the banks of the Salkantay River through increasingly verdant scenery. The warm air will begin to rise from the edge of the jungle, accompanied by colorful butterflies and striking orchids. Today we will see more local Andean people as the trail takes us past their simple homes and makeshift fences. Around midday, we will arrive at Colpa Lodge, located on a high promontory at the confluence of three rivers. The Colpa staff will greet us with a Pachamanca lunch, a traditional Peruvian meal cooked below ground with hot stones that create a natural oven. After lunch, we will spend the afternoon lounging in the sun or relaxing in the outdoor hot tub while enjoying the panoramic views of the lush green mountains that surround us.
Day 9 - The Santa Teresa River Valley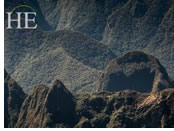 Today we will hike through the Santa Teresa River Valley along a rolling trail that crosses fertile fruit orchards and bisects streams originating from glacier-fed waterfalls. After a hot picnic lunch by the river and time to relax, we will continue for one more hour before we meet up with our transfer vehicle for the short drive to the bottom of the Llactapata Inca Trail, steps that lead to Lucma Lodge. On the way to the lodge, we will visit an organic coffee plantation, one of many in the area that produces some of the best organic coffees in the world. We will begin to notice another shift in the climate; in Lucmabamba, the hot air and increased humidity signal that we are even closer to the edge of the Amazon Jungle.
*Optional day of zip-lining today at Cola de Mono instead of the listed itinerary above. The price will vary depending on the number of signups. Prices listed below.
Day 10 - Lucmababma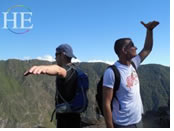 After breakfast, we will depart Lucma Lodge and embark on a 2-3 hour climb through the cloud forest up a path mostly comprised of original Inca steps. A lush tree line creates green canopies overhead and the constant sound of rushing water suggests that the river is nearby. Our first milestone today will be the top of the peak, the last one before we descend to the Aobamba River Valley that connects us to Machu Picchu. Upon arrival at the Llactapata Pass (8,974' / 2,736m), we will delight in a southeast view of Machu Picchu, a sight few travelers get the chance to enjoy.
After exploring Llactapata, the Inca Tambo (fort) that marks the pass, we will enjoy a picnic lunch at a mountain lookout point with gorgeous panoramic views. Our final descent zigzags down to the roaring Aobamba River which will take us through lush bamboo forests, varied fruit orchards, and more coffee plantations. Celebrate as we cross the bridge over the river and take our final steps of the trek en route to the Hidroelectrica train station for a scenic one-hour train ride to the town of Aguas Calientes, on the banks of the Urubamba River at the base of Machu Picchu.
Day 11 - The Citadel of Machu Picchu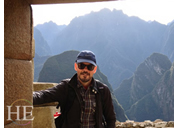 Our journey to Machu Picchu will begin with an adventurous morning uphill bus ride. As we enter the 'sanctuary' (as locals refer to it), prepare to be awed by the imposing, skillful architecture of the Watchtower, the Temple of the Sun, and the royal Inca residences, among others. After a two-hour guided tour, we will have free time to explore on our own, including a hike up Huayna Picchu (if you are up to the challenge) this iconic mountain looms over the citadel and has dramatic views that stretch from the Urubamba River Valley to the edge of the Amazon Jungle. Take the time to sit and enjoy a quiet moment–listen to the wind, meditate, and absorb the amazing energy that surrounds you.
After this unique morning, will have lunch in Aguas Calientes before our scenic Vistadome train ride to Ollantaytambo (approximately 1.5 hours). Then we will transfer to our hotel in Cusco (approximately 1.5 hours). As night falls and we arrive amidst the hustle and bustle of the city, you will be touched by a feeling of peace and rejuvenation that will linger long after your journey home.
Day 12 - Departure Day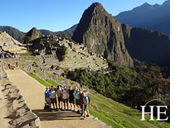 After breakfast today, we will transfer to the Cusco airport. The flight to Lima is included in the tour fee. (If you have a flight home from Lima between 10 and 3 pm, please be sure we book an earlier flight for you.) For those with late-night flights, we are happy to arrange a room at a hotel by the airport for resting before heading to the airport.
Extension: You may extend your trip with additional time in Lima or Cusco or by adding on a private tour to the Amazon or Lake Titicaca. Please check with us if you are interested in adding a post-tour expedition to your Peru adventure.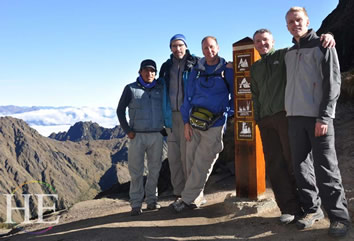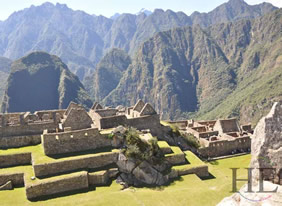 • Arrival transfer from Lima Airport to Lima hotel;
• All accommodations in hotels and eco-lodges each night;
• All breakfasts, 7 lunches, 8 dinners;
• All group transfers and other ground transportation within Peru;
• Lima-Cusco-Lima flights;
• Departure taxes for flights within Peru;
• Tips for included meals, city guides, drivers, hotel luggage handling, Inca Trail cook and assistant guide;
• Hotel service charges and taxes.
• Services of a knowledgeable HE Travel tour host (with a minimum number of participants);
• HE Travel provides complimentary Medical & Evacuation Insurance for every US Resident on our group tours who does not have other coverage.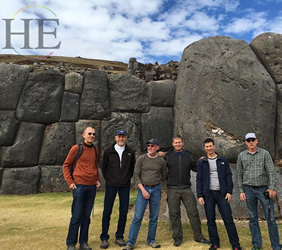 • International Airfare;
• Departure taxes for international flights (usually included in the ticket price, but occasionally charged as approximately $40 USD separately);
• 2 lunches and 2 dinners;
• Tipping to main guide and porters on Inca Trail (est. $180 per traveler), and to HE Travel tour host;
• Personal items including: alcoholic beverages, snacks, laundry, and telephone calls.
Optional:
• Day 1 - Evening Culinary Tour – $180
• Day 9 - Zip-lining - $190 (Includes transfers, ziplining, and a packed lunch)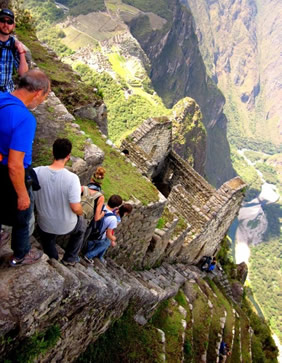 Where does the tour start and end?
This tour starts and ends in Lima, Peru.
What is the Activity Level of This Tour?
This trip includes very strenuous hiking at high altitudes. You should be prepared to hike for several hours each day, carrying a day pack. Temperature can vary on a daily basis from extremely warm to freezing. We highly recommend bringing walking sticks.
What if I am traveling alone?
Most of our trips draw more single travelers than couples. When couples do join us, it's usually because they're looking forward to interacting with a gay group; if they wanted a holiday by themselves, they wouldn't have signed up to travel with us. Furthermore, the activities included with our trips serve as natural ice-breakers. Within a day, you'll be traveling with friends. You don't need to pay the single supplement if you're traveling alone. We'll be happy to match you with a roommate. Pay the single supplement only if you want a bedroom to yourself.
How can I prepare for hiking at high altitude?
Unless you live in Denver or another higher altitude location it is not easy to prepare for mountain hiking. The best thing you can do is to be sure you are in good physical shape. Aerobic exercises such us running, cycling, and even long walks can help to boost your endurance and stamina. Still there is no substitute for the thin air of high-altitude hikes, so that is why we schedule a day to get acclimated before we start the trek.
What kind of hiking boots should I get?
If you're asking the question, you should probably get light- or medium-weight boots. But first, consider how much you'll wear them, and under what conditions.
Light-weight hiking boots (weighing up to 2-3/4 lbs. per pair) are made of synthetic materials, or a combination of leather and synthetic. The lighter weight means less work for your feet over a day of hiking, and the fabric breaks in faster than leather. These boots are fine for day hikes on good trails in dry conditions. If you expect to hit occasional snow, mud, or rain, be sure they have waterproof liners.
A step up are medium-weight boots, weighing 3 to 4 lbs. per pair. These are made with more leather, or sturdier synthetics. They offer more support and better resistance to the elements. For a week of day hikes in varied but generally dry conditions, these are ideal.
Boots that weigh over 4 lbs. are classified as — you guessed it –heavy-weight. These boots are serious, all-weather footwear. They'll take longer to break in, and the leather requires special care. They're probably not the best choice for your first pair of hiking boots. But once you've broken them in, they'll last almost indefinitely, and provide more support than the others. Your ankles will appreciate the extra protection when you're scrambling over scree. They're more expensive, but heavy-weight leather boots can be re-soled, making them a worthwhile long-term investment for serious hikers.
You cannot attach crampons to light-weight boots, nor to many medium-weights. If you'll often be hiking on glaciers, be sure your crampons and boots are compatible. If you're just planning an occasional day of glacier hiking at some point, you're probably better off renting boots for that occasion, rather than buying more boot than you really need.
How long does it take to break in hiking boots?
The usual rule of thumb is to walk at least 50 miles in your new boots before wearing them for an extended hike.
Start with short walks. You don't want to get halfway into a 15-mile hike and realize you've got a new blister forming. Wear the boots when you walk to work, to the grocery store, to do errands. When that seems comfortable, do a few short hikes in them. Aim for a couple of 10-mile day hikes in these boots before you head out for a full week.
If you're buying heavy-duty or all-leather boots, 50 miles may not be enough. Purchase them well in advance, so you can be sure they're broken in before you undertake a multi-day hiking trip.
The lighter the boots (and the higher the proportion of fabric to leather), the easier it will be to break them in. But ignore anyone who says light-weight boots don't need any break-in time. They do; furthermore, your feet need time to gradually adjust to them. Finally, if you bought the wrong size, you want to figure that out before you're in the middle of a long hiking trip.
How tight should I lace my hiking boots?
Your boots will probably be most comfortable if you lace them a bit looser at the toes and inseams, and tighter at the ankles. (Reverse that when walking downhill, so your toes don't slide into the tip of the boot.) Experiment till you're comfortable. Keeping your toenails trimmed will also help ensure a comfortable fit.
Do I need a way to purify water on the Inca Trail?
You need to be sure you'll get enough water as you hike. Chances are you will not need to purify water while on the trail. Our porters will provide boiled water each morning and evening for you to fill your water bottles. You can also purchase bottled water for the first two days on the trail from locals who sell from their homes. But if you prefer to be self-sufficient, the following procedures should help.
Staying well-hydrated is key to enjoying your hikes, keeping your energy level high, and staying healthy. As in many sports, the rule is: Drink before you are thirsty. In many areas, that simply means carrying one or two 1-liter water bottles and refilling them at rest areas that have tap water available.
Unfortunately, there are few places left in the world where you can assume that water in an outdoor stream or pond is safe to drink. You should assume that all water outdoors requires purification. If tap water won't be available, there are two popular ways of meeting your needs.
Iodine tablets are dissolved in a liter of water, and will kill giardia and other organic agents. Chemical contaminants are not removed by iodine treatment, and it shouldn't be used by pregnant women or people with certain health conditions — see the bottle for details. Nor is it a good idea for prolonged use. But a bottle of 50 tablets is small and portable, and works well for short trips or as an emergency backup. A second tablet, usually sold on an adjacent hook at the outdoors or camping supply store, will neutralize the unpleasant iodine taste.
Water filters use a hand pump to force water through a filter. These have made great progress in the past decade, but are still subject to clogging and breakdowns. Many campers and hikers prefer filters over water tablets. Always try out your new filter (and, for that matter, any new equipment) before you go hiking with it, and carry tablets as backup.
Backpackers sometimes boil water to kill any microbes. This requires carrying a camp stove and fuel, then drinking hot or warm water. It's not a suitable approach for most day hikers.
I live in the city. How can I train for a week-long hiking vacation?
There's no substitute for doing it. Every city has a few parks where you can walk for an hour or two after work. Track down the local outdoors club, and join them for some weekend hikes. Do a few hikes in the clothing that you plan to take for your vacation. That gives you a chance to discover any poor fit or chafing spots.
Even in the city, you can find ways to get in better shape for the week. Any aerobic exercise will make a difference, even more so if your hiking will be at a higher altitude than you're accustomed to. A great way to get in shape for hiking in hilly terrain is climbing stairs. Got an office on the 50th floor? You're in luck.
How should I treat blisters?
The best thing is to prevent them in the first place. That's why it's so important to break in your boots. A pair of thin sock liners may help.
If you feel a hot spot on your foot as you hike, take action before a blister forms. Never continue hiking if you feel trouble developing; it will only get worse. You may simply have a wrinkle in your sock, or a small stone or twig that's rubbing. If a blister seems to be starting, cover the area with moleskin or a protective coating such as "Second Skin".
Despite that, a blister may develop. Standard treatment is to pop it with a sterilized needle. (Use a flame, or rubbing alcohol, for sterilization.) Then cover with a protective coating. Moleskin is the traditional covering; the package will provide instructions. Many hikers prefer a new compound called "Second Skin", which provides a moist coating that protects while also helping the injury to heal.
How long should I allow for an 8-mile hike?
Naturally, that depends on a lot of factors, including the trail condition, how flat it is, and your level of fitness. A rule of thumb is to allow one hour to hike two miles; and another hour for each thousand feet of altitude you're gaining. So 8 miles over flat terrain will take 4 hours for a typical hiker. If there's a thousand feet of elevation gain involved, it's likely to take 5 hours.
In some regions, such as the Alps in Switzerland, distances are posted in hours rather than in miles or kilometers. This works well on hilly terrain, where it can be hard to estimate how much of your time will be spent going up or down. You'll soon figure out whether these times need to be adjusted for your own hiking speed and style.
What kind of pack do I need for day hikes?
First, you do not need one of those tall packs with a frame. Those are for backpackers, heading out for several days or more. The pack itself will be extra weight to carry around; and you'll be tempted to carry more than you really need.
For day hiking, you just need a pack large enough to hold water, perhaps lunch, your map and compass, a sweater and rain protection, camera, sunscreen, and a few other small supplies. It's helpful to have at least a couple of pockets to help you keep things organized; you don't want to have to dig down past your sweater every time you reach in for the compass or sunscreen. A side pocket to hold your water bottle will make it easier to frequently take a sip, and stay well hydrated. A day pack with a waist strap will be more comfortable.