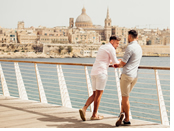 Malta's beautiful islands have long prompted territory wars, and some of its temples were built long before Stonehenge or Giza's pyramids. When visiting now, Malta will remain for you an unforgettable experience. With some of the most sparkling waters in the world, Malta's man-made monuments are a complement to these islands' natural beauty.
Some of the location shooting for Game of Thrones takes place here and Malta's capital city is always referred to as a baroque masterpiece. The area's natural features and its man-made attractions have bolstered travel over the past 20 years in the Maltese Islands, and on this tour, you will enjoy the region's natural splendors, beautiful lodgings, and incredible cuisine as you peruse Malta's rich Roman, Arabic and European cultural histories. Even our lodgings pamper us with the best combination of historic details and modern amenities.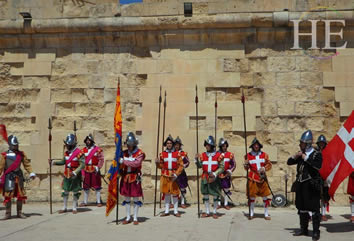 • Enjoy the beautiful Maltese coastline with its beautiful blue seas, clear skies, and many sea caves.
• Explore Malta's baroque capital, Valetta- recognized as the European Capital of Culture in 2018.
• Visit the Manoel Theater, one of the oldest working theaters in Europe.
• Relax every day over incredible cuisine and wine at some of Malta's most famous eateries.
• Tour the Hagar Qim and Mnajdra Temples, sites that are 5500 years old and theorized to have been built for the worship of a fertility deity.
• Join the fun as we ride our quad bikes around the beautiful island of Gozo.
• Sail for a whole day on our private catamaran.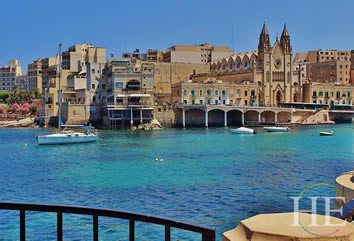 Day 1 - Arrive in Malta
Today everyone lands in Malta and is whisked by private transportation to our hotel, where this evening we will enjoy a welcome dinner to celebrate our arrival.
Day 2 - Exploring Valetta – the Capital City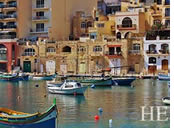 After our breakfast, we get to explore the famous Baroque capital recognized in 2018 as the European Capital of Culture. Everywhere we look today behind these city's gates, there will be historic architecture and culture juxtapose with contemporary life.
Overlooking the Grand Harbor are The Upper Barrakka Gardens. As you stand on the terrace, breathe in deeply as you take in the panoramic view of the Mediterranean's only natural harbor, framed in behind by the Three Cities.
Later we will visit The Manoel Theater, one of Europe's oldest working venues. This Baroque gem of a theater has stunning acoustics plus a packed calendar featuring regional and world performances, in both English and Maltese.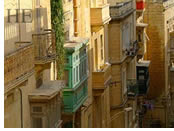 Today's lunch will be at the Museum Cafe, which has been around since 1921. A historical restaurant, it serves samples of Maltese food. The local guide will assist you in making great choices and explaining how things are made.
The afternoon will be spent at Valletta's National Library, one of the most venerable treasures of the Maltese Islands. This famous library has collections spanning back centuries to the medieval ages. A National Library Librarian joins us for this leg of our tour today and will describe some of the great treasures in these collections as we explore the building.
The day will wrap up with an Upper Barrakka elevators ride down to the old Customs House where a Dghajsa (a traditional Maltese boat) awaits to give us a private cruise of the Grand Harbor of Malta. Megalithic peoples once sailed these waters. So did the Phoenicians, the Romans, Ottomans, British, Napoleon and now you! You're part of Maltese history as well!
Day 3 - Artisan Trail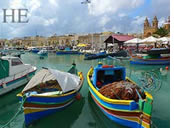 Today's excursion will be a visit to the salt pans, for an exclusive sea sale harvesting experience. This is a time-honored tradition passed down through the same families, for generations.
Lunch today will be a fantastic fish lunch in the village of Marsaxlokk, Malta's chief fishing village plus a prime spot to watch the brightly painted fishing boats. We'll be launching at one of Marsaxlokk's finest restaurants. Later today, enjoy some bocci with the locals or just enjoy the entertainment.
This evening we will enter the Old Captial City of Mdina and enjoy the medieval city at night. If you are a Game of Thrones fan, you will recognize the main gates immediately. Tonight we dine at Fork & Cork, situated in Saqqajja Hill Rabat.
Day 4 - Foodie Day!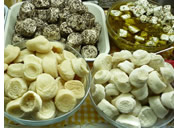 Enjoy a late start today, as we met up mid-morning for our day. We will have the opportunity to visit a small rustic farm to see how the prized Maltese cheese called gbejna, is made. Gbejna is typically prepared and served in two forms, fresh and dried, though it can also be cured in salt or covered in pepper. Fresh gbejna tastes like fresh milk and is normally sold in its own whey. To make it, the cheeselets are dried outdoors in special boxes made with screens that allow the wind in while simultaneously shielding the cheese from bugs.
Next, we will enjoy a pastizzi-making experience. Enjoy the unique opportunity to learn how to make the coveted pastizzi snack (a meal for some). After watching a demonstration, get in there and try out your newfound skill set.
Direct from the farmers and straight to your plate. Enjoy a wonderful farmer's lunch coupled with an exploration of an olive grove/small farm. You'll be in one of the most rural areas of Malta – in your own little oasis to enjoy a delectable array of food products and local wine.
Last but not least, weaving is one of the world's oldest trades, and its simple process of interlocking two distinct sets of yarn or thread at right angles to create a piece of cloth is so perfect, it hasn't changed in over 9,000 years. Here in Malta, the first known piece of weaving discovered dates back to around 800BC, to the time when the Phoenicians ruled the island. As with many other crafts, we embraced it and 3,000 years later, we still produce fabrics and cloths using this ancient method.
Day 5 - Caverns and Temples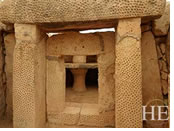 After a tasty breakfast this morning, our transportation arrives to help us time-travel back some 5500 years as we visit the Hagar Qim and Mnajdra Temple sites. In 1839, excavation started on these religious sites, and scholars then and since theorize that they were built to worship a type of fertility deity (something we don't hear about too much these days), but these two temples in Malta are dated to 1000 years preceding the pyramids at Giza and Stonehenge.
Next, our transportation arrives to help us time-travel back some 5500 years as we visit the Hagar Qim and Mnajdra Temple sites. In 1839, excavation started on these religious sites and scholars then and since theorize that they were built to worship a type of fertility deity (something we don't hear about too much these days), but these two temples in Malta are dated to 1000 years preceding the pyramids at Giza and Stonehenge.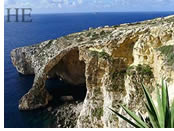 Later today, we will also enjoy a boat ride through the famous Blue Grotto. This is a series of sea caverns that showcase the area's beautiful waters and the interplay of dark and light. It's a refreshing excursion!
After lunch, we will jump on a boat that takes us on a 25-minute crossing, from North Malta to the island of Gozo, the second-largest island in the archipelago. If you've read Homer's Odyssey, you'll know that Gozo has a long association with Ogygia, the island home of the nymph, Calypso.
Day 6 - Gozo Island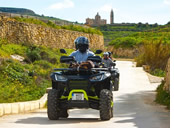 There is really no better way to experience the island of Gozo than on a Quad Bike. So enjoy a ride along less-traveled roads to discover unbelievable beauty and tranquility. We will enjoy a deliciously prepared picnic lunch at one of our stops. Our stop will be Wied I-Gasri, the Ghari Valley. It's a marvelous place for a country walk or for a dip in the sea. View the Xwejni Salt Pans, Fungus Rock and Dwejra Bay.
We will enjoy a tasty dinner at the water's edge this evening. Xlendi Bay provides the perfect backdrop to an evening dining experience. So enjoy a stroll along the bay and take it all in.
Day 7 - Sailing the Mediterranean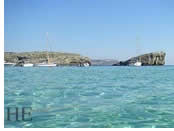 This is our private catamaran day.
After breakfast, we'll board our vessel for a day of swimming, snorkeling and sunbathing.
We'll have lunch onboard and in the evening we'll have our farewell dinner, a special village feast.
Day 8 - Depart Malta
Today we depart from our hotel to the airport. We trust you had an amazing time in the Maltese Islands and will leave with a lifetime of fond memories and new friends.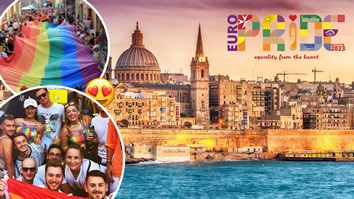 Day 01 - Arrive in Malta
Today, arrive in Malta to enjoy EuroPride! Therefore, this evening we will meet up for orientation and to enjoy a welcome dinner together.
Day 02 - Pride Boat Party
Enjoy our Pride Boat Party onboard the recently refurbished Turkish Gulet. It's a great way to kick off EuroPride, with classic style on the seas, and a fantastic party.
Day 03 - Pride March – Concert – WE Party
Today we will join in the fun at the Pride March. It begins in Floriana and includes the main streets of Valletta. Tonight is the grand finale! Join the masses at an open concert in the granaries. The party keeps on going today to round out the EuroPride experience. Join other revelers as you keep the party going into the wee hours of the morning at the WE Party.
Day 04 - A Noble Afternoon or Soak up the Sun and Views
To help keep you in balance, today you have two options:
• Join us at the Palazzo Parisio with High Tea. The Marquis Giuseppe Scicluna bought Palazzo Parisio in 1898 and it is through him that the property received its greatest renovation, which fortunately still survives today largely in its original form. The Marquis Scicluna, a wealthy Maltese banker, and merchant; created a showcase for Maltese art which closes the eclectic style of the 19th century propagated by Italian artists on the island. The property dates further back in history and its legacy of owners adds to its prestige. Enjoy a private tour of the Palazzo, and its gardens and bask in an Afternoon Tea experience.
• Take it easy with an opportunity to soak up the sun, good vibes, and the scenery at Cafe del Mar. We have reserved sunbeds for you to enjoy your day here. Food and drink are available on-site.
Day 05 - Start of Main Tour