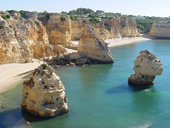 Starting near Lisbon, our gay Portugal cycling trip takes us along quiet roads from the seaside hills of the Blue Coast through the agricultural region of Alentejo to the brilliant beaches of the Algarve. While hugging the Atlantic Coast, we'll pass charming windmills, historic nautical sites, and quaint fishing villages. Experience the beauty and warm hospitality of Portugal!
Few regions in the world offer such a diversity of natural scenery, fine cuisine, and history as does the ancient kingdom of Burgundy. Join a small, friendly gay bike tour group and pedal through an historic area.
The Costa Azul, also known as the Blue Coast, is a long and beautiful stretch in southwest Portugal. The pristine countryside follows the Atlantic coast where caravels sailed off to make the greatest of the 15th and 16th century New World discoveries. The remarkable history of the area is just one of the charms of this stunning corner of the world. There is the quiet beauty of the uninterrupted beaches, lagoons and fishing villages.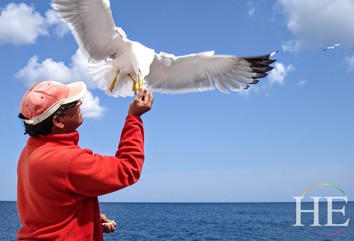 For a week our gay Portugal trip will have us riding through the virgin landscape across vast valleys and along the Atlantic shore, staying at remarkable inns that each reflect the ambiance of their corner of the Alentejo region. Along with the unique accommodations will be culinary feasts and a chance to sample the best port wines in the world. Portugal, often overlooked by travelers, is being discovered and celebrated by visitors, but it still retains its off-the-beaten-track charm. A fun and moderately challenging bike trip, fine food, and comfortable, unique accommodations make this a trip of a lifetime.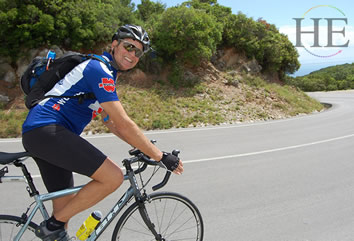 • Enjoy a night in Lisbon with a welcome dinner and live Fado music.
• Cycle the headlands of Portugal's rugged Atlantic shores.
• Explore the footsteps of the world's most famous explorers such as Vasco da Gama, Ferdinand Magellan and Prince Henry the Navigator.
• Travel through the charming, sleepy villages of the Alentejo coast.
• Feast on the freshest catch of the day at quaint seaside fishing villages.
• Enjoy a boat ride featuring panoramic views of the rugged Algarve coast.
• Arrive a few days early to explore Lisbon and Sintra.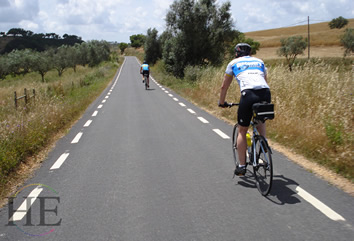 Come Early to - Explore Lisbon and Sintra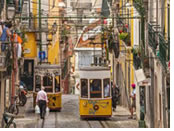 We invite you to arrive two days early to explore Lisbon and the beautiful towns, hills and coastline just north and west of the city. The pre-tour extension starts with dinner in Lisbon two days before the tour starts. Then on the following day, we will have a full-day tour to visit an ancient tower and monastery along Lisbon's harbor, both of which are among the "Seven Modern Wonders of Portugal." We then drive to Sintra, a UNESCO World Heritage village set among densely wooded hills, with their own microclimate. The kings and queens of Portugal built their summer palaces in Sintra, as did the Moorish caliphs before them. During our visit, we will explore one of the three remaining royal residences here.
From Sintra, we will head further west to Cabo da Roca, a windy headland which is the westernmost point of Europe. As we head back toward Lisbon along the coast, we'll stop in the bustling coastal town of Cascais (frequently the home of sailing regattas), and we'll stop for dinner at a restaurant overlooking the sea. After dinner we return to Lisbon, so you can get a good rest to prepare for the biking ahead.
Day 1 - Bom dia Lisbon!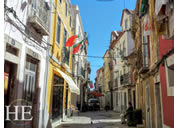 Our tour starts as we meet at our hotel for an afternoon taste of Lisbon: ride the colorful trams and walk with your guide to explore the heart of the old city, including the Alfama district, Lisbon's most scenic quarter. It was first settled by the Romans and Visigoths, and it was an important Jewish quarter in the 15th century, but it was the Moors who gave the district its distinctive atmosphere. An early evening reception is followed by our welcome dinner in a tasca, with a live Fado show.
Day 2 - Exploring the Blue Coast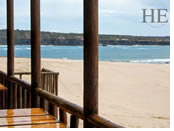 After a buffet breakfast, we head south to the Arrábida Peninsula, and spend a leisurely day exploring the region known at the Costa Azul, or the Blue Coast. Our first stop will be to tour a local tile factory where they carry on the ancient Portuguese tradition of painting azulejos (square tiles) by hand.
We'll then hop over to one of the oldest wine estates in the country; José Maria Fonseca, housed in a beautiful 19th C manor house where we will taste among others the famous moscatel! With your appetites opened from the wine sampling will stop in the coastal town of Sesimbra for some lunch on the waterfront before going southeast to our night's destination the large seaport town of Setúbal. We will take a Zodiac along the stunning Arrabida coastline to seek out some of the very rare river dolphins that inhabit these waters.
This evening take some time to explore the old quarter, said to have been founded by Noah's Grandson! Dinner is on your own, with several restaurant suggestions from our Portuguese guides.
Day 3 - Santiago de Cacem (64 km)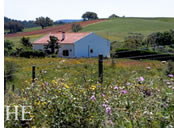 After breakfast, we set off for our morning ride over the undulating terrain of the Natural Park of Arrábida, with breathtaking sea views, and then cross by ferry to the Troia Peninsula. This whole area is a natural park, a wetland home to many protected species of birds such as storks (of which we'll see many) and, more rarely, flamingos. There's lots of spots to stop for lunch with a view!
Riding on southwards, through the lower part of Portugal's largest and most rural province, the Alentejo, you'll pass many little farms that still use centuries old methods of farming. There'll be many little cafés along the way (circled on your map) where you can always stop for a refreshing drink and give the locals something to discuss for days to come.
Santiago do Cacém, your night's destination is an interesting town with a castle, built by the Knights Templars in the 13th century upon an earlier Moorish fortress. You'll be spending the night just outside Santiago in a recently restored manor house with a wonderful pool. After a well-deserved dip we will all dine together like Lords of the Manor!
Day 4 - Following Sir Francis Drake (64 km)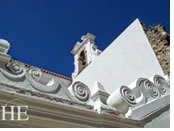 Today's ride includes a stop at the most extensive Roman ruins south of Lisbon, at Mirobriga. We continue on to the town of Vila Nova de Milfontes, named for its many sources of water. This perfect white-washed, blue-trimmed fishing village is typical of the Alentejo region that hugs the sparsely populated coast south of Lisbon.
In season, Vila Nova is a popular water sports center, but it still retains its quiet village charm. There's so much to see and appreciate that we will spend two nights here. You'll find beautiful coastal walks, unspoiled beaches, and many tascas and cafes where you can enjoy drinks and local cuisine. In ancient times this town is said to have harbored Hannibal and his Carthaginians during a storm. Tonight we will dine together in a local tasca.
Day 5 - Vila Nova de Milfontes (41 km – optional loop totals 74.7 km)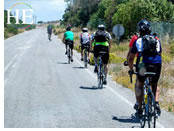 After breakfast we'll set out on a loop ride that will take us past fields of wildflowers, and include a stop at a working windmill. You can choose the long one or the short one, both are equally satisfying when it comes to bike rides. This afternoon is free to relax on the beach, do some shopping or explore the town. We are happy to recommend some local hotspots for dinner tonight as you go off on your own.
Day 6 - Moor Riding! (52.1 km)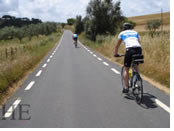 Today we depart for the rugged headland of Zumbujeira do Mar and beyond. The route follows a line of old fortifications of the Moors. It's a good idea to grab a bite along the coast since we will be riding through some remote expanses.
Back on your bikes, you'll cross the Rio Seixe about 18km/11m later. This marks the boundary between the Alentejo and the Algarve provinces. "Algarve" is a Moorish word meaning "the land of the beyond". It was the last part of Portugal to be reconquered by the Christians. This province, more than any other in Portugal, bears the unmistakable marks left by 500yrs. of Moorish domination.
From Zambujeira do Mar it's only another 15km/9m on a fairly flat road to your destination. We'll dine together at our quaint guesthouse tonight in the countryside.
Day 7 - Prince Henry and the Algarve Coast (66.6 km)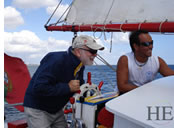 We need to get an early start this morning to make sure we don't miss the boat! Today's ride follows an inland road along the coast until we reach the southwestern most corner of Europe – Sagres where we'll visit the site of Prince Henry the Navigator's famous navigational school set on a dramatic headland with heart-stopping views.
Before exploring the town we are going to explore it's waters with an afternoon sail on the BOM DIA. This two-masted sailing boat will take us out along the incredible Algarvian coast with its vast number of grottoes. In the afternoon you can enjoy Lagos, a quaint town that manages to be both funky touristy and historically touristy at the same time without losing its old-world charm.
Tonight we will meet in the lobby for our farewell dinner at Lagos' premier restaurant.
Day 8 - Tchau Portugal!
Our gay Portugal cycling tour ends in Lagos, but a morning transfer will be provided to the Faro Airport in time to meet flights departing at 9:45 am or later. (If you need to catch an earlier flight, our guides can help arrange for a transfer for the 40-mile ride to Faro.) There are also express buses directly from Lagos to Lisbon (about 4 hours) if you have time for an extra night in Lisbon. We hope you will have a safe journey home!
Stay Longer and - Ride Through Provence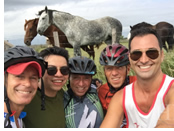 Visit castles, chapels, cafes, museums, meadows, vineyards, and a wildlife preserve on this gay bike tour of Provence, France. Stroll among the remains of a feudal fortress and a crumbled theater. Picnic at a Roman aqueduct. Bicycle through the magical forests and golden stone villages of Luberon.