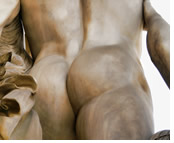 Florence is in the heart of Tuscany, a region of beautiful landscapes, mountains and rugged coastlines of Italy. Despite the destruction that occurred during World War II and the devastating floods of 1966, Florence retains a historic city center and proud heritage that draws visitors from around the world. Florence was declared a World Heritage Site by UNESCO in 1982, and it has been described by Forbes as "one of the most beautiful cities in the world".
Day 1 - Welcome to Florence, Italy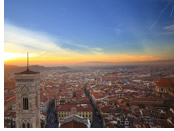 • Independent arrival to your hotel.
• Accommodation and free time for shopping and dinner.
• Overnight at your hotel.
Florence is regarded as one of the most beautiful cities in the world, with a friendly, laid-back gay scene.
In Florence, you can find fashion and high couture stores everywhere; then there is the Polimoda Fashion School and all of the theaters, museums, art masterpiece and antique markets. As we all known, artistic is deeply entwined with gay culture and history – so while the gay nightlife scene might not be the biggest in the country, the Florentine LGBT+ community is going strong, and gay people are a vital part of this creative cities social fabric.
In fact, is widely believed that Michaelangelo was gay, and after staring at the famous David statue we could easily believe it. And Michaelangelo could hardly be considered to be the only gay artists to have left his mark on Florence! Many design-oriented gays, with fabulous taste and a strong desire for the finer things in life, have flocked here – Like Botticelli, Leonardo da Vinci and Machiavelli!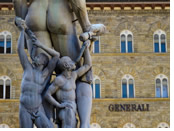 By day in Gay Florence, there are plenty of sexy Italian boys and girls browsing art galleries, wandering cobble-stoned streets or sipping coffee in quaint curb-side cafes but by night is when things really come alive. There might only be a few gay bars in Florence, but there are some wild gay dance parties worth planning your trip around, or the legendary Fabrik Crusie club venue just out of town. Even if the nightlife isn't your thing, the world-class museums, haute couture shopping, iconic architecture, fine dining and utterly intoxicating atmosphere will give tourists more than enough reason to visit Gay Florence – whether it's for a night, a week or to live full-time!
Rainbow Tips: We can provide you Private Transfers with special prices!
Day 2 - Florence Gay Friendly City Tour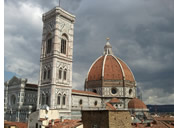 • Breakfast at the hotel.
• Together with your LGBT Friendly Guide, you will discover the magic and the secrets of the city!
• Morning walking shared tour with LGBT friendly guide. Get the chance to have a taste of one of the most important and charming cities of UNESCO World Heritage.
Walk through the amazing center of Florence and discover its unique secular heritage and breathtaking beauty with an expert and fun tour guide. The tour explores the historic and architectural evolution factors from the Roman foundation through medieval centuries and its Renaissance glorious period up to modern time Florence. Learn about the Medici: masters of Florence.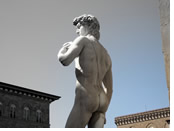 Our professional guide will take you to some of the most important spots where the greatest minds and artists have stood and been inspired. During this walk, you will see Piazza della Signoria with the town hall Palazzo Vecchio, the Duomo, the Baptistery with its 'Gates of Paradise', Giotto's independent bell tower, Brunelleschi's Dome, Santa Trinita and Orsanmichele Church, Pontevecchio Bridge and the secret Vasari Corridor, as well as famous shopping streets and the Oltrarno – the fourth and last district, the manual crafts neighbourhood.
Also, stop for a surprise "tasting", a nice and delicious break during your pleasant walk.
Museums, fine dining, cafés, boutiques and more abound in Italy's culture capital, which has hardly changed in hundreds of years. The Florence skyline is still subjugated by the overwhelming fifteenth-century dome of Santa Maria del Fiore, the museums are crammed with world-famous Renaissance art, and the tourists who flock here have outnumbered Florentines every summer for hundreds of years.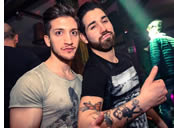 • Free time for lunch on your own tasting local specialities and for shopping, relax or individual visits.
• In the evening farewell dinner at a local restaurant.
• Afterwards don't lose the opportunity to dance the night away at a Gay Party in one of the most popular gay disco of the city.
• Overnight in Florence.
Rainbow Tips: We can provide you Exclusive Tickets for Gay Discos with special prices!
Day 3 - Florence & Good Bye!
• Breakfast at the hotel.
• Free time for relax and shopping.
• Afterwards transfer by your own from the hotel to the Airport, or Train Station.
Rainbow Tips: Want to stay longer? We can provide you Extra Nights and Excursions ! *Subject to availability.