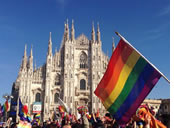 Every year on late June, Milan celebrates LGBTQI pride with the annual Milano Pride, a widespread event powered by Milan's CIG Arcigay. The Italian fashion capital hosts a week of LGBT-friendly events, with the streets around via Lazzaretto, via Lecco, via Castaldi, and largo Bellintani being transformed into the Pride Square. The Milano Gay Pride Square will be open all weekend; a place for fun, live music, DJs and much, much more! As many locals and foreign visitors might already know, Milan is one of the cities displaying the widest variety of LGBT-friendly clubs in Italy, but the week with the greatest amount of LGBT-friendly events is the week of Milano Gay Pride. Come and celebrate pride in the Italian fashion capital!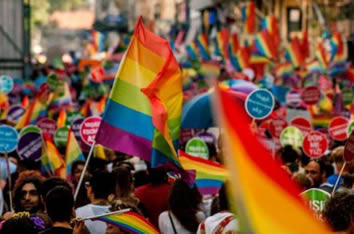 Day 1 - Friday, June 21, 2024
Milan, Italy - Getting Ready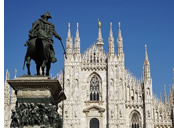 • Independent arrival to your hotel.
• Welcome drink and free time.
• In the late afternoon Meet & Greet with your LGBT Tour Leader at the hotel and exclusive aperitif in a LGBT Friendly location.
• Afterwards welcome dinner to taste typical local specialties, all this at a local rooftop restaurant from where you can have a breathtaking view of the city.
• Rest of the night free for party.
• Overnight at your hotel.
Rainbow Tips: We can provide you Private Transfers with special prices!
Rainbow Tips: Want to arrive earlier? Enquire about extra nights! *Subject to availability.
Day 2 - Saturday, June 22, 2024
Gaily Tour in Milan & Milano Pride 2023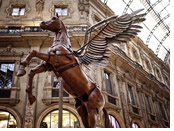 • Breakfast at the hotel.
• Be ready for an extraordinary walking tour in Milan with our Gay Tour Guide observing its highlights like Scala Theater and Cathedral Square with the view of Milan's most famous landmark and one of the biggest churches in the world.
• Once there, reach the peak visiting the Terrace (entrance fee and lift included).
• Then continue to the Galleria Vittorio Emanuele II, one of the world's oldest shopping malls and a pure symbol of Milan.
• This pedestrian mall was built in the 1800s featuring a large arched glass ceiling.
• Lunch on your own to taste local specialities.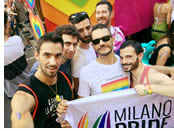 • In the afternoon be ready to celebrate!
• Get part of this amazing and peaceful battle for equal rights against any kind of discrimination.
• The Milan Pride demonstration will be a global parade.
• Afternoon free for celebration and fun.
• Dinner on your own.
• Afterwards don't lose the opportunity to dance the night away with your new friends in one of the many Gay Parties in the most popular discos of the city.
• Overnight at your hotel.
Rainbow Tips: We can provide you Exclusive Tickets for LGBT Discos with special prices!
Day 3 - Sunday, June 23, 2024
Gaily Excursion from Milan to Lake Como & Bellagio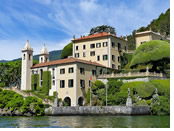 • Breakfast at the hotel.
• Together with your LGBT Friendly Tour Guide, departure to Lake Como, one of Italy's most romantic destinations surrounded by beautiful hills and mountains.
• Explore the city of Como, a charming and popular town perched on the waterfront of the lake. Narrow streets, artistic monuments and the ancient city walls from most of which has remain unchanged, serve to document the Middle Age times.
• Then continue on to Tremezzo and the mid-17th century Villa Carlotta, known for its centuries-old botanical gardens and the much appreciated Italian-style garden.
• Villa Carlotta in Tremezzo is a real gem of Lake Como, thanks to its lush botanic garden and to the excellent artworks it hosts. It was built by the will of the Marquis Clerici towards the end of 17th century and he chooses this area offering a spectacular overview on Bellagio, and the mountains Grigna and Legnone. It successive owner, Count Sommariva, enriched the villa with artworks masterpiece by Canova, Thorvaldsen and Hayez and transformed part of the garden into an extraordinary romantic park.
• Lunch on your own to taste local food.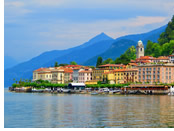 • Continue to Cadenabbia and ferry boat to Bellagio, one of the prettiest village in all of Italy.
• Bellagio sits in front of Lake Como with its promenade, stairways and streets from the bottom to the top, lined with shops and cafes.
• Reach Villa Melzi, which has a spectacular and wide park, where you can enjoy the temperate climate surrounded by trees and flowers.
• Walking in the garden you meet rare exotic plants, centuries-old trees, hedges of camellias, azaleas, giant rhododendrons and architectural environment and furnishings: the Etrurian urn dated back to the 3rd century B.C., two Egyptian sculptures of 8th and 9th century B.C. in the lake of the Nymphs, the famous group of marble statues with Dante and Beatrice, which inspired the musician Lizst for its Sonata to Dante.
• Back to Bellaggio and return to Cadenabbia by ferry boat.
• Exclusive aperitif in a stunning location on Lake Como.
• Afterwards back to Milan.
• Dinner on your own.
• Rest of the night free for party.
•Overnight at your hotel.
Day 4 - Monday, June 24, 2024
Good Bye!
• Breakfast at the hotel.
• Independent departure.
Rainbow Tips: Want to stay longer? Enquire about extra nights! *Subject to availability.