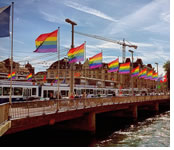 Zurich Pride festival attracts thousands of guests and tourists every year to the Swiss capital. On the program of the Zurich Pride Festival are countless parties, a politically motivated demonstration march and a two-day street festival. The venue is transformed into a hotspot with bars, food and drink stands, large-scale stage shows, parties, LGBT (lesbian, gay, bisexual, transgender) oriented conventions and cultural performances. The highlights of the Festival are the demonstration march and the open air concerts at 'Sechseläutenplatz', in the center of Zurich. The 'Stadthausanlage' (behind 'Bürkliplatz') will additionally be available as festival area. This is thanks to the Zurich City Council! There are also a host of other events organized by various clubs, societies and institutions. Zurich can be expensive but is always fun, offering a good gay night life for all ages.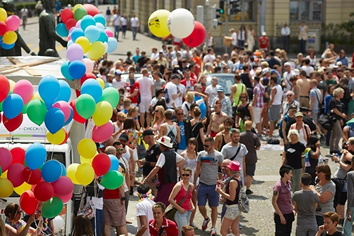 Day 1 - Friday, June 14, 2024
Zurich, Switzerland - Getting Ready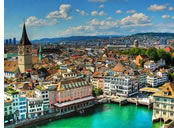 • Independent arrival to your hotel.
• Welcome drink and free time.
• In the late afternoon Meet & Greet with your LGBT Tour Guide at the hotel and exclusive aperitif in a LGBT Friendly location.
• Afterwards welcome dinner at a local restaurant.
• Rest of the night free for party.
• Overnight at your hotel.
Rainbow Tips: We can provide you Private Transfers with special prices!
Rainbow Tips: Want to arrive earlier? Enquire about extra nights! *Subject to availability.
Day 2 - Saturday, June 15, 2024
Gaily Tour in Zurich & Zurich Gay Pride Festival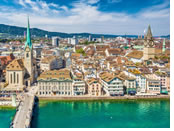 • Breakfast at the hotel.
• Together with your LGBT Friendly Tour Guide, you will discover the magic and the secrets of the city!
• Learn the secrets of Zurich, a city with the highest quality of life and one of the most expensive cities in the world.
• See the influence of Charles the Great, Vladimir Lenin, Albert Einstein and Marc Chagall on the economic and scientific center of Switzerland.
• Explore the Lindenhof which provides you with a marvelous view of the Limmat and the Grossmünster.
• At the Fraumünster, enjoy the brilliant windows made by Marc Chagall and see the biggest clock face in Europe at St. Peter's Church.
• Lunch on your own to taste local specialities.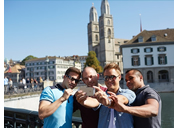 • In the afternoon be ready to celebrate!
• Get part of this amazing and peacefull battle for equal rights against any kind of discrimination.
• In the evening free time to delight your tongue with dinner.
• Afterwards don't lose the opportunity to dance the night away with your new friends at a LGBT Party at the Gay Official Party for Zurich Gay Pride.
• Overnight at your hotel.
Rainbow Tips: We can provide you Exclusive Tickets for LGBT Discos with special prices!
Rainbow Tips: Live the vibrant LGBT atmosphere in one of the many pubs like Stairs Club or Plaza Klub Zürich.
Day 3 - Sunday, June 16, 2024
Good Bye!
• Breakfast at the hotel.
• Independent departure.
Rainbow Tips: Want to stay longer? Enquire about extra nights! *Subject to availability.