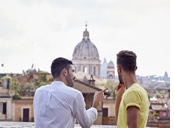 Join us on the Definitive Gay Summer Tour of Italy: 7 days, 6 nights of pure bliss in Rome, Naples, Capri & Amalfi Coast. This unforgettable holiday will start in Rome, where you will discover the historical charm of the Capital of Italy. After, we will head to Naples, where we will admire the beauty of this seaside city, before making our way to Sorrento, our base for a 2 nights. From there we will make our way to the Amalfi Coast and to the island of Capri, world famous for its beaches and the stunning faraglioni.
Rome is the capital city of Italy. Known as the "Eternal City", the largest place in the country is always considered one of the world's most LGBTQ tourist destination and is home to some important UNESCO World Heritage Site, including ruins, grand palaces and famous churches. Nowadays, Rome attracting thousands of visitors per year. Despite having a gritty reputation, especially in the past few years, Rome offers beautiful architecture, a huge choice of shops and a modest gay life.
Naples - Italy's third-largest city is one of its oldest, most artistic and most appetising. Naples' centro storico (historic centre) is a Unesco World Heritage Site, its archaeological treasures are among the world's most important, and its swag of vainglorious palaces, castles and churches make Rome look positively provincial.
Many people dream about paradise island Capri. Here you find romantic restaurants and pleasant walks through spice scented landscapes. Capri was the stomping ground of the jet set in the 50s and 60s with Grace Kelly, Elizabeth Taylor, Rita Hayworth and Greta Garbo as faithful visitors. Capri is an exclusive holiday destination with steep cliffs, clear water, picturesque villages and beautiful views.
Deemed an outstanding example of a Mediterranean landscape by Unesco, the Amalfi Coast is one of Italy's most piercing destinations. Here, mountains plunge into the sea in a nail-biting vertical scene of precipitous crags, cliff-clinging abodes and verdant woodland.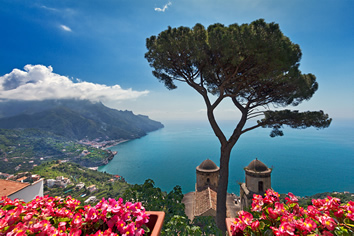 • Be part of the first definitive Gay Summer Tour of Italy
• Take in the must see key sights of Italy including the Colosseum, Vatican City, Sistine Chapel
• Welcome Dinner near the Colosseum in Rome on the first evening
• Gay Bar Hopping in Rome
• Discover one of the most charming seaside cities of Italy, Naples
• Get lost in time in the beautiful island of Capri
• Enjoy the colorful Amalfi Coast and its stunning beaches
• Savour the best pizza in the world
• Private tours in English
• Make friends from all over the world
• Travel with your Italy Gay Travels special hosts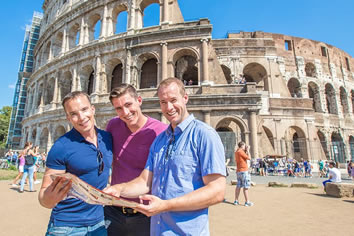 Day 1
Welcome to Rome!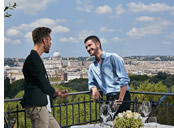 Welcome to Rome: the Eternal City! This is a destination on everyone's bucket list and our Gay Summer Tour of Italy must start here.
Make your way to your accommodation, smack bang in the centre of the city and settle in. Here you will meet your hosts and get your Gay Summer Tour of Italy welcome pack.
Join your fellow Gay Travellers and your tour hosts in the evening for a Complimentary Welcome Dinner near the Colosseum. Here we will all get to meet each other and have a full briefing on the adventure that lies ahead. After dinner (Roman Style) we go gay bar hopping: the first Drink is on us!
Meals Included: Dinner
Day 2
Classical Rome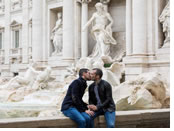 After a hearty breakfast we take in our first visit: a guided tour of Classical Rome. Here you will admire historical masterpieces including Piazza della Repubblica with its central fountain and Fontana della Naiadi.
Stroll the streets of Historical Rome and get your pennies ready to throw over your shoulder into the ornate Trevi Fountain (recently refurbished). Visit the Pantheon, one of the best preserved buildings in Rome from ancient times and finally arriving in the awe-inspiring Piazza Navona, lined with cafes and restaurants and centered by the magnificent fountain by Gian Lorenzo Bernini, coffee anyone?
Free time in the afternoon to enjoy lunch and stroll around Rome as you wish, or take a siesta!
Meals Included: Breakfast
Day 3
Imperial Rome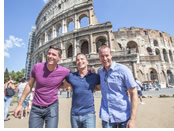 After breakfast we take a guided tour of the Roman Empire. This tour allows you to discover the heart and soul of Rome. Key sights include Piazza Venezia, to admire Il Vittoriano, the massive faux-classical monument to Italy's Vittorio Emanuele II as well as the Church of St. Peter in Chains. The final stop is a tour of the magnificent Colosseum. No fighting over the artefacts boys unless you want to put on your armour and sandals and give us a show!
After lunch on your own, we will meet again in the early afternoon for a guided tour of the Vatican Museums and Sistine Chapel (skip-the-line entrance fee included). Our very special Gay Tour will let you discover a superb collection of homoerotic art which has been housed in this place for many years. After, we will make our way to the magnificent Sistine Chapel painted by Michelangelo: we will also discover the secret love stories and scandals occurred within the Papal rooms.
Soon after the guided tour, everybody will be free to relax as they please, before heading to dinner in an optional dinner in trendy Trastevere, a very typical experience for one of the best meals around.
Meals Included: Breakfast
Day 4
Rome - Naples

After breakfast we take a High Speed Train that brings us directly into the World Capital City of Pizza: Naples, just over 1 hour away.
Check-in at the hotel and enjoy lunch as you please.
In the afternoon we will meet to join a guided tour of Naples. We will visit famous landmarks such as the Royal Palace, the Spanish Quarters and the Maschio Angioino. Castel dell'Ovo, a seaside castle whose name derives from a legend about the Roman poet Virgil and the oldest standing fortification in Naples.
From here you can enjoy the beautiful sea view and admire Mount Vesuvius. From Castel dell'Ovo we will reach Posillipo, the romantic residential quarter of the city located along the northern coast famous for its houses by the water.
In the evening we will meer in the famous Piazza Bellini, a bustling Piazza in the center of the city where you will find a multitude of gay friendly restaurants, cafes, and bars and the heart of the Gay night life of this city. We will enjoy an amazing Sourdough Pizza right in the center of Naples just before finishing off the night with a drink or two in one of the gay bars of the city.
Meals Included: Breakfast & Pizza Dinner
Day 5
Naples to Amalfi and Positano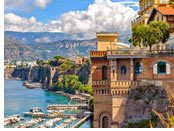 After breakfast, it is time to pack. With a private transfer we will make our way to Positano.
We will have a stroll downtown, through its little pictoresque alleys, down to the beach.
After lunch, we will step on an hydrofoil and admire the Amalfi coastline from the sea, while reaching Amalfi.
In the afternoon we will visit this coast town popular for its scenic beauty.
Free time in the afternoon to enjoy some shopping… or maybe laying down at the beach?
In the evening a private transfer will drive us back to Sorrento.
After, we make our way to Sorrento, where we check in and enjoy some free time
Meals Included: Breakfast
Day 6
Capri - Frewell Dinner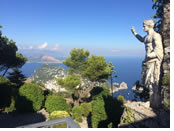 After breakfast we will make our way to the Port. Stepping on-board a Hydrofoil our Gay Summer Tour of Italy will reach the island of Capri in style.
Capri has long been a hotspot for European gay life from the early 20th century. We will join a guided boat excursion around the island: we will have the opportunity to have a dip off the boat and splash in the crystalline waters of the bay.
After the boat ride (around 3 hours) you will have free time to enjoy lunch and a stroll around Capri: around its famous Piazzetta you will discover fashion streets and glamorous boutiques.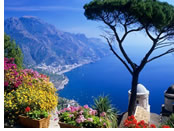 In the evening we enjoy aperitifs as we soak up this breathtaking scenery before taking the hydrofoil back to Sorrento.
Once back, get yourself ready for a final farewell dinner with your hosts. Ready to get a little drunk with your hosts on Prosecco and Limoncello?
Tonight is the last together: dinner is on us!
Meals Included: Breakfast & Frewell Dinner
Day 7
Goodbye and see you next time!
See you soon!
After breakfast, our Gay Summer Tour of Italy is over! We all say goodbye (no tears hopefully) until the next time!
Meals Included: Breakfast