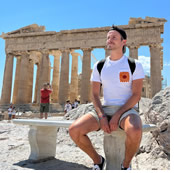 We'll take you on an epic 9-day gay group tour of the best of Greece. Ancient Greece, and more specifically many of the islands located in the Aegean Sea, is long thought of as to have been the Cradle of Western Civilization. Greece is one of those world destinations that we all dream of visiting one day. Of the capitals of Europe, Athens is the oldest. For lovers of culture and history, visiting Athens is a must. For the rest, Athens is a sublime city! The architectural and archaeological wealth makes Athens a true open-air museum.
From Athens we left for Naxos, the largest of the Cyclades islands and, undoubtedly, one of the most beautiful Greek islands! Naxos is well known for its beautiful beaches, traditional villages, delicious food, important archaeological sites and numerous hiking paths. While entering the port by ferry, the view is really amazing. On the one hand, you see the Venetian castle, while on the other hand, the emblematic Portara - the island's landmark.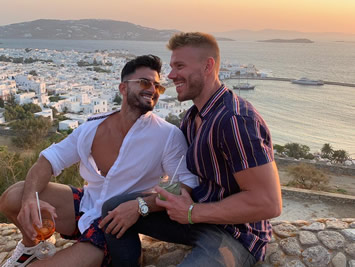 From Naxos we head towards Mykonos. Another destination that needs no introduction, white houses lit by the sun, old mills lined up on arid slopes and the translucent blue of the Aegean Sea: everything you fantasized about Greece is in Mykonos.
Mykonos is one of the main gay destinations in the world and you will be able to see it with your own eyes and it is the most popular gay destination in Europe. It's where the international gay jet set gathers every year. Mykonos is supremely stylish and offers the perfect mix of chic hotels, vibrant gay nightlife and glamorous people.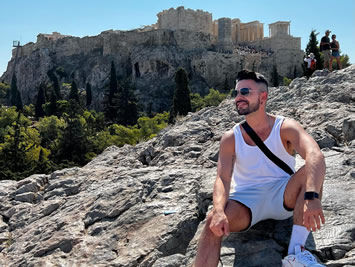 Day 1
Arrival in Athens, Greece
Welcome to Greece!
Upon arrival at Athens airport (ATH), you'll have a transfer waiting for you that will take you directly to the hotel with maximum comfort. Here we will be waiting for you and it will be the group's meeting point. Depending on your arrival time, arrive as early as possible, and you can still enjoy the pool, a drink, while dinner time arrives.
On our first night we will have our first group dinner in a restaurant, to introduce ourselves/get to know and socialize.
Included: • Transfer from airport to hotel in Athens • Welcome Gift • Group dinner • Hotel in Athens centre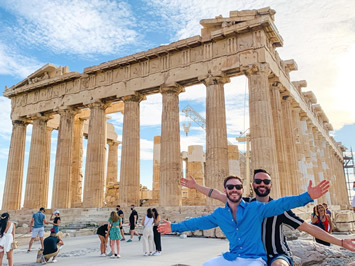 Day 2
Athens, Greece
After breakfast, we start by meeting our private guide in Syntagma Square and start with a brief look at a fascinating archaeological site. View the ancient relics, including items of household pottery, mosaics and a 2,000-year-old beehive, all dating from classical times and discovered during excavations in the area.
Continue to see the elegant Greek Parliament House at one end of the square. Pause to snap photos and view the Monument to the Unknown Soldier, guarded by the city's brightly uniformed evzones — presidential guards.
Cross the National Gardens and admire the neoclassical architecture of the Zappeion Hall and the ancient columns that front it — the remains of the Temple of Zeus and Hadrian's Arch.
Next, stroll through the paved streets of Plaka, Athens charismatic Old Town. Drink in the atmosphere of this charming neighborhood with its tavernas and bars, and pass the Lysicrates Monument as your guide explains how this large stone pedestal was used to display a competition trophy in the 4th century BC.
Inspect the remnants of an early Christian church, and then follow the Dionyssiou Areopagitou walkway to the UNESCO-listed Acropolis, the ancient citadel set on a rock high above the city. As you walk up the slopes, pause to see the Dionysious Sanctuary, Mars Hill, the Philopappos Hill monument and the Odeon of Herodes.
View highlights such as the Temple of Athena Nike and the Propylaea gateway, and focus on the astonishing Parthenon, the Acropolis' showpiece monument. Listen to in-depth commentary about each of the treasures, and uncover fascinating facts about their construction and history. As you wander round, stop to absorb the stellar views down over Athens and capture them on camera.
After this morning full of history and culture, which ends around lunchtime, everyone can have lunch wherever they want because the rest of the day is for you to explore the different neighborhoods and typical streets of majestic Athens at your own pace.
If you want to spend the afternoon differently, we have some optional tours:
- Tour around Athens
- Tour and dinner in Athens in a traditional tavern
- Classic food tasting tour
- Greek cooking class and 3-course dinner
But most likely we'll continue our free time together and go on an adventure together, on our own, and decide where to go, making stops and if we feel like we can have a few shots of ouzo. Opa!
Included: • Breakfast • Athens City Cultural Historic Tour • Acropolis tour • Acropolis entrance ticket • Transport to Syntagma Square • Hotel in Athens centre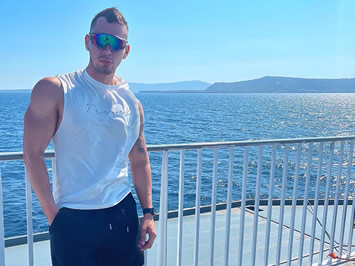 Day 3
From Athens to Naxos
Today we have to wake up early, have breakfast and very early we have our private driver, who will take us to the port of Piraeus. From here we head towards the fantastic island of Naxos.
Naxos is one of the most beautiful Greek islands! Naxos is well known for its beautiful beaches, traditional villages, delicious food, important archaeological sites and numerous hiking paths.
Have a comfortable seat on the fastest ferry for Naxos, and enjoy the scenary as you pass by some Greek Islands before your destination. Upon arrival in Naxos, we'll have another private driver who will take us straight to the hotel.
Enjoy the afternoon by the pool and enjoy the fantastic views of Naxos. Enjoy every moment and absorb everything this island has to offer.
In the evening, we'll once again have our group dinner to welcome you to Naxos and enjoy all the gastronomic and culinary traditions of Greece.
After dinner we can walk through the streets, see and be seen and go for a drink in one of the bars on the island.
Included: • Breakfast • Private transfer from the hotel to the Port of Piraeus • Ferry Ticket • Fast ferry • Transfer from the Port of Naxos to the Hotel • Dinner • Hotel in Naxos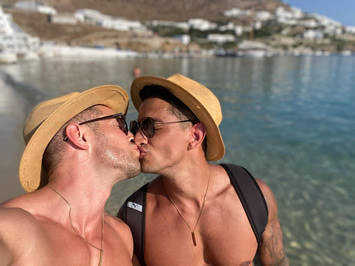 Day 4
Naxos, Greece
Yesterday as we woke up earlier, enjoy breakfast calmly. This morning will be in a more relaxed way. In the morning we go on a walking tour and discover the charm of Naxos under the setting sun. Take a leisurely walk along the narrow streets of the coast and the Old Town, where our local guide will bring myths about gods and heroes to life.
After this fantastic tour, lunch time arrives and you have the rest of the day and night free to explore the island by yourself or with the group.
Take a walk, go to the beach, relax on a terrace: it's up to you.
We will always be there to suggest visits and optional activities for you and the group, but we'll probably continue all together.
Included: • Breakfast • Naxos city tour • Optional tours • Hotel in Naxos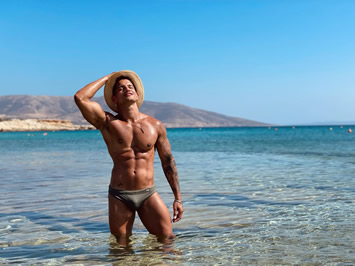 Day 5
Free Day in Naxos
Since it could be your only visit to Naxos, we let you choose what you prefer to do today, at your own pace, and see and go wherever you feel like, or if you want, you can just stay by the pool drinking cocktails and admire the view. We are always around and available to help.
If you want to take an optional tour, with your partner, with the whole group or alone, we'll have some suggestions.
After having a leisurely day to enjoy the sea and the sun and spend time as you wish, after dinner we can all go enjoy our last night in Naxos.
Included: • Breakfast • Optional tours • Hotel in Naxos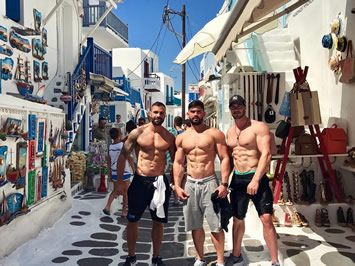 Day 6
From Naxos to Mykonos
Enjoy your breakfast and morning and around 1pm our private transfer will be waiting for us to take us back to the port of Naxos. We will go once again on a Fast Ferry but this time towards the iconic island of Mykonos. It will be a comfortable trip of about 25 minutes. We will arrive at around 2pm to the so-called gay paradise. The island's beauty and atmosphere are unparalleled and indescribable, just being there to feel it.
Upon arrival, we will have a transfer that will take us to our hotel. The rest of the afternoon will be spent enjoying the hotel's swimming pool or taking a first stroll through the city.
After you have already "tasted" a little of this wonderful island, at the beginning of the evening we will have another group dinner in one of the many glamorous restaurants in Mykonos.
After dinner we can have a drink in one of the many gay bars, there is no shortage of places and the choice will be difficult, but we can go to the most famous bar, Jackie O', to Babylon or simply go with the flow of movement.
Included: • Breakfast • Private transfer to Naxos port • Fast Ferry to Mykonos • Transfer from the port of Mykonos to the hotel • Dinner • Hotel in Mykonos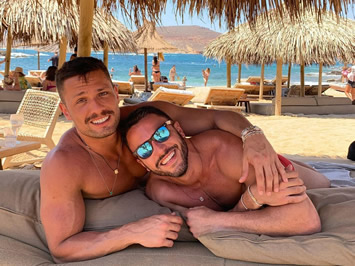 Day 7
Gay Mykonos
Today you have all day free to enjoy as you wish.
You have the beach, you have shops, you have a swimming pool, you have terraces, you have cute people and you have a maze of streets to get lost in, this will be the best way to discover all the corners of the city for yourself. The best advice we can give you is to enjoy this magical place.
You know, we are always available for whatever you need and we can suggest tours and/or activities.
Included: • Breakfast • Hotel in Mykonos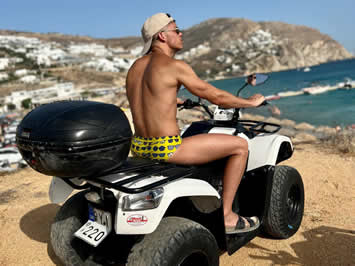 Day 8
Optional Tours in Mykonos
Today will be the last full day in this little paradise, so we don't have any activities scheduled, to give you the opportunity to choose what you want.
We have some optional activities if you want:
- Go to famous gay beaches such as: Elia Beach (the most famous), Agrari Beach or Super Paradise Beach
- Half-day Delos tour from Mykonos
- Jeep Mykonos adventure
- Traditional barbecue experience at traditional farm in Mykonos
- Wine tasting tour at a traditional farm in Mykonos
This being our last group day, we can't say goodbye without our last group dinner. We will remember these last days we spent together and maybe start planning the next ones. You will certainly have new friends and lots of memories.
Included: • Breakfast • Optional activities • Dinner • Hotel in Mykonos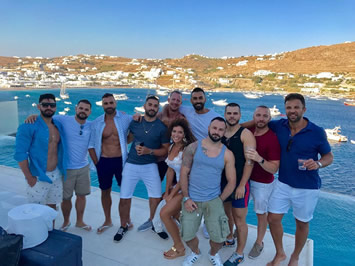 Day 9
Mykonos Departure
Today is the day to say goodbye. After breakfast we leave our hotel and each one will leave for their next destination or home.
If you need a transfer to the airport, ferry port, or other location, let us know and if you want we can help. If you want to stay longer in Greece and need help we can also help.
Included: • Breakfast