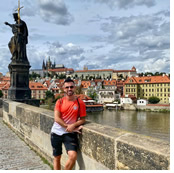 We will take you on a spectacular 9-days gay group tour, crossing the 3 most emblematic Central European countries: Prague capital of Czech Republic; Bratislava capital of Slovakia; Vienna Capital of Austria. Isn't it amazing? Prague, capital of the Czech Republic and birthplace of writer Franz Kafka, is for many one of the most charming cities in Central Europe. And we agree! It's practically impossible not to fall in love when you visit Prague! Called the Paris of Eastern Europe because of the valuable arts and cultural scene, great restaurants, lovely gardens and history, lots of history.
Bratislava, of the 3 cities we are going to visit, is the smallest and least known. The city is beautiful, it is divided by the famous Danube river, as is Vienna. It has a castle on top of the hill, overlooking the river and has numerous beautiful church towers, typical streets and an incredible history. Bratislava is a very charming and peaceful city. It has a well-kept and well-maintained old centre. Likewise, the narrow streets offer several restaurants and bars with tables on the sidewalks. Super cozy to watch people come and go.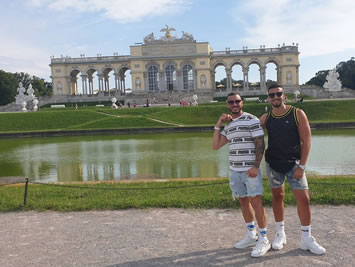 Vienna: the most famous of all cities. Visiting Vienna will always be synonymous with visiting the birthplace of classical music and the elegant opulence of the Imperial City of Old Europe. The Austrian capital adds to its rich historical and cultural heritage a valuable artistic and intellectual legacy. Vienna has elegance, nobility, brilliance, culture, art, music… and many more reasons that never end! Considered one of the cities with the highest quality of life in Europe, Vienna is still home to the rich and ostentatious heritage of the Habsburgs, the Austro-Hungarian Emperors.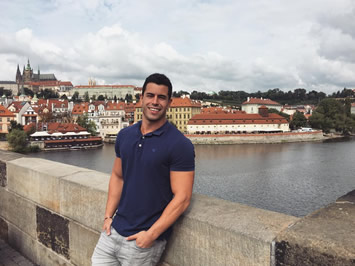 Day 1
Arrival in Prague, Czech Republic
"Ahoj" and welcome to Prague.
Upon arrival at Prague airport (PRG), you will have a transfer waiting for you that will take you directly to the hotel in maximum comfort. Here we will be waiting for you and it will be the meeting point for the group. Depending on your arrival time, you can still enjoy the hotel bar while you wait for dinner.
On this first night you will have the first group dinner in a restaurant, to introduce ourselves/get to know and socialize.
Included: • Transfer from Prague airport • Welcome Gift • Group dinner • Hotel in Prague centre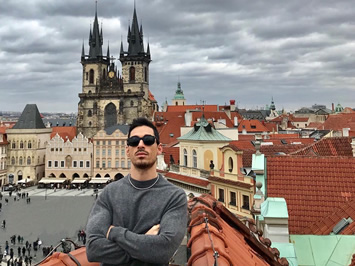 Day 2
Prague, Czech Republic
This morning you will have your first delicious breakfast to give you strength for the day ahead. In the morning we'll meet our local guide and set off on an adventure through the streets of Prague. It's an about 3 hours lasting tour.
It will be a tour you'll love! We have a local guide who will give you an intimate experience full of spontaneous fun and local adventures. You'll learn all about Prague's history and life. You'll pass by all the important tourist sites, at the same time our guide will take us to see the quiet and hidden gems in the historic quarter.
You'll also explore and walk through the UNESCO Historic District of Hradcany/Mala Strana and two charming neighborhoods: the Lesser Town and Hradcany, which contain most of Prague's government palaces and embassies. Along this unique route you'll see world-famous sites such as Prague Castle, Strahov Monastery and Charles Bridge. We also go to the hidden neighborhood called 'New World', the revolutionary John Lennon wall and the main viewpoints of the city.
At the end of the tour, you'll have all the necessary recommendations to make the most of the rest of your day.
The rest of the afternoon will be free to continue exploring Prague at your own pace, shopping, sitting on a terrace and watching the world go by, going to one of the beaches located by the river, in other words, doing whatever you feel like. If you have questions, we'll help.
Most likely, the group will continue to explore the streets together or go on an optional tour.
If you wish, we have some suggestions for optional tours available for the rest of the day:
- 45-Minute Historical River Cruise and Refreshments
- 5-course Medieval Dinner in Prague
- Jewish Quarter Admission Ticket with Introduction
- Alternative Prague Walking Tour
- Guided Electric Trike City Highlights Tour
Now that you've rested and had dinner, what to do at night? How about we all go for a cocktail or a beer (the most typical drink in Prague) at a local gay bar? Come on! From here, let the night roll...
Included: • Breakfast • Prague city tour • Transport if necessary to the meeting point with the local guide • Hotel in Prague centre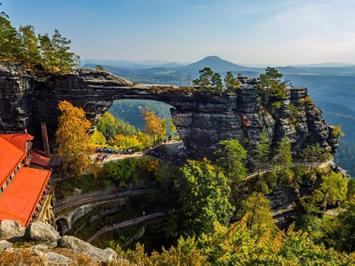 Day 3
Bohemian Switzerland National Park
Today we are going to wake up a little earlier and right after breakfast, around 8:30am, we leave for a natural paradise in the Czech Republic: the Bohemian Switzerland National Park. We guarantee that what will take your breath away today is the beauty of the Bohemian Switzerland National Park.
We'll meet our local and private guide and then drive in a comfortable SUV from Prague to a village called Hrensko. From there, we'll take a walking trip to the Pravcice Gate, where we'll enjoy a breathtaking view of the National Park and have a beer at the historic restaurant located there. After this short stop, our guide will show you some hidden places where you can take the best pictures of this beautiful place. This tour takes about 3.5 hours and after that we'll stop for lunch in a nice restaurant.
After lunch, we'll continue with the other part of the trip, including the ride on the historic boat on the Kamenice River. When we reach the destination, we will have another walk of about 2 hours around the beautiful river bank. Don't be scared, it's not that tiring!
This region is famous for its rock formations, forest and spectacular viewpoints. The Bohemian Switzerland National Park occupies a huge area that extends beyond the border of the Czech Republic and goes into the interior of Germany, where it's called the Saxon Switzerland Park.
After this magnificent tour we are back in Prague. The rest of the time is free, take the opportunity to rest a little, because we still have a lot to see and do and tomorrow we leave for Bratislava.
Included: • Breakfast • Transport + private local guide to Bohemian Switzerland National Park • Boat ride • Lunch • Entrance fees at Pravcice Gate • Boat ticket • Hotel in Prague centre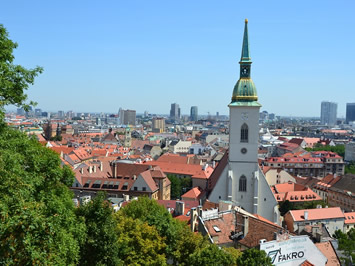 Day 4
From Prague to Bratislava, Slovakia
Today you have the morning to rest and pack your luggage. After breakfast, you'll have the morning free for you or take one of the optional tours that we have indicated before. We need to have lunch a little earlier because around 2pm our private driver will meet us to take us comfortably towards Bratislava. Don't worry about borders, because it will be done by land together with our driver.
From Prague to Bratislava it is around 340km (211mi) and the journey will take around 3h30.
At the end of the day, we'll arrive in Bratislava, check-in at the hotel and rest for a while. Today there's another group dinner, to welcome you to Slovakia.
The rest of the night will be free.
Included: • Breakfast • Private driver from Prague to Bratislava + transport • Dinner • Hotel in Bratislava centre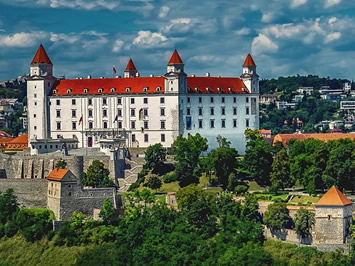 Day 5
Bratislava, Slovakia
"Ahoj" again, but this time in Bratislava. Another fantastic breakfast and after we'll meet our local guide and set off on an adventure through the streets of Bratislava on a tour of about 3 hours.
Expect a tour full of fun, interesting topics, information about Bratislava and Slovakia, their history and traditions. After this experience, you'll definitely love Slovakia.
As a point of reference we will walk through the Michael's Gate, Main Square, National Theater, Hviezdoslav Square, River Overview, Bratislava Castle, among others...
Take a photo with a Napoleonic soldier as you pass the Old Town Hall. Stroll through the Primate's Square to the Franciscan square. Marvel at one of Bratislava's hidden gems: the Primate's Palace. Enjoy the impressive Michael's Gate. See the palace where the Hungarian Parliament used to meet and appreciate the gates of St. Martin's Cathedral.
You'll discover the most historic and important sites in the old town of Bratislava.
After this spectacular tour, the rest of the day and night will be free. Now you can walk through the beautiful streets of Bratislava, sit on one of the city's many terraces, enjoy the excellent cafes or simply walk along the river.
You can go up to the fantastic UFO Bridge and enjoy its viewpoint.
Included: • Breakfast • Local guide + 3-hour Bratislava old city tour • Hotel in Bratislava centre
Day 6
From Bratislava to Vienna
Today we're going to wake up, prepare our luggage and have breakfast. The morning is free to take a last walk around Bratislava or if you want to sleep a little longer.
If you wish, we can suggest optional tours.
After lunch, around 2pm, our driver arrives and we head in a private van towards the majestic capital of Austria: Vienna.
The trip will be very comfortable and fast, since the two capitals are about 2h30 away.
Upon arrival we check-in at the hotel and you'll still have some time to explore the area where the hotel is located, have a small snack (traditional in Vienna) and later we go out for dinner. Today you'll have another group dinner, this time to welcome you to Vienna.
The rest of the night will be free, so it's a good reason to go to one of the many bars in this lively and exciting city, one of the most liberal capitals in Europe.
Included: • Breakfast • Private driver from Bratislava to Vienna + transport • Dinner • Hotel in Vienna centre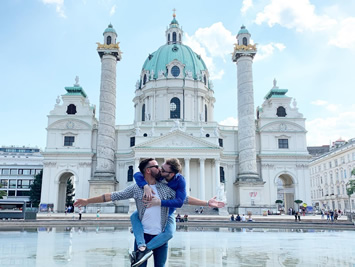 Day 7
Vienna, Austria
We start another day with breakfast, and in the morning we'll meet a local guide and set off on a splendid walk in the imperial heart of Vienna. You'll see the highlights of Vienna's city center and learn about the fantastic history of this rich capital for about 2h30.
You'll see the most important sights from different times and discover places and stories related to famous classical composers: Mozart, Beethoven and Haydn, learn about the influence of the Habsburg family and its power or be surprised by the love story of Emperors Franz Joseph and Sisi.
Just a selected list of what you'll see: Maria Theresien Square with the two great museums, the Vienna's Imperial Palace Hofburg, the Imperial Garden and the Palm House, the State Opera, the National Library, the horses of the Spanish Riding School, the St. Michael, Graben and Kohlmarkt.
The tour ends at St. Stephansplatz Cathedral Square, Vienna's most important landmark.
During this tour you'll only visit the mentioned sights from the outside. At another time, if you want to visit the interior of any of the attractions, you'll have time to do so.
When the tour ends, it's lunch time and during the rest of the day, time will be free and you can visit any museum/palace in particular, or walk in one of the great gardens of majestic Vienna.
Included: • Breakfast • City tour + local guide in central Vienna for about 3h • Transport to local guide • Hotel in Vienna centre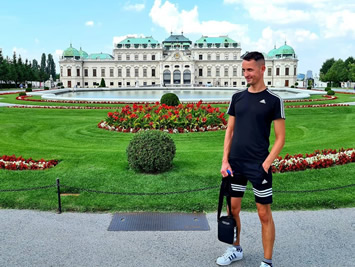 Day 8
Optional Tours in Vienna
You have all day to yourself. Have breakfast and you'll have all the free time to visit, rediscover, stroll, walk all you want in Vienna.
Since it's summer, the city is more alive and with more activities going on.
We can suggest a trip to Prater, which is a huge public amusement park on the other side of the Danube River. Entrance is free to the park, take advantage of it and ride the famous Ferris wheel, the Wiener Riesenrad, with stunning views of the city.
If you like museums, you have a huge choice, such as KunstHaus Wien, Albertina Museum, Natural History Museum, Mumok, Art History Museum, among others.
If you want a beach, in this case, a river beach, you have Copa Beach, Vienna's beach on the Danube River. The river is a cultural and social center in Vienna and there you will find several bars and terraces. You can simply sunbathe or rent bicycles, skateboards and even small boats.
Discover the more than 100 kiosks with different types of food and spices at the famous and huge street market, the Naschmarkt.
If you want to take a tour, we advise these options:
- Visit to the famous Sisi Palace
- Round trip to Salzburg
To start the goodbyes, today you have the last group dinner, where we'll remember these last days we spent together and maybe start planning the next ones. You'll certainly keep new friends.
Included: • Breakfast • Dinner • Hotel in Vienna centre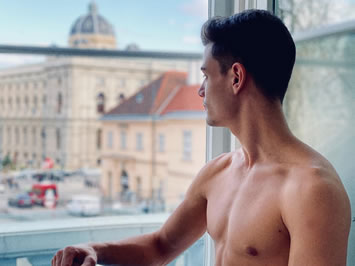 Day 9
Vienna Departure
Today is the day to say goodbye. After breakfast we leave our hotel and each one will leave for their next destination or home.
If you need a transfer to Vienna airport or another location, let us know and we can help. If you want to stay longer in Vienna and need help we can also help.
Included: • Breakfast