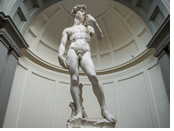 Oscar Wilde's Gay History Italy Tour from Caesar to Michelangelo and beyond. The ancient Greeks, the ancient Romans—think of Julius Caesar and Nero, etc.—plus all those Renaissance artists—Donatello, Botticelli, Leonardo, Michelangelo, Caravaggio: did it ever occur to you how much Italian gay history and art there is? Well, let us tell you: Italy not only has some of the most beautiful cities, the most great art, one of the world's top cuisines, some of the cutest guys.
It also has one of the most fascinating, long, and varied *gay* histories, from the ancient Greeks to the Etruscans and Romans to the Italian Renaissance, to modern gay greats like Pasolini, Versace, and Valentino. And there are great monuments and works of art connected with every period of it, which you can easily see on a trip to Italy, if you know where to look.
And that is why we designed our Gay Italy tour: to show you this glorious country, while making sure you don't miss the gay side of it all. We show you the gay history hiding in plain sight in the major tourists spots. For instance, on the great Arch of Constantine, right next to the Colosseum, there are images of Emperor Hadrian out hunting with his boytoy Antinous. And in the lupanar (bordello) in Pompeii, we point out the gay graffiti.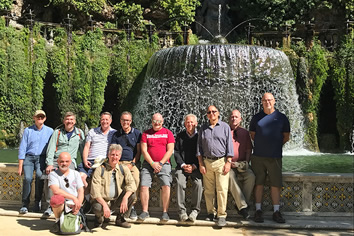 • The Roman Forum
• The Vatican Museum
• Pompeii
• The Uffizi and the Accademia plus lesser-known sights, including
• The Capitoline Museums
• Tivoli
• The Naples Archaeological Museum
• Paestum
• The Bargello
• Combine this trip with Greece Gay History & Art Tour to meet all the Gay Gods & Heroes!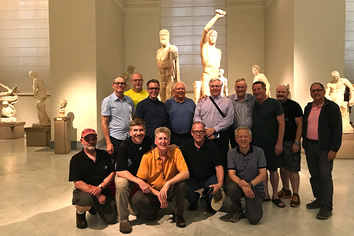 Day 1 - Welcome to Rome, Italy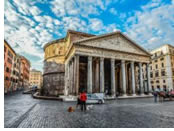 After time off to relax after our international flights, Professor Lear starts our tour with a short talk on the long history of same-sex love in Italian culture, from the ancient Greeks and Romans to the Medici court and on to the years of Franco Zeffirelli and Gianni Versace.
We then set off a walking tour through the central pedestrian area of this amazing city. We see many of the famous sights and many quiet, unknown nooks. We visit monuments such as the Pantheon, the Piazza Navona, the Trevi fountain, and the Piazza di Spagna with its famous staircase.
With thousands of years of history in every street, we encounter some of the key themes of our tour, from Hadrian, the "gayest" emperor, to Michelangelo's biggest crush, to Caravaggio, the artistic rebel and genius, as well as Rome's great opera heritage.
Along the way we make stops for lunch, for coffee (at possibly the best cafe in Italy) and gelato, one of Rome's many signature specialties. The evening is free for your own explorations.
Given that our hotel is in the absolute center of the city, there are many excellent restaurants nearby (please ask us for suggestions!).
Day 2 - Vatican & Colosseum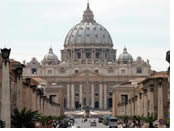 This is our one long day, because we have a lot of special things to see!
In the morning, we delve into the core of the ancient city-the Forum, the Palatine Hill that housed the imperial residences, and the Colosseum, famous for its ghastly gladiatorial combats. While exploring the archaeological sites, we examine the bizarre tales Roman historians relay about the emperors, in particular their complicated and lurid sex lives.
After a lovely lunch in a quiet historic piazza nearby, we go underground to explore a recently discovered ancient senatorial palace, where a sound-and-light show explains the fascinating and complex history of the site.
We finish our afternoon with a visit the Capitoline museum, with its magnificent collection-ranging from the famous she-wolf of Rome to Caravaggio's strangely erotic St. John the Baptist and its amazing view back onto the Forum (from an ancient corridor underneath the museum).
Our day ends a short walk from the hotel. But in the evening, we set out again, for something really special: a chance to visit the Vatican Museums in the off-hours, when its great collection, and above all, Michelangelo's Sistine Chapel, can be enjoyed without overwhelming crowds.
And instead of a traditional welcome dinner, we will have something better, an "aperitivo" of hors d'oeuvres and wine in the Vatican Museum's courtyard!
Day 3 - Tivoli & Palazzo Massimo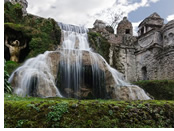 Our day begins with a drive into the countryside to Tivoli, where we visit two great villas: Emperor Hadrian's country retreat (where, among other things, he built a temple to his lover Antinous, who was worshiped as a god after his death in the Nile), and the Villa d'Este, with its splendid Renaissance gardens and fountains.
After a lunch in a country restaurant famous for its local produce and wine, we return to Rome to visit Palazzo Massimo, the center of the city's antiquity collections.
Here we will see such masterpieces of Greco-Roman art as the Discobolus (a model of masculine form for the Greeks) and the sleeping hermaphrodite-a statue that has much to tell about the Romans' sexual attractions-as well as the stunning garden frescos from the Villa of Empress Livia. Evening free.
Day 4 - Rome & Villa Borghese

On our last morning in Rome, we visit another of Rome's great art museums, the Villa Borghese.
The Villa, a 17th century country estate built by a cardinal who was definitely somewhere on the LGBTQ+ spectrum to give parties and house his family's art collection, still has one of the world's great collections, including several of Caravaggio's homoerotic masterpieces.
Your afternoon and evening are free for shopping, wandering, or more museums and churches, and to explore Rome's many wonderful restaurants.
Day 5 - Naples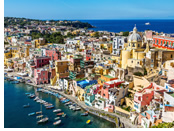 This morning we take the express train to Naples, passing through the hills of central Italy.
On arrival, we have the first of our Neapolitan meals-pizza in the city that invented it!
We spend our afternoon visiting the great Naples Archaeological Museum, where we see the amazing collection of frescoes and statues that were excavated in Pompeii and other nearby sites. The Museum also has some fabulous homoerotic pieces, including the joint statues of Harmodios and Aristogeiton, the male-male couple who were revered as the founders of the Athenian democracy; also, there is the fascinating Gabinetto Segreto, the collection of erotic art that until the 1960s was only open to "people of mature age and respectable morals."
This evening we have dinner in our hotel's neighborhood, along the city's famous bay.
Day 6 - Paestum & Pompeii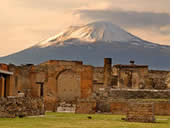 This morning, we drive south to Paestum, which, like many southern Italian cities, was in ancient times part of Magna Graecia (greater Greece) and today is home to some of the best-preserved Greek temples in the world. We visit the temples and the museum, which contains one of the greatest homoerotic images in ancient art: a wall-painting of a symposium, where, among other party games, a man courts a youth in the ancient Greek style.
For the afternoon, we return from Greek culture to Roman culture and visit Pompeii, the ancient city at the foot of Mt. Vesuvius, buried by the volcanic explosion of 79 AD and rediscovered in the 18th century. This is the place where archaeology was invented and is still the world's greatest archaeological site-a place unlike any other, where you can see right into the private lives of ancient people.
Sexuality will, of course, be our special theme: Pompeii is rich in the history of the erotic, and full of many surprises, especially in the main bordello and the locker-room of the Suburban Baths!
Lunch today is at one of the area's great restaurants-one that has been feeding visitors to Pompeii since 1825-and features Southern specialties. We are in the heart of the world's mozzarella production and will get to enjoy it.
The evening is yours to relax in Naples.
Day 7 - Capri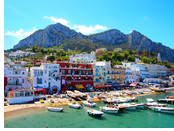 This morning, we take the hydrofoil out to Capri, the pearl of the Mediterranean. We spend the day exploring the island, famous for its beauty and for the rich and famous who have played there-and in particular for their same-sex relationships.
After a boat ride around the island, we go up to the village of Capri, where we learn about the Emperor Tiberius and the orgies he supposedly held on the island as well as Capri's gay culture in the late 19th and early 20th centuries, when the island was the site of a gay scandal that rocked the German empire.
We visit the public garden, donated to the village by Alfred Krupp, the man at the center of the gay scandal, and then cross over to the village of Anacapri to visit the famous Villa San Michele, home of a fascinating 19th century figure, the great cholera doctor Axel Munthe. Munthe was straight-in fact, he was the lover of the queen of Sweden-but he was definitely an ally. In fact, his villa is the one place on the tour where Oscar Wilde stayed the night: Munthe discovered that Wilde and his lover "Bosie" Douglas had been kicked out of the island's main hotel (as so often happened after Wilde's imprisonment) and invited them to stay at the Villa.
For lunch today we eat some of Capri's wonderful seafood right at the water's edge.
Day 8 - Florence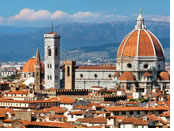 After a train ride from Naples, we start our visit to Florence with a splendid lunch, centering on Tuscany's many famous local products: sausages, cheeses, honey—and of course its fabulous red wines.
We then set off on a walking tour of the center of Florence, learning about the city's key role in the Renaissance and the role of homosexual love in the Renaissance.
Our afternoon ends with a visit to the Galleria dell'Accademia, where we see Michelangelo's 'slaves' and the international symbol of male beauty, his David.
The evening is free for your own explorations.
Day 9 - Florentine Renaissance Art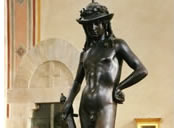 Today, we visit two of Florence's splendid museums, where we will discover the whole history of Florentine Renaissance art. from Donatello to Cellini. We start the morning at the Bargello, where we see several key male nude sculptures from the Renaissance, including Donatello's David-the first freestanding male nude after ancient times; we then plunge into the Uffizi, the greatest of all collections of Renaissance painting.
Bursting with masterpieces, the Uffizi is also a storehouse of homoerotic art by masters as varied as Botticelli, Caravaggio, and Bazzi (known to contemporaries as 'II Sodoma'-the sodomite!).
The afternoon is yours to explore this charming city, its museums, and/or its wonderful fashion boutiques and artisan shops.
But this evening we meet again for another glorious Florentine meal, with the city's best-known specialty, la bistecca alla Fiorentina—and more wine, to toast our discovery of Italy's great gay art and history and the new friendships we have made.
Day 10 - Departure
Our tour ends this morning in Florence, but you can continue your Gay History and Art Experience by flying with Professor to Athens, where "Gay Greece, from Achilles to Alexander and Beyond" begins this afternoon! Please let us know about your return home, especially if you are leaving today.
Stay Longer for Greece Gay History & Art Tour

Oscar Wilde's Gay Greece Tour - From Achilles to Alexander The Great and Beyond - Athens, Mycenae, Delphi, Epidauros, Nemea & Mykonos. Ancient Greece - birthplace of democracy, philosophy, history and theater. And also a society in which same-sex relations lay at the center of social and political life. The remains of ancient Greece fascinate us still today, and in its art and ruins we can trace the origins of Western culture and the beginnings of gay and lesbian history.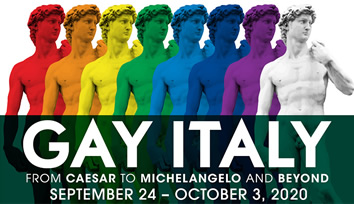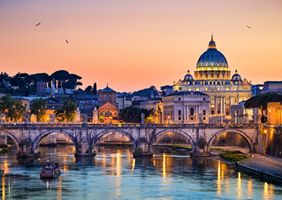 The splendor of ancient Rome…the glory of the Renaissance…the magnificence of the Baroque—Italy is the artistic treasure house of Western civilization. But there is a side to Italy's story that most people aren't aware of: gay Italy. From the Caesars to Michelangelo to Visconti and Pasolini, Italy is a storehouse of gay history—and many of its artistic treasures celebrate same-sex love.
Join us as we reveal the gay side of this amazing country. Our tour begins Rome—capital city of emperors, popes and artistic geniuses. We learn about the history of same-sex love as far back as the Etruscans, and discover the secret lives of the emperors—from Caesar and Nero to Hadrian and his lover Antinous, worshipped as a god after his suicide. We follow in the footsteps of Caravaggio—rebel against artistic and sexual convention—and visit the settings of Tosca and other operas.
And of course no visit to Rome would be complete without enjoying its culinary pleasures, including a sampling of Italy's very best gelati…
From Rome, we head to Naples, to visit the Archaeology Museum and its notorious Gabinetto Segreto—and to eat a pizza Margherita in the city that invented it. We make Naples our base for visiting the ruins of nearby Pompeii; Paestum, with its beautifully preserved Greek temples and homoerotic wall-paintings; and finally Capri, pearl of the Mediterranean, where we explore its 2,000 year record of same-sex love, from the palace where Emperor Tiberius held his orgies, to the early 20th century, when the island was a European Provincetown.
Our final stop is Florence, fountainhead of the Renaissance—and, as we learn, a fascinating window into the gay past. We revel in the city's endless artistic treasures, while focusing on the Renaissance's flourishing culture of same-sex love and the artworks its inspired—in particular, Donatello and Michelangelo's two famous Davids, so very different from each other, yet both so intentionally homoerotic.
As always with Oscar Wilde Tours, the Gay Italy tour takes you to places that regular tours do not visit—from the underground ruins of a Roman Senator's palace to the villas of Capri's early 20th century gayocracy.
We learn about Italy's gay side with Professor Lear and local guides who specialize in gay culture. And we relax in a series of exquisite hotels, while feasting on the cuisines and wines of three of Italy's great culinary regions.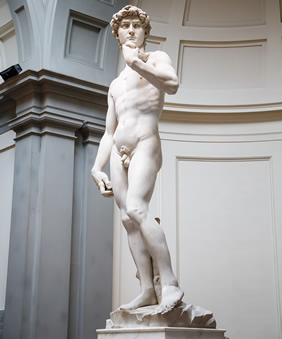 • 9 nights in Deluxe hotels in chic neighborhoods:
- 4 nights in Rome Dei Borgognoni Hotel

- 3 nights in Naples Grand Hotel Santa Lucia

- 2 nights in Florence De La Ville Hotel

• Knowledgeable gay historian accompanying the group on included activities;
• All breakfasts, 6 lunches, a welcome cocktail (in the Vatican courtyard!), and a farewell dinner;
• Services of escort and local guides;
• Admission to all sights on the tour, and transportation to them (by taxi, minibus, and train).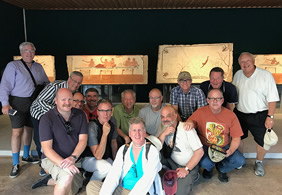 • International airfare
• Transportation from your arrival point (e.g. airport, train station) to your hotel
• Transportation from your hotel to your departure point (e.g. airport, train station)
• Travel insurance
• Alcoholic beverages other than wine at welcome and farewell dinners and other times specifically mentioned in the itinerary
• Personal items, such as snacks, laundry, and telephone calls
• Optional activities
• Gratuities for bus drivers and local guides.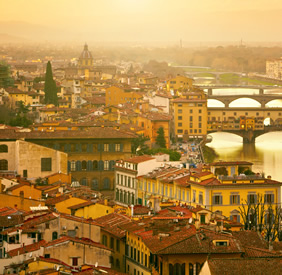 Where does the tour start and end?
This tour starts in Rome and ends in Florence, Italy.
What meals are included?
Breakfast is included every day in our tours, and on most days we include either lunch or dinner, according to the itinerary. On this tour we include all breakfasts, 6 lunches, a welcome cocktail, and a farewell dinner.
Is this a good tour for single travelers?
Singles are very welcome! Our groups generally consist of a mix of couples and singles, and there is generally a nice group ethos, so no-one will ever feel left out. Single rooms are available, with a supplement; we are also happy to try to find you a room-mate if you would prefer.
Who is our guide, Professor Lear?
Professor Andrew Lear combines a love of travel with a passion for gay history, and he brings both of those attributes to Oscar Wilde Tours.
Professor Lear holds a B.A. from Harvard and a Ph.D. from UCLA. He has published a widely praised book on male-male love in ancient Greek art, as well as a number of important scholarly articles in this area. Indeed he is generally considered one of the foremost experts on same-sex love in the ancient world, but his interest in gay history extends to other key periods, such as fin-de-siècle England, Renaissance Italy, and medieval Japan—places and periods that we will explore at Oscar Wilde Tours.
What is the level of the hotels?
Our hotels are chosen for excellent 4* quality, historic charm, and central location.
ROME – Dei Borgognoni Hotel

Housed in a dignified 19th century building, the Hotel dei Borgognoni is on a quiet street but right in the center of the city. It is the ideal base for an exploration of Rome: 5 minutes walk from the Spanish Steps or the Trevi Fountain, 10 minutes from the Pantheon, and around the corner from many of Rome's great shops, restaurants, cafés, pizzerias, and gelaterias!
NAPLES – Grand Hotel Santa Lucia

One of Naples' most charming and best-located hotels, the Grand Hotel Santa Lucia is in an art nouveau building on a quiet (and safe) stretch of the harbor promenade, right across from the Santa Lucia port and the medieval Castel dell'Ovo. It has great views out to Capri and across the bay to Mount Vesuvius and is in easy walking distance of a number of good restaurants. In short, it's one of the best bases for a visit to Naples!
FLORENCE – De La Ville Hotel

An elegant and comfortable hotel along the most fashionable shopping street in Florence, the De La Ville is a 5 minute walk from the Duomo and the Baptistery with the Gates of Paradise, and 10 minutes from the Uffizi. In short, it is a short walk from everything in Florence: shops, restaurants, cafés, open-air markets, museums....
Is this tour designed for first time visitors?
We try to design our tours both for repeat and first-time visitors. We include a number of lesser-known sights, but also major sights—which we see from the perspective of their often ignored gay history.
Who is this tour a good fit for?
Our tours focus on LGBT history and art and are designed for groups of LGBT people. They are however open to the LGBT-friendly as well.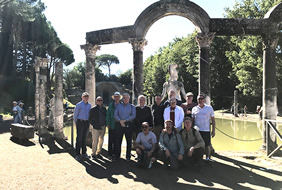 Will we have any free time to explore on our own?
In each city, we include a free afternoon, so you can explore, shop, or visit museums not included in the tour.
Is this a good tour for people with difficulty walking?
All of the main sights in the tour are visited on foot, on walking or museum tours. There may be uneven ground, for instance in archaeological sites, and steps in some museums or historic houses. The amount of walking is not, however, excessive: we rarely exceed 2 miles a day. We travel from site to site by train or air conditioned bus (or at times, in major cities, in fleets of taxis or limousines).