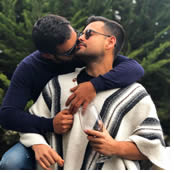 A South American gay adventure with stops in Santiago, Colchagua and the Atacama. Can't decide whether to partake in a hardcore bike holiday or an elegant wine country affair? Our big gay Chilean adventure offers both, for an unforgettable taste of South America's wild west. We kick off with a visit to vibrant Valparaiso, a couple days in wine country, then visit Atacama Desert—the driest place on Earth—with great bike rides and a trek thrown in. We'll also get a taste of Santiago, the country's sensational capital and the beating heart of Chile.
Explore the vibrant urban gay scene in Santigo and adventure trip out in the fantastic national parks of Chile.
If you're interested in a longer adventure, why not pair this tour with our Argentina & Chile: Patagonia Gay Hiking Tour?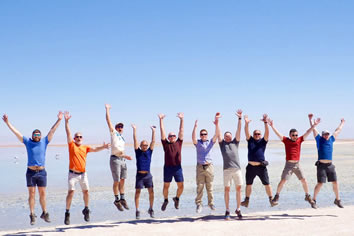 • Sample local pisco with a master distiller
• Taste some of Chile's finest vintages in Colchagua and Maipo Valleys
• Cycle the country's acclaimed wine regions
• Trek unforgettable landscapes in the Atacama Desert
• Photograph vibrant Valparaiso, Chile's famous coastal town
• Stargaze from the driest place on Earth
• Float in Chile's salt-dense lagoons
• Discover Santiago and Chile's growing LGBT scene
• Soak in Puritama natural hot springs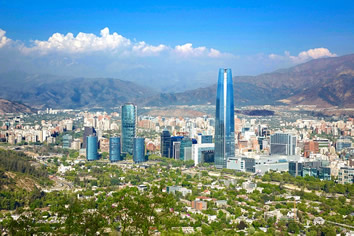 Day 1 - Arrive Santiago, Chile
Hola! Welcome to Santiago. And thank you for joining our big gay Chilean adventure!
Upon arrival at Santiago International Airport you'll head to our joining point hotel.
Chile's capital is a vibrant city full of character with thriving arts and culture, a trendy restaurant scene, and lively nightlife.
At 2pm, please join us in the hotel lobby for our Group Meeting followed by an afternoon tour around Santiago via foot and the city's metro system.
Together we'll pass by some of the city's most iconic architectural gems including "La Moneda" government palace, the Plaza de Armas and Santiago's Cathedral.
After an afternoon of walking we'll be hungry for our welcome dinner where we'll taste the region's fine local cuisine and have a taste of Chilean pisco (a type of brandy).
Hotel: Luciano K Hotel
, Santiago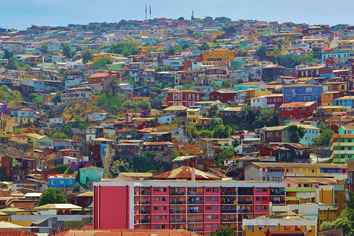 Day 2 - Valparaiso
Our day begins with a gorgeous 90-minute drive to Valparaiso (locally known as "Valpo"), a colourful UNESCO-listed city on the Pacific coast.
Together we'll enjoy a walking tour of the city and learn about its importance in South American trade and commerce. We'll be transported up steep hills via century-old hillside ascensores (elevators) into a labyrinth of streets and brightly coloured buildings, bohemian cafes and elegant restaurants.
In the afternoon we'll visit one of poet/diplomat Pablo Neruda's three homes-turned-museums, La Sebastiana.
To end the day, we'll enjoy lunch (or dinner, depending on our reservation) at one of Valpo's top restaurants nestled in the hills before taking a private transfer back to Santiago.
Hotel: Luciano K Hotel
, Santiago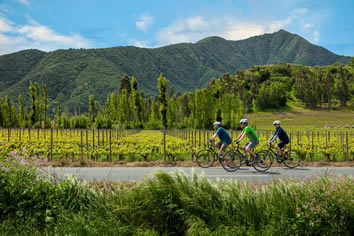 Day 3 - Colchagua Valley
Rise and shine! A full day of wine tasting awaits as we head off to Colchagua Valley! We'll start the day with a visit to MontGras vineyard to learn about Chile's wine industry, the wine making process, and of course you'll taste some delicious wines.
Next we hop on some bikes to explore Cerro Ninquén and enjoy a picturesque Chilean BBQ along with more Chilean wine.
Finally in the afternoon we visit Montes vineyard, a large, modern winery featuring inventive design, feng shui approach and Gregorian chants played to mature barrels. Tonight you're free to explore on your own.
Pedaling level: Moderate-Difficult
Hotel: TerraViña Hotel
, Colchagua Valley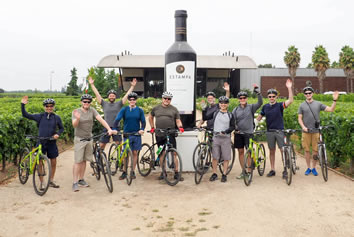 Day 4 - Colchagua Valley
Meet your guide after a leisurely breakfast as we head off for another afternoon of wine tasting and an included lunch at Casa Silva. This fifth-generation family-run winery honours the people, traditions, and environment of the Colchagua Valley (each wine must be unanimously approved by a five-member tasting panel).
After learning about this historic vineyard and tasting it's wines, we'll enjoy a scrumptious Chilean lunch together.
To conclude the day you're welcome to join us for an optional dinner at a fantastic regional restaurant.
Hotel: TerraViña Hotel
, Colchagua Valley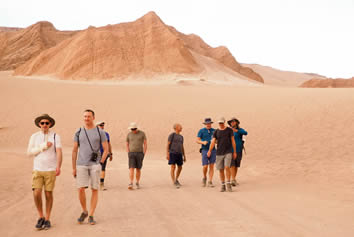 Day 5 - Atacama Desert
This morning we have a very early start to catch our flight Santiago to Calama, then transfer to San Pedro de Atacama.
Lunch is optional at our hotel. Take a few hours to explore this oasis amidst the world's DRIEST desert.
In the afternoon we'll reconvene for a sunset hike through Moon Valley. Our trek begins within the Salt Mountain Range known for its abstract rock formations. We will then make our way out of the centre and to the magical Three Marys view point, enjoying panoramic views of this national reserve and the Andes Mountain Range.
After the hike we'll be transferred to a local restaurant for dinner.
Note: The cost of today's flight isn't covered by your departure fee, however, our team will advise you which flights to book.
Length of hike: 3 hours
Maximum altitude: 2,600 meters above sea level.
Hike level: Easy
Hotel: Cumbres San Pedro de Atacama Hotel
, Atacama Desert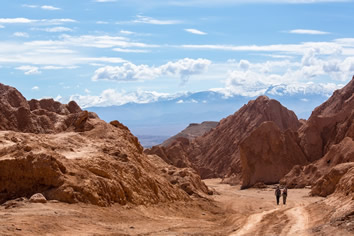 Day 6 - Cejar Lagoon
Today's bike ride brings us to lagoons north of the Atacama Saltpan. We'll float in Laguna Piedra, thanks to its salt-dense waters, then walk a few minutes to Cejar Lagoon for a box lunch.
In the afternoon we'll enjoy another desert hike that will take approximately 3 hours. The adventure begins in Death Valley, known for its distinct red tones and breathtaking rock formations. If we're lucky we'll get to watch brazen sandboarders snake down the dunes.
STAR GAZING: As the driest place on earth, the star gazing from Atacama Desert is second to none. Why not spend tonight observing splendid nebulas and constellations while wine, hot cocoa and sweet snacks are served?
Today's biking distance: 22.3 mi / 36 km round-trip
Pedaling level: Moderate-Difficult
Hotel: Cumbres San Pedro de Atacama Hotel
, Atacama Desert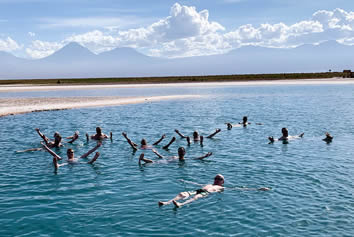 Day 7 - Termas de Puritama
If you're feeling spritely, this morning you have a completely optional excursion to visit the Tatio Geysers.
But for the majority of us, our day begins around 8am when we'll begin hiking towards Termas de Puritama. Upriver along the Puritama, we discover how the riverbed is the ideal environment for a range of plants, like the Foxtail, Ojalar, Tikara and Cardon cactus.
The trek ends around noon at the Puritama Thermal Springs where both groups will reconvene and enjoy a boxed lunch together. Be sure to unwind in the mineral-rich, 33°C (90° F) water while a symphony of birds like the Andean Ibis and Yellow-Finch serenade you. En route you'll also see Guatin Canyon, where a lukewarm stream flows.
Tonight you may either enjoy dinner at the hotel or take a transfer into town (not covered) to eat at a local restaurant.
Length of hike: 2 hours
Maximum altitude: 3,200 meters above sea level
Hotel: Cumbres San Pedro de Atacama Hotel
, Atacama Desert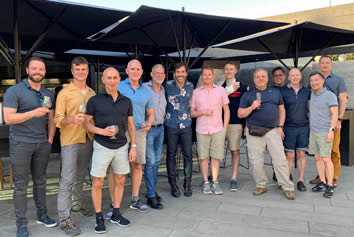 Day 8 - Santiago
After breakfast we head back to Santiago (2 hour flight) for one last day in the country's capital.
Note: The cost of today's flight isn't covered by your departure fee, however, our team will advise you which flights to book.
The afternoon is free to enjoy one last walk around Santiago.
Later, please join the group for an included cocktail at Luciano K Terrace.
Our day (and tour) ends with a Farewell Dinner at an exceptional restaurant. As a special treat at dinner, we'll be joined by the former president of Fundación Iguales, an inspiring LGBT organization.
Hotel: Luciano K Hotel
, Santiago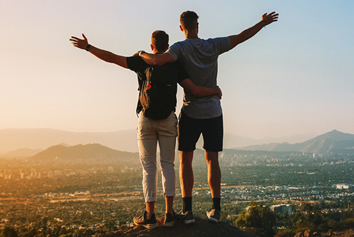 Day 9 - Santiago Departure
As the last day of our gay Chile tour, there is nothing planned.
Please confirm departure transfers with your trip leader, and safe travels home.