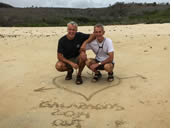 Experience Mother Nature at her most extra as you glide through the Galápagos Islands on this boutique gay cruise. Things start and end in Quito, the second-highest capital city in the world. A walking tour is the perfect introduction before we head out of town to see The Equator. Then we fly off the mainland and board a yacht to follow Charles Darwin's trail of discovery.
These islands went untouched by civilization for thousands of years and developed exceptional ecosystems. It's basically Paradise, and the animals are completely comfortable around (or totally indifferent to) the curious tourists. Our Galápagos Gay Cruise also features plenty of snorkelling to immerse you in the marine life. We'll finish things off with a short flight to Guayaquil on the mainland.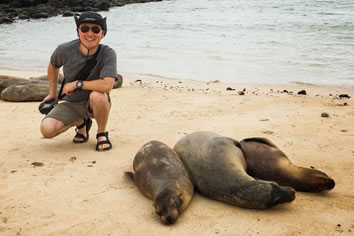 • Kickback on a luxe 7-night gay cruise
• Snorkel through awe-inspiring marine biodiversity
• Experience a range of flora and fauna unlike anything else on Earth
• Begin the adventure by exploring Quito, the second-highest capital city in the world
• Feel truly balanced standing on the Equator line, and then enjoy an 'Equator Experience'
• Pay homage to the Father of Evolution at the Charles Darwin Research Station
• Swim through Pinnacle Rock, one of the islands' most iconic landmarks
• Sunbathe with sea lion pups on pristine beaches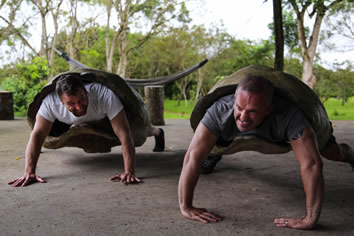 • Arrival & departure transfers to/from Out Adventures' joining/finishing point hotel
• Naturalist Guide and Out Adventures Host from beginning to end of tour
• Breakfast daily, 8 Lunches, 9 Dinners
• Guided tours of Quito, Equator museum, Dragon Hill, "Fausto Llerena" Tortoise Breeding Center, daily guided tours with Naturalist Guide in Galapagos Islands
• All activities (& required equipment) and entry fees and mentioned in the itinerary
• All transportation as part of the organized itinerary in private air-conditioned vehicles with bottled water, unless otherwise indicated
• Domestic flight from Quito to San Cristobal, and Baltra to Guayaquil
• Gratuities for city/activity guides, drivers, included meals and porters
• A $50 USD Rainbow Railroad donation to help resettle LGBTQ+ refugees.
• International airfare
• Optional activities, meals, and drinks (including alcohol and water at included meals) not outlined in itinerary
• Gratuities for your Local Tour Leader & Ship Crew ($10 USD/day x 7 and $15 USD/day x 7 = $175 per guest)
• International airport departure tax
• $100 USD Galápagos National Park entrance fee
• Entry visa & Covid-19 testing fees
• Travel insurance (medical & repatriation coverage is mandatory for all travellers.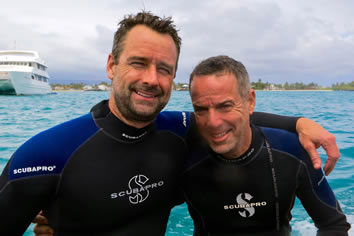 Day 1 - Quito, Ecuador / Arrival Day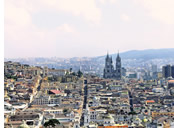 Hola – welcome to Ecuador, and the second-highest capital in the world.
After a 9 AM Kickoff Meeting we've planned a full-day city tour including La Compañia de Jesus – the most beautiful church in the Americas, and Calle La Ronda – Quito's oldest street. Then we're off to the Equator museum where you'll get a keen sense of what it means to be equidistant from the world's two poles.
A Welcome Dinner ends our day, but officially starts the holiday.
PLEASE NOTE: Given the city's high altitude consider arriving the day before, so your body can adjust to the thinner air.
Day 2 - San Cristobal, Galapagos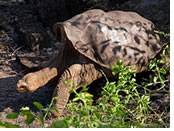 Today we fly to the Galapagos Islands and board the Natural Paradise, our home for the next week.
This is mainly a travel day, but in the afternoon we explore Kicker Rock. This striking rock formation is located a couple hours o? the western shore of San Cristobal Island. Jutting out of the water, the rocks stand vertically at hundreds of feet above the ocean divided by a small channel.
Although there are no landing areas, kayaking and dinghy rides allow us to spot a variety of marine life such as manta rays, hammerhead sharks and frigate birds.
Day 3 - North Seymour and South Plaza Islands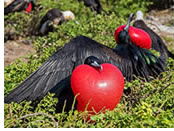 This morning we visit North Seymour with a chance to see Galapagos sea lions, blue-footed boobies, and magnificent frigate birds which are abundant on this island.
North Seymour was formed by a series of submarine lava ?ows containing layers of sediment that were uplifted by tectonic activity.
In the afternoon we head to South Plaza, a small island with steep cliffs that was formed by rising lava and is now covered by Opuntia cacti. It is also home to one of the largest sea lion colonies as well as colourful yellow and red land iguanas.
Day 4 - Rabida and Bartholomew Islands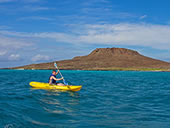 Today we get our first chance at snorkeling to explore the incredible marine life of Rabida Island. We'll also visit the famous maroon/red sand beach and take an easy hike up to a spectacular viewpoint.
Later in the afternoon it's onwards to Bartholomew Island where the famous Pinnacle Rock is found. Bartholomew consists of an extinct volcano with a variety of red, orange, black and even green volcanic formations.
We will take a trail of stairs to the summit of the volcano (about 30 or 40 minutes) where we will enjoy one of the best views of the islands!
We'll also visit a small, beautiful beach which is another perfect spot for snorkeling, if you're lucky you may even see and swim with Galapagos penguins.
Day 5 - Santiago and Santa Cruz Islands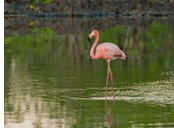 This morning we'll visit Sullivan Bay located in the southeast part of Santiago, an area known for its small volcanoes formed by lava ?ows.
Later we head to the visitor's centre at Dragon Hill and take a short walk along the rocky beach and a 1.5km/0.9mi trail.
While exploring we'll keep our eye out for iguanas and flamingos.
Day 6 - Santa Cruz Island

We start the day in the highlands of Santa Cruz which in contrast to the lower part of the islands is a deep green due to the lush forest made up of Scalesia trees. While here we'll explore the lava tunnels which are over half a mile long.
After a satisfying lunch we'll visit the Twin Craters, two formations created by the collapse of surface material in underground fissures and chambers.
Next we're off to "Fausto Llerena" Tortoise Breeding Center in Puerto Ayora, where giant tortoises are bred in captivity. The tortoises range from 3-inches (new hatchlings) to 4-feet long adults.
You may also have some time to connect with civilization and connect to WiFi in a local cafe in town, or just enjoy the remote natural beauty that surrounds you!
Day 7 - Genovesa Island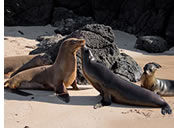 Today is dedicated to some easy to moderate walking and hiking around Genovesa Island.
Our first stop will take us up El Barranco, also known as Prince Phillip's Steps, a steep, rocky path that leads up a high cliff rock face and a marvelous view. This site is home to red-footed boobies, short-eared owls, Galapagos storm petrelsand Galapagos doves.
Later we visit the white-sand coral beach of Darwin Bay which includes a short trail that winds through mangroves filled with land birds. Look out for Nazca boobies, red-footed boobies, and swallow-tailed gulls, which can easily be spotted here.
Further down the path we'll find tidal pools where sea lions swim playfully. Those who wish will also have the opportunity for a snorkel.
Day 8 - Santiago Island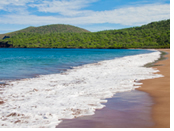 Today we have the entire day to experience multiple snorkeling spots on Santiago Island.
In Espumilla Beach, marine iguanas lounge and the Sally Lightfoot crabs attract the hunting herons performing the dance of predator and prey right before your eyes.
While snorkeling you could come face to face with an octopus, moray eel, shark and a variety of other species of tropical fish.
Later we visit Buccaneer Cove which is a testament to the fact that Santiago Island was once a refuge for British buccaneers who would anchor in the protected bay to make repairs and stock up on tortoise meat.
Finally, we head to Egas Port, also known as James Bay, home to the curious Galapagos hawks and quick-footed Galapagos lava lizards. The trail leads to the coastline with gorgeous tide pools and grottos full of fauna. Here the Galapagos fur seals bathe in the sun and this is also a great snorkeling site.
Day 9 - Santa Cruz Island / Guayaquil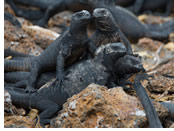 We've planned an early start for our final day on the Galapagos. We're off to Las Bachas, named after the barges abandoned by the American Navy in the 1940s.
The sandy white beaches are a nesting site for the Pacific green turtle with marine iguanas commonly seen. The sand here is particularly white and soft, made of decomposed coral. A lagoon near the beach is home to whimbrels and great blue herons.
Sadly our cruise has come to an end, we bid the Natural Paradise and her crew farewell and fly to Guayaquil for our Farewell Dinner.
Day 10 - Guayaquil / Departure Day
As the last day of our tour no activities are planned. Please confirm departure transfers with your Out Adventures Host, and safe travels home.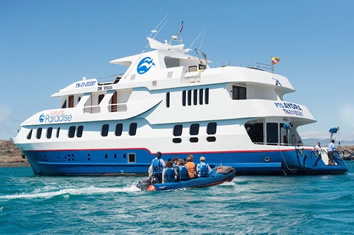 The Natural Paradise Galapagos Yacht, a brand new addition to luxury cruises in the Galapagos Islands. Customized for 16 guests, this ship is built with an intimate setting with the highest level of comfort, well-appointed facilities, large suites, and generous interiors sets the perfect atmosphere for unique encounters in the archipelago.
The Natural paradise Galapagos yacht following its namesake showcases the breathtaking landmarks and iconic islands in the Galapagos. Upper deck guests will appreciate the comfort while sightseeing stunning landscapes from the convenience of their private balconies. Other services include a hot Jacuzzi, exterior teak decks with al fresco dining, and a BBQ area.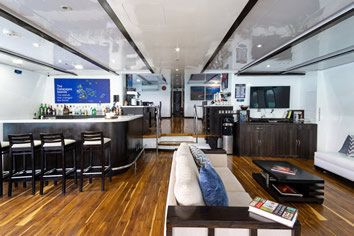 Exuding class and comfort, the spacious rooms of the Natural paradise contain all the amenities you desire. Each morning, wake up to a new and exciting view visible from multiple large windows. Every suite contains a private bathroom with hot water, hair and body products made by L'Occitane beauty company, a high dryer.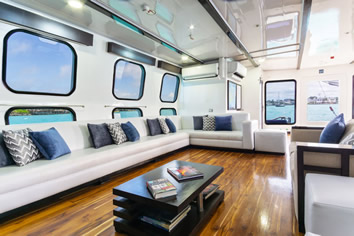 A range of staterooms and suites are available giving you maximum choice. All feature en suite bathrooms with wonderful showers and luxury L'Occitane cosmetics, hairdryers, and stunning sea views. Other upgrade options include the premium full suites accommodating King beds, a luxurious private terrace, and over 3,552 ft of private space.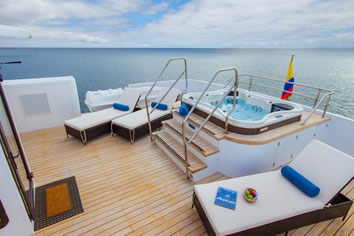 Head over to the bar any time and grab a tropical cocktail, premium spirit, or local craft beer prepared by the professional onboard bartender.
From there, you can head up to the best hangout spot onboard, the upper deck solarium, where you can enjoy all the fantastic views the Islands have to offer while mingling with your Yacht neighbors. This area is made even better with deck furniture unrivaled in coziness, and the large jacuzzi, perfect for after a snorkeling adventure.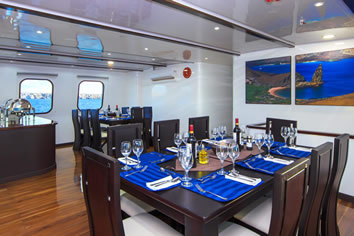 With a guest to staff ratio of 16:10, you will never have a desire unmet. The staff is welcoming, friendly, and willing to assist you in any way possible. The Natural Paradise Galapagos cruise staff includes a highly qualified, professionally trained chef that will be feeding you top-notch meals thrice daily. These meals are a fusion of international and national cuisine, with plenty of options to choose from. Moreover, if you have any dietary restrictions, these chefs will expertly craft meals made just for you.
Finally, enjoy a mouth-watering dessert to top it all off. Between excursions, the chef always provides delicious snacks and a fresh fruit juice that likely you've never tasted! Coffee, tea, and water are available 24/7 in the salon, the crew always provide you with welcome snacks on returns from excursions.