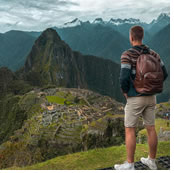 Our most popular gay hike navigates the ancient Inca Trail. Transport yourself from Peru's bustling colonial capital, through the charm and history of Cuzco, into the stunning Sacred Valley, and along the epic Inca Trail before arriving at UNESCO-listed Machu Picchu. There may be trekking involved, but we certainly won't rough it. This all-gay hike features 3- and 4-star properties en route, with a few nights of 'glamping' thrown in—it's sort of like camping, only with guides, porters and cooks pampering our tender souls.
PLEASE NOTE: Inca Trail Permits typically sell out 3-6 months in advance—and beyond our control—so book ASAP.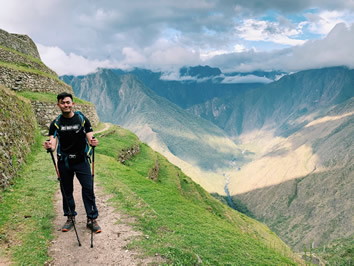 • Traverse the ancient Inca Trail en route to glorious Machu Picchu
• Reach an altitude of nearly 4,200m/14,000ft at Dead Woman's Pass
• Watch the sunrise on the snow-capped Andes Mountains
• Meander through ancient Incan ruins
• Admire Machu Picchu through the renowned Sun Gate
• Wander the atmospheric streets of Cuzco
• Marvel over the might of the Inca empire in the Sacred Valley
• Become versed in the fusion of Incan and Spanish colonial architecture
• See how locals live in the countryside
• Explore Barranco and Miraflores, Lima's trendiest neighbourhoods
Day 1 - Arrive Lima, Peru
Hola! Welcome to Lima. Our adventure kicks off at 2PM with an important Group Meeting. You'll meet your Group Leader, and fellow travellers, to talk about our upcoming adventure.
We'll then head for the trendy historic neighbourhood of Barranco for a walking tour that explores the streets lined with traditional casonas (colonial-style houses). This charming area is also home to many artists, musicians, and writers.
We'll also make some stops in trendy Miraflores, taking in the seaside views along the "Malecon", a six-mile strip of parks, gardens and green space along the cliffs overlooking the sea.
Later in the evening we'll reconvene for our included welcome dinner to sample the finest delicacies of this foodie capital.
Hotel: Manto Hotel Lima - Mgallery, Lima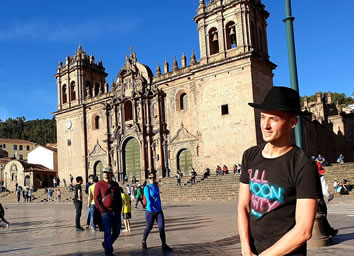 Day 2 - From Lima to Cusco
Today we rise bright and early for a flight to South America's oldest continually-inhabited city, Cusco (also spelled Cuzco). After checking in to our centrally located boutique hotel, we'll discover the Moon Temple and enjoy a picnic lunch.
Then we'll transfer back to the city-centre for an orientation walk, including a visit to the hyper-local San Pedro market.
Later today, we'll have a mandatory briefing regarding our upcoming gay hike. The evening is free, with an option to head for dinner as a group.
Please note: Today's flight is not included in the cost of the tour. Please see 'Trip Notes' for a special note on purchasing domestic airfare.
Hotel: Antigua Casona San Blas Hotel, Cusco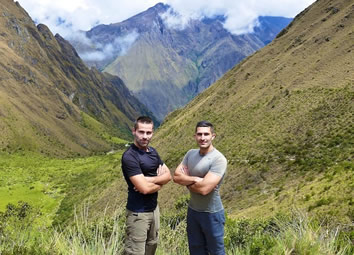 Day 3 - Sacred Valley / Urubamba
This morning we'll travel to the Sacred Valley. This lush, fertile land is the primary food source for those living in the high Andes Mountains.
We'll stop by a farming community, then head to our quaint hotel in Urubamba just on the outskirts of Ollantaytambo, a geometrically-perfect town famous for the huge terraces that guard the ancient temple overlooking the valley.
For dinner we'll enjoy an incredible included meal. Rest well tonight, because our hike begins tomorrow.
Hotel: Inkaterra Hacienda Urubamba Hotel
, Ollantaytambo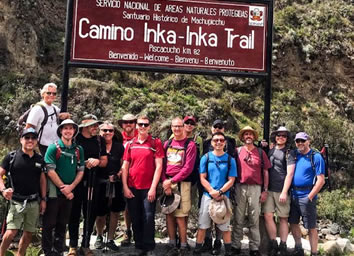 Day 4 - Inca Trail
Today we travel by minivan to a starting altitude of 2,850m/9,350ft, where we'll be met by our esteemed crew of porters, cooks and guides.
For the first day of our hike we'll tackle an uphill trek to our campsite, which sits at an altitude of over 3,300m/10,800ft. There will be other groups at camp, but we've arranged our own dining and washroom tents.
En route we'll see the ruins of Llactapata, burnt to the ground by the last Inca emperor, to discourage Spanish pursuit down the trail.
A Special Note On Camping
SLEEPING: This trip has three nights of camping. All tents are set up by guides/porters and sleeping pads are provided.
FOOD: During the trek on this trip there is a private dining tent with a fully supported cooking staff. Three meals per day are provided on the trek portion of this trip.
LUGGAGE: During the day while on the trek, porters will carry your duffle bag. This bag is provided the night before the trek begins, and has a 6kg/13lb limit (including clothes, supplies and your sleeping bag). The only thing you will need to carry is a day-pack.
Accommodation: Inca Trail Camping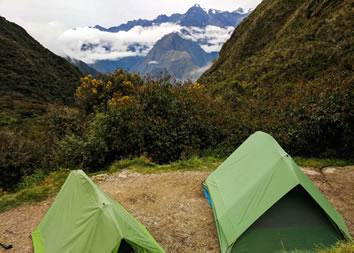 Day 5 - Inca Trail
This is the most challenging day of our trek. We'll ascend a long, steep path to our apex—Dead Woman's Pass—at a height of 4,200m/13,779ft.
We'll then descend to the Pacaymayo Valley at 3,650m/12,000ft, before another climb to Runkuracay Pass at 3,980m/13,000ft. From here, we can enjoy views of the snow-capped Cordillera Vilcabamba, before our final descent of the day to the ruins of Sayacmarca.
At last, ready for rest, we'll arrive at our campsite at 3,620m/11,900ft.
Accommodation: Inca Trail Camping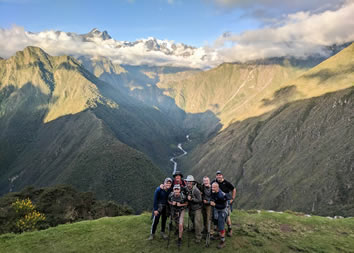 Day 6 - Inca Trail
For our hike's last full day, we'll continue over the third pass, then eventually encounter the enigmatic ruins of Phuyupatamarca—the 'Town above the Clouds'—at 3,850m/12,630ft.
From here, we'll descend along the famed Inca steps to our final camp by the Wiñay Wayna ('Forever Young') archaeological site at 2,750m/9,022ft. We may even pop some bubbly to celebrate our trek thus far.
Accommodation: Inca Trail Camping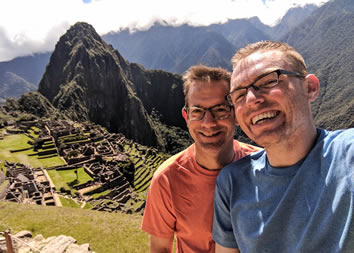 Day 7 - Machu Picchu / Cusco
Today we'll rise early and hike towards the Sun Gate and Inka Bridge. You'll have roughly an hour to explore this fascinating part of Machu Picchu on your own.
After taking sufficient selfies, we'll reconvene for a unique two-hour private guided tour of the UNESCO World Heritage site itself.
Please note: as of July 2018, no one is allowed to explore Machu Picchu on their own.
Then it's off to the town of Aguas Calientes for an optional lunch. Finally, we'll hop aboard the charming 360° Machu Picchu Train to Ollantaytambo, where a private transfer will return us to Cusco.
The evening is free for some well-earned rest and relaxation.
Please Note: As of July 2018, no one is allowed to explore Machu Picchu on their own.
We'll enjoy an optional lunch before taking the 360° Machu Picchu Train back to the Sacred Valley, where we'll connect with our private transport to Cusco. Take the rest of the night to enjoy our luxe accommodations.
A Special Note On Machu Picchu
As of July 1, 2018, Peruvian authorities have enacted new regulations surrounding all Machu Picchu visits. This will affect all Out Adventures in the following capacity:
• Entry tickets are valid for one entry only, meaning you cannot leave the site and re-enter.
• After entry, our group will be directed to one of three "circuits" around the site. We will not have the ability to backpedal, switch circuits or explore Machu Picchu after completing the circuit. We must immediately leave the site after completing the circuit.
• We will have a set time slot for our tour, either 6am-12pm or 12pm-4:30pm, and this slot will be chosen in advance by our operations team.
• We will spend additional time exploring the famous Sun Gate and Inka Bridge which will be less regulated.
Hotel: Antigua Casona San Blas Hotel, Cusco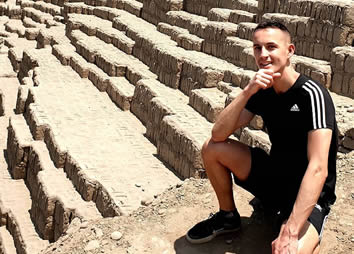 Day 8 - Cusco
This morning you'll have the option to visit the archaeological sites of Saqsayhuaman, Qenqo and Tambomachay via private transport (price will depend on number of participants). While these sites may not be as mesmerizing as Machu Picchu, they remain historically significant, and are worth a visit.
This evening we'll gather one last time, at a gay-welcoming restaurant, to share some fond memories over our Farewell Dinner.
Hotel: Antigua Casona San Blas Hotel, Cusco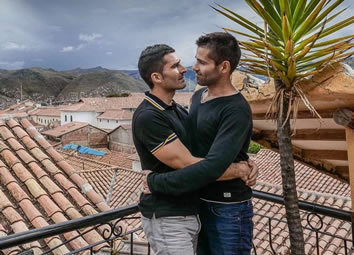 Day 9 - Cusco Departure
There are no activities planned today, so you are free to depart at your leisure.
Thank you for joining our gay Peru Inca Trail tour.
Your local guide will help arrange your included departure transfer to the airport. Safe journey!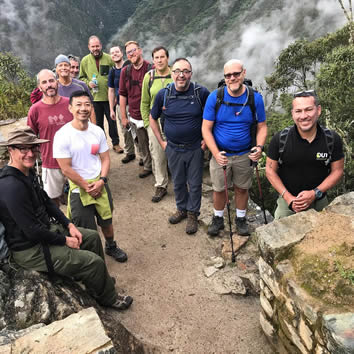 • Arrival & departure transfers to/from joining/finishing point hotel
• Group leader from beginning to end of tour
• 8 breakfasts, 4 lunches, 6 dinners
• Lima orientation walking tour
• Cuzco orientation walk
• Visit to a community in the Sacred Valley
• Bottled water available on all busses
• Inca Trail Permit
• 4-day, all-inclusive, fully supported Inca Trail hike
• Private, guided tour of Machu Picchu
• Train trip between Aguas Calientes and Ollantaytambo aboard the Vistadome train
• Gratuities for Inca Trail Crew
• Gratuities for drivers, day/city guides, hotel porterage and included meals
• A $50 USD Rainbow Railroad donation to help resettle LGBTQ+ refugees.
• International airfare and domestic airfare (Details will be provided when the official Trip Guarantee is sent to group)
• Meals & Activities not mentioned
• Travel insurance is mandatory for all travellers.
• Gratuities for Group Leader ($45-$90 USD)
• All items of a personal nature (laundry, drinks, etc.)
• Visa fees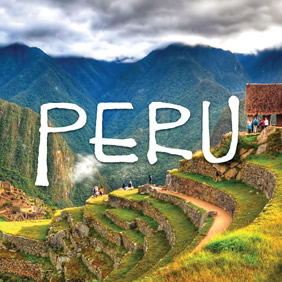 Peru Visa
A visa is not typically required for American, Australian, British and Canadian citizens travelling to Peru for fewer than 90 days. There may be exceptions, and all visas are the responsibility of the traveller.
Culture Shock
Peru is a developing country with infrastructure, values, customs and standards that may differ from what you're accustomed to. Expect poor road conditions, along with unanticipated inconveniences such as restaurants and tourist sites being closed from time-to-time. Please note our transportation may be altered, and/or our itinerary changed, due to such circumstances beyond our control.
Local LGBT Scene
Many people frequently mistake the Inca national flag for a rainbow Pride flag…if only that were the case. Peru is predominantly Catholic, quite conservative, and hasn't progressed far in terms of LGBT rights. That said, Lima does have a large LGBT community, some popular gay bars, and a friendly restaurant and art scene.
Weather
Expect the weather in Lima to be fairly consistent, with daytime highs around 18C/65F, and evening lows around 15C/58F. April through October are the coolest and driest months in the Andes Mountains (Cusco, Sacred Valley, Inca Trail), where the average daily high is around 20C/68F, with evening lows around 4C/40F.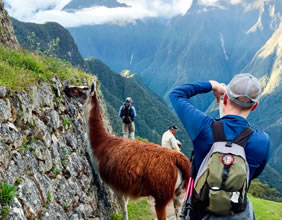 Required Vaccinations
Based on entry requirements, there are no vaccinations needed for Peru. To determine if you should take preventative measures to reduce the risk of illness, you should consult your doctor or a travel medical clinic, as we cannot provide vaccination recommendations.
Electricity
You will need an international travel plug/adapter for type A/B/C sockets.
Connectivity
Wi-Fi will be available at no cost at our hotels in Lima, Cusco and the Sacred Valley. Unless you have a local SIM card, you won't have a data connection during our hike on the Inca Trail.
Travel Insurance
For everybody's peace of mind, medical travel insurance is required on all Out Adventures tours. At a minimum, your travel insurance must provide cover against personal accident, death, medical expenses, emergency repatriation and personal liability, with a minimum medical coverage of US $200,000.
Domestic Airfare
On this tour domestic airfare is not included. We will provide the recommended flight details in the official Trip Guarantee email. If you are booking your trip less than 90 days to departure, there is a chance you will have to purchase a different flight than the rest of the group.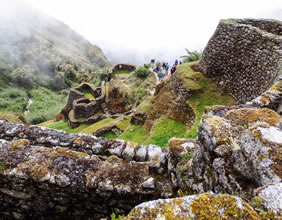 Meals
While on the mountain, all meals will be included. You will have a selection of meat, fresh fruit, and vegetables, with hot meals throughout.
Money
The local currency is the Peruvian Nuevo Sol. Credit cards are accepted at hotels and upscale restaurants, but not for gratuities. We recommend carrying approximately $400 USD to be used only in the case of an emergency, or if your credit/ATM cards are placed on hold.
Tipping
Gratuities for local day/city guides, drivers, hotel porters and food at included meals are all covered in the trip price. However, a tip to your Group Leader, housekeeping, and gratuities for optional meals and drinks at included dinners are not. Please note: Credit cards are accepted at hotels and upscale restaurants, but we strongly recommend cash for gratuities.
What to bring
Our adventures entail carrying your own luggage on occasion. And while you'll never schlep far, things can quickly get costlier than a celebrity breakup if you don't keep your baggage under 20kg/44lb thanks to costly surcharges on domestic flights. You should also bring something smaller for day trips to carry water, your camera, and any souvenirs you find along the way.
Optional Activities
Every Out Adventure offers optional excursions that are not included in price of this trip. Please see the daily itinerary in your final pre-trip packet to learn what's available.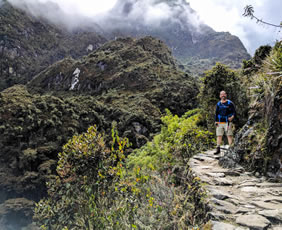 How We Travel
Out Adventures is all about good times with likeminded guys. Whatever's on the itinerary – from fireside camping to five-star decadence – our goal is to make the experience magical. We're also committed to supporting the communities we visit by hiring local guides, staying at locally-owned accommodations when possible, and celebrating local cuisine. It all adds up to a great way to immerse yourself in the culture.
Your Guide
All Out Adventures are led by a gay (or gay-welcoming) guide. Whenever possible, we hire destination locals. And we can also connect you with the right people if you'd like to delve deeper into the local culture. If you're pleased with your guide, we recommend a tip of US $5-10 per person, per day…they'll certainly appreciate it!
Flying Solo
If you've never travelled on your own, it's an amazing way to get to know yourself while making new friends along the way. We can arrange for you to share a room with people in your age range at no charge, or you can pay a supplement for your own room. If there's an odd number of solos, we'll rotate a single room on a random basis.
Important Machu Picchu Info
For safety reasons, our Machu Picchu entrance tickets do not include the fee to climb/hike to the top of Huayna Picchu (the mountain in the background of Machu Picchu photos). You will, however, have access to the entire site along with a 2-hour guided tour. You will be required to temporarily sign off your Out Adventures trip if you choose to do this activity due to serious safety concerns.
A Special Note On Altitude Sickness
Altitude sickness and oxygen deprivation may be felt while travelling in high altitudes. Symptoms include shortness of breath, headaches, general lethargy, and a reduced appetite. It's important that you drink plenty of water, and not overexert yourself. A comprehensive first-aid kit is carried by our support crew during treks, and senior staff are trained to prevent, detect and – if necessary – deal with AMS (Acute Mountain Sickness). Contrary to what many say, AMS is not that common, at least not on well-paced treks.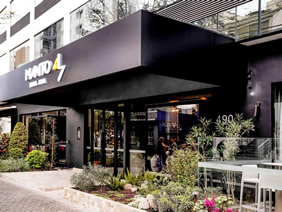 Starting Point Hotel
Manto Hotel Lima - Mgallery, Lima
The hotel is located in San Isidro, the most exclusive and cosmopolitan district in Lima, only a 25-minutes ride away from the international airport Jorge Chavez by car. Exclusive stores, restaurants, and bars, all within walking distance (from 100 – 1000 m). Luxury grocery store one block away.
Manto Hotel Lima - MGallery features accommodations with a restaurant, free private parking, a bar and a terrace.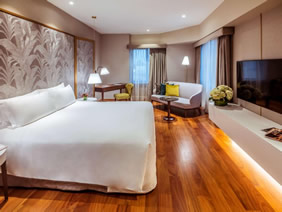 Among the facilities at this property are a concierge service and valet parking, along with free WiFi throughout the property. The accommodations provides a 24-hour front desk, room service and currency exchange for guests.
All rooms are fitted with air conditioning, a flat-screen TV with cable channels, a kettle, a shower, a hairdryer and a wardrobe. Featuring a private bathroom, rooms at the hotel also boast a city view.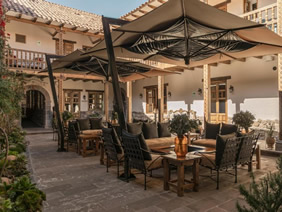 Finishing Point Hotel
Antigua Casona San Blas Hotel, Cusco
Antigua Casona San Blas is a walking distance away from various renowned Cusco restaurants and bars. Hatun Rumiyoc is 656 feet from Antigua Casona San Blas, while Religious Art Museum is 984 feet from the property.
The Antigua Casona San Blas offers 26 rooms with in-room WiFi, radiant heating, a flat-screen TV, unlimited hot water, private bathrooms, a central patio with a fireplace, and an in-house bar. Located only 2297 feet from Cusco's main square and 328 feet from the San Blas Church.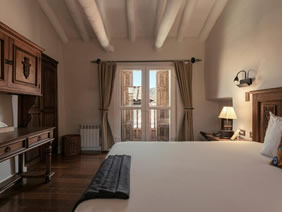 Dine with us at Piedra & Sal, where you'll be able to enjoy our morning spread and made-to-order breakfast options, like our french toast with a hint of orange. Settle into a candle-lit dinner where our contemporary takes on Peruvian recipes, like aji de gallina al batan, will make you curious to explore our menu in more depth. Sip on a refreshing cocktail like an Apasionada around one of the fireplaces in our courtyard.
Indulge in our private Spa at Antigua, which offers holistic wellness experiences complete with a steam bath, jacuzzi soak, salt rubs from a local quarry, Spanish-style shower, and therapeutic massage.