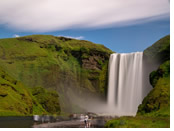 Join our sunny lesbian escape to The Land of Fire & Ice. From cosmopolitan Reykjavík to the pristine countryside, this 8-day lesbian adventure will immerse you in everything a girl could love about the land of Björk. Explore the stunning South Shore, visit an Icelandic Goat farm, meet a female brewmaster, and soak away your worries in the healing waters of the Blue Lagoon. Now let's get going, or as the Icelandic say, "Let's get on with the butter".
Endless hot springs & ancient volcanoes await lesbian travellers in Iceland. If you're hungry for an epic adventure, this pristine nation is a perfect place to explore. Capital city Reykjavik offers everything from eclectic nightlife to tantalizing Nordic cuisine. The countryside is a great place to spike your adrenaline by white water rafting, glacier trekking, or zipping on Zodiacs through glacial lagoons. And when you're ready to unwind in a natural hot tub, hundreds of geothermal zones await (you may even spot the Northern Lights).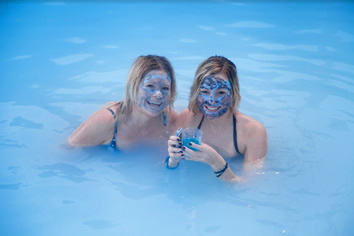 • Kick off your trip with Culture Night, one of the biggest festivals in Reykjavik
• Enjoy a welcome dinner at a restaurant run by a lesbian sommelier
• Visit an installation by lesbian artist Roni Horn
• Check out a goat farm and cuddle up to the cute local critters
• Sample the offerings of a female-run brewery
• Celebrate your last night with a house party hosted by two legendary local lesbians
• Soak in the Blue Lagoon before catching your return flight home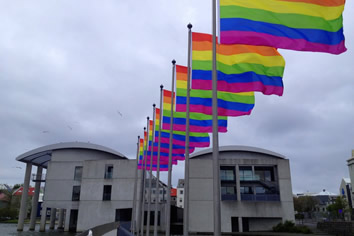 Day 1 - Reykjavik, Iceland / Arrival Day
Halló – welcome to Iceland!
After checking in to your room please join us for a Welcome Meeting at 5PM. You'll meet your guide Ziggy, who will explain what the queer scene is like in this remote and sparsely populated country.
Our Welcome dinner is just across the street, where the lesbian sommelier and manager will give us top-notch service. To wrap our first day we'll partake in Reykjavik Culture Night, when museums, theatres and other institutions kick off their annual programmes. Attracting 100,000 people it's easily one of the city's biggest events.
NOTE: The first day of our tour is also the Reykjavik Marathon. Why not arrive a day early and take part? You can sign up for the 10K, 21K, or full 42K marathon, so you don't even have to be an avid runner. Since we'll join a larger LGBT group there will also be lots of fun and camaraderie en route.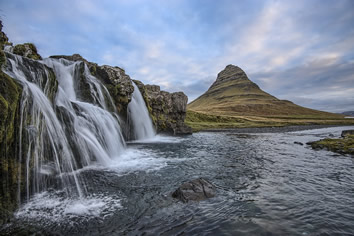 Day 2 - Snæfellsnes
An epic road trip brings us to the dramatic Snæfellsnes Peninsula.
The drive includes a visit to a farm where you'll meet purebred Icelandic goats – cuddly creatures that are on the brink of extinction. The goat breeder, Jóhanna, will explain how she helps keep the stock alive.
See the glacier-topped volcano Snæfellsjökull, the symmetrical basalt columns of Gerðuberg, and possibly some seals at Ytri-Tunga Beach. We'll also check out the Library of Water art installation by Roni Horn.
Finally we'll walk along the coast between the villages of Arnarstapi and Hellnar, and marvel at the grandeur of Kirkjufell (aka Arrowhead Mountain from TV's Game of Thrones).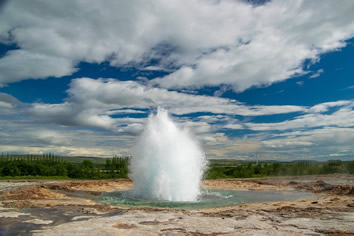 Day 3 - The Golden Circle
Today is dedicated to one of the most popular drives in Iceland: the Golden Circle.
You'll see hot springs and geysers, and learn how geothermal energy lets Iceland grow tomatoes and strawberries in artificially-lit greenhouses.
After an included lunch at the farm we'll hike to see Brúarfoss waterfalls.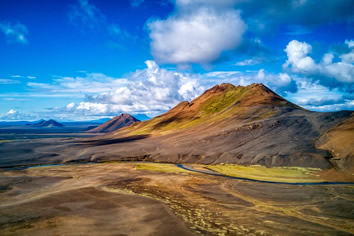 Day 4 - Paradise Valley
A drive to the outskirts of the Icelandic highlands brings us to a pastoral landscape full of rivers, ponds and waterfalls.
We'll hike into Gjáin, aka The Gorge, and enjoy a rugged 4X4 journey to Háifoss waterfall.
Our day ends at the Hrauneyjar Highland Centre, where we'll spend the night.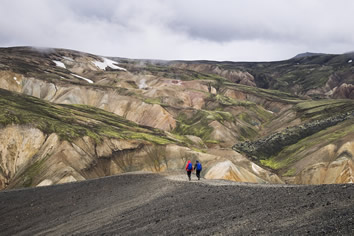 Day 5 - Landmannalaugar and the Icelandic Highlands
Today we'll hike a breathtaking but generally uninhabitable part of the country.
Once we arrive at Landmannalaugar, geothermal baths will help limber us up before we return via Fjallabak, where the landscape is laden with moss-covered craters.
Tonight we'll stay in a cozy but modern guesthouse.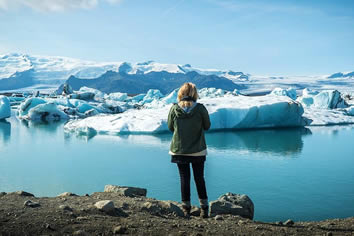 Day 6 - Glacier Lagoon & Hike
Today we visit the magical Jökulsárlón Glacial Lagoon. Witness the mighty power of Iceland's glaciers, and even trek the glacier under the guidance of a trained professional.
In Skaftafell National Park you'll also be able to hike up to beautiful Svartifoss Waterfall, before we return to the guesthouse for one more night.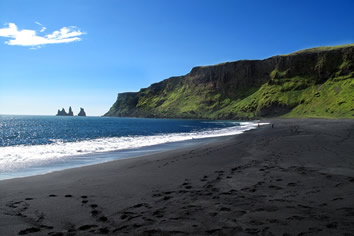 Day 7 - South Shore Adventure
This morning we'll drive back to Reykjavik along the South coast, with stops to admire waterfalls, glaciers, and black sand beaches.
We'll even visit Ölvisholt brewery, where we'll meet their female Brewmaster.
Our trip ends with a Farewell Dinner and a quintessential Icelandic experience: a house party hosted by some local lesbian legends (and friends of Out Adventures), Eva and Birna.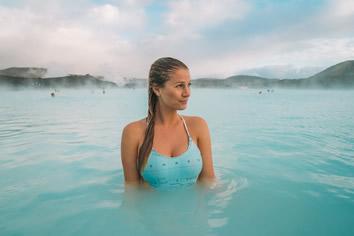 Day 8 - Reyjkavik & Blue Lagoon / Departure Day
It's the last day of our Icelandic escape, but we're sending you off in style.
En route to the airport we'll visit the world-famous Blue Lagoon and soak in the healing waters.
To ensure you don't miss a moment of fun, please book a return flight that departs after 4PM.