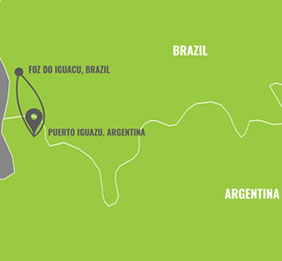 • Arrival & departure transfers to/from Out Adventures' joining/finishing point hotel
• A gay Out Adventures host and an English speaking local guides
• 3 breakfasts, 2 lunches and 2 dinners
• All gratuities for drivers, included meals and porters
• All activities mentioned in the itinerary as well as national park access
• All land transportation in comfortable, air conditioned vehicles with bottled water available on bus
• International airfare & domestic airfare (details will be provided when the official Trip Guarantee is sent to group)
• International departure taxes
• Meals and drinks not mentioned in the itinerary
• Drinks with included lunches and dinners
• Travel insurance is mandatory for all travellers.
• Gratuities for local guide(s) (budget approximately $15-$20)
• All items of a personal nature (laundry, drinks, etc.)
•Visa fees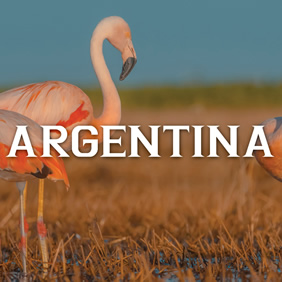 Visa
A visa is not typically required for American, Australian, British and Canadian citizens travelling to Argentina and Brazil for up to 90 days. There may be exceptions, and all visas are the responsibility of the traveller.
Culture Shock
Argentina is a well-developed nation with many of the luxuries of home. On this pre-extension we'll be staying in a very touristy city where English will be widely spoken. Unfortunately, pickpockets and petty crimes do exist and you should leave jewellery and valuables behind.
Local LGBT Scene
Argentina is, by most accounts, a very LGBT-welcoming destination with an extremely lively gay scene in Buenos Aires. While a small minority of Argentines hold onto socially conservative views, homophobia is on the decline. You will feel right at home in this diverse country.
Weather
Iguazu Falls is located in the heart of a sticky jungle and rainforest. Expect hot, humid days with frequent showers/rain. In fact, October is historically the region's wettest month, so a rain jacket is required. Evenings should be warm but not unbearable.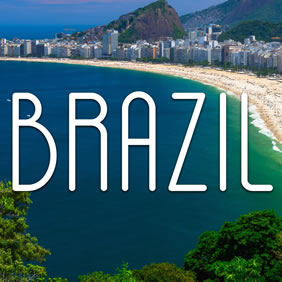 Required Vaccinations
Based on the entry requirements for Argentina, there are no vaccinations needed for entry. Although we're only briefly crossing the border into Brazil, you may want to carry proof of a yellow fever vaccination—it is not required, but in rare cases you may be asked. To determine if you should take preventative measures to reduce the risk of illness, you should consult your doctor or a travel medical clinic, as we cannot provide vaccination recommendations.
Electricity
You will need an international travel plug/adapter for type C and I sockets.
Connectivity
All our hotels will have Wi-Fi access, so feel free to tweet, pin, post and share your experience with your friends and family at home. They might be a tad jealous!
Travel Insurance
For everybody's peace of mind, medical travel insurance is required on all Out Adventures tours. At a minimum, your travel insurance must provide cover against personal accident, death, medical expenses, emergency repatriation and personal liability, with a minimum medical coverage of US $200,000.
Domestic Airfare
On this tour domestic airfare is not included. We will provide the recommended flight details in the official Trip Guarantee email. If you are booking your trip less than 90 days to departure, there is a chance you will have to purchase a different flight than the rest of the group.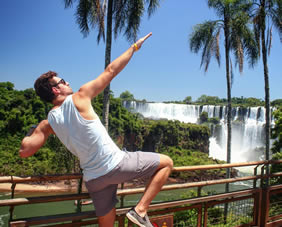 Meals
To keep things flexible, not all meals are included in the trip price. Although we typically dine together so that everybody can get a taste of everything, feel free to explore on your own…your guide will always have some restaurant recommendations.
Money
The local currency is the Argentinean Peso (ARS) and on the Brazil-side it's the Braziliean real (BRL). Use local currency for small purchases, however credit cards are accepted at most upscale restaurants and hotels. Exchange centres are found directly on either side of the border. We recommend carrying approximately $400 USD to be used in case of an emergency, or if your credit/ATM cards are placed on hold. This should be in addition to any spending money.
Tipping
If you are happy with services throughout your trip, a tip is recommended. Tipping details will be provided in your final trip documentation, however we recommend budgeting approximately $15-20 USD.
What to bring
Our adventures entail carrying your own luggage on occasion. And while you'll never schlep far, things can quickly get costlier than a celebrity breakup if you don't keep your baggage under 20kg/44lb thanks to costly surcharges on domestic flights. You should also bring something smaller for day trips to carry water, your camera, and any souvenirs you find along the way.
Optional Activities
Every Out Adventure offers optional excursions that are not included in price of this trip. Please see the daily itinerary in your final pre-trip packet to learn what's available.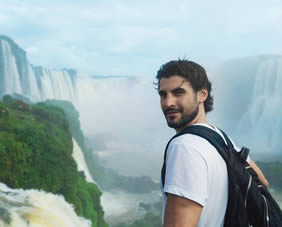 How We Travel
Out Adventures is all about good times with likeminded guys. Whatever's on the itinerary – from fireside camping to five-star decadence – our goal is to make the experience magical. We're also committed to supporting the communities we visit by hiring local guides, staying at locally-owned accommodations when possible, and celebrating local cuisine. It all adds up to a great way to immerse yourself in the culture.
Your Guide
All Out Adventures are led by a gay (or gay-welcoming) guide. Whenever possible, we hire destination locals. And we can also connect you with the right people if you'd like to delve deeper into the local culture. If you're pleased with your guide, we recommend a tip of US $15-$20 per person… they'll certainly appreciate it!
Flying Solo
If you've never travelled on your own, it's an amazing way to get to know yourself while making new friends along the way. We can arrange for you to share a room with people in your age range at no charge, or you can pay a supplement for your own room. If there's an odd number of solos, we'll rotate a single room on a random basis.
Starting/Finishing Point Hotel
Amérian Portal del Iguazú Hotel
, Puerto Iguazu
Set in Puerto Iguazú, located meters away from Three Borders Landmark and Featuring spa facilities, two swimming pools, Amerian Portal del Iguazu offers accommodations right in front of the Three Border Landmark. There is a lush garden and a terrace overlooking the river. Free WiFi is available in rooms and common areas.
Boasting stylish décor in soft hues, rooms at Portal Amerian feature private balconies with river or garden views, and plasma TVs.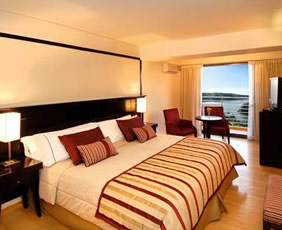 A buffet breakfast is served daily. La Misión restaurant prepares international dishes, whereas De los Ríos Grill offers traditional Argentinean BBQs. Drinks from the bars can be enjoyed in the garden, or on the terrace overlooking the river.
Spa facilities include a sauna. There is a fitness centre, and both the indoor and the outdoor swimming pool have great river views.