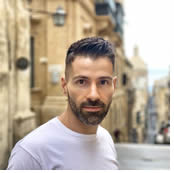 Ease into the Mediterranean way of life aboard this luxurious gay cruise. Beginning in Naples and ending in Valletta, this intimate Mediterranean gay cruise only has room for 38 fellows. By keeping things small, we can slip into unspoiled coves and sleepy Italian ports. Between daily swim stops we'll swig limoncello and order double scoops of gelato. Private walking tours will transport us back centuries where we'll learn about the region's Greek and Roman mythology.
For the latter part of the cruise we'll live it up on the sumptuous coast of miniscule Malta. The island nation has recently been making waves as one of the world's newest gay hotspots. Specifically, we'll have the option to ride Jeeps on Gozo Island, belly flop into Mellieha Bay and shop the lively streets of the country's dapper capital, Valletta. Now THAT'S la dolce vita!
If you want to explore more of La Bel Paesa—the Beautiful Country—this cruise can be easily paired with our all-gay Italy: Tuscan Decadence & Roman Resplendence gay tour.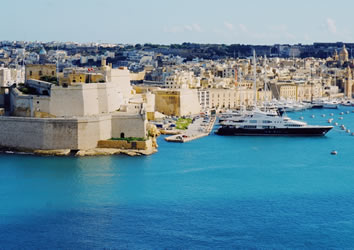 • Soak up the Mediterranean and Tyrrhenian Seas alongside a group of like-minded gay men while enjoying daily swim stops
• Explore Malta's dapper capital, Valletta, a city built "by gentlemen for gentlemen".
• Sip limoncello in ravishing Capri while keeping an eye out for celebrity sightings
• Enjoy gelato in the sleepy villages of Stromboli Island
• Savour one of the best culinary cultures in the world during exquisite included meals
• Learn about the history and mythology of Southern Italy's Greek and Roman ancestry
• Choose between an (optional) afternoon 4x4ing up Mt Etna on Giardini Naxos or taking in the city's sweeping ancient history on a guided walking tour
• Photograph the oldest freestanding structure in the world, the Ggantija Temples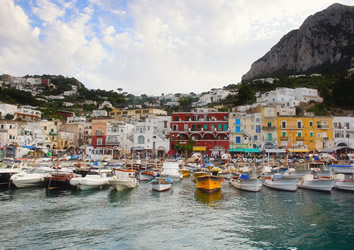 Day 1 - Naples, Italy
Ciao! Welcome to Naples, the birthplace of pizza and the launching point of our Italy & Malta gay cruise.
The adventure begins with a welcome meeting at 2pm where we'll get acquainted before transferring to Pozzuoli port to board our home for the next 8 days, the Harmony G. After everyone finds their respective cabins, we'll reconvene on the top deck for welcome drinks and a safety briefing before setting sail towards Italy's coastal masterpiece, Capri.
If weather permits we'll savour a delicious BBQ welcome dinner on the yacht's deck before venturing into Capri for celebrity sightings and limoncello. We set sail at midnight, so there's plenty of time to enjoy this gem of the Tyrrhenian Sea.
Please note: An optional excursion to the ancient ruins of Pompeii is available this morning. The activity includes a short hike to the notorious volcano's peak. In order to participate, you must arrive in Naples the night before.
Accommodation: Variety Cruises Harmony G Mega Yacht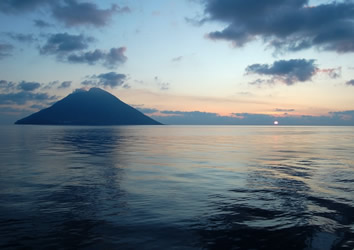 Day 2 - Stromboli
This morning we sail south, arriving at Stromboli just after lunch. With approximately 500 inhabitants, Stromboli is best known for its incredibly active volcano of the same name. With luck we may see it puff and smoke.
Our yacht will anchor at Marina Beach, where you'll have the afternoon to swim or sunbath on the black volcanic sand. Alternatively, wander the sleepy villages of this sparsely populated island.
We return to our floating home before dinner and weather permitting we'll relish in an alfresco dinner and gorgeous volcano views.
Accommodation: Variety Cruises Harmony G Mega Yacht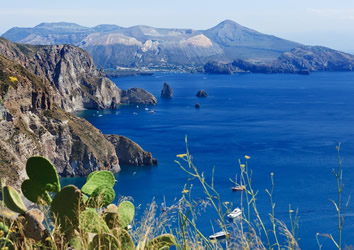 Day 3 - Lipari
Buon giorno! After a leisurely breakfast we enjoy a swim stop at charming Isla Salina and take in views of its craggy volcanic shore.
After lunch we arrive in Lipari, famous for both its mythology and beautiful natural environment. We'll enjoy a guided walking tour of the historic village visiting the castle, built by the Spanish on the site of an ancient necropolis. Inside its walls you'll visit both the cathedral and museum where there are important collections of Greek and Roman materials.
After the tour enjoy a little free time for souvenir shopping or an afternoon espresso in the village. Those looking to stretch their legs can hike up to the Belvedere Quattrocchi viewpoint where rewarding views of the postcard-perfect coastline and neighbouring Isla Salina await (about 2.5 hours return hike). Tonight's dinner will be served on our yacht.
Accommodation: Variety Cruises Harmony G Mega Yacht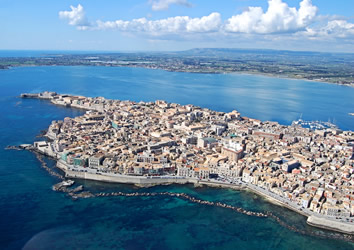 Day 4 - Giardini Naxos, Sicily
This morning we make a post-breakfast swim stop in the stunning aqua blue waters of Mazzoro before heading to Giardini Naxos where we are truly spoilt for choice.
For the adventurous at heart, straddle a 4×4 and prepare to off-road to the peak of Mt Etna volcano, Europe's tallest active volcano. On this tour you'll learn about the geological history of the volcano, admire panoramic views and spelunk a lava cave. The tour involves a 45-minute trek at approximately 2,000m/6,560ft above sea level—a reasonable level of fitness is required.
NOTE: This is an optional activity and the price will vary depending on participation.
OR for our history buffs, a laid-back guided tour of Taormina awaits. This delightfully medieval town is perched on a terrace overlooking the sea. Stroll through her narrow alleys and admire the XV century Palazzo Corvaja and the impressive Greek Theatre. Before returning to the bus you'll have some free time to stroll the cobblestone streets. After an afternoon of exploring we head back to our floating palace for dinner.
Accommodation: Variety Cruises Harmony G Mega Yacht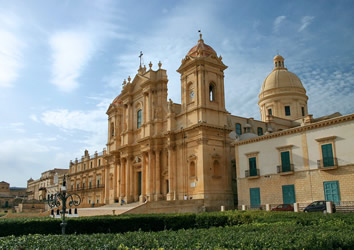 Day 5 - Syracuse, Sicily
This morning we cruise into the beautiful Brucoli Bay where you can enjoy your morning swim with a view of the medieval castle.
After lunch we disembark in Syracuse, formerly a Greek colony dating back to 734 B.C. A short drive from the port brings us to Neapolis' Archaeological Park to visit the Latomia Del Paradiso (stone quarries), the altar of Hieron, the famous Orecchio di Dionysso (the ear of Dionysus) the Cave of the Cordari (an artificial cave with a particular echo), the spectacular 15,000-seat Greek Theatre (among the most impressive to survive from antiquity), and the elliptical Roman amphitheatre (one of the largest of its kind).
After we head to the island of Ortigia for a walking tour of an ancient district of the city. Explore the remains of the Temple of Apollo, the Fountain of Arethusa, and the baroque Cathedral, which incorporates the remains of the famed Temple of Athena. At the end of the guided tour spend some free time in the town before heading back to the yacht for dinner.
Accommodation: Variety Cruises Harmony G Mega Yacht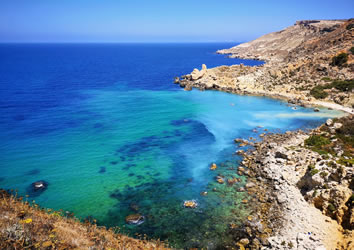 Day 6 - Gozo, Malta
Welcome to Malta! Why not cannonball into the sea surrounding this teensy island nation after our captain anchors in a pristine bay on Gozo Island?
After lunch we'll dock in Mgarr and hop onto Jeeps which will allow us to explore some of the more untouched corners of this fascinating island. First we'll visit the oldest freestanding structure in the world, the Ggantija Temples. This UNESCO World Heritage Site is 1000 years older than Stonehenge and the Pyramids of Giza.
Other highlights of our day are the Xwejni Salt Pans and fishing village, the capital city of Victoria and it's impressive Bronze Age Citadel. After enjoying some free time in Victoria we journey back to the Harmony G for dinner.
Accommodation: Variety Cruises Harmony G Mega Yacht
Day 7 - Valletta, Malta
Soak up your last full day aboard our luxurious gay cruise ship. After a swim stop in Mellieha Bay we set sail for our final destination, the majestic port city of Valletta.
Built by the Knights of St. John after the Great Siege of Malta by the Ottomans in 1565, this fortified city was said to be "Built by gentlemen for gentlemen." It boasts over 320 monuments in a .2 square mile radius, is a Baroque capital and has been recognized as the 2018 European Capital of Culture. Today Valletta offers a mix of historic and modern culture.
After lunch we'll enjoy a guided walking tour of the Upper Barrakka Gardens, St. John's Co-Cathedral and the Grand Master's Palace. Then we'll have free time to indulge in the city's Mediterranean ambience before our final dinner and evening on our yacht.
Accommodation: Variety Cruises Harmony G Mega Yacht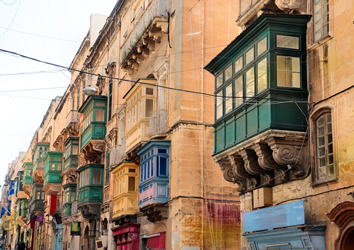 Day 8 - Valletta, Malta
This morning after breakfast we bid addio to the Harmony G and her crew as we disembark and take a quick transfer to our hotel located in Sliema, the resort town just across the bay from Valletta.
After checking in, you have plenty of free time to stroll the waterfront promenade, peruse the local shops or enjoy a casual negroni and lunch (not included) on a scenic terrace. Be sure to leave time to freshen up before our final dinner together.
We'll hop on the Siliema ferry for romantic views of Valletta where we will have our Farewell Dinner. After indulging one last time in Malta's Mediterranean culinary delights we'll transfer back to our hotel.
Hotel: AX The Palace Hotel
, Sliema, Malta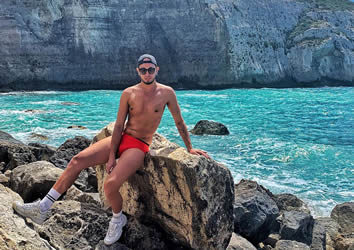 Day 9 - Valletta, Malta Departure
As the last day of our tour no activities are planned. Please confirm departure transfers with your trip leader, and safe travels home.
Grazie mille for joining our Italy & Malta gay cruise.