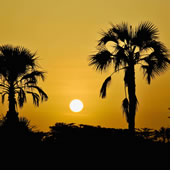 Kenya is a magnificent country that encompasses savannah, lakelands, the dramatic Great Rift Valley and mountain highlands. This Kenya gay safari tour explores Amboseli National Park which offers spectacular views of Tanzania's Mt Kilimanjaro, and the Masai Mara National Park which is known for its Great Annual Mammal Migration. This official tenth anniversary Out Adventure kicks off outside Nairobi – Safari Capital of the World – before we venture into the savannah. Here, authentic yet luxurious tents and lodges will provide shelter in Amboseli National Park and Masai Mara National Reserve. All meals are included on this excursion, including a fab Bush Barbecue.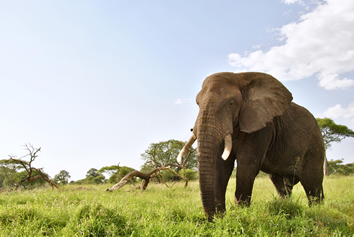 • Partake in the world's most authentic safaris
• See elephants, giraffes, leopards, rhinos, leopards, zebras, and marvelous birdlife on safari
• Stay in luxury tents and lodge-style rooms
• Boat ride on beautiful Lake Naivasha
• Stay at a hotel in the marvelous Masai Mara National Reserve
• Private, 6-person, purpose-built safari vehicles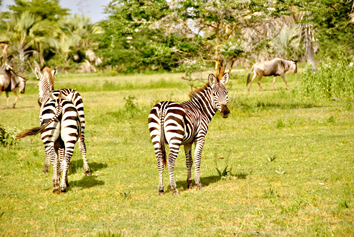 Day 1 - Nairobi / Limuru, Kenya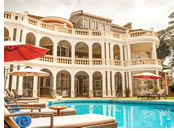 Hujambo! Welcome to Kenya. Your Out Adventures rep will meet you at the airport then transfer you to the hotel.
Sovereign Suites Hotel
is a 5-star boutique facility located in the outskirts of Nairobi on Limuru Road providing a true luxury and relaxation in the heart of Nairobi. Set on a private, well-manicured six-acre piece of land, the property features a large lake and possible animal sightings in the morning.
Things kick off with our Group Meeting at 4PM and Welcome Dinner this evening.
Day 2 - Amboseli National Park

After check-out we have a comfortable 4.5 hour drive to Amboseli National Park, which sits in the shadow of Kilimanjaro – Africa's tallest mountain.
Enjoy an early check-in at our luxurious safari camp, with sumptuous mountain-view tents that feature generous beds, fine linens, ensuite washrooms and large balconies.
There will be a game drive after lunch, followed by dinner at sunset. Be sure to step out onto your private veranda this evening to look up at the crystal clear constellations.
Day 3 - Amboseli National Park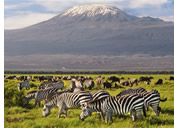 Today is fully devoted to exploring Amboseli National Park with morning and afternoon game drives.
The park is 392sq.km. / 151sq.mi. in size. It's considered to offer some of the best wildlife-viewing IN THE WORLD! Don't forget to pack your binoculars as the park hosts 400 species of birds including pelicans, kingfishers, and hammerkops.
Day 4 - Lake Naivasha / Lake Nakuru National Park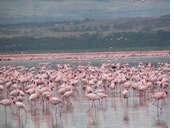 After check-out we have a 5.5 hour drive via Nairobi to Lake Naivasha. It's the highest lake in the Rift Valley, and residents include hippos and crocodiles.
After lunch, enjoy a 1-hour boat ride and Crescent Island walk and take in flocks of flamingos and other aquatic birds and thirsty mammals.
After that, check in to your spacious room at our next camp, which is traditional in style and sits on the edge of a pond amongst the trees.
After dinner, unwind at your leisure.
Day 5 - Lake Nakuru National Park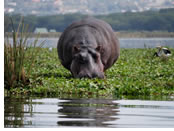 A morning game drive follows breakfast. The park is a sanctuary for Rothschild giraffes, leopards, and black and white rhinos.
After a late lunch, enjoy the rest of the afternoon at your leisure, followed by dinner.
Take a dip in the pool, relax in your private suite with a good book or indulge in the lodge's other incredible amenities.
Day 6 - Masai Mara National Reserve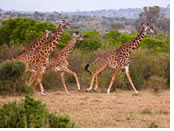 Today we have a 6-7 hour drive via Narok to Masai Mara National Reserve.
It offers wonderful scenery, plenty of game, and is one of the last places in Kenya to experience how abundant the animals were a century ago.
Enjoy an early check-in and lunch at a luxurious tented camp near the Mara River, famous for the wildebeest migration and other great vistas.
This afternoon's game drive is followed by a sunset dinner.
Day 7 - Masai Mara National Reserve

Another full day at the reserve includes morning and afternoon game drives, and wraps with a special surprise for dinner.
Keep an eye out for the abundant giraffe, buffalo, zebra, eland, hartebeest and Thompson's gazelle. All of which are a rich choice for top predators such as lions, leopards and cheetahs. You will also see nomadic tribesmen herding their cattle amongst the plains.
Day 8 - Masai Mara National Reserve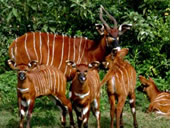 Enjoy our last day in the Masai Mara National Reserve, with morning and afternoon game drives to bid the animals adieu.
The Mara offers wildlife in such variety and abundance that it is difficult to believe: over 450 species of animals have been recorded here.
Tonight we'll celebrate with a Farewell Dinner, sharing our incredible photos from the past week.
Day 9 - Masai Mara / Nairobi / Departure
After breakfast we'll check out and head for Nairobi. There'll be time for lunch and some final souvenir shopping before your flight home. Safe travels!