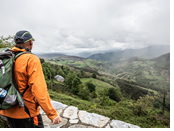 We're off to one of the most gay-friendly countries on Earth. Warm up to the Spanish spirit in Madrid, the capital famous for food, nightlife and classically handsome men. Then we'll venture north where we'll saunter along the final leg of the Camino de Santiago – a world-famous pilgrimage that takes us through lush Galicia. Oak woodlands, eucalyptus forests and traditional villages await. At the end of our trek you'll qualify for the Pilgrim's Compostela, a certificate of completion and the perfect souvenir for our excursion. Savour the region's wine, seafood, and cheese. Stay in local accommodations like 'pazo' manor houses that embody the region's spirit of hospitality. And grab some comfortable shoes for an epic one-hundred kilometre excursion. Olé!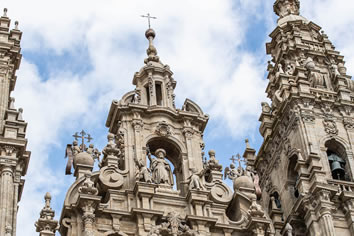 • Dive into the flavours and culture of Madrid, Spain's gorgeous capital
• Experience the camaraderie of other pilgrims along the most popular length of the Camino de Santiago
• Walk through the bucolic hills of Galicia, past many churches and chapels dedicated to St. James
• Devour Galician fare like pulpo (octopus with paprika), savoury empanadas, tetilla cheese and albariño (Galician white wine)
• Complete the famous pilgrimage at Plaza de Obradoiro, where the grandeur of the Cathedral of Santiago de Compostela awaits
• Stay in Santiago's famous Parador Hostal dos Reis Catolicos, a pilgrim's hospital from 1486 turned 5-star luxury property
• Wallow on the Spanish coast in Finisterre and Muxía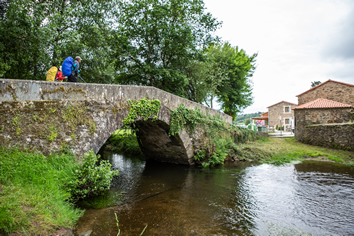 Day 1 - Madrid, Spain / Arrival Day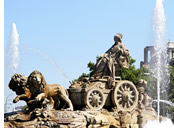 Hola – welcome to Spain!
Things kick off with a Group Meeting at 6PM where you can meet your guide and fellow travelers.
Our Welcome Dinner follows in the heart of Madrid's gay neighbourhood, Chueca.
Day 2 - Madrid, Spain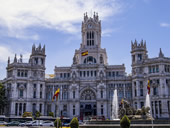 A walking tour of the city immerses us in the magic of Madrid while we learn about its gay culture and history. The journey begins in Puerta del Sol, then we'll walk the famous Calle Mayor to admire some of the oldest buildings in the city, Plaza Mayor and Plaza de la Villa.
Lunch at Mercado de San Miguel lets you taste the local food and wine. This afternoon consider a nap, or explore on your own.
After tonight's group dinner we'll catch a flamenco show to experience this mesmerizing Spanish dance up close.
Fun fact: flamenco is Spanish for flamingo – one of the gayest birds we know.
Day 3 - Madrid to Sarria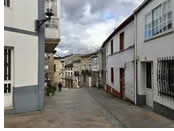 At 10AM we board a private bus for our 6-hour drive to Sarria.
We'll stop for lunch in Astorga, a city founded in 14 BC where Roman walls still surround the old town.
Once in Sarria we'll gather for an official meeting concerning the Camino. Our day ends with dinner at a restaurant owned by a former butcher and pilgrim, with fish and vegetarian options available.
Day 4 - Camino de Santiago - Portomarin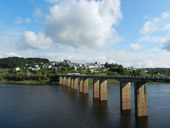 Today we kick off the Camino de Santiago! We'll depart at 8:45AM, with our first Checkpoint at 5km/3.1mi. These daily stops let you check in with your guide, change shoes, drop off gear or just rest in the van. A picnic lunch will be served at 13.9km/8.6mi in Ferreiros, with fresh salads and lighter fare available.
After a total of 22.6km/14mi, we'll arrive in Portomarin tonight. Our boutique hotel is the perfect place to rest in this medieval town. Portomarin was actually relocated during Franco's reign, stone by stone, up the hill and away from the river. Consider a swim in the River Minho before dinner. We'll eat at a local casa rural, a basic country house on the river featuring food from the family's organic garden, homemade wine and liquors; and a chance to experience the some ancient Pagan rituals.
Today's distance: 22.6km/14mi.
Day 5 - Camino de Santiago - Palas de Rei / Monterroso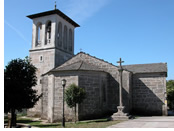 We set off for Palas do Rei at 8:45AM, with a Checkpoint in El Gonzar at 7.8km/4.8mi and lunch served at 17.4km/10.8mi. From here we'll detour to the Iglesias de Vilar de Donas, either by foot or car depending on your mood.
The church and monastery were given to the Order of Santiago in 1184, with many members of the order buried here. The property is undergoing restoration but your guide can let you peek at some colour frescoes from the fifteenth century.
Once we arrive at Palas de Rei, we'll take a shuttle to our casa rural, our basic country house for the night. Tonight's dinner is an organic feast prepared by our host family. Paella, anyone?
Today's distance: 24.8km/15mi.
Day 6 - Camino de Santiago - Melide / Arzua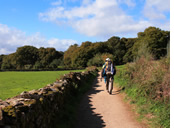 After a bright, early breakfast we'll shuttle back to the Camino and depart Palas do Rei at 8:45AM. Today's Checkpoint is at 8.7km, with lunch served in Melide at 14.4km/8.9mi. This is one of the route's oldest towns, famous for their signature octopus on Galician bread (it's one of many choices that will be on the menu).
Tonight after 25.8km/16mi we'll arrive in Ribadiso, located just over the oldest known bridge on the route. Grab a drink to unwind and dip your feet in the river before we shuttle to our 'pazo' – a traditional manor house – in Arzua. This town is famous for its Queso de Tetilla, or "little tit" cheese (the cheese looks like a boob, nipple et al). Dinner is served at the pazo.
Today's distance: 25.8km/16mi.
Day 7 - Camino de Santiago - Pedrouzo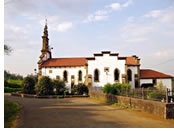 After a shuttle back to Ribadiso we'll recommence our march forward. Today's Checkpoint at 8.2km/5mi includes time to unwind in our travel partner's bar, and to fetch some vegetables in their garden. Lunch will be at 14.3km/8.9mi, on your own or with the group.
Tonight we'll arrive in Pedrouzo. We'll shuttle to the hotel where you can unwind, grab a drink, or splurge on a massage to soothe your weary bones. Dinner at the hotel is included.
Today's distance: 22.5km/15mi.
Day 8 - Camino de Santiago - Santiago de Compostela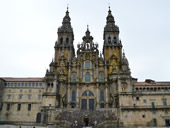 Our final day on the Camino includes a 3km/1.8mi Checkpoint at Amenal, with a picnic lunch served in Monte do Gozo at 14.6km/9mi. This is the last hill and stop on the pilgrimage, and offers our first views of the Cathedral spires.
We'll arrive at Plaza Obradoiro as a group to celebrate the end of our walk, then pick up our certificate of completion, the official 'Pilgrim's Compostela'. Enjoy a hot shower and grab a massage if time permits. For the full experience consider attending the Pilgrim's Mass at 7PM to honour your achievement.
Tonight we dine together and raise a glass to our industrious trek at a favourite restaurant. Felicidades!
Today's distance: 19.3km/12mi.
Day 9 - Santiago de Compostela / Cape Finisterre / Muxia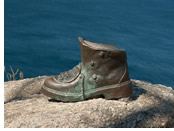 Our day begins with a tour of the Mercado de Abastos. This market dates back to 1874 and sells a solid selection of local foods.
From here, a one-hour drive brings us to Cape Finisterre. This is actually another pilgrimage destination, and would take 3-4 more days to walk. Considered the end of the world in the Middle Ages, people would burn their clothes and boots upon arrival (the practice has only recently been banned). Instead, we'll enjoy a fresh seafood lunch at the port, then stop at Muxia. This magical town is mainland Europe's westernmost point, and another pilgrimage landmark.
Once we return to Santiago de Compostela, you have the choice to join us at one of our favourite restaurants in town. Then, if you have the energy, consider a stop at Bloom, the town's gay bar.
Day 10 - Madrid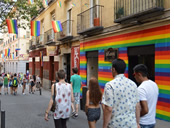 Today we fly back to the capital of Madrid. Do some final souvenir shopping, or check out one of the city's impressive museums.
With the pilgrimage behind us, we'll enjoy a glorious Farewell Dinner together.
The you'll have one last chance to wallow in Spain's famous gay nightlife, with our private guide taking us to Chueca's most popular bars.
Day 11 - Madrid / Departure
As the last day of our tour, no activities are planned. Please confirm departure transfers with your trip leader, and safe travels home.