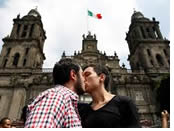 Get a taste of modern Mexico in the country's lively capital before delving into ancient Mesoamerica. Our short and sweet gay Mexico tour is packed with plenty of optional activities, giving you more control of the wheel. Things kick off in the country's colonial capital where we'll guide you through a labyrinth of colourful alleys and cobblestone plazas. In the evening, the tour will get hotter than a habanero as we mambo over to Zona Rosa—the city's gay district.
Finally, the latter half of this adventure focuses on Mexican history. For example, you'll have the opportunity to glimpse the wealth and power of pre-Columbian empires at sites like Teotihuacan and Cholula. So slather on your highest SPF, crack a Corona, and let Mexico unfold before you.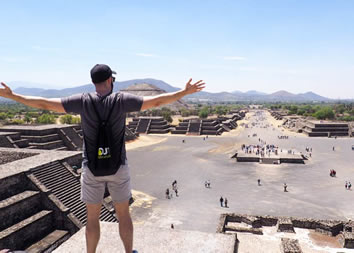 • Shake your tail feather in Mexico City's famous gay district, Zona Rosa
• Witness the wealth and power of pre-Columbian empires at Teotihuacan
• Master Mexican cuisine at an authentic cooking class
• Feel dwarfed below the world's largest pyramid, Cholula—so large, when European settlers arrived they mistook it for a mountain!
• Photograph one of the only royal palaces in North America, Chapultepec Castle
• Enjoy mole and some of Mexico's greatest regional cuisine in the colourful city of Puebla.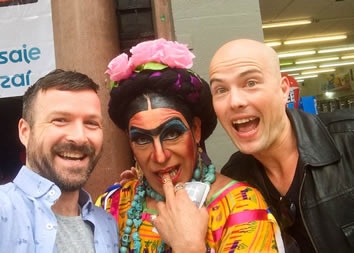 Day 1 - Arrive Mexico City, Mexico
Hola! Bienvenidos a Mexico City, a bustling megalópolis of over 20 million people sitting atop the ruins of the mighty Aztec empire of Tenochtitlan. Today, Mexico City is a fascinating mix of colonial architecture and big-city sophistication.
We start our tour with a mandatory welcome meeting at 5pm, followed by a Welcome Dinner at a magnificent Mexican restaurant. After a margarita or four—and depending on how the group feels—we may even enjoy our first dip into Zona Rosa, the city's vibrant gay district.
Hotel: Galeria Plaza Reforma Hotel
, Mexico City, 4*, Standard Double/Twin Room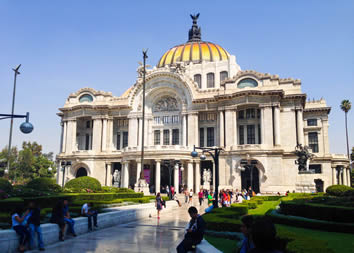 Day 2 - Mexico City
Buenos días! After a potentially late night last night, you have two options this morning: enjoy a little R&R by the hotel pool or join the group on a fascinating Mexico City tour.
On the tour you'll meander through historic colonial neighbourhoods and past significant heritage buildings such as Chapultepec Castle—one of the only royal palaces in North America, and notably featured in Baz Luhrmann's' Romeo & Juliet—as well as the actual house of international revered Mexican artist, Frida Kahlo. Our guide will take us inside the artist's home before wrapping the tour in Mexico City's beating heart, the Zocalo. If you're hungry, we can also stop by an authentic Mexican restaurant for lunch.
After being guided back to the hotel you'll have the afternoon to relax, or explore more on your own. Tonight our local guide will be hosting another optional group dinner at an incredible Mexican restaurant.
Hotel: Galeria Plaza Reforma Hotel
, Mexico City, 4*, Standard Double/Twin Room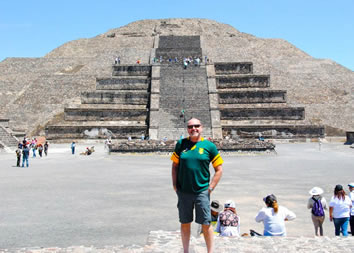 Day 3 - Teotihuacan and Puebla
Rise and shine! Today we're off to the pre-Columbian City of Teotihuacan where we'll wallow in it's imposing pyramids.
Although little is known for certain about this mysterious site, we'll examine the many glyphs and unlock some of the site's secrets during a private guided tour. Because there are numerous restaurants in the area, we'll grab lunch near the ruins.
After a full day of tomb raiding, we'll continue on to the colonial gem of Puebla. Puebla is actually the birthplace of mole poblano, a rich Mexican sauce famous for its complex list of ingredients including chocolate.
After dropping our luggage at our hotel you have the option to join a Mexican cooking class where we'll learn the secrets behind one of the world's only UNESCO World Heritage cuisines. Wear your stretchy pants as we'll be eating (read: devouring) our own creations. ¡Buen provecho!
Hotel: Banyan Tree Puebla Hotel, Puebla, 5*, Standard Double/Twin Room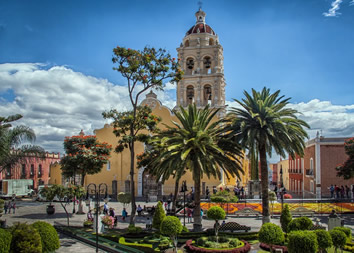 Day 4 - Puebla / Mexico City
This morning we'll visit soaring Cholula, the largest pyramid in the world. In fact, this massive structure is so large early colonists mistook it for a mountain. The Church of Our Lady of Remedies sits atop the pyramid, and on a clear day, you will have sweeping views of the city and the surrounding volcanoes and mountains.
After a private tour of the site we'll slip back into Puebla for a few hours where you're welcome to grab lunch and pack your bags as this afternoon we head back to Mexico City.
Tonight you'll have some time to freshen up at the hotel before meeting the group for a bittersweet farewell dinner. And if the group is feeling up to it, one last visit to Zona Rosa.
Hotel: Galeria Plaza Reforma Hotel
, Mexico City, 4*, Standard Double/Twin Room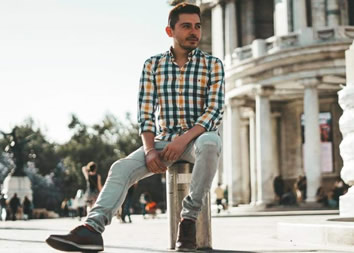 Day 5 - Mexico City Departure
Today is our final day together and after an included breakfast, no other activities are planned. From the all our team, gracias for joining our gay Mexico tour!