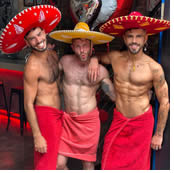 Explore the bright and colourful Yucatán Peninsula with like-minded hombres. Kicking things off as our Mexico City Gay Aztec Adventure concludes, this all-gay tour of the Yucatán Peninsula is as spicy as the local xcatic pepper. Soak up the region's Spanish and Mayan history along with a burgeoning art scene. Sip sunset margaritas. And shoot mezcal on a cantina crawl before checking out the city's best gay club. Beyond Mérida, we'll spelunk in cenotes, and cruise a biosphere. And don't forget the Caribbean coast's best beach. Aye guapo. And papito. And osito!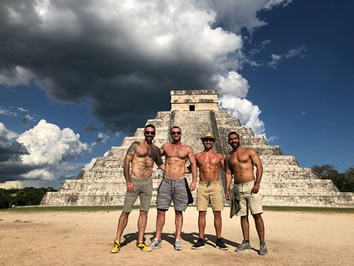 • Live it up while getting down on a gay nightlife tour in Mérida
• Explore three of Yucatán's mysterious cenotes (underground caves) before splashing around in at least one of their magical waters
• Set your mouth ablaze exploring the notable regional cuisines—choose your salsa carefully
• Explore the provincial architecture and cosmopolitan essence of Mérida on an optional private tour
• Cruise the waters of a bird sanctuary and biosphere, learning about the local flora and fauna
• Spend an afternoon siesta recharging on a locally-loved, white-sand beach
• Learn about traditional Mexican medicines and natural remedies in a historic "drugstore"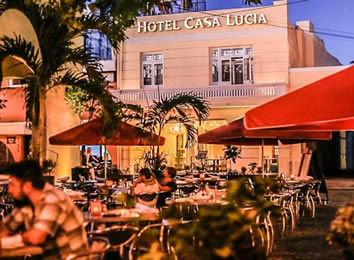 Day 1 - Mérida, Mexico
Hola! Welcome to Mérida, the colourful capital of Mexico's Yucatán State. Upon arrival at the airport, you'll be transferred to our joining point hotel.
Mérida has a rich Mayan and colonial heritage, serving as a bridge between two very different cultures. It is one of Mexico's culinary treasures, has become synonymous with art, and even has a popping late-night scene—mezcal anyone?!
Feel free to explore the city on your own before our 6PM welcome meeting.
Afterwards, we'll wander over to a fantastic local restaurant for our official Welcome Dinner where we'll enjoy regional specialties such as cochinita pibil, sopa de lima, poc chuc & papadzules.
Hotel: Casa Lucia Boutique Hotel
, Merida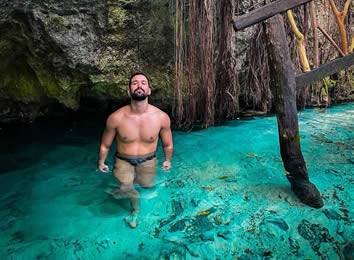 Day 2 - Mérida & Homún
After breakfast, a private transfer will take us to a nearby Mayan village.
Here we'll ride through the jungle on uniquely Yucatán transportation (think motorcycle-meets-tuk tuk) to visit three cenotes (underground caves). Just inside these eerie caves are hidden, crystal clear pools of turquoise water. They glow from beams of light that stream in from cracks in the ceiling. They're the perfect oasis to escape the hot Mexican sun.
Our guide will regale us with the stories and mysteries of these passageways, and we'll have a chance to slip into those magical waters at least once.
Towel off, then we'll refuel with a very special (and very authentic) lunch before visiting a traditional "drugstore," where ancient Maya medicinal remedies are still prepared today.
All of the medicines are derived from natural plants, and prepared with knowledge that has been preserved and passed down by families living in this corner of the Yucatán.
Enjoy a free evening at leisure back in Mérida.
Hotel: Casa Lucia Boutique Hotel
, Merida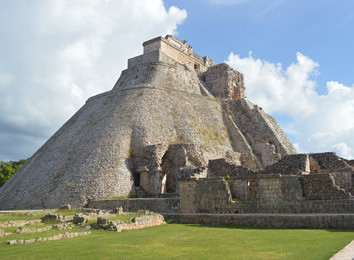 Day 3 - Mérida
Buenos días! Today you're free to explore Mérida or the surrounding region on your own, or partake in a group excursion with your fellow travellers.
We may transport ourselves back a few centuries while tomb raiding the Uxmal Archaeological Site. Despite its historical significance, this is one of the least busy archeological sites in the Yucatán.
Alternatively, we could scoot over to the nearby town of Izamal, famous for its yellow walls and traditions.
Finally, if you choose to stick around Mérida, we highly recommend nibbling your way through the local market, and snooping around the city museum, Montejo's House, and/or the cathedral. Step inside the Palacio del Gobierno to admire the murals by Fernando Castro Pacheco, a famous Mexican artist from Mérida.
Hotel: Casa Lucia Boutique Hotel
, Merida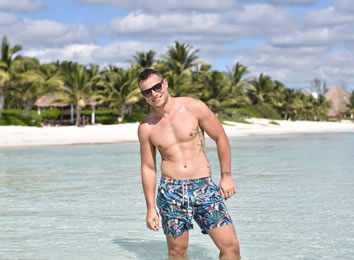 Day 4 - Mérida & Celestún Biosphere Reserve
After breakfast, we'll drive to the Caribbean coast, more specifically the Celestun Bird Sanctuary and Biosphere Reserve.
Together we'll board boats and cruise the biosphere, learning about its unique flora and fauna while keeping our eyes peeled for the Yucatán woodpecker, tropical mockingbird, and hopefully a flamboyance of flamingos.
After the boat tour, we have free time for our own flamboyance on one of the region's best beaches where we can soak up the sun for a few hours.
Back in Mérida, we've planned a very special evening, starting with our fiery farewell dinner at a locally-loved restaurant.
This is followed by a proper cantina crawl where we'll sip and shimmy our way through the city's lively LGBTQ-welcoming bars.
When the liquid confidence hits and our hips are feeling loose, we'll sashay over to Mérida's best gay club for one final blowout. Salud!
Hotel: Casa Lucia Boutique Hotel
, Merida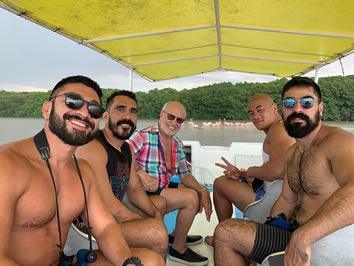 Day 5 - Merida Departure
There are no activities planned today, so you are free to depart at your leisure. From the all our team, gracias for joining our gay Merida tour!