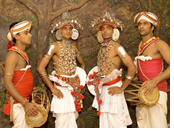 Sri Lanka is a gem like no other. Off the coast of India, mainland influences filter through the island's Buddhist, Muslim and Hindu people. With a Civil War ending in 2009, the world is buzzing about this new travel hotspot. On our gay group tour you'll go deep into jungles, high up to tea country, and headfirst into the culture. You'll also slumber in the most sublime hotel suites, and savour lavish dinners every night of the tour. If you're an architecture or design fiend, this tour also features 3 stops celebrating famed gay Sri Lankan architect, Geoffrey Bawa, Master of Jungle Modernism.
Situated in the Indian Ocean just off the southern tip of India, Sri Lanka is a treasure trove of tea, cinnamon, cardamom and other fabulous spices. It also has deep harbors and a key geographic location that made it a desirable target for maritime invaders. The island nation was colonized at various times by the Dutch, Portuguese and English over the centuries, contributing to the diverse cultural melting pot that it remains to this day.
Sri Lanka, known as Ceylon to the British, is also a treasure trove of ancient natural wonders, architectural monuments, diverse wildlife and exotic plant life. Many think of Sri Lanka as a paradise on earth, easily earning its affectionate nickname as "the Pearl of the Indian Ocean."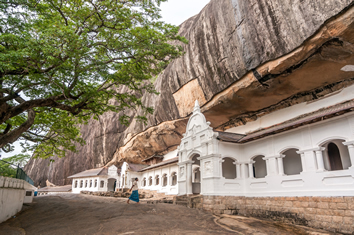 • Marvel at Yapahuwa - one of medieval Sri Lanka's fleeting capitals
• Ascend Sigiriya, the monolithic ancient fortress
• Try your hand at tea plucking, and see how the leaves are dried
• Cycle through lush and gorgeous countryside
• Rise and shine for an 8km hike to World's End (it's worth it)
• Immerse yourself in elephants, boars, and possibly leopards on safari
• Marvel at the monkeys…pretty much everywhere
• Walk the walls UNESCO world heritage site Galle Fort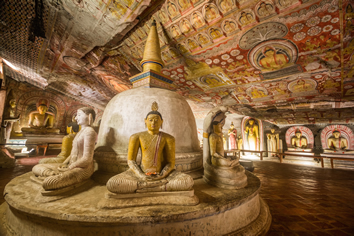 • Arrival transfer to accommodation booked through OUT Adventures
• Group leader from beginning to end of tour
• 10 breakfasts, 2 lunches, 10 dinners
• 4-star or higher accommodation (10 nights)
• Entrance fees to all sites mentioned in itinerary
• Safari at Minneriya National Park
• Spice garden tour
• Sunset and sunrise safaris in Yala National Park
• Guided tour of Galle Fort
• Colombo city tour
• International Airfare
• Departure Transfer
• Meals & Activities not mentioned in itinerary
• Gratuities for Tour Leader ($50-$100 USD)
• Gratuities for drivers, hotel staff, porters ($30-$50 USD)
• Travel insurance package covering medical, trip interruption & baggage loss
Please note, this tour includes a few days driving long and windy roads. Plan ahead if you get carsick.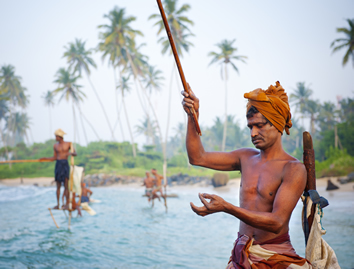 Day 1 - Negombo, Sri Lanka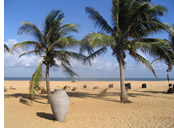 Halo! Welcome to Sri Lanka.
After transfer to our swanky hotel, take time to unwind by the massive pool...we've got a busy few days ahead. The tour kicks off with a Group Meeting at 6PM, followed by dinner overlooking the lagoon. Enjoy the rest of the evening as you see fit: an early night, get to know fellow travellers, or check out Negombo's *small* gay bar.
Day 2 - Yapahuwa / Dambulla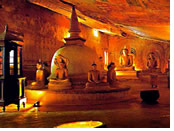 After breakfast and check-out, we visit the granite ruins of Yapahuwa, a medieval Buddhist Heritage Site. We'll then continue to The Royal Temple, a series of caves where Sri Lankan kings once sought refuge. The 5 caves are filled with an astounding 150 statues of Buddha.
After a long day on the road, our home for the next two nights is a hotel designed by architect Geoffrey Bawa. Built into a mountain and embraced by the jungle, monkeys could well await you on your balcony. Tonight we will enjoy a mouth-watering dinner at the Katakatha restaurant on the roof top.
Day 3 - Sigiriya / Minneriya

This morning we're off to Sigiriya. This UNESCO World Heritage Site is a massive rock fortress built by King Kasapaya in the 5th century. We'll zig-zag the sheer face via potentially vertigo-inducing staircases, with stops along the way to admire famous frescoes. From the top we'll savour unmatched views of a countryside like no other.
After lunch we're off to Minneriya. Elephants congregate at this national park, and we'll get as close as we can on safari. Following our day in the wild, civilized food awaits at the hotel!
Day 4 - Matale Spice Garden / Kandy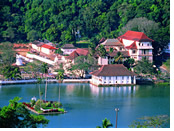 This morning we'll visit Matale Spice Garden, where healing plants are cultivated for Ayurvedic medicine. You'll also see how Earth's most popular spices grow, before our group wraps our visit up with lunch.
Then we're off to sweetly named Kandy. This city was the island's last capital of native kings before British conquer. Our afternoon includes a drive around the lake, a bustle through the bazaar, and the jewel of Kandy's crown: Temple of the Sacred Tooth Relic, where one of Buddha's actual teeth resides.
We'll wrap up the day with a special dinner at Kandyan Art restaurant.
Day 5 - Nuwara Eliya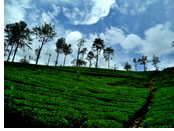 We'll rise early today to prepare for a scenic cycle from Ulapane to the Mahaweli Valleys. Don't worry if fitness isn't your thing as the ride is not challenging. The path is well paved, shady and relatively flat. Highlights will include small villages and forest patches as well as the Mahaweli river. The ride culminates in a 2km uphill route to a can't-be-missed lookout point. A well-earned snack will be served at the lookout point.
Afterwards we'll transfer to Nuwara Eliya via Ramboda with a mid-day tea plantation visit.
The day ends in the quaint British-inspired town of Nuwara Eliya.
Day 6 - Nuwara Eliya / Horton Plains National Park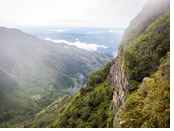 After rising bright and early, we have a long drive to Horton Plains National Park, where an 8km walk to 'World's End' is totally worth the view 880m/2,900ft below. The mist that often pours over the cliffs makes this experience magical.
Back at the hotel, after a well-earned hot shower, there may be time to try tea picking, or at least see tea-making in action. After an incredible dinner back at the hotel, you'll have the evening to yourself.
Day 7 - Nuwara Eliya to Yala National Park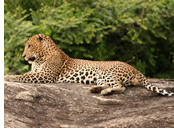 Chilly mountain air becomes heavy and humid as we return to the jungle today. Yala National Park is one of the most densely populated leopard habitats in the world, but they're still elusive on safari. However, much other wildlife awaits, from elephants to boars to a slew of birds.
Tonight's "glamping" accommodations are jungle tents with built-in bathrooms, where dinner will be cooked over flame and served by a bonfire.
Day 8 - Yala National Park / Galle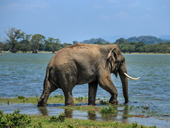 This morning we'll rise early for another safari in hopes we see leopards heading back to their dens. Back at the camp, a hearty breakfast will be whipped up just for us.
This afternoon we drive to Galle, and may stop for a kayaking break en route.
Once at our outstanding hotel, you'll definitely want to wallow in the massive walk-in shower or soaker tub to refresh after last night's funky jungle adventure.
Tonight's dinner is served on the resort lawn, overlooking the Indian Ocean.
Day 9 - Galle

Today is yours to discover Galle or spend time leisurely tanning on the beach.
You have the option of visiting Ahangama to witness the famous stilt fishermen who perch themselves on the cross bar of a single pole buried deep into the seabed. These fishermen spend hours with their lines cast out to catch even the smallest of fish.
In the evening we will take a guided tour of Galle fort, followed by a cooking class at the Tamarind Hills Hotel.
Day 10 - Colombo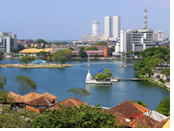 After a leisurely breakfast to begin our final day, we head for the bustling capital of Colombo.
A stop en route brings us to the former home of Geoffrey Bawa's brother (the architect of our second hotel), where beautiful gardens are still maintained by the same caretaker.
Once in town, we'll tour some of the city's most iconic attractions either by foot, tuk tuk, or bus. Sites include the Pettah bazaar, prime neighbourhoods like Cinnamon Gardens, and the National Museum.
Don't tell the paparazzi, but tonight we'll stay at the Sri Lanka's most famous hotel. Kick back by the pool and have a cocktail. We bid farewell with dinner at an alluring restaurant in the former offices of aforementioned architect.
Day 11 - Colombo / Departure
With no activities planned today, you are free to depart at your leisure. Safe travels!