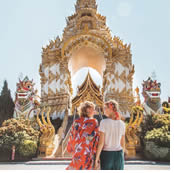 A carefree lesbian tour of Thailand that promises to be as sweet and spicy as an authentic bowl of Pad Thai. Pack your sunscreen and favourite one- or two-piece, because we're off to The Land of Smiles. Things kick off in bustling Bangkok where we'll tuk tuk the hectic streets on a sumptuous street food tour. We'll visit the Royal Palace, flower market, reclining Buddha and a local lesbian hotspot. Then it's off to northern Chiang Mai where we'll visit a respected elephant sanctuary, shop the fragrant night market and learn to wield a wok at a fiery Thai cooking class. To round out our adventure, we'll belly-flop into Thailand's two coastal capitals: quiet Krabi and, um, not-so-quiet-but-special-in-its-own-way Phuket.
Optional activities in both regions include sea kayaking, jungle trekking, and a night of beer and bad decisions. What more could a woman ask for?!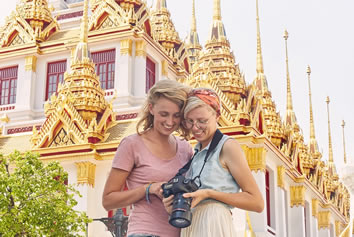 • Tuk tuk through Bangkok on a delicious street food tour, nibbling everything from crispy catfish to spicy red papaya
• Visit a respected elephant sanctuary where you'll meet and learn about Thailand's famous friendly giants
Note: animal welfare is extremely important to us and petting or riding the rescue elephants is strictly prohibited
• Enjoy a day of sun, sand and sea on famous Railay Beach in Krabi, home of the postcard-perfect longtail boats
• Enjoy Bangkok's proud queer side at a popular lesbian hangout
• Kayak into the mysterious caves of Phang Nga Bay's limestone towers
• Braise, broil and fry your very own three-course dinner during a fiery Thai cooking class
• Explore the Grand Palace, home to the King of Siam
• Find your zen in ancient Buddhist temples and at important spiritual sites
• Shop for the perfect souvenir at the Chiang Mai Night Bazaar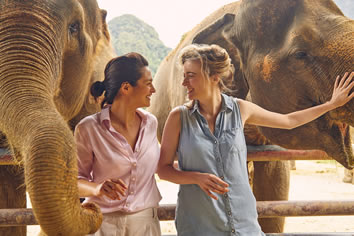 Day 1 - Arrive Bangkok, Thailand
Sa-wat dee! And thank you for joining our big lesbian Thailand adventure. An airport transfer has been arranged to drop you off at our centrally-located hotel, complete with an all-women's floor.
After a brief Welcoming Meeting at 4pm, we'll battle the hectic streets aboard tuk tuks on a private street food tour. We'll taste a range of local delicacies including spicy papaya salad, crispy catfish and pork balls. To avoid any indigestion we've planned a mid-tour break at the colourful flower market and its adjacent temple.
Our evening ends with both a stop at a local bar for a brewski and a plate of unarguably Bangkok's best Pad Thai—don't worry about the inevitable queue as we've made special arrangements to walk right in.
Hotel: Clover Asoke Hotel
, Bangkok, Lady's Floor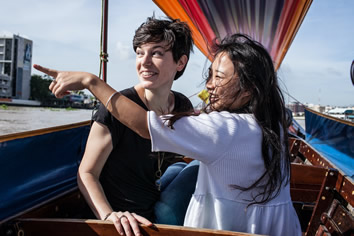 Day 2 - Bangkok
Rise and shine, Ladies! We have a packed morning of sightseeing ahead including visits to the reclining Buddha at Wat Po, the magnificent Grand Palace and Emerald Buddha Temple. Our final stop will be the Queen Sirikit Museum of Textiles.
We'll rest our weary legs during an included lunch at Navy Club before a completely free afternoon to further explore this incredible capital on your own.
Later on we'll visit a local lesbian hangout where you'll have the chance to scope out the city's queer scene.
Hotel: Clover Asoke Hotel
, Bangkok, Lady's Floor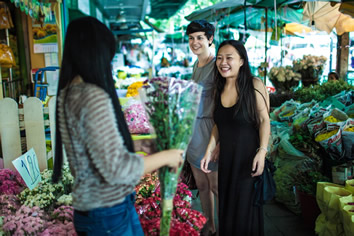 Day 3 - From Bangkok to Chiang Mai
After an early breakfast we jet off to Chiang Mai in Thailand's mountainous north. Upon arrival we'll dig into an aromatic local lunch—the cuisine up here is distinct from the south with a heavier focus on curries.
We'll tour the region and learn about the country's Lanna Period at Buddhist sites like Wat Chedi Luang.
We'll have a little downtime before reconvening for a delicious evening; a local female chef will meet us at the market to purchase fresh proteins, exotic fruits and rare herbs and spices. Then we head back to her family's open-walled school to learn the secrets to this beloved cuisine. With our teacher's careful guidance we'll whip up our very own three-course dinner.
After transferring back to our hotel the rest of the evening is yours. May we suggest a stroll through the night market?
Please note: Today's flight is not included in the cost of the tour. Please see Trip Notes for a special note on purchasing domestic airfare.
Hotel: The Rim Resort
, Chiang Mai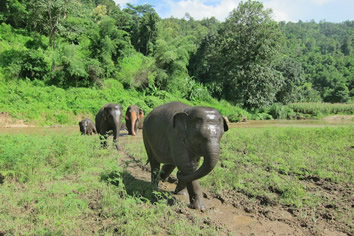 Day 4 - Chiang Mai
Perhaps the most special day of our adventure awaits. After a leisurely breakfast we'll transfer to a respected sanctuary for rescued Asian elephants. We'll learn about their health, then join them on a walk through the jungle towards their favourite watering hole.
To wrap up the experience we'll enjoy tea from an observation deck watching the friendly giants playing in a mud pit below.
More free time awaits late this afternoon. However, we'll plan an optional group dinner for those interested.
Hotel: The Rim Resort
, Chiang Mai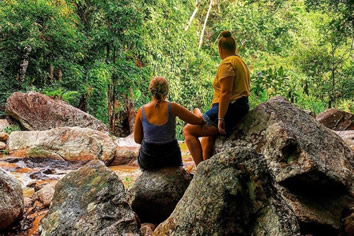 Day 5 - Chiang Mai
Today we'll indulge in a full day of R&R.
Enjoy our lux hotel's many amenities, stroll the streets in search of souvenirs, or join one of many nearby optional activities (jungle trekking, ziplining, etc.)—the choice is yours!
Hotel: The Rim Resort
, Chiang Mai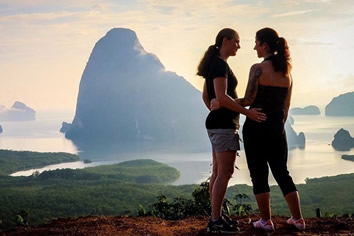 Day 6 - From Chiang Mai to Krabi
This morning we fly to quiet Krabi along Thailand's south-western coast.
Upon arrival we'll transfer to the harbour where we board a boat to access our beachfront resort. The journey may be exhausting so the rest of the day is yours to unpack and unwind and enjoy this pristine stretch of sand. The beach is actually quite famous for its longtail boats that are often showcased in postcards from the region.
An optional group dinner has been arranged if you'd like to join.
Please note: Today's flight is not included in the cost of the tour. Please see Trip Notes for a special note on purchasing domestic airfare.
Hotel: Railay Bay Resort & Spa
, Krabi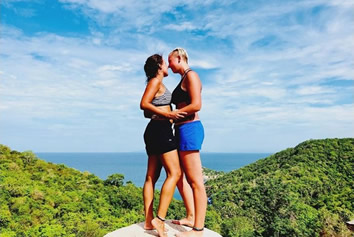 Day 7 - Krabi
Slip into your cutest one- or two-piece and join our half-day private island-hopping excursion.
We'll zip around the Andaman Sea visiting some of the region's most unique points-of-interest including Phra Nang Cave, Tup Isl., Chicken Isl. and Poda Isl. Our boat will stop in secluded bays and near rich coral systems to allow us plenty of time for swimming and snorkeling.
Back on the mainland you're welcome to enjoy the coconut-lined beaches and tropical cuisine on your own.
Hotel: Railay Bay Resort & Spa
, Krabi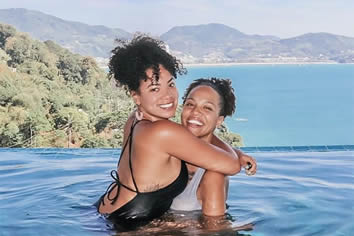 Day 8 - From Krabi to Phuket
Arm yourself with a good book or podcast as we have a 3.5-4 hour drive ahead of us as we transfer to rowdy Phuket. This trendy tourist destination is popping day and night, sometimes to its own detriment.
You'll have some free time to get your bearings, enjoy the plentiful shopping in Patong, or grab a beachside beverage.
Tonight we'll arrange an optional dinner.
Hotel: The Charm Resort Phuket
, Phuket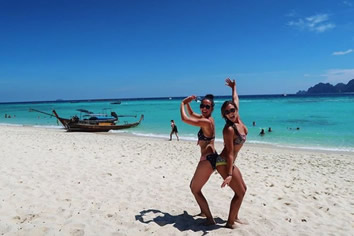 Day 9 - Phuket
For the last day of our adventure, we escape the hustle and bustle of Patong Beach on our final optional excursion.
If you're interested in joining, we'll transfer to the other side of the island to explore the sea caves of Phang Nga Bay by sea kayak. No experience is necessary, as you'll be captained by an expert local. Together we'll kayak through hidden caves and around the limestone structures.
Back aboard our boat, we'll make our own krathong (buoyant, all-natural decorated baskets) that we'll launch into the Andaman just after sunset while giving thanks for this amazing adventure.
Back on land we'll have some free time to freshen up for our Farewell Dinner at one of Patong's best restaurants, The Blue Elephant—which just so happens to be run by one of Thailand's most celebrated female chefs.
Hotel: The Charm Resort Phuket
, Phuket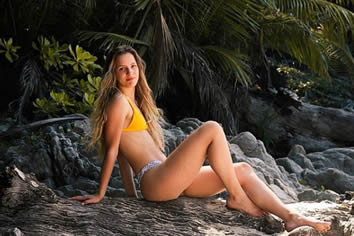 Day 10 - Phuket Departure
There are no activities planned today, so you are free to depart at your leisure. Your local guide will help arrange a departure transfer if you require.
Safe journey and thank you for joining our big lesbian Thailand tour!