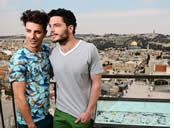 High style in low budget! Always wanted to visit Israel and it was over your budget? This 7 day gay trip is the perfect way for you to enjoy Israel without breaking your Piggy Bank. Enjoy the beauty of Jerusalem, the gay vibe of Tel Aviv and the magic of the world largest natural spa the Dead Sea.
This fantastic 7 Day Trip is a fun-filled itinerary, suggested by us to you, including great historical landmarks, leisure activities and of course, world famous nightlife. Under this suggested itinerary, you will be taken on the trip of a lifetime through Jerusalem and the Dead Sea, ending in Tel Aviv, the Gay Mecca of the Middle East.
Planned from top to bottom, with high-quality service, OUTstanding Travel takes you through Israel and unfolds its true magic and beauty. We'll place you at the center of it all – with the best accommodation – covering the top major sites of Tel Aviv, Jerusalem, the Dead Sea and more. You'll experience the hottest attractions, the best in nightlife, the trendiest culinary spots and the unique culture of Israel, without missing a beat. With the unsurpassed knowledge of your gay local tour guide, OUTstanding Travel takes you out of the guidebooks and into the Israel you're waiting to discover.
We must mention that all aspects of this individual trip are changeable, and a tailor-made trip for you can be organized to fit you perfectly.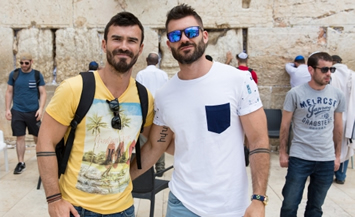 This suggested itinerary is available all year round and can be adjustable to any date desired.
Day 1
Jerusalem, Israel
Shalom and welcome to Israel! Upon arrival at Ben Gurion Airport, you will be greeted by an OUTstanding Travel Representative, who will assist you with your baggage and escort you to your shared transfer to your hostel in Jerusalem.
At night, feel free to go on an adventure! We suggest exploring the wonderful Jaffa Street and Mahane Yehuda Market, or strolling around the Old City.
You shall stay overnight in Jerusalem.
Day 2
Jerusalem, Israel
Starting from Jaffa Gate of the Old City, we'll step back into time and walk through the different Quarters of the Old City. Taking in the indescribable energy that every corner presents, we'll visit the sites most holy to all three religions. To Jews, King David's Tomb and the Western (Wailing) Wall, the last remains of the Jewish Temple which stood here thousands of year ago. To Muslims, the site where the Prophet Mohammed ascended to heaven, the Dome of the Rock, as well as the beautiful Al Aqsa Mosque. And to Christians, the Via Dolorosa along which Christ walked with his own cross to his crucifixion, and the room of the last supper, as well as venturing inside the Church of the Holy Sepulchre! Biblical stories will be put into context as you stand in the place where they took place whilst learning about the 5 Pillars of Islam, the foundation of the Jewish nation and the discovery of the True Cross, to name a few.
This is an amazing way to experience the rich history of Jerusalem, a tour packed with amazing sites, stories and spectacles that will bring a new meaning to almost every page in Biblical history. Leave political opinions and preconceptions behind as you begin this truly inspiring and revealing tour of an extraordinary city.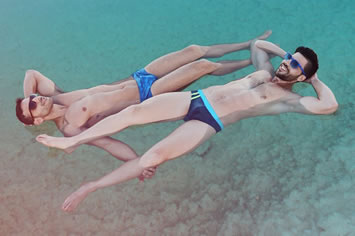 Day 3
Masada & The Dead Sea
After enjoying an early breakfast and checking out of your Hotel, plunge south to the lowest point on earth and ascend by cable car to the legendary mountain fortress of Masada. The ancient mountain fortress of Masada was built in the year 30 BCE by King Herod, whose architectural feats have left their mark throughout Israel. At the beginning of the great revolt against Rome in the year 68 CE, Masada was conquered by a group of Jewish zealots, and Masada became their last stronghold. In the year 72, the Romans besieged Masada and succeeded in reaching the steep fortress after constructing a huge earthen ramp on its western side. In the year 73, the 960 Jewish zealots living at the top of Masada chose to commit suicide rather than to fall into the hands of the Romans alive. Their deeds left behind a saga of courage, heroism, and martyrdom.
After a bit of shopping at Ahava Dead Sea Factory Shop, drive to the shores of the Dead Sea and spend the afternoon enjoying the buoyant therapeutic waters of this mineral-rich sea, and absorbing the rejuvenating properties of its world famous mud.
Finally, check in at your Tel Aviv destination for your first of many overnights in one of the hippest cities on Earth! Tel Aviv is a world hub and capital of gay vibrancy and pride, a paradise combining golden beaches with a world-class nightlife, incredible culture and cuisine, and fantastic listed Bauhaus architecture.
Spend overnight in Tel Aviv.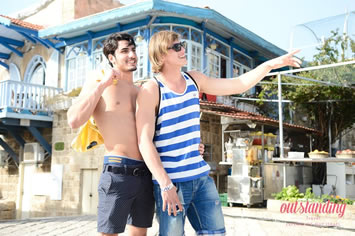 Day 4
Tel Aviv & Jaffa, Israel
Join a Tel Aviv – Jaffa tour and discover the cosmopolitan city of Tel Aviv, the White City on the sea. Although only a young city, Tel Aviv has forged a unique identity well worth experiencing and exploring.
The streets of Tel Aviv are full of both history, and modern culture, architecture, art, restaurants and bars. We'll begin the tour from the Clocktower in Jaffa, and walk to the Neve Tzedek neighborhood which was the first Jewish community established outside of Jaffa, and eventually became part of the city of Tel Aviv in the early 20th century. With a stunning range of architectural styles, every alleyway and street has something to offer, and many cafes, restaurants and bars fill the old Bauhaus style buildings which have survived the recent gentrification of the neighborhood.
Our guide will show us the sights both on and off the beaten track, as we visit the markets, alleys and boulevards which spread across the German Colony, American Colony and Noga neighborhood. We'll also see some modern street art and graffiti in the trendy Florentine neighborhood, filled with students and artists.
Our tour will conclude at the Independence Hall, the location of Israel's 1947 declaration of Independence from the British Mandate, and now situated on the famous tree-lined Rothschild Boulevard.
Later, put on your dancing shoes and get ready to party at "Dreck", a very popular gay party (free entry).
Spend overnight in Tel Aviv.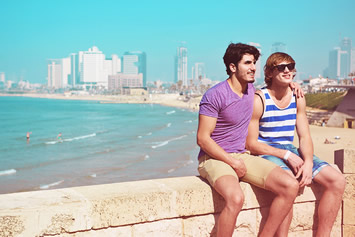 Day 5
Tel Aviv, Israel
Spend a day of leisure and relaxation.
Following Breakfast hit the beach once more or visit the wonderful Tel Aviv Art Museum, one of Tel Aviv's cultural centres. Take a stroll to Tel Aviv's port area, with an array of trendy restaurants and coffee shops to relax in and stores to peruse. A good opportunity to get to know the city for yourself!
At night, party time! Bar hopping around the Rothschild Boulevard area.
Spend overnight in Tel Aviv.
Day 6
Tel Aviv, Israel
Another day of exploration and leisure. We suggest getting caught up in the excitement at the Carmel Market and the traditional Friday shopping rush as the locals prepare for their Shabbat. Prior to Shabbat, "get your shopping on" with some free time to browse the many stores in the Nahalat Binyamin Artist's Market and the very fashionable Shenkin Street.
Following dinner, a memorable night full of fun and music awaits, as you go clubbing on your last night in Tel Aviv (entry included).
Spend overnight in Tel Aviv.
Day 7
Tel Aviv, Israel
Following breakfast, check out from the hotel and shared transfer to Ben Gurion International Airport for your flight back home taking with you everlasting memories of Israel, and a great tan too!
Goodbye and Le'Hitraot (till we see you again)!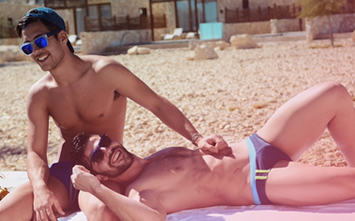 Select from 3 different Jerusalem & Tel Aviv hotel combinations.
ibis Jerusalem City Center Hotel, Jerusalem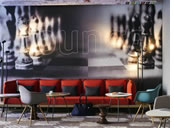 Located on Zion Square, in the heart of Jerusalem's city center, the new KOSHER ibis Hotel
is just a minute away from the Old City, Ben Yehuda Pedestrian Mall, the tram station, and is an ideal base for exploring and enjoying Jerusalem's important sites. 0.9KM to Jaffa Gate and the Old City, Nahalat Shiv'a District, Mamilla Avenue, vibrant Machane Yehuda Market and an abundance of New and Old City Attractions and Museums. A Complimentary happy hour is hosted every evening in the hotel's stylish lobby bar.
ibis Jerusalem City Center Hotel features air-conditioned rooms with free WiFi throughout the property. Guests can enjoy the on-site bar.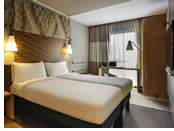 Furnished with new Sweet Bed by ibis bed and bedding, the ibis room offers the ultimate in comfort: 2 single beds, or large double bed, ensuite bathroom, hairdryer, desk, internet and LED flat screen TV with all the best channels.
Bike rental is available at this hotel and the area is popular for biking. Ramallah is 12.9 km from ibis Jerusalem City Center, and Ein Gedi is 40.2 km away. The nearest airport is Ben Gurion Airport, 40.2 km from the property.
Hotel 75, Tel Aviv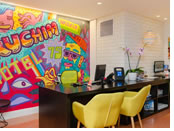 Hotel 75
at 75 Allenby St. is located in Tel Aviv's most vibrant area, with easy access to the city's nightlife, entertainment, nightclubs and bars, art scene, beaches, shops, markets and typical Tel Aviv hangouts and city life. This property is 12 minutes walk from the beach, 200 m from Nachalat Benyamin Crafts Fair and Shenkin Street.
Breakfast is served daily at a nearby cafč and includes omelettes, bread with different dips, and hot or cold drinks. Free WiFi is available throughout.
Every room at this hotel is air conditioned and comes with a flat-screen TV with satellite channels. There are a private bathroom with hairdryer, nad coffee and tea making facilities in each room.
The area is popular for windsurfing and cycling. The hotel also offers bike hire. Shenkin Street is 300 m from Hotel 75, while Independence Hall Museum is 500 m away.
ibis Hotel in Jerusalem & Hotel 75 in Tel Aviv
Double Occupancy: from $1,050 USD per person
Private Single Room: from $1,615 USD
Montefiore Hotel, Jerusalem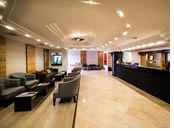 The Montefiore is one of the most sought-after hotels in the chain and in Jerusalem. An intimate hotel with only 48 rooms, located at the heart of the city on the fashionable Shatz St. near King George St. and the Ben Yehuda Market, and just a short distance from the major tourist sites, nightlife attractions and the Ancient City. The hotel staff provides dedicated and personal service, with a fashionably designed lobby, special suite on a separate floor, and much more. As in every other hotel in the Smart Hotel chain, the Montefiore Hotel
offers free wi-fi and tablets for its guests to use.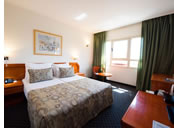 The Montefiore's 48 rooms are fully accessorized and its suite on the top floor has a private exit to a beautifully furnished roof. All rooms feature luxurious mattresses, bathrooms with bathtub/shower, central air conditioning, mini-bar, 32" LCD TV and digital cable, a digital safe, coffee/tea set, free Wi-Fi, and dedicated personal service from a professional staff.
Dining hall is a comfortable place to enjoy a full Israeli breakfast. Experienced chefs prepare healthy and fresh meals that are both kosher and mouth watering. Breakfasts consist of fresh cheeses, fruits and vegetables, scrambled eggs, a variety of warm dishes, homemade marmalades, freshly baked breads and a selection of Coffees.
Maxim Design Hotel, Tel Aviv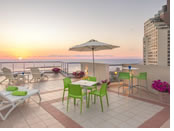 This property is 2 minutes walk from the beach. Featuring free WiFi and a sun terrace, Maxim Design Hotel
3 Star Superior offers accommodations in Tel Aviv. Free private parking is available on site.
Set along the bustling promenade in the heart of the city center and overlooking the glorious Mediterranean Sea the Maxim Hotel Tel Aviv is the perfect choice for both business and leisure travelers. The Cameri Theater is one kilometer from Maxim Design Hotel 3 Star Superior, and Habima Theater is 1.1 km from the property. The nearest airport is Ben Gurion Airport, 12.9 km from the property.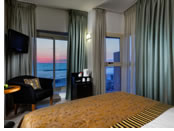 Each room at this hotel is air conditioned and has a flat-screen TV. Some accommodations feature a sitting area to relax in after a busy day. The rooms include a private bathroom. For your comfort, you will find free toiletries and a hairdryer.
Hotel's dedicated staff will be happy to assist you with any request that you may have. 24 hour reception personnel have extensive information about tours and excursions and will be happy to recommend you with dining or entertainment which made Tel Aviv so famous for.
Montefiore Hotel in Jerusalem & Maxim Hotel in Tel Aviv
Double Occupancy: from $1,040 USD per person
Private Single Room: from $1,605 USD
Abraham Hostel, Jerusalem

The Abraham Hostel Jerusalem
is located in Jerusalem's city center. With over 250 beds, the hostel hosts guests from around the world who enjoy its warm atmosphere, convenient location, friendly staff, daily events and tours, and extensive facilities. We look forward to welcoming you to Jerusalem and extending the famous hospitality of Abraham, from Biblical times to your visit.
The Abraham Hostel Jerusalem is located in Davidka Square, 350 metres from Mahne Yehuda Market. It offers rooms and dormitories with free WiFi and air conditioning.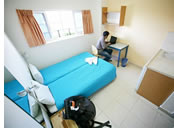 The Abraham Hostel Jerusalem is right in front of a tram and bus stop providing connections to the city's most important landmarks. The Old City is a 20-minute walk away.
The hostel features an evening bar with a selection of Israeli beers and nightly entertainment. Rooms at the Abraham Hostel have a private bathroom. continental breakfast is provided at the Abraham, and a communal kitchen is available for guests' use.
Abraham Hostel, Tel Aviv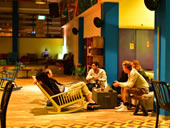 The Abraham Hostel Tel Aviv
is located in the beating heart of Tel Aviv surrounded by many of the city's hottest spots. With over 350 beds, the hostel hosts guests from around the world who enjoy its warm atmosphere, convenient location, friendly staff, daily events and tours, and extensive facilities. We look forward to welcoming you to Tel Aviv and extending the famous hospitality of Abraham, from Biblical times to your visit.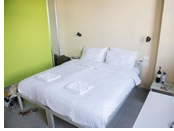 Abraham Hostel Tel Aviv is located in the Tel Aviv City-Centre district, 600 m from Independence Hall Museum and 700 m from Shenkin Street. This air-conditioned hostel has a terrace and views of the city. Free WiFi is available throughout the property.
All simply furnished rooms feature a refrigerator and a private bathroom with shower. There is a 24-hour front desk at the property.
Abraham Hostel in Jerusalem & Abraham Hostel in Tel Aviv
Double Occupancy: from $1,025 USD per person
Private Single Room: from $1,590 USD