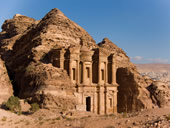 Beautiful desert landscapes and fascinating historical sites await you. Join our unforgettable 3 days tour to one of the seven wonder of the world - Petra! Walk through the narrow siq (canyon-like) path in the heart of the red rocks and explore the ancient Nabataean city. Drive through the striking Wadi Rum Desert with a thrilling jeep tour and get your good night sleep under the desert stars!
Our tour's crowned jewel, Petra, is known as one of the new 7 Wonders of the world and a world heritage site since 1985. Petra was chosen by the BBC as one of the "the 10 places you have to see before you die". The ancient city of Petra was built from 800BC to 100AD by the Nabeteans. In this era, Petra was a fortress carved out of craggy rocks in an era which was virtually inaccessible.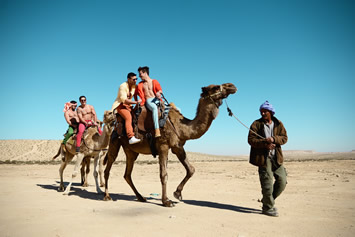 Inhabited since prehistoric times, this Nabataean caravan-city, situated between the Red Sea and the Dead Sea, was an important crossroads between Arabia, Egypt and Syria-Phoenicia. Petra is half-built, half-carved into the rock, and is surrounded by mountains riddled with passages and gorges. It is one of the world's most famous archaeological sites, where ancient Eastern traditions blend with Hellenistic architecture.
Wadi Rum is a protected desert wilderness in southern Jordan. It features dramatic sandstone mountains like the many-domed Jebel Um Ishrin, and natural arches such as Burdah Rock Bridge. Many prehistoric inscriptions and carvings line rocky caverns and steep chasms, such as Khazali Canyon. The natural watering hole of Lawrence's Spring is named after British soldier Lawrence of Arabia, who allegedly washed there.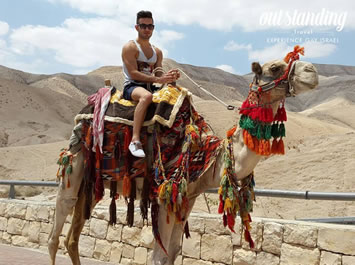 Day 1
Tel Aviv / Eilat, Israel - Petra, Jordan
05:15 - Pick up from your hotel/apt in Tel Aviv and transfer to Sde Dov domestic airport.
Morning flight to the southern city of Eilat (one hour flight)
Private transfer from Eilat Airport to Yitzhak Rabin border crossing at Arabah.
With our representative's assistance, meet the Jordanian tour guide and join the gay friendly group tour to Petra.
Travel to Petra via Wadi Yatam, driving through some enchanted landscapes. We will make a short stop to freshen up. Two hours from the beginning of the trip we will arrive to Petra, enter the Petra nature reserve and take a short horse ride (those who wish to do so).
Petra, the Nabatean capital, is carved into the rock, and situated in the far end of Wadi Musa. The road leading there meanders through the narrow, deep, winding, and breathtaking Siq (the shaft) at the end of which the striking splendor of the burial shrine Al Khazneh (the treasury) is revealed. We will stop to take pictures and then arrive at our ultimate destination, the ancient and picturesque city of Petra. We will visit the theater, the façade, the Winged Lions Temple which is still under excavation and more… At noon we will have lunch at an authentic Middle Eastern restaurant. In the afternoon we leave Petra and drive Wadi Rum.
Dinner and overnight in Wadi Rum.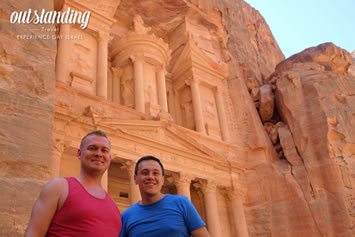 Day 2
Wadi Rum, Jordan
Today you will discover Wadi Rum. On a Jeep tour we will visit the renowned places as well as the less frequented and less famous ones. We drive through Wadi Rum in southern Jordan which is regarded by many as one of the most beautiful desert landscapes in the world. Sandstones and granite rocks make up this vast valley, the largest in the Hashemite kingdom. Wadi Rum has also been made famous by Lawrence of Arabia, who wrote his book "Seven Pillars of Wisdom" during his stay there. (It is also the site where the film "Lawrence of Arabia" was made).
Have a traditional Bedouin lunch before departing to Aqaba.
Enjoy the rest of the day at leisure in Aqaba.
Overnight in Aqaba.
Day 3
Aqaba, Jordan - Eilat / Tel Aviv, Israel
After breakfast and checking out you will be transferred to Arava Border and from there to Eilat Airport for your domestic flight back to Tel Aviv.
Upon arrival at Tel Aviv Domestic Airport you will be transferred to your accomadation in Tel Aviv.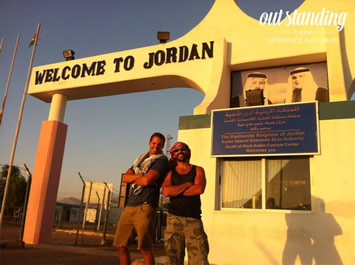 Select from 2 different Wadi Rum & Aqaba hotel combinations.
Wadi Rum Night Luxury Camp, Wadi Rum, Jordan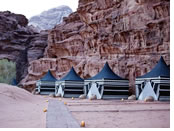 Located in the heart of Wadi Rum protected area, each tent is completed with comfortable beds, Bedouin sofa, mirrors, lamps, and the finest bed linens. There is cosy relaxation area outside the tent to watch the stars at night.
Each tent has a private terrace with a fantastic view over the Wadi Rum Mountains. The camp offers a toilet and shower facilities.
In the Wadi Rum Night camp, guests will find tents with a restaurant and lounge area. The tents is beautiful decorated with traditional Arabian furniture.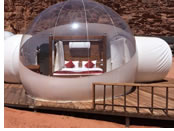 Retreat to your private Bedouin style tent with its surrounding expanse of silken sand and luxurious accommodation. Wadi Rum Night camp consist of twenty five fully equipped luxury tents, each spacious guest tent is luxurious furnished completed with comfortable king-size or twin beds, Bedouin sofa, mirrors, lamps, and the finest bed linens. All the furniture is hand-made. There is cosy relaxation area outside the tent to watch the stars at night. Electricity is provided in the guest tents in the evenings via solar power. Each tent has a private terrace with a fantastic view over the Wadi Rum Mountains.
Full of Stars - this room offers you the opportunity to sleep under starlit sky in beautifully decorated bubble rooms with endless views of the stunning Wadi Rum desert landscape. The bubble rooms are just one extension of the Wadi Rum Night Luxury camp.
Mövenpick Tala Bay Resort & Spa, Aqaba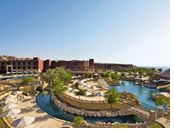 Relax on private beach, dive in the Red Sea and unwind with a spa treatment - all while staying at the luxury Mövenpick Resort & Spa Tala Bay Aqaba
. Our award-winning resort combines contemporary decor and first-class facilities in a stunning beachfront location just 15 minutes from Aqaba's city centre and 25 minutes from King Hussein International Airport.
Enjoy complimentary WiFi and views of the Red Sea, mountains, gardens or pools from our 306 rooms and suites. All of 5-star hotel rooms have private terraces or balconies, so you can unwind at leisure with a drink from the free minibar.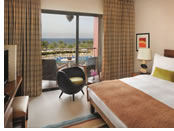 Fresh seafood, authentic Italian cuisine, informal poolside dining and sea view lounges are just some of the highlights at Mövenpick Resort & Spa Tala Bay Aqaba
eight hotel restaurants and bars.
In addition to a 150 metre-long private beach and several swimming pools, there are also a dive centre, kids' club and a variety of water sports. Refresh in the sauna and experience showers of Zara Spa Tala Bay, or explore the desert and historic sites nearby.
• 1 Overnight at Wadi Rum Luxury Camp (Full of Star tent) in Wadi Rum
• 1 Overnight at Mövenpick Tala Bay (Standard Room) in Aqaba
Double Occupancy: $1,250 USD per person
Single Occupancy: $1,770 USD
Bait Ali Camp, Wadi Rum, Jordan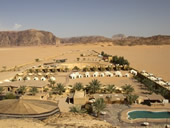 Bait Ali Lodge is a unique rest area in the heart of Wadi Rum, easily accessed from the main Wadi Rum road (around 55 km. from Aqaba and 10 km. from the desert highway turn off at "Ragdia").
The camp and rest area is built in the Bedouin Arabic tradition blending naturally into its desert surroundings. Together with its large modern kitchen Bait Ali has traditional Bedouin tented areas, modern showers and toilets: terraced areas with "zerb oven", bar facilities and of course plenty of room for camping, whether in the tents already on site or for motor caravans. Watch out for organic, fresh produce from Bait Ali own farm!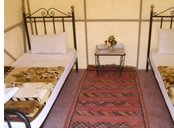 During the summer months there are a number of outdoor shaded areas, each with its own special atmosphere. Enjoy these areas perhaps together with a crisp organic salad from Bait Ali Camp own farm, an ice cream, or one of a large selection of cold drinks or snacks from bar. In the colder winter months we can offer our unique "winter hall" with its central fireplace and buffet, offering a warm cozy atmosphere, all sorts of hot drinks, hot chocolate, soup of the day or something a little stronger.
Try our very own sunrise or sunset site or perhaps a little stargazing, either from the top of Bait Ali mountain, easily accessed by steps from the main patio or from our beautiful amphitheatre view point near the old biplane.
DoubleTree by Hilton Hotel, Aqaba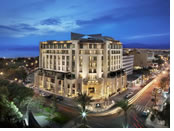 Situated on the southern tip of Jordan overlooking the Red Sea's Gulf of Aqaba, DoubleTree by Hilton Aqaba is a 5 star hotel and centrally located in the heart of the business district in Aqaba, Jordan. King Hussein International Airport (AQJ) is less than 15 minutes from this Jordan hotel, where you will be welcomed with a DoubleTree chocolate chip walnut cookie.
Featuring contemporary Italian design, our spacious guest rooms and suites provide a peaceful retreat with views of the city or the Red Sea. Enjoy a 32-inch flat screen TV, complimentary WiFi and a large desk. Superior rooms provide private balconies furnishing stunning views of the Red Sea.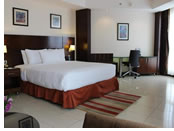 Discover several dining outlets offering a range of culinary options. Start your day with our breakfast buffet at Gusto. Visit DoubleTree by Hilton Aqaba Hotel Tree Café for coffee and light snacks or lounge by the pool and enjoy views of the Red Sea at Infinity bar, while sipping cocktails or eating a snack. At night, chill out at Diwan The View Rooftop Lounge.
Maintain your exercise regimen in the 24-hour fitness center. Marvel at views of the Red Sea from our infinity pool. Relax in the steam room, whirlpools and sauna.
• 1 Overnight at Bait Ali Camp (Standard tent) in Wadi Rum
• 1 Overnight at Double Tree Hotel (Standard Room) in Aqaba
Double Occupancy: $1,035 USD per person
Single Occupancy: $1,535 USD