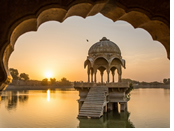 A grand gay tour of all the best places of fascinating Rajasthan state. See the great fortresses of the desert cities of Bikaner and Jaisalmer, the great city of Jodhpur, the beautiful city of Udaipur and holy Mount Abu. Experience a camel ride and dinner on the sand dunes, spice markets , romantic boat ride at lake Pichola, and fabulous handicrafts offering splendid shopping opportunities. Stay at beautiful heritage hotels and experience the real India.
See all this in the company of an international gay group, make new friends and enjoy parties, including our welome and farewell drinks and dinner parties.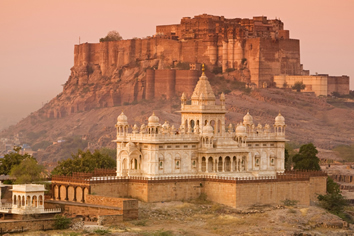 Day 1 - Arrive in Delhi, India
Arrive at New Delhi International Airport. Meet and greet then transfer to hotel.
Overnight in Delhi.
Meals: Dinner
Day 2 - Delhi / Mandawa (243 Kms approx. 5 hrs)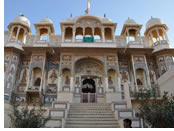 Breakfast at hotel. Delhi-Mandawa drive 243 kms, approx. 5 hours After Breakfast drive to Shekhawati region with lunch en route. Check in to hotel. Welcome drinks and dinner at restaurant.
Mandawa
The open-air art gallery of Rajasthan, This region came into prominence in the 14th century when a number of Muslim clans moved into the area and the towns of this region developed into important trading posts on the caravan routes emanating from the ports of Gujarat.
This region is famous for painted havelis most of which date back from the 18th century. The famous and must visit among the painted havelis are Chowkhani Haveli, Gulab Rai Ladia Haveli, Lakshmi Narayan Ladia Haveli, Mohahanlal Saraf Haveli and Bhagchandika Haveli. See the splendor of almost 100-year-old frescoes.
Overnight in Mandawa.
Meals: Breakfast, Lunch, and Dinner
Day 3 - Mandawa / Bikaner (188 kms, approx. 3 ½ hours)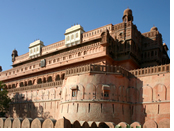 Breakfast at hotel. Mandawa-Bikaner drive 188 kms, approx. 3 1/2 hours. Morning drive to Bikaner city. Lunch while on city tour and dinner at the hotel.
Bikaner
The city of Bikaner was founded in 1488 from Jangaldesh or the country of wild bushes. It has been almost 550 years since its inception and the city has spread across the desert and has also acquired expertise viz, camel breeding and dry irrigation which is unique to it.
Bikaner city along with its rocky scrubland, is located on an elevated plain in the desert. The old city is encompassed by a long embattlement wall which intermittently breaks to give way to five huge gates. Now a major trade center for wool, building stones, carpets, blankets, salt and grain, Bikaner has emerged as the lifeline of the state.
Overnight in Bikaner
Meals: Breakfast, Lunch, and Dinner
Day 4 - Bikaner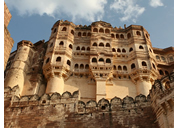 Breakfast at hotel. Full day sightseeing in Bikaner visiting Junagarh Fort, Jain Temples and museum.Lunch at restaurant, dinner at hotel.
Bikaner
Jaipur, popularly known as the Pink City, was founded in 1727 AD by one of the greatest rulers of the Kachhawaha clan, the astronomer king Sawai Jai Singh. The pink color was used at the time of making to create an impression of red sandstone buildings of Mughal cities - and repainted in 1876, during the visit of the Prince of Wales.
Bikaner
Junagarh was built in 1593 A.D. by Raja Rai Singh, a general in the army of Emperor Akber. The structure is encircled by a moat and has beautiful palaces in between made of Redstone and marbles. Devi Kund is a royal crematorium with several ornamented cenotaphs built in the memory of Bika Dynasty rulers. Maharaja Suraj Singh's cenotaph is the most impressive one created entirely with white marble with secular rajput paintings on the ceilings.
Bhandasar Jain Temple is dedicated to the 23rd Tirthankara, Parasavnathji. The temples have colorful wall painting and some beautiful carving. Ganga Golden Jubilee Museum has one of the richest collections of terracotta ware, weapons miniature paintings of Bikaner schools and coins. It also has separate section displaying exclusive arts and crafts of the region.
Overnight in Bikaner
Meals: Breakfast, Lunch, and Dinner
Day 5 - Bikaner / Jaisalmer (331 Kms approx. 5 hrs)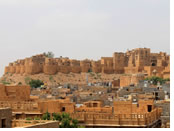 Breakfast at hotel. Bikaner-Jaisalmer drive 331 kms, approx. 5 hours. Morning proceed to Jaisalmer, Lunch en-route. Check into hotel. Dinner at hotel.
Jaisalmer
This fantastic city, forming a part of the Great Indian Desert, was founded in centuries back by Rawal Jaisal of the Yadav community and the name Jaisalmer means the hill fort of Jaisal. This medieval has grown into fame as a romantic gateway for exotic enjoyments and breathtaking views. Magnificent palaces, Golden fort, ancient imposing temples and havelis provide this wonderful place a permanent spot in the tourist map of India. This city boasts many medieval period Jain temples as well. The city is enriched with the exquisite collections of arts, textiles and crafts. The majority of the inhabitants are Rajputs, who have renowned as great warriors.
The Fort This 12th century fort has withstood the ravages of time and rises out of the sea of sand. Its rounded battlements of golden sandstone echo the colours of the desert. The fort has four approach gateways. Several entrances guard the Megh Durbar and the Jawahar Mahal, which bear the imperial symbols of the Bhatti clan's lunar lineage. Outside the fort is the main market place called Manek Chowk. From Manek Chowk, one can walk into the lanes, where the famous carved havelis, beautifully sculptured Jain Temples of the 12th-15th century and five interconnected palaces can be found.
Overnight in Jaisalmer
Meals: Breakfast, Lunch, and Dinner
Day 6 - Jaisalmer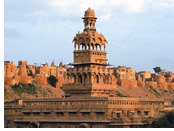 Breakfast at hotel. Full day sightseeing in Jaisalmer, with lunch, while on the city tour. Experience sunset on Sum Sand dunes and adventure camel ride. Dinner on the sand dunes specially organized for the group. Return to hotel.
Jaisalmer
Tazia Tower, one of the major tourist destinations in Jaisalmer, is an amazing five storied structure. This marvelous attraction is located at the eye catching complex of Badal Palace near Amar Sagar Gate. The Tazia Tower is credited with imposing balconies in each of its floor and they are pretty attractive with its distinct design and architectural style.
Gadsisar Lake is a scenic rainwater lake surrounded with numerous beautiful shrines. The lake is a tranquil spot for outings. Lodurva (15 kms) is the ancient capital of Jaisalmer and an important pilgrim centre of the Jains. Some  magnificent  Jain  temples are located here. The temples have intricate  carvings on the arches at the main entrance. A 'Kalptaru' or a divine tree is the main attraction of the temple.
Manak Square The main marketplace outside the fort leads to the narrow lanes dotted with famous havelis. Sam Sand Dunes (42 Kms) No trip to Jaisalmer is complete without trip to the very picturesque dunes of Sam. The ripples of the wind have caressed the dunes creating an enchanting mirage, surely a delight for trigger-happy photographers. Various cultural programmes are organized against the back drop of these fascinating sand dunes, Exciting camel rides allow you to experience the real desert
Overnight in Jaisalmer
Meals: Breakfast, Lunch, and Dinner
Day 7 - Jaisalmer / Jodhpur (272 Kms approx. 5 hrs)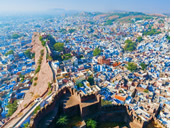 Breakfast at hotel. Jaisalmer-Jodhpur drive 272 kms, approx. 5 hours Morning drive to Jodhpur with lunch en-route. Dinner upon arrival in the hotel.
Jodhpur
The blue city of Rajasthan is located on the eastern fringe of the Thar Desert and has the distinction of neither being a part of the Thar Desert nor out of it. At best, it is a doorway to the wonderland of sand dunes and shrubs, rocky terrain and thorny trees. It is the home of the Rathors - the awesome princely state of Rajasthan, who conquered Marwar the land of the sand after the fall of Delhi and Kannauj.
Overnight in Jodhpur
Meals: Breakfast, Lunch, and Dinner
Day 8 - Jodhpur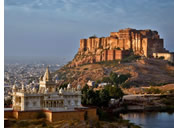 Breakfast at hotel. Morning city tour of Jodhpur covering Mehrangarh Fort, Umaid Bhavan Palace, Jawant Thada with lunch in a local restaurant. Evening visit spice market and dinner in the hotel.
Jodhpur
Jaswant Thada: On the way down from the fort, on left is Jaswant Thada, the graceful marble cenotaph of Maharaja Jaswant Singh II. His son Maharaja Sardar Singhji built the Taj Mahal of Marwar in the memory of Maharaj Jaswant Singhji II of Jodhpur. Maha Mandir: The Mahamandir Temple is supported by 100 pillars and has carvings depicting yoga postures.
Mandore Gardens: Mandore was the former capital of Maharajas of Marwar and is located about 5 miles north of Jodhpur, but was later abandoned for the security of Mehrangarh fort. Here you will find the dewals, or cenotaphs of Jodhpur's former rulers. Unlike the usual chhatri-shaped cenotaphs typical of Rajasthan, they were built along the lines of a Hindu temple, four stories high, with fine columns and an elegant spire, all in red sandstone. Evening you have the walking tour of Clock Tower market also called as the Spice Market and is quite interesting to see the villagers shopping.
Overnight in Jodhpur
Meals: Breakfast, Lunch, and Dinner
Day 9 - Jodhpur / Mt. Abu (270 kms, approx. 5 ½ hours)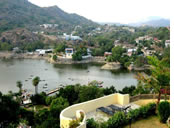 Breakfast at hotel. Jodhpur - Mt. Abu drive 270 kms, approx. 5 ½ hours Proceed to Mt. Abu, Lunch and dinner at the hotel. Evening free for leisure
Mount Abu
Mount Abu is one of the renowned Jain pilgrimage locations in India and is the only hills station in the state of Rajasthan, India. Mount Abu, the oasis among the deserts in Rajasthan, is located a height of 1220 meters from sea level and is enclosing a serene and beautiful lake.
Overnight in Mount Abu
Meals: Breakfast, Lunch, and Dinner
Day 10 - Mount Abu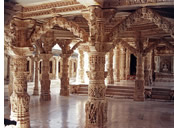 Breakfast at hotel. Morning proceed to city tour of Mt. Abu covering Dilwara Temple, sunset point with lunch en-route and dinner in the hotel.
Mount Abu
It is placed at the pinnacle of a granite table peak on Aravalli ranges and is surrounded by thickly populated green forests. The cool and fragrant ambience with rich flora in Mount Abu attracts thousands of tourists every year. Nakki lake, Toad rock, Raghunath Temple, Sun set point, Brahma Kumari's peace Hall and Museum are some of the attractions.
Overnight in Mount Abu
Meals: Breakfast, Lunch, and Dinner
Day 11 - Mount Abu / Ranakpur / Udaipur (160 kms, approx. 3 ½ hours)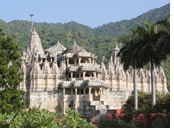 Breakfast at hotel. Mt. Abu - Udaipur drive 160 kms, approx. 3 ½ hours. Drive to Udaipur via Ranakpur. Lunch en-route, afternoon free and dinner in the hotel.
Ranakpur
Ranakpur is mainly famous for its Jain temples, which are all exquisitely carved structures. A view of these temples can be breathtaking when seen along with the background of endless desert sands. The huge complex is enclosed within walls, and houses Jain temples that are made of amber stone. The Chamukha temple that is located in this complex is the main temple in the region. This temple is dedicated to Adinathji, who is revered among Jains and regarded as the first tirthankara. This temple is a very huge structure that has around twenty nine halls and close to 1444 pillars in its premises. All these portions are distinctly carved, and they are all unique. No two pillars or structures in this temple have the same carvings. The temple is thus an architectural marvel that can excite any architecture buff or history buff that visits the place.
Overnight in Udaipur
Meals: Breakfast, Lunch, and Dinner
Day 12 - Udaipur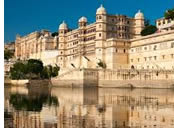 Breakfast at hotel. Morning proceed to city tour of Udaipur covering City Palace, Jag Mandir, Lake Palace and lake Pichola. Lunch en-route and dinner at the hotel.
Udaipur
Udaipur City, one of the most beautiful cities and known as 'Jewel of Mewar', is the administrative headquarters of Udaipur District in the state of Rajasthan, India. City Palace One of the largest royal complexes in Rajasthan, situated on a promontory on the picturesque Lake Pichola. The complex has 11 beautiful palaces with balconies and towers. Offering the breathtaking view of the lake the City Lake Palace, also known as Jag Niwas is a beautiful Island Palace built by Maharana Jagat Singh II in 1754. Situated on picturesque Lake Pichola, the white marble structure appears like emerging out of the shimmering blue waters on the lake, creating a spellbound effect.
Overnight in Udaipur
Meals: Breakfast, Lunch, and Dinner
Day 13 - Udaipur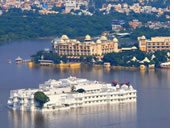 Breakfast at hotel. Day is free for leisure. Enjoy and indulge in shopping. Udaipur is famous for paintings, bronze antiques, rugs and carpets. Lunch at restaurant and dinner the hotel.
Udaipur
Eklingji (21 Kms ) is a religious complex in the northern region of Mewar. It houses 108 temples chiseled out of sandstone and marble. The temple of Eklingji was built in 734 A.D. Enclosed by high walls, it is devoted to Eklingji. Built by Maharana Jagat Singh 1 in 1651, the temple enshrines a black stone image of Lord Vishnu. The exterior and the plinth are cover with base relief of alligators, elephants, equestrian and celestial musicians rise in tiers
Overnight in Udaipur
Meals: Breakfast, Lunch, and Dinner
Day 14 - Fly from Udaipur to Delhi
Breakfast at hotel.
Morning transfer to airport for flight to Delhi. Lunch at restaurant. Evening free for shopping and leisure. Farewell dinner and drinks at restaurant.
Overnight in Delhi
Meals: Breakfast, Lunch, and Farewell Dinner
Day 15 - Departure
Breakfast at hotel. Free day for leisure, shopping or individual sightseeing. Transfer to airport for your flight home.
Tour ends with sweet memories!
Meals: Breakfast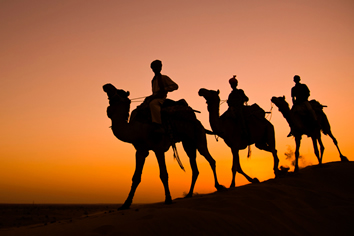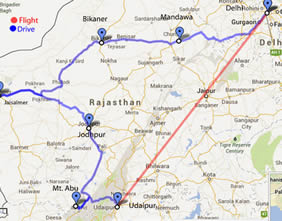 • 14 nights Accommodation in 3 and 4 star modern and heritage gay friendly hotels with all facilities
• Breakfast provided at hotels. Lunch and dinner at hotel or restaurant
• Transportation by air conditioned coach with English speaking gay friendly driver
• All transportation including city tours, sightseeing and transfers
• Economy class flight from Udaipur - Delhi
• Camel ride at Sum Sand dunes
• Special dinner at the Sum Sand dunes
• Boat ride at Lake Pichola in Udaipur
• Services of an English speaking local gay friendly guide at all places
• Bottled drinking water provided on the coach and in the hotels
• Wet tissues to clean up face, hands and feet when returning from monuments where shoes are not allowed
• All entrance fees
• Assistance at all the places
• Accompanied at all times by an experienced gay tour manager
• Alcoholic, or soft drinks
• Any personal expenses such as laundry, tips, porterage etc.
• Anything which is not mentioned as included
• International Airfare
• Visa fee
• Travel Insurance ( Mandatory)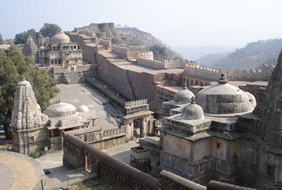 Group Size
Maximum of 16 travelers per group plus Tour Leader
Departure
Departure is guaranteed, subject to 9 people traveling
Transportation
A/C Car/ Coach & domestic flights (Udaipur - Delhi). Arrival airport to hotel transfer included. Please provide flight details at time of booking.
Accommodation
Modern and Heritage Hotels (3 and 4 stars)
Single travelers
Our group trips are designed for twin shared accommodation. Single travelers share with people of the same sex for the duration of the trip. If we are not or you are not able to find a partner you remain with the option of paying a single supplement.
Gay Scene
India has a long historical homosexual tradition. Literary evidence shows that homosexuality has been prevalent in India throughout the ages. Erotic sculptures that depict homosexuality can befound in many temples, and is also portrayed in many Mughal paintings.
In recent years and particularly since decriminalization of consensual homosexuality, India is slowly adopting a progressive attitude. Gay life is developing in the major cities where gay communities, clubs, saunas are emerging.
This trip travels to a conservative area. We encourage you to experience the destination and culture with the following in mind:
Accommodation
We do not foresee any problems, however there may be occasions when a same sex couple may be asked to sleep in single beds rather than sharing a double. We appreciate your cooperation.
Public Display of affection
These are frowned upon in this region among all travelers, not just those on an Adventure. This includes holding hands in public.
Gay Activities
This trip does not have any specific gay hosted events, meals or day tours due to the cultural sensitivity of this region. We will do our best to provide a safe, comfortable environment for you and your fellow travelers to experience this culture. However, you will find an exciting gay nightlife in Delhi, mainly in the south area where parties are organised by gay organisations, occasionally and in the weekends. You can also choose to go for massages and spa services in some of the gay-friendly saunas located in Delhi.
Rajasthan is a tourist hub, and for its exotic quality experience the state is always exciting. Rajasthan is developing as a gay destination on the world tourism map.
Discover the best of resorts and hotels, designs telling you the ancient history of Rajasthan. With hotels and resorts with great spas, relax and have a comforting experience and make your travel worthy.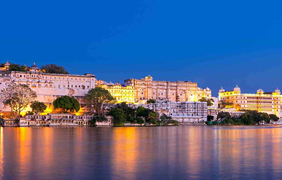 The following is a sampling of our preferred properties in some of the locations visited on this tour and is meant to be indicative only. Hotel properties are not confirmed until 30-60 days before trip date.
Blue Berry Hotel, New Delhi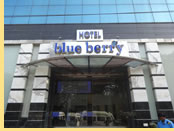 Featuring a restaurant and terrace, Blue Berry Hotel is located in the Karol Bagh neighbourhood of New Delhi. Offering free Wi-Fi, the property is within a 15-minute walk of shopping destinations Gaffar Market and Ajmal Khan Road.
With a private bathroom, the air-conditioned rooms come with a flat-screen TV, sofa and minibar.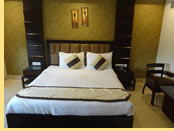 Blueberry is 30 minutes by public transport from Delhi Junction Railway Station.
Karol Bagh is a great choice for travelers interested in shopping, street markets and markets.
Udai Vilas Palace Hotel, Mandawa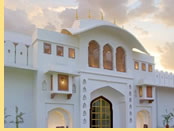 With an architectural style reminiscent of the havelis of the area. Hotel Udai Vilas Palace Mandawa offers a perfect blend of traditional rajasthani hospitality coupled with world class amenities. And of course accompanying everything is a touch of warmth and gracious service that will keep you smiling.
At the hotel, after a day's sightseeing, you could relax over a drink in our beautiful bar. or work out in the gym ,get a refreshing massage at the Ayurvedic spa or just laze around in the swimming pool. To round it all off, there is an elegant restaurant which offers great views of the surrounding desert along with a choice of delectable cuisine.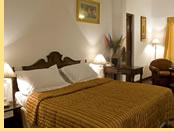 Udai Vilas Palace Mandawa has 66 lavishly spacious rooms and suites equipped with everything that a global traveler could desire. These include thoughtful touches like separate lounge areas (In the club rooms) tea/coffee makers, a well-stocked mini-bar large bathrooms and spacious wardrobes.
Of course, we have ensured that all the rooms have views of either the gardens of the open Rajasthan desert.
Harasar Haveli Hotel, Bikamer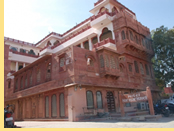 Hotel Harasar Haveli is a great choice for accommodation when visiting Bikaner. This modern hotel is in the vicinity of popular city attractions such as Junagarh Fort Museum, Junagarh Fort, Sri Sadul Museum. The moment you enter into the hotel you will get a feel of ancient Rajasthani culture, and the same feeling you will experience throughout your stay in the Harasar Haveli Hotel.
The facilities and services provided by Hotel Harasar Haveli ensure a pleasant stay for guests. The hotel offers access to a vast array of services, including Wi-Fi in public areas, car park, room service, airport transfer, restaurant.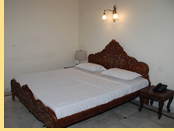 The ambiance of Hotel Harasar Haveli is reflected in every guestroom. television LCD/plasma screen, clothes rack, towels, internet access – wireless, internet access – wireless (complimentary) are just some of the facilities that can be found throughout the property. Besides, the hotel's host of recreational offerings ensures you have plenty to do during your stay. Enjoy unparalleled services and a truly prestigious address at the Hotel Harasar Haveli.
Fort Rajwada Hotel
, Jaisalmer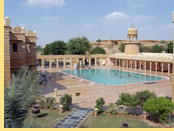 Fort Rajwada
is a heritage hotel located 2 km from the Jaisalmer Railway Station. Featuring a blend of a traditional royal architecture and modern furnishings, this 4-star hotel offers 4 dining options and free parking on site.
Exquisitely designed rooms are fitted with a work desk, an electric kettle and a flat-screen TV with satellite channels. The en suite bathroom comes with hot/cold shower and free toiletries.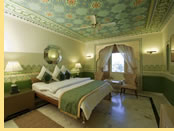 Laundry and dry cleaning services are offered. Guests can swim at the outdoor pool or work out at the fitness centre.
Roopal Restaurant serves a variety of Rajasthani, Indian and continental dishes. Light meals and barbecue food can be enjoyed at Pool Side barbecue. Guests can unwind with a glass of Indian wine at the Paatu Bar.
Pal Haveli Hotel, Jodhpur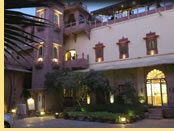 Today home to three generations of the Pal family, this grand, rambling townhouse was built in 18th century by the Thakur of nearby Pal. Surrounded by high walls, the Haveli lies in the heart of jodhpur's ancient walled city, under the gaze of magnificent Meherangarh Fort.
The cuisine is local, Rajasthani fare, traditional and wholesome. Many of the recipes have been in the family for generations and you can enjoy a variety of succulent Tandoor dishes, thalis and delicious curries.For per of post dinner drinks.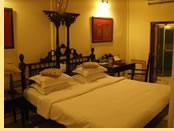 Pal Haveli Hotel visitors as well as in-house guests are warmly welcomed at Indique, and also at our indoor restaurant, Jodhana. Open for breakfast, lunch and dinner, it is in the eveing that the shimmering candle-lit terrace truly comes into its own.
Pal Haveli's delightful 18the century bar awaits you. This characterful watering hole with its dark wood furniture and saddle bar stools is filled with heritage mementos and antiques.
Karohi Haveli Hotel, Udaipur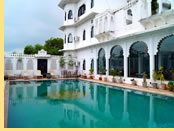 Formerly the residence of a noble family, The Karohi Haveli Hotel boasts an excellent location on Lake Pichola. Featuring colourful rooms with traditional décor, it offers boat rides and city tours.
Each air-conditioned room has a day bed, a safety deposit box and a TV with cable channels. The private bathroom provides hot and cold showers.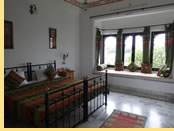 Guests can browse items in the book shop, or make travel arrangements at the tour desk. This heritage hotel provides car rental and currency exchange. Luggage storage is available at the 24-hour front desk.
The rooftop restaurant features sweeping views of the city, while Jharokha Restaurant overlooks the lake and palace. Both serve local and international dishes. Cocktails are available at the bar, where guests can enjoy the cool breeze and views of Lake Pichola.