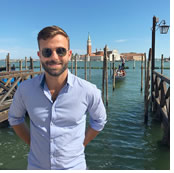 Have you ever heard of the "Three pearls of Northern Italy"? Milan, Venice and Florence are cradles of LGBTQ+ history and culture. Not only vibrant cities, nay must-sees, if you are interested in insights and hidden histories about how Italian art and genius intersect with homosexuality. This a gay group tour mixing cultural guided tours and Italian life-style, food and wine – the aperitives in Milan, the wine tasting in Florence, the "bacaro-experience" in Venice.
You will discover an unedited Milan, the most gay-friendly cities of Italy and the huge heritage left by Leonardo da Vinci, including the "Codex Atlanticus": a resume of notes and experiments hand-written by Leonardo from right to left…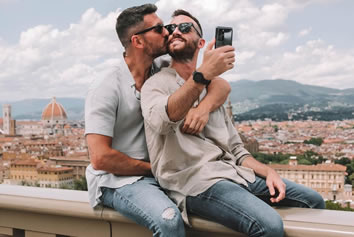 The history of the artists' quarter of Brera, where musicians, painters, sculptors, writers used to meet and weave love stories, attend brothels, find new inspirations…
Then Florence, the Renaissance capital: here during the Medici's government, tolerance and a "controlled" acceptance allowed artists to express their nature and inspiration: you will see the true "David" by Michelangelo, visit the "Bargello" and walk with our gay guide to discover the unveiled history of artists and common people who animated the LGBTQ+ scene.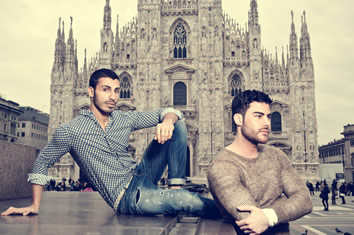 Your tour ends in Venice, which was the first city to really accept homosexuality as a matter of fact, even though the dominant government of the "Dogi" tried to maintain control on "malpractices"…
Experience the "bacaro", the kind of bar you find only in Venice and enjoy your time in front of a good "Merlot" or a "Cabernet".
Three special dinners are also included in this memorable tour, which is a must-do for those who are looking for a touch of Italian atmosphere and want to bring home great memories, to be shared with friends.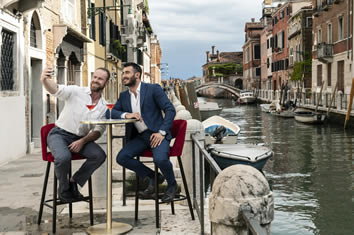 Day 1 - Thursday, August 3, 2023
Arrival in Milan, Italy
Arrival in Milan – Three nights in four-star hotel
If you arrive at Malpensa Airport of Milan (MXP), catch the shuttle-train 'Malpensa Express' or a bus-shuttle to Milan Central Station. From Central Station you can easily reach the hotel for checking in.
• Accommodation in NYX Hotel Milan by Leonardo Hotels
(or similar) standard double rooms.
• 6.30 PM: Meet & Greet aperitive, with your tour leader. Briefing of tour activities. You get the Milan Card Pass, which allows to catch public transportations (tube, buses, streetcars) for free during your stay in Milan.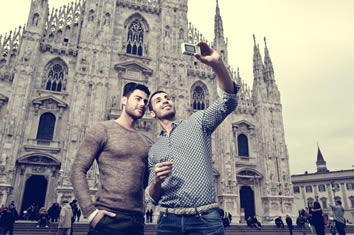 Day 2 - Friday, August 4, 2023
Milan
• 9:00 AM – Meet you gay guide in hotel, for a tour of the city which starts by catching the most common mean of public transport in Milan: a streetcar.
• Get off in centre and visit the famous Piazza del Duomo, with its stunning Gothic cathedral; the nearby glamorous "Galleria" and just few steps further, the La Scala Theatre welcomes you.
• Your itinerary proceeds with a visit to the "Ambrosiana Library", which gathers some masterpieces by Leonardo da Vinci. Amongst them, the "Codex Atlanticus". This is a collection of his drawings, notes, studies where Leonardo's genius found its empirical expression.
• A stop at the Sforza Castle, which is the icon of Milan in the world, will unveil how Leonardo was able to overwhelm any expectations, in terms of war strategy and machines, as well as of spectacular effects for entertainment.
• This walking tour ends with a classic aperitif, which is a common appointment for the Milanese, to meet with friends and enjoy some time together after work, before going home.
• Rest of the day, free.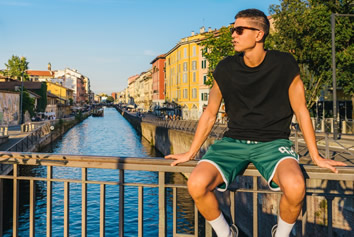 Day 3 - Saturday, August 5, 2023
Milan
• 10:00 AM – Meet your guide for a relaxing tour to the most exciting quarter of Milan: the Navigli. This is a "water-land", because of its channels crossing the area, which is a vibrant meeting point for youngsters and locals. You get there by streetcar and enjoy some time walking around, sitting for some good wine tasting, if you like!
• Your guide will introduce to Leonardo water engineering, an amazing project for the Middle Age.
• Afternoon free.
• Dinner in a typical Milanese restaurant, in the rainbow quarter of Porta Venezia! (no drinks included in this offer).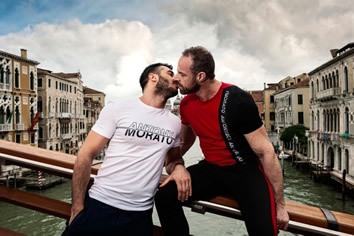 Day 4 - Sunday, August 6, 2023
From Milan to Venice
• Check out at your hotel in Milan
• Catch the high-speed train to Venice (2 hrs train ride)
• Arrival in Venice – Three nights in Venice
• Check in at your four-star hotel, Venice Times Hotel (or similar), close to railway station
• Rest of the day off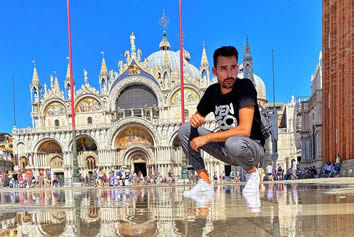 Day 5 - Monday, August 7, 2023
Venice, Italy
• The day is dedicated to discover Venice under a gay light… and not only. A walking tour (3 hours) will show you the beauty of the iconic city of the Dogi, including "Palazzo Ducale".
• 9:00AM – Meet your gay guide in hotel. Start your walking tour through the Sestiere of Cannaregio, up to Piazza San Marco and to the stunning Palazzo Ducale. A tour on a gondola-ferryboat is included to experience the thrill of watching Venice from its waters.
• Your tour ends with a stop at a "bacaro" the place where Venetians linger and drink with friends.
• Rest of the day off.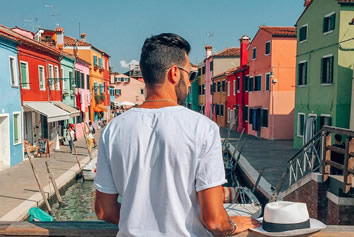 Day 6 - Tuesday, August 8, 2023
Venice - Murano, Burano & Torcello
• You cannot leave Venice without a shared boat tour to the smaller islands of Murano, Burano and Torcello. Each of them shows off its festurs: Burano is well-known for antique embroidery; Murano for the glass work and Torcello for its multicolor houses.
• 9:30 AM – Leave the hotel and reach the boarding pier for a half day tour to the Venetian Islands
You get an English guide on board and time on you own at each destination. The boat tour finishes at 2:30PM
Rest of afternoon free.
7:30 PM typical dinner in a "Venetian trattoria", to taste specialties and enjoy the true local cuisine (drinks not included in this offer).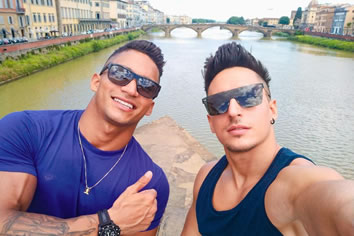 Day 7 - Wednesday, August 9, 2023
From Venice to Florence
• Check out at hotel in Venice.
• Catch the high-speed train to Florence (three hrs).
• Check in at your four-star hotel, Albani Firenze Hotel (or similar), at walking distance from railway station.
• Three nights in Florence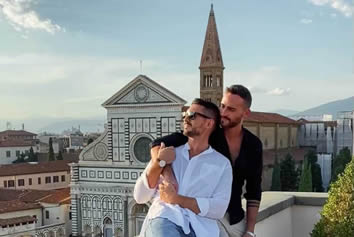 Day 8 - Thursday, August 10, 2023
Florence
• 9:00 AM – Meet your gay guide in hotel.
• Gastone, your gay guide will lead you to the discovery of how homosexuality was rooted in Florence during the Renaissance. Off the beaten tracks will he go and end up with the visit at the Accademia, where the authentic 'David' by Michelangelo is conserved. Its homoerotic beauty is unique and we can only imagine the artist's troubled soul when creating this nude masterpiece.
• The tour ends with a wine tasting in a "Enoteca". Take an aperitif and enjoy the delicious "tapas" pairing with a great Tuscan red wine (Gallo Nero, for example…).
• Rest of the day free.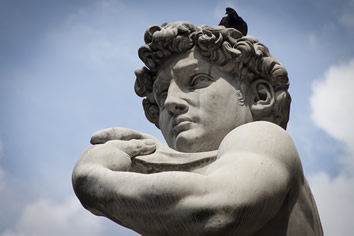 Day 9 - Friday, August 11, 2023
Florence
• 9:00 AM – Gastone meets you at the hotel. He still has something to show, which is hidden, untold in history. He will take you to the Bargello, where masterworks by Donatello, Michelangelo, Cellini, and many others are part of the greatest collection of the Medicis (the powerful noble family which ruled Florence during the Renaissance).
• This is a two-hour tour. Rest of the day free.
• Last but not least: the final dinner, which closes the tour. You will be hosted in an elegant restaurant in center.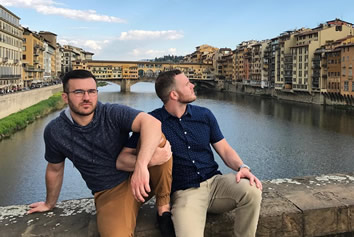 Day 10 - Saturday, August 12, 2023
End of the Tour
• Check out at Hotel.
• End of services.