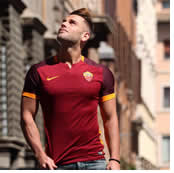 If you have already travelled to Italy and never seen Rome, Naples and the Amalfi coast, this is a great gay group tour opportunity! September is a beautiful, still hot (but not that hot!) month: cities are not busy, the sea is crystalline warm, and beaches are not so crowded as in August. We invite you to discover Rome, Naples & Amalfi Coast under a gay light.
Our guide will take you to re-live the gladiators' history when visiting the Colosseum and its arena; you will then move to the most astonishing art collection in the world: the Vatican Museums, where, unexpectedly, a lot of masterpieces have a lot to do with homosexuality, including the Sistine Chapel.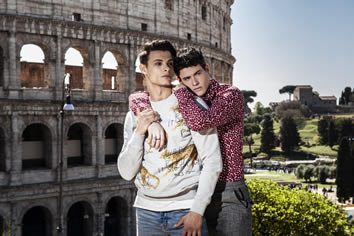 Live one day like a Roman in history. Enjoy Tivoli, in the Roman countryside, where Emperor Adrian built an immense villa/mausoleum for his beloved lieutenant Antinoo. Enjoy one day at the thermal baths of Victoria Terme.
Experience the thrill of travelling from Rome to Naples by high-speed train: enjoy the countryside, during a 1.5 hrs journey.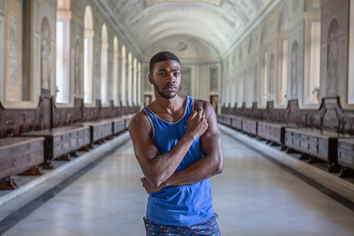 Our gay guide will escort you through the queer side of Naples and not only. Enjoy local street food in open markets.
Naples is the largest city in Southern Italy. It's one of Europe's most historic cities. Go back in times and discover how Romans lived their everyday life and how their expression of sexuality was not contaminated by prejudice.
Move to the stunning Amalfi coast, not a long way from Naples. You will stay in one of the most amazing hotels just close to the marina.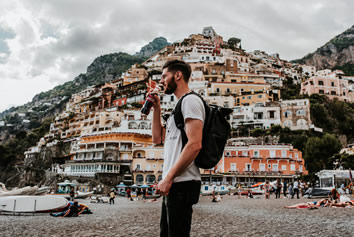 Experience the boat tour of a lifetime! A shared boat journey along the coast, including the island of Capri, the excursion to its amazing grottoes and time for exploring the island. Dive into the sea and enjoy some snorkeling. Basic catering on board. A lemoncello tasting class is also included.
The tour ends with your transfer to Naples, Central station, from where you can reach any destination in Italy or your airport.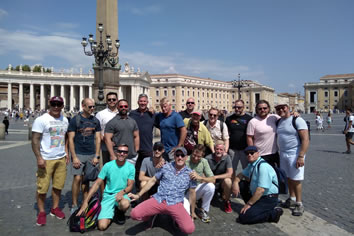 Day 1 - Thursday, September 7, 2023
Arrival in Rome, Italy
• Check in The Guardian Hotel Rome
(or similar)
• 6.30 PM Meet & Greet aperitive, with you tour leader. Briefing of tour activities.
If you arrive at Fiumicino Airport (FCO), you can easily catch the 'Leonardo Express' , shuttle to Termini Central Station and then catch a taxi to your hotel. Alternatively, you an catch a taxi or a bus to Rome just close to the Airport.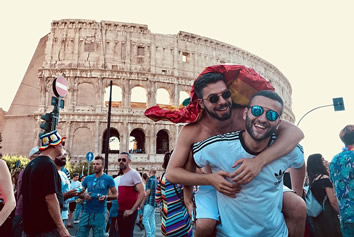 Day 2 - Friday, September 8, 2023
Rome & Vatican
• 9:00 AM – Meet your Rome gay guide in hotel. Walk to the Colosseum and Palatine Fora.
• 10:00 AM – Guided tour of Colosseum.
• 1:00 PM – Time on your own (lunch or street food nearby the Colosseum).
• 2:30 PM – Private van transfer to the Vatican Museums.
• 3:00 PM – Visit Vatican Museums.
• 6:00 PM end of tour and private van transfer to hotel.
• Evening off
Day 3 - Saturday, September 9, 2023
Rome - Tivoli
• 9:00 AM: meet your driver in hotel and transfer to Tivoli
• 10:00 AM: guided tour to the villas (Adrian's Villa)
• 1:00 PM: lunch at 'Il Ciocco' Restaurant
• 3:00 PM: transfer back to Rome by private van
• Evening off.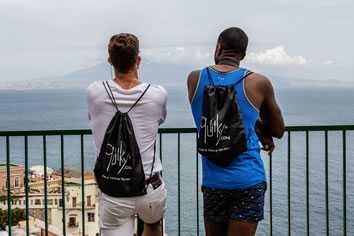 Day 4 - Sunday, September 10, 2023
From Rome to Naples
• Check out Rome hotel.
• Catch the high-speed train to Naples (ItaloTreno).
• Check in at your Naples hotel - San Pietro Hotel
(or similar).
• 3.30 PM – Three-hour walking tour of the city – Via Toledo, Pignasecca, the Spanish Quarters ending up at Castel dell'Ovo. Listen to the amazing history of the 'Femminiello', the gay character of Naples;
• Street food with your guide;
• Rest of the day free.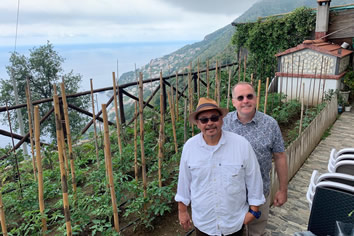 Day 5 - Monday, September 11, 2023
From Naples to Amalfi
• 9:00 AM – Check out Naples hotel.
• Meet your driver to Amalfi.
• Private transfer by van to Amalfi.
• 11:00 AM -Check in at your Amalfi hotel - Aurora Hotel
, and rest of the day free.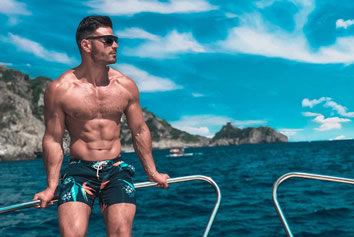 Day 6 - Tuesday, September 12, 2023
Amalfi Coast Boat Tour
• 10.00 AM – Start your boat tour along the Amalfi Coast.
The tour is full day and lasts six hours. You sail along the several coves, enjoying the beauty of Praiano, Maiori and Minori, up to Positano. Also, it will be possible to enter the Emerald Grotto (entrance ticket non included in this tour) and it will be possible to stop in a 'trattoria' along the coast for lunch (not included in this tour). Your skipper will illustrate the coast along the way.
Aperitive on board with prosecco, soft drinks and snacks.
Snorkeling gear and swim toys available on board.
Do not forget your sun cream and screen, towel and swimsuit!
• Meet your driver to Amalfi.
4:00PM – End of boat tour back to Amalfi
Rest of the day free.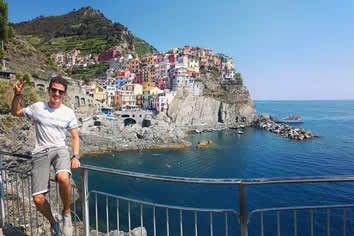 Day 7 - Wednesday, September 13, 2023
Amalfi Limoncello Tour
• 10.00 – Lemoncello tour
The Lemoncello tour takes place at the 'Lemon Farm' owned by Salvatore Aceto, one of the most famous lemoncello producers, whose tradition goes back to 1825, when his ancestors decided to create their first 'Lemon Garden' in Ravello.
You will visit the lemon farm in Amalfi, taste their best Lemoncello and talk to you host there, to discover how this drink is produced and conserved.
• 12.30 PM end of tour.
• Rest of the day free.
• 8:00 PM – Farewell Dinner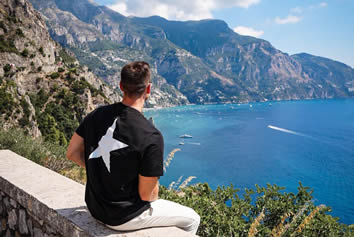 Day 8 - Thursday, September 14, 2023
Departure
• 9:00 AM – Check out Amalfi hotel.
• 10:00 AM- Transfer to Naples Central station from where you can reach any destination in Italy or your airport.
• End of services.