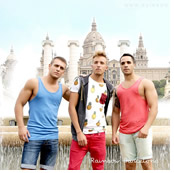 A huge gay scene, fabulous sandy beaches and stunning historical sights make Barcelona one of Europe's most popular gay destinations. Barcelona enjoys an open and liberal gay life, it has a vibrant gay scene with many clubs, afters, bars, restaurants, throughout the city, especially around L'Eixample and Gràcia, the area is even known as the 'Gayxample'. Barcelona boasts a cosmopolitan and welcoming environment for all types of travelers from every corner of the globe. Barcelona is one of those cities that has so much to offer, you can never see it all. Experience the Best of Barcelona with our Special Barcelona Holiday Package!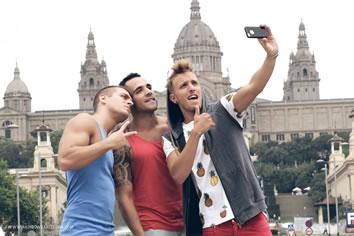 Day 1 - Welcome to Barcelona & Rainbow Night Tour!
• Arriving to Barcelona International Airport.
• Private transfer to your hotel in Barcelona with a Mercedes E or Mercedes Viano
• Meet & greet by Rainbow Barcelona Representative
• Check-In to the Hotel in Barcelona
• Free Evening at the City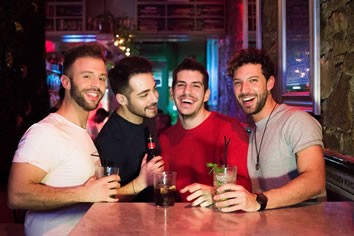 • Private tour:
Rainbow Night Tour (2h):
Barcelona is a popular destination for partygoers with a vibrant bar and club scene.
We will start the evening picking you up at your hotel/apartment, and after that we will head to the most popular bars located in the district known as Gayxample, where you will find a variety of gay pubs and bars.
When the tour ends, around 1am, welcome to the Spanish culture, we will give you the last recommendations if you want to go to the newest and hottest clubs or the lifelong ones, because Barcelona has been offering the most exciting gay nightlife for more than 25 years.
Avoid the inconveniences of not knowing where to go, getting lost in the streets or constantly asking for directions. With us the fun is guaranteed!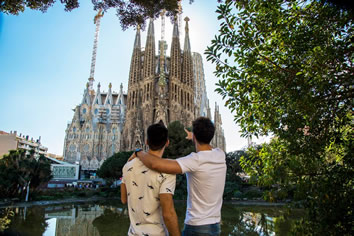 Day 2 - Barcelona - Modernism and Gaudi Tour
• Private tour:
Modernism and Gaudi Tour (2.5h – Sagrada Familia Entrance fee not included):
With this 2 and a half hour tour, you will be able to enjoy the most renowned modernist houses of the city, such as La Pedrera, Casa Batlló, Casa Amatller and Casa Lleó i Morera. After that, we will dive into the streets of the Eixample district and discover other less well-known but equally spectacular architectural gems like the Casa Calvet, Casa de les Punxes or Casa Macaya.
The tour makes headway in the Sagrada Familia, a church that has been in construction for over 100 years, where you will be able to marvel at the meticulously and richly decorated exterior which portrays many biblical scenes and emphasizes Gaudi's deeply religious nature. This is one of Barcelona's most iconic landmarks, and it will leave you speechless.
When we finish the tour you will be able to go inside the Sagrada Familia on your own and stay there as much as you want.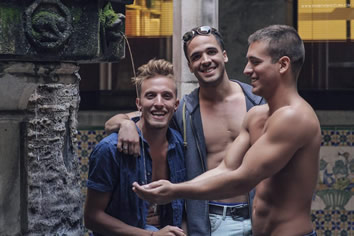 Day 3 - Barcelona - Gothic Quarter
• Private tour:
Gothic Quarter (3h):
Although Barcelona is well known for its modern architecture, it has a history that stretches back 2.000 years to the Roman period with its heartland in what is known as the Gothic Quarter.
After you have been picked up from your hotel, you will visit the Arco de Triunfo and the Ciutadella Park, where you will find the Castle of the Three Dragons, the Zoo, the Catalonian Parliament and a spectacular waterfall, among other things. This was the legacy of the 1888 Barcelona Universal Exposition.
Afterwards, you will visit the ancient Gothic Quarter where in every alleyway you walk through, you will discover something spectacular, like the Cathedral, the Roman walls or the Jewish Quarter.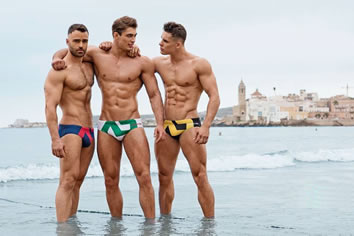 Day 4 - Gay Sitges Tour
• Private tour:
Gay Sitges Tour (2h):
Just 40 minutes away from Barcelona, Sitgesis one of the most famous gay places Spain. Its popularity goes back to the 80s and, when the country's first gay nightclub was opened here.
Picturesque streets, gay beaches and an area full of clubs, restaurants or shops make this town one of the most popular gay destinations in the world.
In this two-hour tour you will see many highlights including the Promenade which leads to the Church of Sant Bartolomé i Santa Tecla, where you will have one of the best views in town.
From there we will visit from the outside some of the most important monuments like Cau Ferrat, the Museu Maricel, the Casa Bacardíor the Fundació Stämplfi, among others.
If you choose the morning tour, at the end of the tour you can eat in one of the fantastic restaurants of the town and relax in one of the multiple gay beaches, where you will make new friends for sure.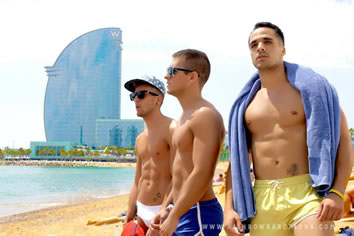 Day 5 - Barcelona - Free Day
• Free day (optional tours available)
Private Optional Tours:
- Panoramic Montjuic Mountain Tour with visit to the Olympic Park and Plaza Espana (105€ pp, 165€ for single)
- Nature and Culture: unforgettable Montserrat Mountain Experience with lunch (195€ pp, 289€ for single)
- Girona Experience: a Game of Thrones City with one of the best preserved Jewish Quarters of Europe (249€ pp, 339€ for single)
- Tibidabo Mountain: a tour for garden lovers with the most spectacular view of Barcelona (189€ pp, 269€ for single)
- E-Bike experience: explore Barcelona with a comfortable and eco-friendly transportation (95€ pp, 135€ for single)
- Experience the Spanish Gastronomy of Tapas like a local (125€ pp, 159€ for single)
- Spanish Tapas Workshop 3h (79€ pp)
- Catalan Wine Tasting (35€ pp)
- El Penedès Wine Tour (200€ pp)
- Paella Cooking Workshop (79€ pp)
- Boutique Wineries, Wine & Tapas (187€ pp)
- Boutique Wineries - Discover two unique wine cellars in Barcelona's wine region, tasting sparkling cava and wines paired with tapas (299€ pp, 425€ for single)
Spare Time - Beach Recommendation:
Mar Bella Beach
Mar Bella is the most popular gay beach in Barcelona, and it's also nudist! Mar Bella is the perfect spot to meet some nice, new people from all over the world and enjoy a couple of cocktails before heading back to the Gayxample.
Day 6 - Barcelona - Departure
• End of your FANTASTIC holidays and private transfer to the Airport.
Rainbow Tips: Want to stay longer? Enquire about extra nights! *Subject to availability.
NOTE: This tour package can be fully customizable to fit your travel plan.