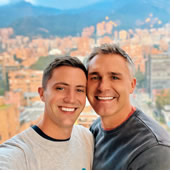 Escape the winter and discover the vibrant and cultural hotspots of Colombia – where the sun shines brighter, and the rhythm never stops. Immerse yourself in the rich history and stunning natural beauty of Bogotá, Medellín, and Guatapé. Let your senses come alive and indulge in the ultimate getaway experience. Savor the delicious cuisine, dance to the rhythm of the local music, and relax on a pristine island resort.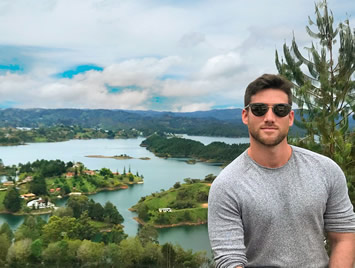 And for those seeking a vibrant nightlife scene, Colombia's gay-friendly hotspots are sure to excite you. For our final two nights, we'll be staying at Las Islas Hotel, where every Source Traveler will enjoy their immaculately appointed bungalow with a private pool. Join us for this unforgettable experience blending art, adventure, and friends.
The Ultimate South America Getaway!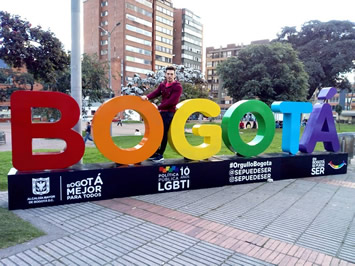 Day 1 - Thursday, January 25, 2024
Arrive in Bogota, Colombia
We'll begin our luxurious Colombian journey with a seamless airport pickup and private transfer to Four Seasons Bogota, a sophisticated and intimate hotel located in the energetic Zona Rosa neighborhood. We'll be just steps away from the city's most sought-after shopping, nightlife, and dining spots while our spacious and refined suites offer the perfect escape from the city's buzz. We'll relish in ultimate comfort and privacy in our stylish and well-appointed guest rooms, designed to provide a serene refuge for us to unwind and relax during our stay.
As the day comes to a close, we'll be treated to a delightful welcome dinner at one of Bogota's finest restaurants. Savor a tantalizing three-course feast as we start our exciting Colombian journey.
Hotel: Four Seasons Bogota Hotel, Bogota
Day 2 - Friday, January 26, 2024
Bogota, Colombia
Enjoy a customized city tour of Bogotá, led by a guide. You will have many options, whether you prefer joining a short 3-hour private group tour or getting more immersive with a 9-hour group experience. We will start by taking a breathtaking cable car or trolley ride up the steep mountainside of el Cerro de Monserrate, a mountain rising over 10,000 feet above sea level. We'll also have the opportunity to visit a historic village featuring a 17th-century shrine, sample traditional crafts and food from local vendors, and even arrange a visit to witness a breathtaking sunset view.
Next, we'll wander through the charming cobblestoned streets of La Candelaria, Colombia's oldest neighborhood, and sample a traditional Colombian street drink, chicha. We'll then visit the Plaza de Bolivar, a historic colonial square that serves as the center of the Colombian government, and visit some of the city's finest museums, galleries, and cultural sites, such as the Museo del Oro, the Centro Cultural Gabriel García Márquez, the Museo Botero, and the Observatorio Astronómico.
Hotel: Four Seasons Bogota Hotel, Bogota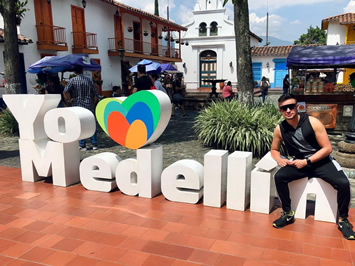 Day 3 - Saturday, January 27, 2024
Medellin, Colombia
We're taking the next step in our Colombian journey with a short flight to Medellín. Upon arrival, our driver will take us to the stylish and hip Click Clack Hotel, located in the lively El Poblado neighborhood.
Following check-in, we'll have a Neighborhood Orientation Tour to familiarize ourselves with the surrounding area, brimming with the city's finest cafes, shops, and restaurants. And to cap off this perfect day, we'll indulge in a sophisticated wine-tasting experience at the upscale gay-owned Café Noir. Savor a collection of premium wines imported from Napa Valley, carefully curated from the family winery of the café's owner. Known for its elegant style, innovative approach, and commitment to improving the community, Café Noir promises to be a memorable end to our day in Medellín.
Hotel: The Click Clack Hotel Medellin, Medellin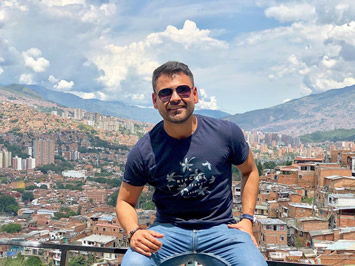 Day 4 - Sunday, January 28, 2024
Medellin, Colombia
Discover the vibrant art and transformation of Comuna 13 on our Medellín Graffiti Tour, the infamous neighborhood we will explore via Medellín's modern metro system, the first of its kind in South America. Along the way, we'll also have a chance to ride the metro cable, a unique addition to public transportation that improved access to the city for once-segregated communities.
Hear the transformation story from local guides from Casa Kolacho, a community-focused urban collective. Learn about the street art that transformed Comuna 13 from one of the world's most dangerous neighborhoods into a symbol of hope and positivity. Take in the vibrant colors and powerful messages of street art and immerse yourself in the history and culture of this transformative neighborhood. This tour is estimated to last four hours, but the memories and inspiration will last a lifetime.
Hotel: The Click Clack Hotel Medellin, Medellin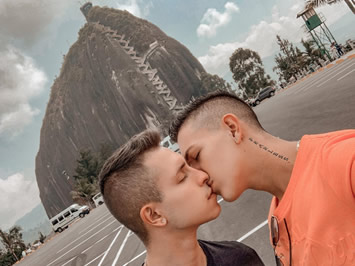 Day 5 - Monday, January 29, 2024
Guatapé, Colombia
Discover the vibrant town of Guatapé on a delightful excursion. Our colorful day begins with a walk to the iconic Peñol Boulder, towering 200 meters tall and offering breathtaking views of the mountains and lakes. We'll reach the summit for a stunning view, then delve into the charming village of Guatapé, learning about its rich history as we stroll through its shops for unique souvenirs and admire its beautiful friezes.
We'll take a break from the city and savor a luxurious lunch at an eco-resort overlooking the lake. Afterward, we'll set sail on a motorboat tour to admire the picturesque islands and grand country homes that line the coasts. Get ready for a day of adventure, relaxation, and breathtaking scenery.
Hotel: The Click Clack Hotel Medellin, Medellin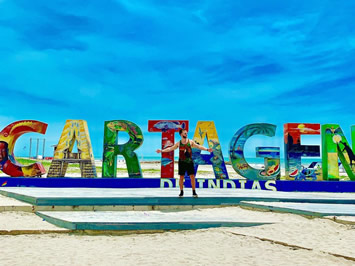 Day 6 - Tuesday, January 30, 2024
Cartagena, Colombia
Say farewell to Medellin and get ready for a short flight to Cartagena. Upon arrival, a private transfer awaits, ready to whisk us away to the luxurious Bastion Luxury Hotel in the heart of Cartagena's UNESCO-listed Old Town. We'll savor the charm and ambiance of this 16th-century hotel, filled with modern amenities and furnishings in British Colonial style.
Embark on a walking tour of Cartagena Historic Center, and experience the rich history of this colonial city. We'll wrap up the tour with a memorable sunset moment on a prominent terrace in the historic center. Sip on a refreshing drink while taking in the stunning beauty of the sunset.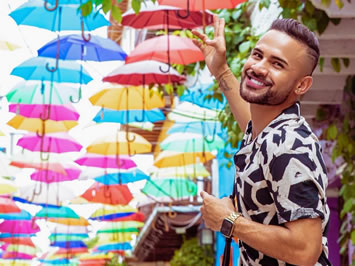 Prepare yourself for a delicious culinary adventure with a 5-course tasting menu and wine pairing at an award-winning gay-owned restaurant. We'll enjoy a gastronomic tour of the Colombian Caribbean, indulging in a variety of dishes that reflect the diverse cultural influences of the region. From appetizers to desserts and everything in between, this dining experience is sure to be a highlight of our trip. Savor the flavors and culinary creativity of the chefs, who were born out of an experimental lab with a focus on promoting the gastronomic culture and biodiversity of the Colombian Caribbean.
Hotel: Bastion Luxury Hotel, Cartagena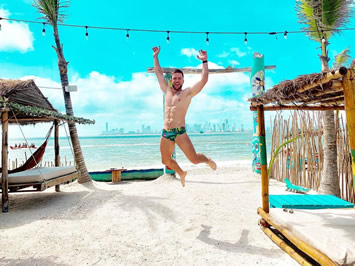 Day 7 - Wednesday, January 31, 2024
Baru-Cartagena, Colombia
Start your day with a seamless and comfortable private transfer to the pier, where we will embark on a scenic speedboat ride to one of the Caribbean's most luxurious and eco-conscious island resorts. We'll step into a tropical oasis surrounded by crystal-clear waters and set within a National Marine Park just 45 minutes from Cartagena.
Recharge and relax with a range of outdoor activities, from eco-tours and snorkeling to a full-service spa and fitness center. Dine on delicious meals with 24-hour room service, or visit one of the on-site restaurants. We'll experience the Ultimate Island Getaway at Hotel Las Islas, where nature and luxury come together to create an unforgettable escape.
Hotel: Las Islas Hotel, Baru-Cartagena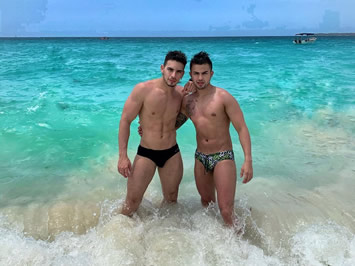 Day 8 - Thursday, February 01, 2024
Baru-Cartagena, Colombia
Enjoy this private beachfront location and all the outdoor activities that come with such a unique retreat, like eco-tours, scuba and snorkeling, bike rentals, a 24-hour fitness center, and a full-service spa (also beachfront) with sauna and Turkish bath.
Hotel: Las Islas Hotel, Baru-Cartagena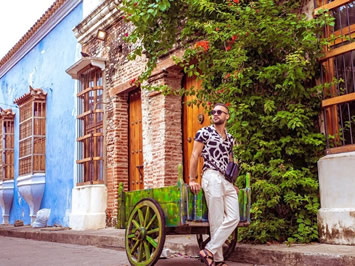 Day 9 - Friday, February 02, 2024
Cartagena Departure
It's time to say farewell to our extraordinary journey. Create some final lasting memories as our private transfer smoothly takes you from the pier to the airport. Savor the fun-filled experiences, stunning natural beauty, and relaxing moments as this Source Journey stays with us forever, just like the vibrant spirit of Colombia.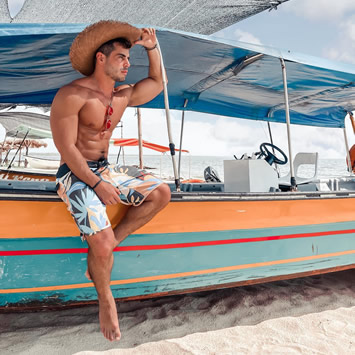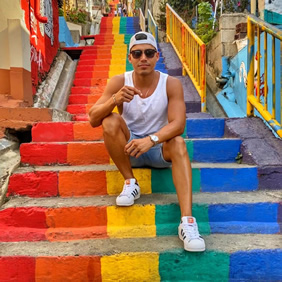 • Bogota City tour & Welcome Dinner
• Discover famous Gay nightlife in Bogota
• Wine tasting in Medellin & visit to Comuna 13
• Climbing El Peñol in Guatape, boat ride, and visit the town of Guatape
• Staying in luxury bungalows with private pools at Hotel Las Islas
• Spa treatments, yoga, and wellness activities offered on the island
• A week of culture, fun, adventure, and relaxation
• Escape the Winter and Embrace the Sun and Rhythm of Colombia
• Experience Vibrant Culture and Natural Beauty in Colombia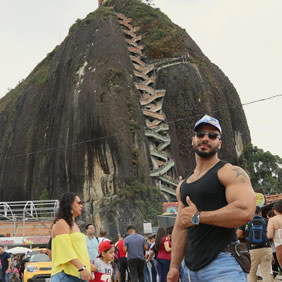 • 5-star Accommodations throughout
• Daily Breakfast
• Welcome Dinner in Bogota
• 2 Lunches, 1 Dinner
• All meals at Hotel Las Islas
• All Tours in the program
• Private airport transfers
• Internal flights within Colombia
• 5-course tasting menu with wine pairing at a renowned gay restaurant
• Hotel portages throughout
• Fully escorted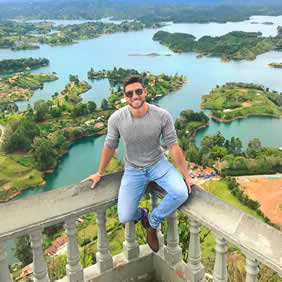 • International Flights
• Personal Expenses
• Travel Insurance – strongly recommended
• Optional Excursions
• Meals not mentioned in the itinerary
• Gratuities for guides and drivers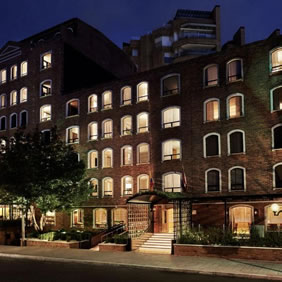 Four Seasons Bogota Hotel, Bogota
Four Seasons Hotel Bogota is your chic, contemporary retreat amid the high-energy vibe of the Zona T, where the city's high society comes to see and be seen. Find yourself steps from the finest shops, nightclubs and cafés in the capital, on strollable, buzzing streets.
For casual all-day dining, start your day at NEMO, our signature international bar and grille by world-renowned Colombian Chef Harry Sasson. Relax in our intimate spa. Stretch out in the comfort of our light-filled guest rooms and suites. And immerse yourself in ultra-cool Bogotá at its coolest, with Four Seasons as your guide.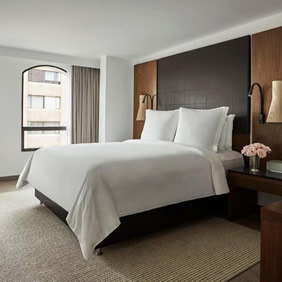 Each minimalist room at this luxury hotel is air-conditioned and features a custom Four Seasons bed, a private bar, and twice-daily housekeeping. Every room features original art, a marble bathroom and custom-tinted wooden floors, and free WiFi. For your comfort bathrobes, plush slippers, and L'Loto del Sur toiletries are provided.
Hotel, where contemporary elegance is found everywhere from the spacious suites to the perfectly poured Colombian espresso.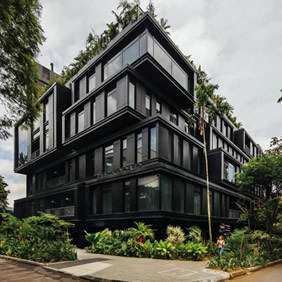 The Click Clack Hotel Medellin, Medellin
This is a hip-designed adult hotel playground of interactive experiences and luxurious comfort in the trendy El Poblado area of Medellín, the most walkable part of the city, with an array of restaurants, bars, nightlife, and green spaces to tempt you.
It's just right: the hotel's not too small, not too large, yet it offers everything you need, like a fun outdoor green lobby area where you'll find an art gallery, shops, cafés, and restaurants including the hotel's own "kitchen" with a menu of satisfying comfort food. Higher up, you'll enjoy two rooftop bars, a pool, and stunning city views to add to your fun.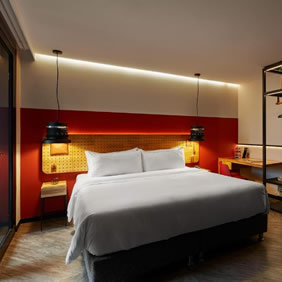 Rooms and suites have all have a sense of Dada-esque humour, in design choices such as the oversized camera-lens lights, white-boards in the bathrooms so you can leave notes for your fellow guest, and see-through shower doors that only lovers could love. And, they have a penchant for the practical too, with one-fits-all modular storage, pegboard headboards hung with leather pockets to hold magazines, phones and Click Clack knick-knacks.
While the bulk of the hotel is busy being a serious piece of architecture, the colourful roof deck and pool (open 9am to 8pm) are having a whale of a time celebrating the city's 'eternal spring' weather, splashing around in the water, then wallowing in cocktails.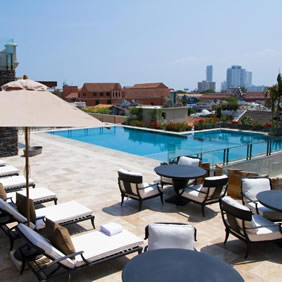 Bastion Luxury Hotel, Cartagena
Enjoy your stay with exclusivity at this luxury boutique 5-star gem in the heart of Cartagena's UNESCO-listed Old Town. Filled with historic 16th-century charm and ambiance in the center of the walled city, you'll be within walking distance of everything you imagined, and much more.
You'll feel right at home in fully modernized rooms and enjoy the same amenities you'd expect in a luxury urban retreat, including free WiFi, room service, and this great feature: bike rentals to further your enjoyment of this beautiful location.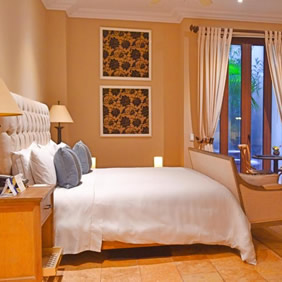 The outdoor pool and the adjacent bar located on the site's rooftop terrace have a stunning view of the walled city of Cartagena. A Jacuzzi located on a separate terrace is also available for our guests.
The open-air patio with el Almendro (Almond tree), which serves as a symbol for the Caribbean coast of Colombia, invites you to relax.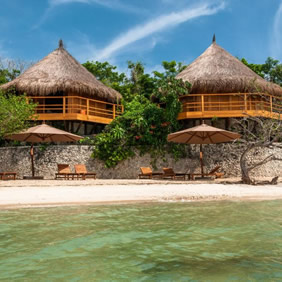 Las Islas Hotel, Baru-Cartagena
Relax and recharge in this tropical oasis surrounded by the Caribbean's blue waters and set within a National Marine park a mere 15-minute helicopter ride or 45-minute boat ride from Cartagena.
Enjoy the private beachfront location and all the outdoor activities that come with such a unique retreat, like eco-tours, scuba and snorkeling, bike rentals, a 24-hour fitness center, and a full-service spa (also beachfront) with sauna and Turkish bath.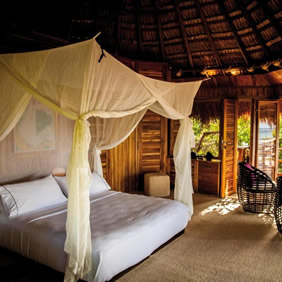 Accommodations feature a double bed with premium bedding, en suite bath with shower, bathrobe slippers, Hermes amenities, screened windows, ceiling fan, air-conditioning, flat-screen satellite TV, phone, safe, sitting area, desk, and free WiFi.
Full Board is included on the island. Each meal includes Appetizer, main course, dessert, and a non-alcoholic beverage. Throughout your visit, you'll enjoy the personalized attention of our staff members, all of whom are committed to making your stay truly extraordinary.