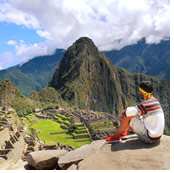 An extraordinary luxury gay journey to the "Lost City". Honored as a World Heritage Site, Machu Picchu is one of the most extraordinary places on earth. Stay at the Belmond Sanctuary Lodge, right at the ancient citadel. Lose yourself in mystery. Experience one of the world's great train journeys, discover the charming Sacred Valley and enchanting City of Cusco on this luxury gay tour.
If stone could speak… Abandoned by its inhabitants. Reclaimed by the jungle. Lost until 1911. Honored as a World Heritage Site. This is Machu Picchu one of the most extraordinary places on earth. Lose yourself in mystery as you wander the ruins, and spend the night at the Belmond Sanctuary Lodge, right at the ancient citadel. Rise at dawn to greet the sun and feel the special energy emanating from the giant stoneworks.
Experience one of the world's greatest train journeys on the Hiram Bingham Orient Express Train. Sleep in a convent. Discover the charming Sacred Valley and enchanting city of Cusco at the Belmond Palacio Nazarenas. For even more adventure, be one of the first to travel on the Belmond Andean Explorer South America's only luxury sleeper train on a journey from Cusco to Lake Titicaca and Arequipa.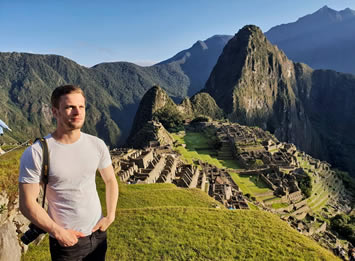 Whether meeting local artists, Andean shamans, or even baby alpacas. Source & Belmond brings you closer to the real characters of Peru. We believe it's the personal encounters that really stay with you. Peru is famed for its many wonders, from the ancient citadel of Machu Picchu and the dramatic mountains of the Sacred Valley to the buzzing nightlife of Lima. But with Source, we believe that it's the personal encounters that really stay with you.
Ancient history meets cosmopolitan buzz on this spectacular journey. A taste of what to expect. This exclusive Source/Belmond experience is limited to 18 travelers and is always escorted by a Source travel director. Source has curated this journey, to include all Belmond award-winning accommodations, luxury trains, and guides in Peru. All tours, entry fees, and most meals are included in this itinerary. Dietary requests made in advance can always be accommodated.
When you travel with Source, you can count on an experience where every day is an inspiring adventure. With awe-inspiring nature and sumptuous cuisine, Peru is a treat for the eyes, ears, and taste buds.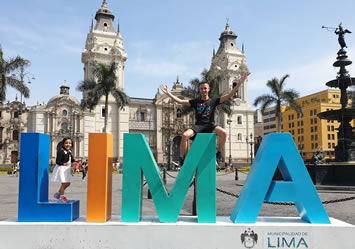 Day 1 - Thursday, November 03, 2022
Arrive in Lima, Peru
Arrive in Lima, the capital of Peru, lies on the country's arid Pacific coast. Though its colonial center is preserved, it's a bustling metropolis and one of South America's largest cities. It's home to the Museo Larco collection of pre-Columbian art and the Museo de la Nación, tracing the history of Peru's ancient civilizations. The Plaza de Armas and the 16th-century cathedral are the heart of old Lima Centro.
Hotel: Belmond Miraflores Hotel
, Lima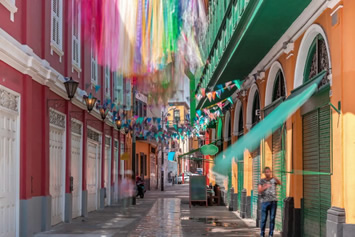 Day 2 - Friday, November 04, 2022
Lima, Peru
Our day will begin with an exploration of Colonial Lima, which has been declared a UNESCO World Heritage Site. First, you will stop off at the Main Square, where you will get a chance to explore the square on foot and admire the exteriors of the Presidential Palace, the Cathedral of Lima, and the City Hall all examples of Lima's still-present colonial architectural opulence. You will visit the San Francisco Convent built in the 17th century, and its "Catacombs" ancient underground cemetery of Lima.
You will then leave behind Lima's Historic Center and begin a journey through the streets of modern Lima, heading towards the most traditional of the residential zones of the capital: San Isidro and Miraflores. In San Isidro, you will pass through the heart of the city's financial district; soon afterward, you will travel to the district of Miraflores, a perfect spot to enjoy wonderful views of the Pacific Ocean.
Hotel: Belmond Miraflores Hotel
, Lima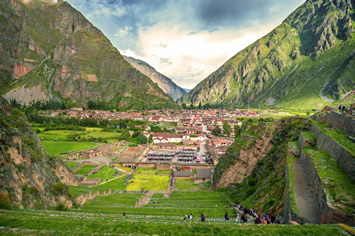 Day 3 - Saturday, November 05, 2022
Sacred Valley
After an early breakfast, we'll shuttle to the airport for our flight to Cusco.
Upon arrival in Cusco, we'll be transferred to the Belmond Rio Sagrado, a beautiful hotel and spa located in the Sacred Valley on the banks of the Urubamba River. Afternoon at leisure at the Rio Sagrado.
Hotel: Belmond Rio Sagrado Hotel
, Urubamba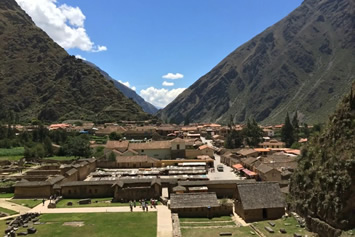 Day 4 - Sunday, November 06, 2022
Sacred Valley
Start our tour in the Chinchero town, a small Andean village located 12,375 feet above sea level, about 30 km from Cusco. Walk along its traditional alleyways, and visit the weavers' workshop of Nilda Callanaupa, who 28 years ago decided to bring together like-minded women to learn from their elders and connect with this ancestral art.
We will cross the Urubamba River and head towards the Salt Pans of Maras, a salt mine in use since Incan times.
Hotel: Belmond Rio Sagrado Hotel
, Urubamba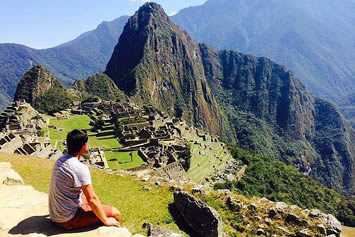 Day 5 - Monday, November 07, 2022
Machu Picchu
After breakfast, transfer to Ollanta Station for Vistadome Train departing for Aguas Calientes.
Upon arrival in Aquas Calientes train station, we shuttle up to Machu Picchu, where you will enjoy lunch at the Belmond Sanctuary Lodge and a private guided tour of the Inca Citadel of Machu Picchu and its surrounding complexes. A masterpiece of engineering and architecture is believed to have been used as a sanctuary and leisure residence for Inca Pachacútec (1438-1471). The architectural beauty of Machu Picchu, its spectacular natural views, and the energy contained within its enigmatic structures will take your breath away. Machu Picchu, which means Old Mountain, is a World Cultural Heritage listed by UNESCO and one of the New Seven Wonders of the World.
Hotel: Belmond Sanctuary Lodge
, Aguas Calientes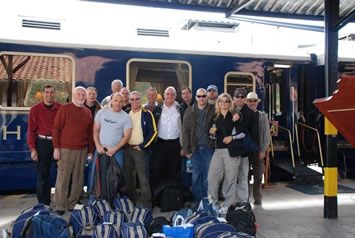 Day 6 - Tuesday, November 08, 2022
Machu Picchu / Hiram Bingham Train to Cusco
Today you'll have an opportunity to watch the sunrise and explore Machu Picchu at your leisure. Also we'll have the opportunity to hike Waynu Picchu. The mountain is 8,920 feet and is famous for being the background of the panoramic view of Machu Picchu. Its ascent takes approximately one hour and its top attraction is the "Temple of the Moon," a complex of underground constructions probably used for the elite.
Transfer to Agua Calientes for the Hiram Bingham Train departing Agua Calientes at 17:50 for Cusco, the ancient capital of the Inca empire. The train was named after the American explorer who rediscovered Machu Picchu more than 100 years ago. This trip takes three and a half hours, and this train offers Peruvian gourmet food served, a spectacular view, and entertainment.
Hotel: Belmond Palacio Nazarenas
, Cusco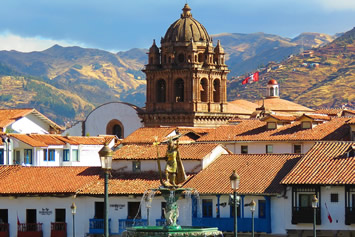 Day 7 - Wednesday, November 09, 2022
Cusco
In the morning a visit the San Pedro local market. You will then go to the Cathedral, the most important building on the Main Square and one of the most splendid Spanish colonial churches in America, which is shaped as a Latin Cross and houses about 400 colonial paintings from the Cusco art school, and impressive goldsmith, silversmith, and precious stones works. Its construction lasted almost a century, it started in 1560 and ended in 1654. The Ecclesiastical Chapter ordered to extract and transport hundreds of stones from the Sacsayhuamán fortress for this purpose.
Visit Coricancha, also known as the "Temple of the Sun", the construction of which was ordered by Inca Pachacútec (1438-1471) and was used as a base for the construction of the Santo Domingo Convent upon the arrival of the Spaniards. This is when the Sun was worshipped during the Inca Empire and it was once full of gold artifacts. The combined sacred sites of Coriancha and Santo Domingo in Cusco vividly illustrate ancient Andean culture's collision with Western Europe. After the Spanish conquest, the exquisitely polished stone walls were used as the foundations of the Dominican Convent of Santo Domingo, forming perhaps Cusco's most jarring imperial-colonial architectural juxtaposition.
Hotel: Belmond Palacio Nazarenas
, Cusco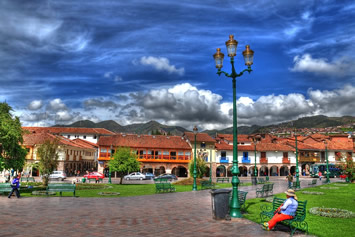 Day 8 - Thursday, November 10, 2022
Cusco to Lima
After breakfast, enjoy a day at leisure in Cusco.
Transfer from Palacio Nazarenas to Cusco Airport or Train station for Andean Explorer extension.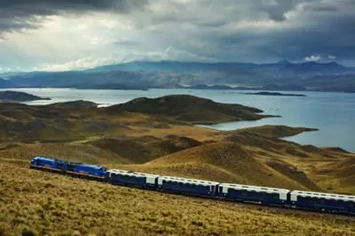 Cusco - Puno - Arequipa
2 Nights/3 Days, November 10 - 12, 2022
A vibrant journey through a time-honored land...
Rekindle the romance of the rails as you carve a path between Peru's natural wonders and ancient kingdoms.
Embark on the ultimate Peruvian escape and journey from Cusco to Arequipa in style, visiting charming Puno and the majestic Lake Titicaca.
Tours each day let uncover the hidden gems of this fascinating land. South America's first luxury sleeper train glides from Cusco, the capital of the Inca Empire, across the lofty Andean plains to the white city of Arequipa.
Take in the region's spectacular highlights en route, including Lake Titicaca and Colca Canyon.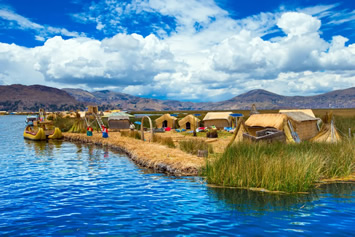 Inclusions:
• Luxury Accommodations aboard the Train
• All onboard Meals & Beverages
• Onboard Entertainment
• Excursions as stated in the Itinerary
• Bilingual Guides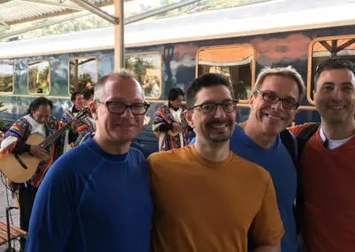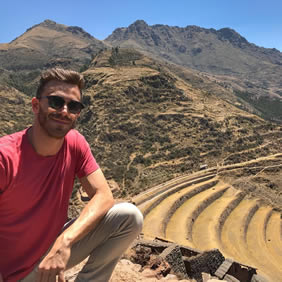 • Overnight at the Sanctuary Lodge at the Inca Citadel
• Scenic Belmond Hiram Bingham Dinner Train
• Enjoy all luxury Belmond Hotels and Experiences throughout Peru
• Marvel at Pisac's colorful markets and ruins
• Explore the archaeological sites of Cusco and the Sacred Valley
• Savor the award-winning cuisine of Peru
• Private tour of Machu Picchu and morning hike to Huayna Picchu
• Extension aboard the Belmond Andean Explorer from Cusco to Lake Titicaca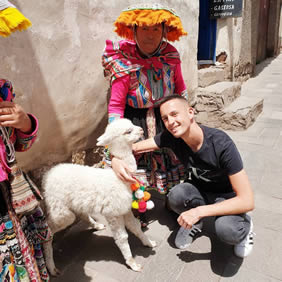 • Meet & Greet Service Upon Arrival
• All Transfers
• All Luxury Belmond Hotel Accommodations
• Daily Breakfasts
• Lima City Tour with Lunch
• Full-Day Tour of Sacred Valley with Lunch
• Lunch & Dinner at the Belmond Sanctuary Lodge
• Vistadome Train from Sacred Valley to Machu Picchu
• Guided Tour of Machu Picchu
• Hiram Bingham Dinner Train
• 2 entry visits to Machu Picchu Citadel
• Tour of Cusco with Lunch
• Half-Day Tour Pisac Market Cusco
• English Speaking Guide
• Source Tour Director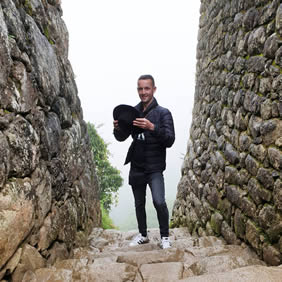 • International & Domestic Airfares
• Gratuities
• Meals not mentioned in the program
• Travel Insurance (Highly recommended)
• All items of Personal Nature
• Entry Ticket to climb Huayna Picchu
• 2-Night Extension on the Belmond Andean Explorer Train
Belmond Miraflores Hotel
, Lima
Miraflores Park, A Belmond Hotel, Lima features an outdoor pool, with panoramic ocean views, a spa and luxurious accommodations with marble bathrooms. It is located in the Miraflores district of Lima, 100 m from Beach Circuit Avenue.
Rooms at Miraflores Park, A Belmond Hotel, Lima Hotel offer either panoramic ocean or city views. They have a seating area with cable TV, free WiFi and a mini-bar. Some rooms come with a private sauna and even a Roman bathtub.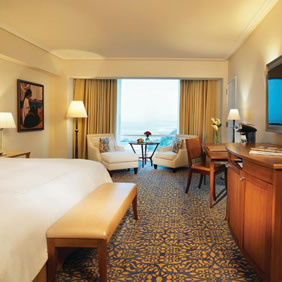 Wellness facilities include several massage treatments. Guests can enjoy the sun at the terrace by the pool, or work out in Miraflores Park, A Belmond Hotel, Lima's gym.
On the 11th floor, a sumptuous breakfast buffet is served while gazing out over the ocean and Lima city, as well as candlelit dinners, prepared with Peruvian products. Pisco Sour cocktails can be ordered at Belo Bar. Some guests will have access to the Executive Lounge which is located on the 10th floor. The lounge offers breakfast, tea, snacks, soft drinks and alcoholic beverages during the evening.
Belmond Rio Sagrado Hotel
, Urubamba
This hotel in the Sacred Valley of the Incas is idyllically set among green fields, mountains and the Urubamba River. It features luxury rooms with river views and several amenities.
The 5-star Hotel Rio Sagrado is built in natural materials, resembling an Aldean village. Its stylish accommodations combines regional and European influences. It offers heated wooden floors, a scenic terrace and a Swiss shower facing the river.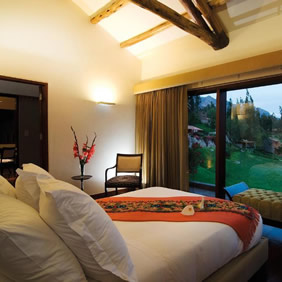 At Spa Mayu Wilka, guests can treat themselves to massages with local herbs. For additional relaxation, there is an indoor pool, a sauna, and a hydromassage tub.
The beautiful El Huerto Restaurant & Bar offers gourmet Peruvian dishes made with organic ingredients. Guests can also sit in the garden while having a drink by the river.
Belmond Sanctuary Lodge
, Aguas Calientes
This luxurious hotel with landscaped ponds and direct views of the Huayna Picchu Mountain offers free Wi-Fi and rooms with iPod docking stations. Aromatherapy massages and trips to Machu Picchu citadel are available.
Sanctuary Lodge, A Belmond Hotel, Machu Picchu has elegantly decorated rooms with cable TV and work desks in a palette of tans and earth tones.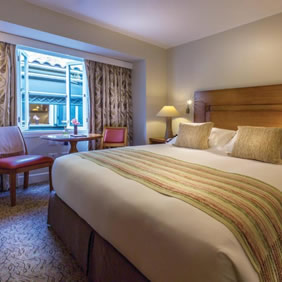 Some rooms have private patios and mountain views. Private bathrooms include bathrobes and amenities.
At Sanctuary Lodge, A Belmond Hotel, Machu Picchu, guests can dine á la carte at Tampu Restaurant, with large sliding windows and panoramic views of the lush jungle. Tinkuy Restaurant offers Andean flavors and has rustic stone interiors and a fireplace.
Belmond Palacio Nazarenas
, Cusco
Featuring an outdoor swimming pool, a spa, a bar, and a restaurant, this hotel is a remodeled palace and has walls made of Inca Stones. Free WiFi is provided and buffet breakfast is included.
Suites at Palacio Nazarenas, A Belmond Hotel, Cusco feature a fully equipped private bathroom, air conditioning, TV, and DVD player. Each suite has its own private bar with a private butler.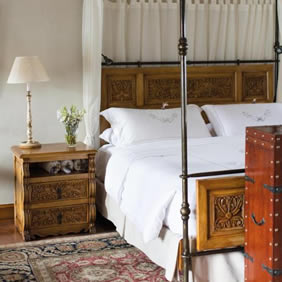 The spa specializes in aromatherapy, using Peruvian ingredients such as flowers and herbs, pink Andean salt, purple corn, honey, avocado, coffee and coca. Senzo Restaurant at Palacio Nazarenas, A Belmond Hotel, Cusco specializes in Andean cuisine, and Senzo Bar serves cocktails next to the swimming pool.
Guests are welcomed with fresh fruit and a wide selection of beverages from the bar. Oxygen masks are provided if needed.