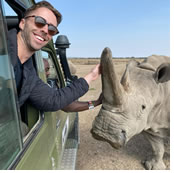 The ultimate Tanzania & Kenya gay safari tour. All our lives we have heard about how marvelous it is to go to Africa on Safari. It has been romanticized in wide-screen epic adventures and immortalized by Ernest Hemingway in The Snows of Kilimanjaro. We invite you to come with us to experience the ultimate gay safari in East Africa, where game reserves and parks contain the highest concentrations of wildlife on the continent.
Tanzania is the largest country in East Africa and boasts a remarkable number of World Heritage Sites, including two we will visit on this tour: Serengeti National Park, and the Ngorongoro Conservation Area. In fact, the Serengeti is so vast that you can drive for an entire day and not encounter any other human beings. Game viewing in Tanzania is more spectacular than anywhere in the world.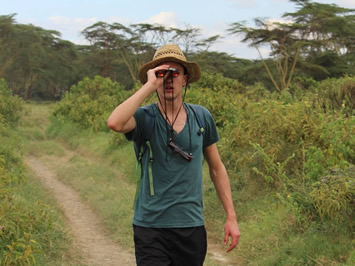 Kenya is a startlingly beautiful land, from its low-lying coastal lands to the lofty heights of its most prominent geographical feature. Above all, Kenya is a place for safaris. Between these two extremes is the rolling savannah that is home to game parks such as Amboseli, and the Masai Mara; the lush, agricultural highlands with their sleek green coat of coffee and tea plantations; and the most spectacular stretch of the Great Rift Valley, the giant scar across the face of Africa. One-tenth of all land in Kenya is designated as national parks and reserves.
These two neighboring countries have dozens of ecosystems that give rise to a host of different species of mammals and birds. Here you can find everything you hope to see on Safari, including wildebeest, elephant, buffalo, hippo, zebra, leopard, cheetah, lion, giraffe, impala, oryx, monkey, baboon, rhino, dik-dik, waterbuck, jackal, gazelle, hartebeest, topi, ostrich, flamingo, heron, kingfisher, egret, ibis, stork, crested hawk eagle, and many more.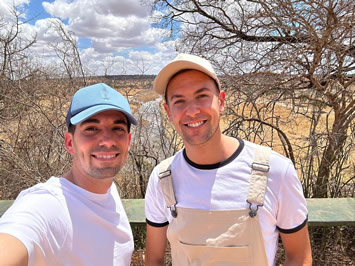 This region has more National Parks and protected land than any place on the continent. It is to this remnant of an Africa that once existed but is quickly vanishing that we take you on a classic wildlife Photo Safari. We are going to do it in style, giving up none of the comforts of home by staying in beautiful lodges erected in the most striking settings to be found on earth, including one deluxe tented camp!
Breakfast and dinners at the lodges are sumptuous. We pack a picnic lunch to enjoy during full-day game drives, but often return to the lodge for lunch, giving you the option of sleeping in or taking an afternoon off to lounge by the pool. In the evening you can keep abreast of world news, sip cocktails at the bar, and enjoy educational films or live performances of native music and dance.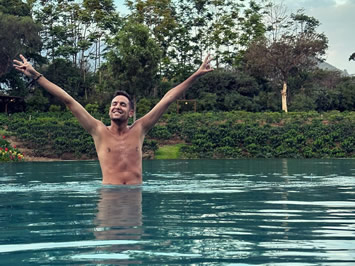 Our days are spent enjoying close-up game viewing from the comfort of our four-wheel drive vehicles. Every passenger has a window seat, and the pop-up roof allows one to stand for unimpeded views in every direction. Awake to the gentle cooing of the African Dove, marvel at the vast and unspoiled landscape illuminated by the African sun. Witness in awe thousands of wildebeest racing across endless plains, the majesty of an elephant only yards away and the supple strength of a lioness stalking her prey.
Come and enjoy the unsurpassed safari experience only Tanzania and Kenya can promise! You will feel like you have been cast in a dramatic episode of The Wild Kingdom. Grab your khakis, your pith helmet, your camera and binoculars, and let's go on Safari!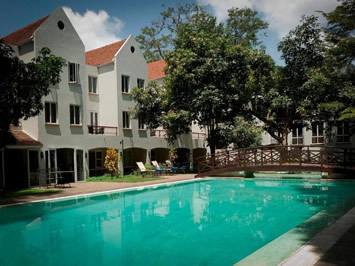 Day 1 - Saturday, November 04, 2023
Arrive in Arusha, Tanzania
Plan your flights to Africa to arrive in Arusha, Tanzania, in the afternoon or evening today. Use the airport code JRO when searching for flights. You will book your return flight from the Nairobi, Kenya, international airport using the code NBO for your search.
Stepping from the plane into the fragrant African air, you realize you are finally here, at the beginning of a long-awaited adventure. You will be met and transferred to our hotel. Please indicate on your reservation form if you will arrive a day early to rest up from the long flights before our safari begins. Overnight in Arusha.
Hotel: Four Points by Sheraton Arusha Hotel, Arusha, Tanzania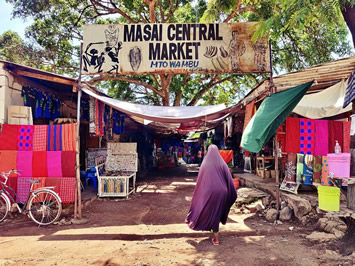 Day 2 - Sunday, November 05, 2023
Village Visit / Ngorongoro Conservation Area
Depart this morning for a visit to the village of Mto Wa Mbu to learn the true value of ecotourism and how far your dollar goes.
Mto Wa Mbu village is one of the participating villages, located on the shores of Lake Manyara, and a living example of one of the richest linguistic mixes in Africa. Home to over 90 tribes, Mto Wa Mbu is quite possibly the only place where you can hear Bantu, Nilotic, Khoisan, and Cushitic accents spoken in the same marketplace together with the diverse lifestyles and heritage that come with these people. The village, which few tourists visit, is a microcosm of life in rural Tanzania today.
Following a lunch of traditional Tanzanian dishes served under banana trees in the heart of the village, explore the area with your village guides. Your leisurely stroll will take you through local homes, farmlands where banana, millet, cassava, and corn are grown, resident bars, a kindergarten, and a church.
Afterward, head to the highlands and your stunning accommodation.
Meals: Breakfast, Lunch & Dinner
Hotel: Ngorongoro Farm House, Ngorongoro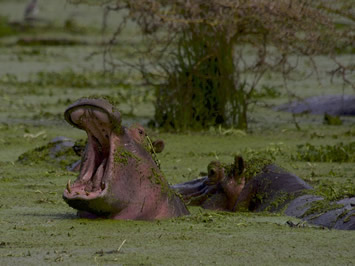 Day 3 - Monday, November 06, 2023
Ngorongoro Crater
Today you board your Land Rover for an amazing journey as you descend onto the floor of the crater, a World Heritage site, an extinct volcano, and the largest unbroken caldera in the world. The cone is believed to have collapsed nearly two million years ago, and while the cone was standing, it could have been as tall, if not taller, than Mount Kilimanjaro. The crater (1,800 feet deep and 102 square miles) is a microcosm of East African scenery with abundant wildlife including more than 25,000 larger animals, mostly zebra and wildebeest.
This is also the best place in Tanzania to see magnificent black-maned lions. This area offers an outstanding opportunity to see black rhinos, as they are protected around the clock. Over the years, the floor of this crater has become mostly savannah (grassland), with a soda lake whose size changes depending on the rains that are the lifeline of this amazing land. On this lake, marvel at colorful flamingos and a variety of other water birds – more than 100 species of birds found here that are not found in the Serengeti. Resident Ostrich, Crowned Crane, and Kori Bustard are joined seasonally by migrant flocks of White and Abdim's Storks. Patience may also reward you with glimpses of leopard, cheetah, hyena, jackal, elephant, warthog, buffalo, impala, buffalo, hartebeest, eland, and many other antelopes.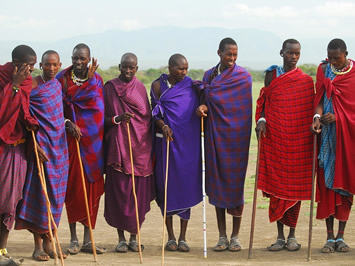 As you descend, you might be able to see the local Maasai as they take their cattle down the steep walls of the crater. It is their right, negotiated with the government and parks authority, to graze their cattle on about 75% of the crater floor. The mix of cattle with the wild animals makes for some terrific photographs, and the interaction between domestic and wild animals is almost unbelievable.
At the hippo pool, take a rest and enjoy your picnic lunch. Then resume your game-viewing and look for that special photograph, before returning to the rim of the crater six hours later (regulations now specify that no one can stay longer than six hours daily on the crater floor) and drive to your lodge.
Meals: Breakfast, Lunch & Dinner
Hotel: Ngorongoro Farm House, Ngorongoro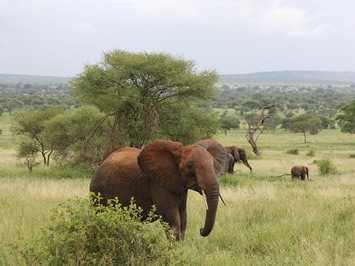 Days 4 & 5 - Tuesday & Wednesday, November 7 & 8, 2023
Tarangire National Park
Continue your adventure in Tanzania with your visit to Tarangire National Park, the third-largest national park in Tanzania. The feeling that this is a special, almost magical place strikes you as soon as you enter Tarangire, and you witness your first baobab tree. Here the gently rolling countryside is dotted with these majestic trees, which seem to dwarf the animals that feed beneath them. Called the "tree of life," many myths and legends surround Adansonia digitata (Adansonia for the French surgeon Michel Adanson and digitata meaning hand-like, a reference to the shape of the leaves). Your guides regale you with one or two of these tales as you pass through the park.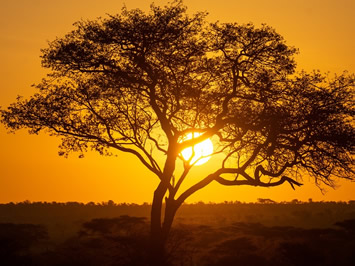 This stretch of Africa is spectacular in the dry season when many of the migratory wildlife species come back to the permanent waters of the Tarangire River. Huge herds of wildebeest, zebra, eland, and oryx gather to stay in Tarangire until the onset of the rains when they migrate again to good grazing areas. For those who love birds, Tarangire has over 300 bird species. But in addition to all those magnificent trees, birds, and beasts, Tarangire is superlative for another reason - elephants. Tarangire is home to the largest population of elephants in northern Tanzania, now numbering close to 2,500 individuals.
Meals: Breakfast, Lunch & Dinner
Hotel: Maramboi Tented Lodge, Tarangire National Park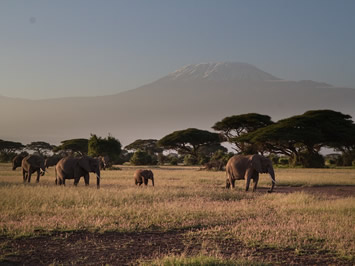 Days 6 & 7 - Thursday & Friday, November 9 & 10, 2023
Arusha / Amboseli National Park
Today's drive takes you back to Arusha in time for lunch.
Afterward, drive towards the Namanga border where you cross into Kenya and continue to Amboseli National Park, located at the foot of Africa's highest mountain, Mount Kilimanjaro. The snow-capped peak of Mount Kilimanjaro rises above a saucer of clouds and dominates every aspect of Amboseli.
This Park covers only 150 square miles but despite its small size and its fragile ecosystem, it supports a wide range of mammals (well over 50 of the larger species) and birds (over 400 species).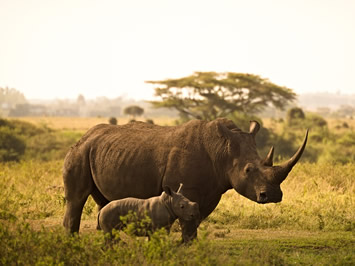 Years ago, this was the locale around which such famous writers as Ernest Hemingway and Robert Ruark spun their stories of big-game hunting in the wilds of Africa. This too is part of Maasailand, and it's not unusual to see the proud Maasai warrior or small children tending their cattle as you traverse their territory. In this land, animals and man have learned to coexist and thrive together, despite the harsh conditions. This is also the park that has been made famous by Cynthia Moss, the noted American naturalist, and author who has one of the longest-running studies on elephants. You might have seen some of the elephants that Cynthia has immortalized in her many books and award-winning film Echo of the Elephants.
Meals: Breakfast, Lunch & Dinner
Hotel: Amboseli Serena Safari Lodge, Amboseli National Park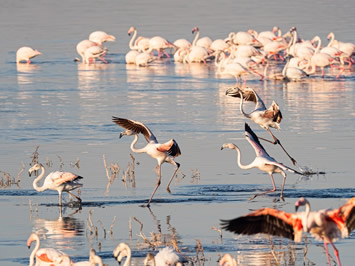 Days 8 - 10 - Saturday - Monday, November 11 - 13, 2023
Lake Nakuru National Park / Lake Elmenteita / Lake Naivasha / Crescent Island
Spend the next day at Lake Nakuru National Park, a shallow alkaline body of water, once world-renowned for the huge concentration of flamingos. Today, there aren't many flamingoes left, but the park boasts a huge variety of animals including leopard – often found snoozing on the branches of magnificent yellow-barked acacias – lion, buffalo, hippo, waterbuck, warthog, baboon, and the endangered Rothschild's giraffe (Only found in this part of Kenya), white rhino and the rare, protected black rhino. For the bird-watching enthusiast, there are 450 species found in the park vicinity, with a big concentration of water birds including Marabou Stork and pelican.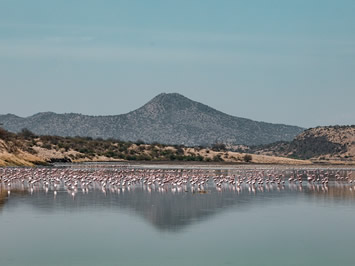 The next day, you will also be treated to a boat ride on Lake Naivasha, where Hippos and waterbirds abound, en route to Crescent Island, which you can explore on foot. No predators are found on this island, so walking among the free-roaming antelope is sure to be a fun experience. This island, shaped like a quarter moon, is a sanctuary for herds of antelope and many species of birds. Over 350 bird species have been recorded, with Thomson's gazelle, waterbuck, monkeys, and other wildlife to keep them company.
While here you can enjoy several activities (at an additional cost) such as night game drives in Soysambu Wildlife Conservancy, walking safaris, bush dining, horse riding, hot springs, and bird watching game drives. Visit the Kariandusi prehistoric site and museum. Enjoy a cultural talk and a traditional dance performance.
Meals: Breakfast, Lunch & Dinner
Hotel: Lake Elmenteita Serena Camp, Lake Elmenteita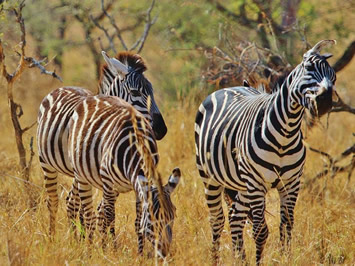 Days 11 - 13 - Tuesday - Thursday, November 14 - 16, 2023
Maasai Mara / Northern Serengeti
Drive to the Maasai Mara, Kenya's most famous wildlife reserve. It is classic savannah – grasslands, where animals are plentiful and the vistas spectacular. In this dreamlike land, animals live in freedom, and the Maasai care for their herds, all sharing the same land with minimal conflict. You will have three days of wildlife-viewing opportunities in the Maasai Mara Reserve, also known as the "Jewel of Africa," a site with one of the largest and the most spectacular animal migrations in the world. The reserve is inhabited by many of Africa's most popular wild animals, including lions, cheetahs, elephants, leopards, black rhinos, and hippos. There are also over 500 resident species of birds in the park including ostrich, larks, and sunbirds as well as the lovely Lilac-breasted Roller.
The area is famous for rolling grassland and for the Mara River, which runs through the reserve from north to south. The reserve covers an area of 700 square miles and forms part of the Serengeti ecosystem, hosting the world-famous spectacle of the annual migration of up to two million wildebeest, thousands of zebras and an escort of carnivores from the Serengeti plains that follow the rains and succulent new grass. A costly trek as many of the lame, laggard and sick will fall prey to the ravaging pack of predators and many more will die in the swirling flood waters of the Mara River as they try to cross it. While there are no guarantees in nature, this is the time of the year that one can see the crossings and your guides will do their best to try to get you to see one. The Mara also has one of the highest concentrations of cheetahs on the continent, as well as many magnificent black-maned lions.
While in the Mara, you will visit a Maasai Village to experience this nomadic tribe's way of life and see their colorful culture. You may also have an opportunity to enjoy a hot air balloon ride at an additional cost.
Meals: Breakfast, Lunch & Dinner
Hotel: Mara Serena Safari Lodge, Maasai Mara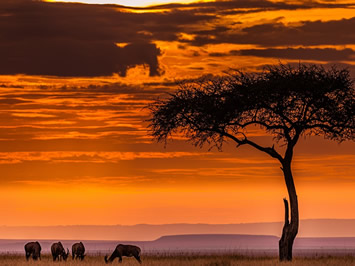 Day 14 - Friday, November 17, 2023
Return to Nairobi / Farewell to Africa
Enjoy your last chance to photograph an awesome African sunrise before driving back to Nairobi. Say a fond farewell to your fellow traveling companions and your driver/guide.
A dayroom is yours to refresh in prior to your transfer to the airport for your late evening departure.
Please do not schedule a flight departing any earlier than 7pm. If your airline has no late evening or nighttime departures, we can extend your hotel reservation until tomorrow morning. The hotel provides your shuttle service to the airport.
Meals: Breakfast & Lunch
Hotel: Crowne Plaza Nairobi Airport Hotel, Nairobi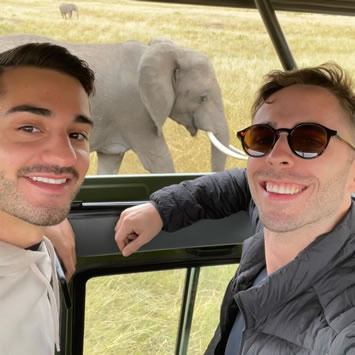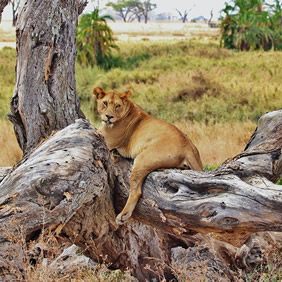 • 13 nights superior lodge or tented accommodations plus day room airport hotel prior to departure:
- 1 night at Four Points by Sheraton Arusha Hotel in Arusha;
- 2 nights at Ngorongoro Farm House in Ngorongoro Conservation Area;
- 2 nights at Maramboi Tented Lodge in Tarangire National Park
- 2 nights at Amboseli Serena Safari Lodge in Amboseli National Park
- 3 nights at Lake Elmenteita Serena Camp in Lake Elmenteita
- 3 nights at Mara Serena Safari Lodge in Maasai Mara
- Day Room at Crowne Plaza Nairobi Airport Hotel in Nairobi
• Airport to hotel transfer upon arrival;
• Full time tour leader;
• Full time English-speaking naturalist driver/guide;
• Private vehicle;
• All meals as specified in the itinerary;
• Bottled mineral water in vehicles and and meals;
• Wildlife viewing in 4x4 vehicle with photo roof; guaranteed window seat;
• All park entry fees;
• Complimentary emergency evacuation insurance;
• Fully guided and escorted tour.
• International round-trip airfare into Arusha (JRO) and out of Nairobi (NBO);
• Ground transportation for sightseeing on your own (taxis, local guides, etc.);
• Meals and optional activities not specifically listed in the itinerary;
• Alcoholic beverages; Travel Insurance; laundry, telephone calls, faxes, or any other expenses of a personal nature.
• Tips to drivers and guides and other conveyance attendants are not included; tipping guidelines for our group tips will be provided prior to departure.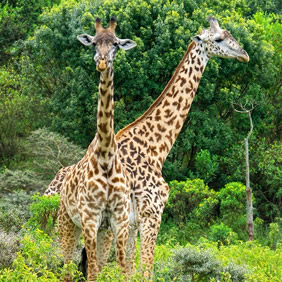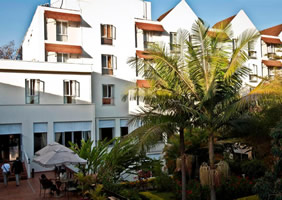 Four Points by Sheraton Arusha Hotel, Arusha
Offering a gym, a restaurant and a swimming pool surrounded by gardens, Four Points by Sheraton, The Arusha Hotel is conveniently located by the city centre just 700 m from Arusha International Conferencing Centre.
The spacious, air-conditioned rooms feature modern African-style décor and a flat-screen TV with satellite channels. All en suite bathrooms come with a bath and shower.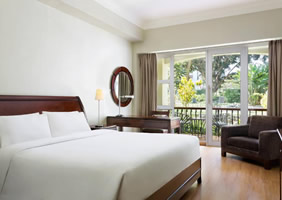 Guests at Four Points by Sheraton, The Arusha Hotel can enjoy meals and drinks in the Parachichi Restaurant and the Hatari Bar. There are also massage services and a hot tub. Free Wi-Fi is available in all areas.
The Central Market in Arusha is just 1 km away. Arusha National Park is situated 45 km away and Mount Kilimanjaro is 90 km away. Arusha Airport is just a 10-minute drive away from the Hotel.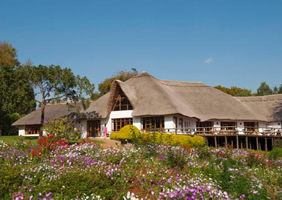 Ngorongoro Farm House, Ngorongoro Conservation Area
Ngorongoro Farmhouse is set on a 500-acre coffee farm, giving you the freedom to relax in the quiet beauty of the area. Take in the amazing views of Oldeani Volcano as you walk through the coffee plantation.
The lodge is divided into two separate areas, each with its own communal lounge and bar areas creating a feeling of spaciousness. It's designed as an old colonial farm and each room has been decorated using rustic local materials.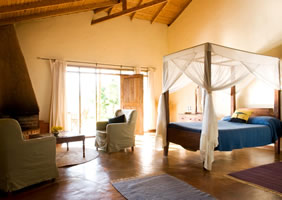 Ngorongoro Farm House is the perfect stop-over between safaris as it's located just 4km from the entrance to the Ngorongoro Conservation Area. There is also a fantastic opportunity to visit the Hazabe and Datoga tribes in the lake Eyasi region.
Relax by the sparkling swimming pool overlooking the Oldeani Volcano, or cycle around the plantation. On colder evenings, snuggle up in the lounge with a book in front of a crackling fire.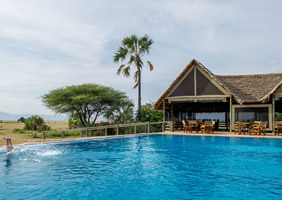 Maramboi Tented Lodge, Tarangire National Park
Maramboi Tented Camp is a classic safari camp situated close to the shores of Lake Manyara and located on the migratory corridor of Manyara and Tarangire.
The lodge has a main building raised on a wood and concrete platform, with extraorinary views to the Rift Valley and to Lake Manyara, that includes an area to relax with comfortable sofas, outside and inside dining and a swimminpool. Every evening a camp fire is lit and guests can enjoy the sunset with drinks and appetizers. Weather permitting dinner will be served outside under the stars.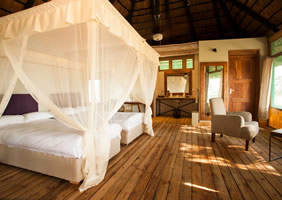 The extensive tented rooms at Maramboi are built on large, private wooden decks and shaded by tall palm trees; all offering magnificent views over the Rift Valley and Lake Manyara.
Each room is set up with a double or twin bed draped in mosquito netting, a writing desk and en suite bathrooms with solar-heated showers.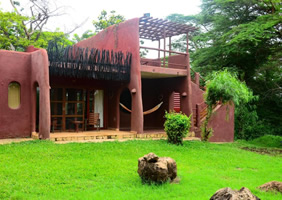 Amboseli Serena Safari Lodge, Amboseli National Park
Amboseli Serena Safari Lodge was created for adventurers with an African dream. With Mount Kilimanjaro soaring majestically just beyond the golden, acacia-specked savannah, the safari lodge offers a graceful blend of stark beauty and lavish comfort in the heart of Kenya's Amboseli National Park.
Nestled in an acacia grove by a gentle mountain spring, our hotel, comprising a Maasai-inspired design, a garden restaurant and a palm-shaded swimming pool and sundeck, provides uninterrupted views of Mount Kilimanjaro and the surrounding landscape.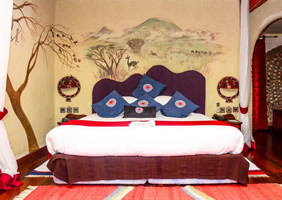 In every detail, the ambience captures the essence of Maasai culture, warmth and indomitable spirit. The setting our Amboseli safari lodge is breathtakingly beautiful, the wildlife abundant and the cuisine, hospitality and amenities unrivalled.
Mornings bring stirring views of Kilimanjaro's snow-capped peaks. Whether embarking on a safari to see "The Big Five", or enjoying a bush dinner and glass of wine as the bonfire cinders waft into the indigo night, your stay will be infused with unforgettable moments.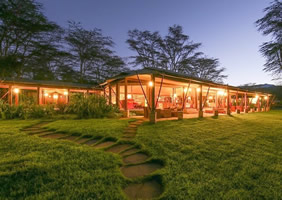 Lake Elmenteita Serena Camp, Lake Elmenteita
Tucked among golden-barked acacia trees, under the shadow of ancient volcanoes, Lake Elmenteita Serena Camp is a truly magical holiday setting with a small, immaculately maintained tented upscale safari camp on the shores of Lake Elmenteita, a flamingo filled Lake in Kenya's Soysambu Conservancy.
Just a two-hour drive from Nairobi, Elementaita Serena Camp offers modern comforts of a five-star facility blended seamlessly with the rich history and culture for which Soysambu is famous.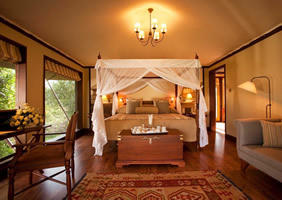 Airy, environmentally friendly safari tents offer British Colonial décor, plush bedding with mosquito nets, bathrooms with double vanities and hot water, a large private veranda and free Wi-Fi. The stunning Flamingo Suite is tailor-made for honeymooning couples, and offers a separate bedroom, a lounge with a television and a Jacuzzi with breath-taking lake views.
Sample the bounty of the area in our peaceful dining room, or plan an unforgettable meal in the bush, and dine amidst the conservancy's 450 bird species and 15,000 wild animals.
Mara Serena Safari Lodge, Maasai Mara
Mara Serena Safari Lodge invites you to a world where dramatic sights and experiences are enhanced by gracious service and five-star amenities. As the only safari lodge in the famed Mara Triangle, we offer a setting matched by few other hotels in the world: perched high on a bush-cloaked hill with sweeping views of the savannah and the meandering shoreline of the Mara River.
Savour superb chef-prepared cuisine in our onsite restaurant and with unforgettable "Bush Dining" and "Sundowner" experiences.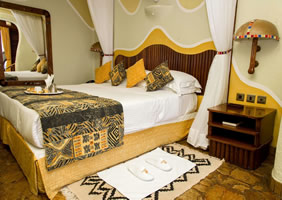 Our Masai Mara hotel lodge is designed in the style of a traditional Maasai Manyatta while offering every modern comfort. Neatly arranged rows of rooms and suites are positioned to offer uninterrupted river views from private balconies.
Equally breathtaking sightlines can be enjoyed from the restaurant and bar and rock-enclosed swimming pool. After a day in the bush, a steam shower and an Oringa Massage at the Maisha Spa & Gym offer an exquisite welcome back to civilisation.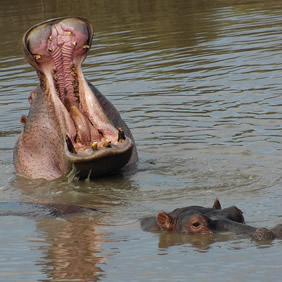 Entry Requirements - Tanzania
• Visas are required for U.S. citizens traveling to Tanzania.
• Foreign nationals may apply for a visa online in advance of travel. Applicants may complete the e-visa application form and make payment online with a credit card or bank transfer. If the e-visa is approved, the applicant will receive a "grant notice" via email. Present a copy of the grant notice to the Immigration Officer on arrival at the airport in Tanzania.
• U.S. citizens may also obtain a tourist visa upon arrival at the airport in Tanzania. The cost is $100 USD. Be prepared to pay in cash in case connectivity issues make electronic transactions impossible.
• A passport valid for a minimum of six months beyond visa issuance and/or date of entry, and at least one blank visa page, is required. Visitors who enter on visas must present a roundtrip ticket and demonstrate they have sufficient funds for their stay.
Entry Requirements - Kenya
All visitors are required to obtain an e-visa before departing for Kenya.
• Passport with at least two blank pages, six months' validity, and a Kenyan e-visa.
• You should have proof of yellow fever immunizations, or you may be denied entry.
Immunizations & Health
As always, you should consult your personal physician to confirm which immunizations you have already had, and which ones you need to take before travel. Here are the vaccination recommendations for each country from the Centers for Disease Control:
• Tanzania: Click here to review the immunization guidance.
• Kenya: Click here to review the immunization guidance.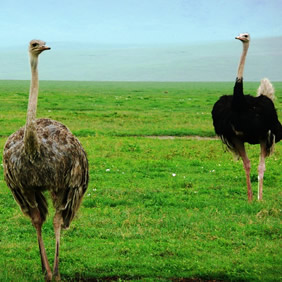 Making Travel Arrangements to Africa
International airfare is not included in your tour price. You will need to purchase your international air to Arusha, Tanzania (JRO), and returning from Nairobi, Kenya (NBO).
Arrive into the Kilimanjaro International Airport in Arusha, Tanzania. The airport code is JRO. Hotel services are paid beginning at 3pm on Saturday, November 4, 2023, so keep that in mind as you plan your arrival. If you land at 1am on that day, you will probably want to book an additional night so that your room is ready for you when you reach the hotel.
Schedule your departure from the Jomo Kenyatta International Airport in Nairobi, Kenya. The airport code is NBO. We arrive back to Nairobi in the afternoon of Friday, November 17, 2023. Please do not schedule a departing flight before 7:00pm that day. If your airline does not have any late evening or nighttime departures, for an additional fee we will extend your hotel day-room for the full night, with check-out on November 18.
What to Bring
A detailed packing list will be forwarded to you once we have received your deposit for this tour. That list will focus on the gear needed for the Safari.
Money Matters
The Tanzanian Shilling (TZS) is the official currency of Tanzania, but US dollars are also widely accepted in tourist areas. Dollar notes printed before 2009 are usually not accepted. ATMs are readily available in the major cities, and offer the best exchange rate for obtaining local currency. Credit cards are also widely accepted in establishments catering to tourists.
The currency of Kenya is the Kenyan Shilling (KES). ATMs are widely available in Nairobi and the main towns and credit cards are widely accepted.