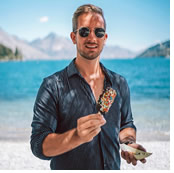 Kia Ora! We're excited to be heading back to New Zealand – Aotearoa in 2024. Our new New Zealand gay group tour program will highlight the country's impressive culinary scene along with some of the gorgeous natural wonders that have been drawing visitors to New Zealand for many decades. Beginning in cosmopolitan Auckland on the North Island, with its stunning harbor hemmed in by verdant volcanic scenery, we'll spend a day savoring the delights of nearby Waiheke Island, known as the Tuscany of the Hauraki Gulf, the nation's largest marine reserve.
Think vineyards, olive groves, beaches, breweries, and galleries. It was once something of a hippy haven but now is more trendy while maintaining a laid-back charm in a sun-kissed Mediterranean-type climate.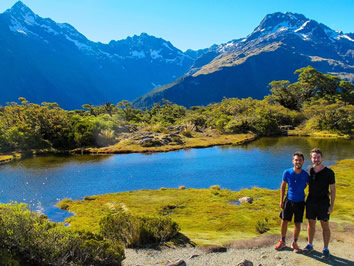 In New Zealand's charming capital city, WELLINGTON, we'll be impressed by the innovative Te Papa Tongarewa Museum dedicated to the nation's cultural and natural heritage plus the city's nature spots, architecture, and great views in this vibey city surrounded by hills and a brilliant bay. A lovely day trip brings us out to WAIRARAPA — one of the country's prominent wine regions where we get to taste not only wines, but artisanal cheeses too, and have a wander around charming Greytown.
On the South Island we'll take in the jagged OTAGO PENINSULA, famous for its array of excellent marine and bird life including yellow-eyed penguins, the world's only mainland nesting colony of royal albatross, seals, sea lions, dolphins, whales, and orca.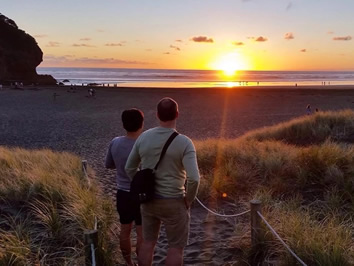 The region's capital, DUNEDIN, has been known as "the Edinburgh of the South" and locals are proud of their Celtic roots. It's New Zealand's first city and home to a prestigious and the country's oldest university. Atmospheric with its Victorian architecture Dunedin is also a UNESCO designated "City of Literature".
The thrill-seeking resort town of QUEENSTOWN, the "adventure capital of the world," was the birthplace of bungee jumping while also boasting world-class hiking, biking, skiing, paragliding, rock climbing and jet-boating. While these activities won't be on our itinerary you'll have time to pursue something on your own if you'd like. Our focus will be on the excellent wine, beer, and food of this Western Otago region along with some of the beautiful nature spots, lakes, and mountains that surround Queenstown, including Middle-earth film locations from The Lord of the Rings / The Hobbit fame and historic Arrowtown, once a center for gold mining.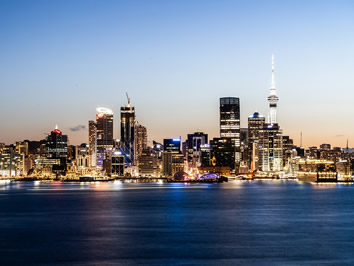 Day 1 - March 03, 2024
Arrival in Auckland, New Zealand
Your own air arrangements will have you flying into Auckland (AKL) on the North Island, regularly rated one of the world's top cities for quality of life and livability. Its Maori name, Tamaki Makaurau, means "city of many lovers".
After settling in to our group hotel you'll have a chance to rest up or go for a walk to stretch your legs and get some fresh air after the long trans-Pacific journey.
We'll meet in the early evening for a welcome drink and dinner.
Please note: If you'll be coming directly from North America you'll need to depart on March 1 at the latest; a day is "lost" when crossing the international date line in that direction. If you'd like to arrive a day or two early please let us know and we can set you up at the group hotel in Auckland if you'd like.
Meals: Welcome Drink, Welcome Dinner
Overnight: Auckland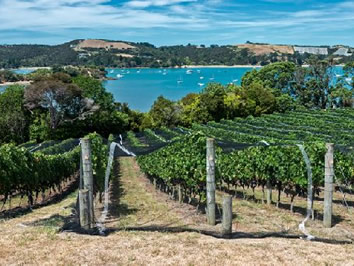 Day 2 - March 04, 2024
Waiheke Island
Today is a full-day excursion exploring Waiheke Island in the Hauraki Gulf, the nation's largest marine reserve. A quick 40-minute ferry ride will whisk us over to the island, and then we'll begin exploring the charms of this getaway spot, a favorite escape for Auckland city dwellers. There are turquoise waters, rocky bays, sandy beaches, lovely walks, art galleries, great views — and also excellent wineries and restaurants!
Our plan for the day is to visit an olive oil producer that has received many accolades since its first pressing and has become known around the world in olive oil circles. We'll also spend some time at one of Waiheke's best vineyards where we'll sample some their production along with local oysters and a cheese board.
Lunch will be at another winery and will be platter-style with a great variety of foods.
Also on the program is a stop at an art gallery that features works by local and national artists.
We'll return by ferry to Auckland later in the day, and dinner is on your own this evening.
Meals: Breakfast, Wine Tasting, Lunch
Overnight: Auckland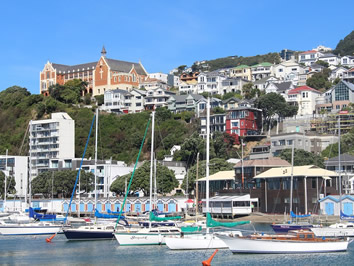 Day 3 - March 05, 2024
From Auckland to Wellington
After a leisurely morning in Auckland and lunch on your own we'll hop on a 1-hour flight down to the bottom of the North Island to reach New Zealand's capital, Wellington.
We'll have time to settle in at our hotel before enjoying our first meal in the city.
Meals: Breakfast & Dinner
Overnight: Wellington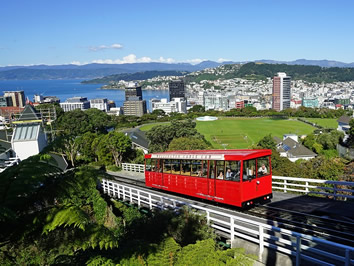 Day 4 - March 06, 2024
Wellington
We spend the day getting familiar with this lively and scenic city. On our agenda we've got panoramic views from Mount Victoria, drives along the scenic coast, a ride on the cable car, the Parliament grounds and Lambton Quay, the mid 19th- century Gothic revival timber structure of Old St. Paul's Cathedral, the buzzing Cuba Street district with its shops, cafes and restaurants, and a private guided tour in the splendid world-class Te Papa museum where we'll focus on indigenous Maori culture.
We'll leave a little free time at the end of the day so that you can see more of the museum or more sights in the city according to your interests.
Dinner is open this evening, and there's no shortage of great restaurants and cafes.
Meals: Breakfast & Lunch
Overnight: Wellington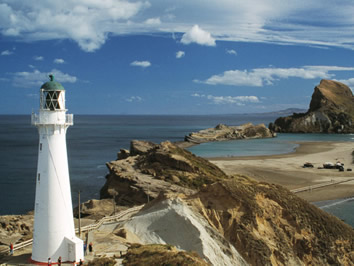 Day 5 - March 07, 2024
Wairarapa
Today is a full day out to the Wairarapa region, one of New Zealand's prominent viticultural zones with a terroir similar to Burgundy, and indeed, we'll enjoy a stop at a lovely winery for tastings around Martinborough, a photogenic town surrounded by vineyards and pasture.
We get there by driving up and over the pretty Remutaka Range. Additionally, we've got an artisanal cheese tasting on the program as well as a wander around the genteel 19th-century town of Greytown where intact Victorian-era buildings line the main street and where you can sample artisanal chocolates and browse swanky gift shops. This picturesque slice of rural New Zealand has a Hollywood connection too as renowned directors Peter Jackson and James Cameron now call it home (or one of their homes anyway).
After we return to Wellington your evening is free.
Meals: Breakfast, Wine Tasting & Lunch
Overnight: Wellington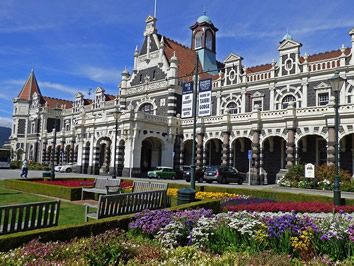 Day 6 - March 08, 2024
Dunedin, South Island
Before flying down to the South Island you'll have the morning on your own to take in more of what Wellington has to offer. Although flight schedules aren't published at the time this itinerary is being put together our intention is to arrive in Dunedin mid-to-late afternoon.
Dunedin is known as the "Edinburgh of the South." In fact, the city's name derives from the Scottish Gaelic "Dun Eideann," and residents are proud of their ancestry. World-class alleyway street art permeates parts of the city as artists come from around the world vying for wall space. The city is home to the country's oldest university, and in the last decade Dunedin's literary heritage and culture earned it the title of New Zealand's first UNESCO-designated City of Literature.
Meals: Breakfast & Dinner
Overnight: Dunedin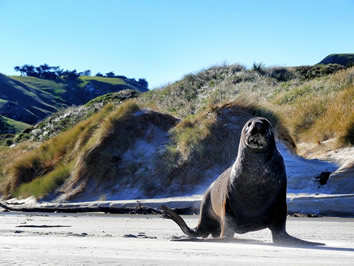 Day 7 - March 09, 2024
Otago Peninsula
Just outside the city the Otago Peninsula stretches into the Pacific Ocean. It's a picturesque haven of rolling hills, bays, beaches, and vistas as well as the South Island's most easily accessible wildlife, including albatross, penguins, fur seals, and sea lions.
We'll spend the day exploring this beautiful peninsula, including a stop at the beautiful gardens at Lanarch "Castle", a Gothic Revival mansion built in 1871.
Meals: Breakfast & Lunch
Overnight: Dunedin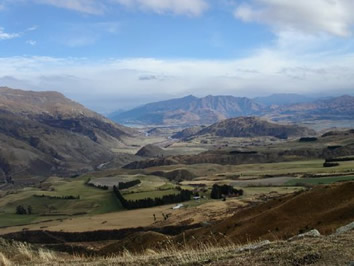 Day 8 - March 10, 2024
Dunedin / Queenstown
The morning will be at leisure in Dunedin. There's lots of street art, many coffee shops, a super chocolate maker, the beautiful buildings of the University of Otago (the country's oldest), New Zealand's oldest operating brewery, various museums and galleries, a beautiful train station that claims to be New Zealand's most photographed building, and more.
Interesting fact: Dunedin has a plethora of bookshops (both new and secondhand books) for its modest population of 130,000.
We'll then proceed overland into Central Otago making our way to Queenstown for the final three nights. Central Otago is a remote region of rolling hills, perhaps golden at the time of our visit, and distant mountains.
We'll pass tiny gold rush-era towns where farmers mingle with cycling vacationists in pubs. This is also one of the country's top wine regions.
After settling in to our Queenstown accommodation we'll enjoy an introductory dinner
Meals: Breakfast & Dinner
Overnight: Queenstown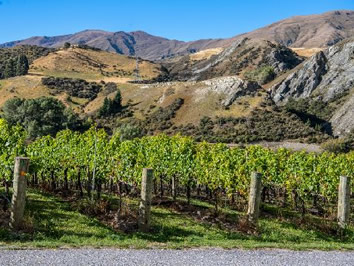 Day 9 - March 11, 2024
Queenstown & Gibbston Valley
Today a one hour's drive out of Queenstown will bring us to the cute settlement of Cardrona, which was at its peak in the 1870s during the gold rush. Today it's not much more than a ski area with a historic pub, but since the area is reminiscent of the Scottish Highlands we think we should make a stop at a distillery where we'll have a tour with tutored tastings to follow. They produce gin, vodka, and whisky.
From here it's on to the Gibbston Valley, the so-called "valley of the Vines." The vineyards around here are the world's most southerly and the highest in New Zealand, and Central Otago in general is considered one of the country's most prominent wine regions, particularly for pinot noir, though it's Chardonnay and Sauvignon Blanc are increasingly recognized. We'll call in at a cellar door representing half a dozen vineyards where we'll have a wine tasting and our lunch.
New Zealand is the home of bungy jumping, and it all started at the historic 1880 Kawarau Bridge, which became the world's first commercial bungy site in in the 1980s. While we won't be jumping we can appreciate a brief stop here before moving on to historic Arrowtown where we have free time to explore the town. Some options include shopping along the quaint main street; checking out the early Chinese settlement where gold was first found; walking the river track; and visiting the Lakes District Museum. Around 60 original gold-rush buildings remain among the well-preserved tree-lined streets.
Then we head back to Queenstown, and dinner is open this evening.
Meals: Breakfast, Lunch, liquor and wine tastings
Overnight: Queenstown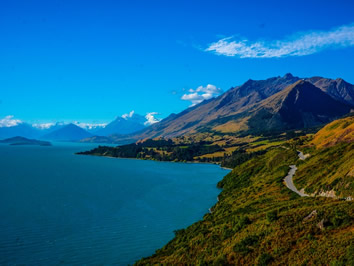 Day 10 - March 11, 2024
Queenstown & Lake Wakatipu
On our last full day we venture out to the west of Queenstown, driving along beautiful Lake Wakatipu towards Glenorchy, sometimes referred to as "Queenstown on sedatives," meaning this pretty township has all the same great natural beauty but without the hustle and bustle of the city. If you're a fan of The Lord of the Rings, The Hobbit, or The Chronicles of Narnia the area might look familiar as some of the filming locations were shot around here.
After familiarizing ourselves a bit with this pretty town we join the "Road to Paradise", which is not false advertising as the town of Paradise lies about 10 miles north of Glenorchy. Much of the road is unpaved, and it leads us to a beautiful beech forest where we can stretch our legs on some walking trails.
Today's lunch will be picnic-style, perhaps including a BBQ, before heading back to Queenstown for some free time before our farewell dinner.
Meals: Breakfast, Picnic Lunch & Farewell Dinner
Overnight: Queenstown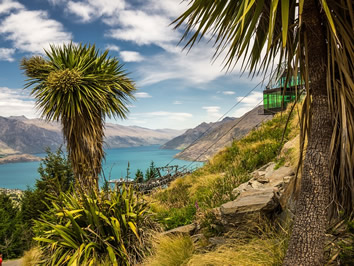 Day 11 - March 12, 2024
Queenstown, New Zealand Departure
You can arrange your air to depart Queenstown at any time. A connection through Auckland will most likely be necessary.
Please note: When flying from New Zealand to the United States you cross the dateline again and arrive in the U.S. on the same day that you depart New Zealand.}
Meals: Breakfast
Want more time? There's a wide assortment of further activities in Queenstown from a gentle cruise on Lake Wakatipu, to a more exhilarating jet boat ride on the Shotover River, bungy jumping, paragliding, sky swing, luge descent, Lord of the Rings tours, etc.
There's also the option of going to Milford Sound and doing either a day or overnight cruise, with various options for getting to the Sound and returning to Queenstown (road, small plane, helicopter).
Should you wish to extend your stay by a night or two, please let us know and we can arrange that