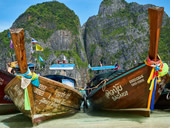 The land of smiles. Delicious food, big on nature, stunning beaches, exciting nightlife, fabulous hotels - the list goes on. Thailand is one of the hottest LGBT travel destinations in Asia. Get ready for a trip of a lifetime. We are thrilled to offer this exclusive gay group tour to the entire LGBT community and their friends. Join us next year in beautiful Thailand!
Thailand is one of the most visited destinations in Asia for gay travellers, and one of the most gay friendly countries in the world. It has a mix of the best beaches, beautiful Buddhist culture, temples, and an awesome gay scene in Bangkok. Thailand is a highly tolerant country where sexual preference is regarded as a personal choice when it comes to homosexuality. Gays, lesbians and transsexuals are all accepted as part of the Thai way. Thai people - both gay and straight - are also known for their sweet, friendly and polite natures. All of this have contributed to making Thailand a prime gay tourist destination, with Bangkok often being dubbed as the gay capital of Asia.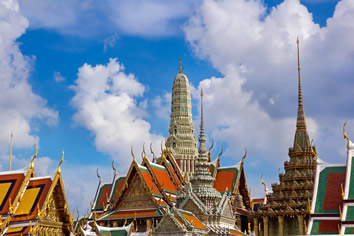 Day 1 - Arrive in Bangkok, Thailand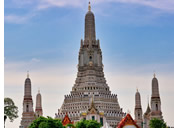 • Upon arrival at Bangkok Suvarnabhumi Airport, you will be met and transferred to the hotel for check in.
• Enjoy a day at leisure.
The famously fun & friendly gay scene makes Bangkok one of Asia's most popular gay destinations. Bangkok gay nightlife is as fun, exciting and wild as the straight scene. Wide-ranging gay venues in Bangkok offer everything from gay-friendly hotels and guest houses to pubs, clubs, bars, karaoke venues, ladyboy cabarets, go-go bars, and more.
• Evening Welcome Cocktail
Accommodation: The Peninsula Bangkok Hotel
, Bangkok, 5*
Day 2 - Bangkok Highlights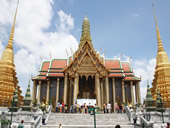 • Sightseeing today of Bangkok highlights.
• Set-off by boat this morning to explore Bangkok's klongs or canals to view an ancient and simple way of life. Visit Wat Arun or the Temple of Dawn - one of the country's landmarks, and passing the Royal Barges Museum.
• Experience authentic Thai cuisine with lunch at a local restaurant.
• This afternoon, visit the Royal Grand Palace and the Emerald Buddha Temple, which is another landmark of the city. This place was the residence of the Kings of Thailand. The Palace, built in 1782 by King Rama I, consists of several buildings with highly decorated architectural details. The Palace is now used for royal ceremonies and state functions. The Royal chapel of Wat Phra Kaew, in the same compound, houses the Emerald Buddha - the most sacred Buddha image in the country.
*Dress code: Proper attire is required (no bare shoulders, knees or strapless-heel shoes). Shoes must be removed before entering the temple buildings as a matter of respect.
• This evening enjoy a dinner cruise through the nocturnal enchantment of Thailand's cultural heritage down the banks of Chao Phraya River. You will also be entertained by light music band and Thai dance performance.
Meals: Breakfast, Lunch & Dinner
Accommodation: The Peninsula Bangkok Hotel
, Bangkok, 5*
Day 3 - Bangkok Like a Local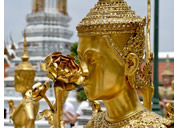 • Today you explore Bangkok like a local (8:30am - 5:00pm). Meet your guide this morning and hop on the Skytrain. Discover the markets in bustling China Town, visit local fruit and vegetable markets, and stunningly colorful flower markets. You will come across street markets in China Town, street side restaurants, shop houses, gold shops, beautiful remnants of colonial style architecture and some interesting Chinese temples, such as Leng Noi Yee. China Town is also famous for many varieties of food and it turns into Bangkok`s biggest open air restaurant at night.
• You have time to explore Bangkok by local boat, tuk-tuk, walking and the Skytrain.
• Relax with a 2-hour Thai massage at one of the spas, before returning to the hotel for a leisure evening.
• Optional Group Dinner TBA
Meals: Breakfast & Lunch
Accommodation: The Peninsula Bangkok Hotel
, Bangkok, 5*
Day 4 - Bangkok – Sukhothai

• Transfer from the hotel to Bangkok Suvarnabhumi Airport for a domestic flight to Sukhothai.
• Upon arrival at Sukhothai Airport, you will be met to start sightseeing at the historical parks in this region. First you will visit the old city of Si Satchanalai and its Historical Park which is considered the sister city of historic Sukhothai with similar Sukhothai temples and monuments, and has also been declared a World Heritage site. During the reign of King Li Thai (1347-1368) many temples were built and restored at Si Satchanalai. There are historic monuments located inside and outside the old city walls. Inside the city walls important temples include Wat Chang Lom, Wat Chedi Jet Thaew, Wat Nang Phaya. Si Satchanalai was an important center for ceramic production and many kilns are scattered around the area.
• Continue to explore an organic farm before lunch. With an aim to promote social benefit, certain area around Sukhothai Airport has been gradually converted into green area starting about ten years ago. Initially with rice farming experiment in small field without using any chemical, they accumulated learning experiences little by little before venturing into larger and larger space until setting up the Organic Agriculture Project, Sukhothai Airport as you can see today. Thus, they are glad to have a part in the production of safe food for consumers and to have friendly relation with environment, as well as to provide supporting effort to broadening the expansion of organic agriculture system in Thailand, along with the pathway of sustainable agriculture. Enjoy the organic food as your lunch at the restaurant in the farm.
• After lunch, you will visit a house of a local history expert in Thai traditions and culture. The host will share his knowledge on how ancient traditions live on to this very day and show his collection of ancient weapons. Then, a workshop gives the chance for you to make a lucky charm or amulet as a unique souvenir to take home.
• Check in at the hotel in late afternoon. Dinner will be served at the hotel.
Meals: Breakfast, Lunch & Dinner
Accommodation: Sriwilai Sukhothai Resort
, Sukhothai, 4*
Day 5 - Sukhothai Historical Park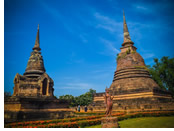 • Rise early this morning to join the alms giving activity to Buddhist monks at the temple in front of Sukhothai Historical Park. This is a daily merit making in Buddhism for good health and life. Go back to the hotel for breakfast. You will have a full day to explore the Historical Park with a break for lunch at a local restaurant in nearby area.
• Sukhothai Historical Park comprises the ruins of royal palaces, Buddhist temples, the city gates, walls, moats and the water dyke control system of ancient Sukhothai, the capital of the Sukhothai kingdom from the 14th century. The park covers an area of about 70sqkm and contains more than 190 historical ruins. Inside the city wall and moat, Wat Mahathat stands at its epicenter, as the spiritual center of the kingdom, and the royal palace (now collapsed) lies to its northwest. To the city's immediate north is a small contained area, housing Wat Phra Pai Luang, believed to be the original foundation site of the Sukhothai Kingdom. Strolling through the grounds of the historical park, you will encounter at least three architectural styles. Early Sukhothai people shared the same beliefs in the system of the universe with the Khmer. Temples were laid out according to the Mount Meru concept with the central prang being the tallest and most significant structure. Only after Theravada Buddhism entered the kingdom did the Ceylonese bell-shaped chedis replace the corn-shaped prangs. Sukhothai craftsmen also developed their own style, known as the lotus-bud chedi.
• This evening, enjoy dinner at a local restaurant.
Meals: Breakfast, Lunch & Dinner
Accommodation: Sriwilai Sukhothai Resort
, Sukhothai, 4*
Day 6 - Sukhothai – Chiang Mai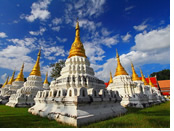 • After breakfast, check out and travel up north towards Chiang Mai by road, with stop en route at Lampang to visit Wat Phra Thad Lampang Luang. The temple is one of the most exquisite temples of Thailand, and a remarkable example of an early Lanna style architecture in Thailand. Literally, Wat Phra That Lampang Luang means Temple of Lampang's Great Buddha Relic. According to legend, the Buddha once visited the site some 2,500 years ago and donated a hair, which is now kept in the temple's large chedi together with the right forehead and neck bones.
• After lunch at a local restaurant, proceed driving to Chiang Mai. Visit the most famous temple in Chiang Mai, known as "Wat Phra That Doi Suthep". Built on a mountain top about 3,500ft above sea level, this is the most revered temple. The temple is said to house a part of the Lord Buddha's holy relics in its pagoda. This is a sacred site to many Thai people to visit and pay their respect. Visitors can climb up 309 steps staircase to reach the top of the hill and enjoy spectacular views over Chiang Mai city and its surroundings from the temple grounds.
• Arrive at the hotel for check in and you will have some leisure time before dinner.
Meals: Breakfast, Lunch & Dinner
Accommodation: Rati Lanna Riverside Spa Resort
, Chiang Mai, 5*
Day 7 - Chiang Mai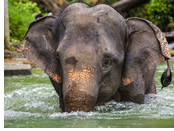 • After breakfast, you will spend this morning learn to cook Thai food. The classes are appropriate for people who have some experience with Thai cooking and also for complete beginners. The menus have been especially formulated to teach about the many different cooking techniques used in cooking Thai food. All the courses begin with a morning activity such as shopping at the market, an introduction to Thai ingredients, paste making or vegetable carving. After the morning activity then you will cook 4 dishes. Each dish will be demonstrated by highly qualified instructors who speak excellent English.
• Our knowledgeable staff will also give some unique tips about alternative cooking methods and substitutes throughout the demonstrations. You will then cook each dish yourselves and the instructors will be on hand to help and guide you through the process with step-by-step instructions. The teacher will display a tray of ingredients and will go through each one and explain how to prepare, storing techniques as well as an alternative that can be used. Then time to enjoy the cooked dishes from your own preparation and work as lunch.
• Afternoon visit Patara Elephant Farm for an 'Elephant Day Care' program.
• This is an ideal trip to learn about and to care for the elephants. The emphasis to care of pregnant elephants and mothers with small babies. You will be taking part of their daily healthcare routine which includes health inspection, feeding, walking with the elephants for exercise and also to the water for drinking and bathing. You will be able to observe them interacting among their families in natural environments. Their knowledgeable staff will be providing you with information regarding their daily care. The trip will not include riding any elephant.
Meals: Breakfast & Lunch
Accommodation: Rati Lanna Riverside Spa Resort
, Chiang Mai, 5*
Day 8 - Chiang Mai - Phuket

• Transfer from the hotel to Chiang Mai Airport for your flight to Phuket.
• Upon arrival at Phuket Airport, you will be met and transferred to the hotel for check in.
• Balance of the day at leisure
Gorgeous beaches, stunning weather, luxurious villas and gay nightlife that goes until the sun rises – It's no wonder Gay Phuket is a hugely popular travel destination for queers wanting to relax in style and escape it all.
Meals: Breakfast
Accommodation: The Slate Hotel
, Phuket, 5*
Day 9 - Phuket - Phang Nga Bay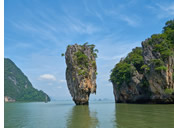 • Today's trip is to explore Phang Nga Bay by sea canoe.
• Start the day with a drive north east of Phuket Island to Ao Por Pier for the Phang Nga Sea Canoe Tour – a Must-Do in Phuket. After leaving Ao Por on a comfortable escorted boat to the bay, our tour guides will paddle the canoes in order to enter the caves and hongs to explore some of the stunning islands of Phang Nga Bay.
• Lunch is served on board. Return to Ao Por and drive back to the hotel in late afternoon.
Meals: Breakfast & Lunch
Accommodation: The Slate Hotel
, Phuket, 5*
Day 10 - Phuket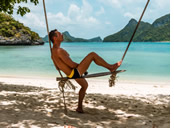 • Day at leisure
• Gay Phuket combines tropical waters and white sandy beaches with intense nightlife. Phuket is Thailand's largest island, roughly the size of Singapore, and one of the biggest tourist spots in the country. As such, it has one of the biggest and most active gay communities around. Patong is the largest town on Phuket and home to most of the nightlife, both gay and straight. The island is located on the west coast of Thailand in the Andaman Sea, and is linked to the mainland by a land bridge.
• Optional Farewell Dinner
Meals: Breakfast
Accommodation: The Slate Hotel
, Phuket, 5*
Day 11 - Phuket - Departure
• Transfer from the hotel to Phuket Airport for your departure flight.
Meals: Breakfast