Norwegian Joy
Ship Facts
Gross tonnage: 167,725
Length: 1,094 feet
Max Beam: 136 feet
Draft: 25 feet
Cruising Speed: 12.5 knots
Decks: 20
Passenger Capacity: 3,804
Crew: 1,821
Refurbished: 2019
Bearibbean Alaska Gay Bears & LGBTQ Cruise 2020
7 nights from/to Seattle, Washington, US
September 26 – October 03, 2020
NCL Norwegian Joy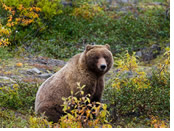 Our Alaska Gay Bears & LGBTQ Group Cruise takes you to one of the most pristine and majestic places on earth. Nature and all that nature has to offer can be enjoyed while sailing with other members of the LGBTQ Bear Community. Have a Martini while watching the Orca Whales, or have you first Mimosa in the morning on your balcony while sailing past the ancient Glaciers of Alaska.
Either way you will be doing this on one of the newest and most exciting ships to sail the Alaska route - Norwegian Joy
. Maybe we play laser tag or race around on the largest racetrack at sea. And trust us these go karts can move...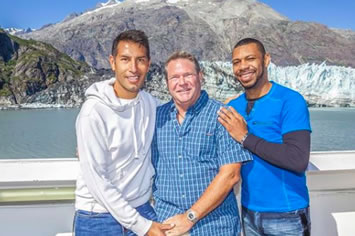 In the morning wake up to stunning scenery, crisp air, and have your coffee on your balcony. In the afternoon we have a private games and events with awesome prizes to give away. Or maybe you decide to get of the ship on one of our port of calls and watch the Lumber Jack show (HOT), or go see the sledding puppies with the group.
At night you will start with a cocktail party with all your old and new friends before we head to dinner, and on the Norwegian Joy you will always have new places to eat and try new cuisines. Wake up and do it all again for 7 magnificent nights! OH and for you shoppers, we are one of the last ships in port so all your souvenirs will be HIGHLY discounted and on SALE... Yes, we said SALE!!
Oh and if it cant get any better... It can. Kick off your Sunday shoes and get ready to experience the rockin' hits and dynamic new musical renditions of Footloose, debuting for the first time at sea on Norwegian Joy. Featuring the hit music of Grammy Award winning artist, Kenny Loggins, Footloose celebrates warm and open minds.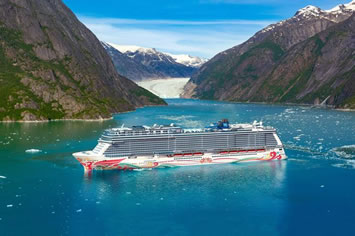 Your Ship - Norwegian Joy
Find your happy place on board Norwegian Joy
when she cruises from the west coast to Alaska. Enjoy a rush like no other as you race in the middle of the ocean on a thrilling two–level race track. Immerse yourself in all the wonder of a virtual world in the Galaxy Pavilion. Be pampered in luxury in our new, spacious and beautifully appointed Concierge accommodations. Explore the wilds of Alaska including pods of whales up close in untouched Icy Strait Point. Enjoy vacation experiences that will delight your senses and calm your soul on Norwegian Joy.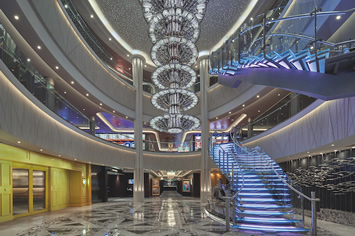 Race Track
Go for the checkered flag on a thrilling two-level racetrack in the middle of the ocean - the first ever at sea. Whether you're racing through exhilarating turns or simply relaxing on the top deck, cruising with Norwegian means vacationing at your own speed.
Galaxy Pavilion
Step inside the Galaxy Pavilion and into a virtual world unlike anything you've ever seen. Immersive virtual reality experiences. Thrilling simulator rides. Interactive video walls. This is just the beginning of an exciting new world to discover.
The Waterfront
Connect with the sea on The Waterfront, our quarter-mile oceanfront promenade. Discover a new restaurant or bar each day and night! Step out into the breeze at Los Lobos, a premium Mexican restaurant celebrating traditional flavors with a modern twist. Dine oceanside at La Cucina and enjoy delicious lobster fettuccine. Or simply enjoy the view.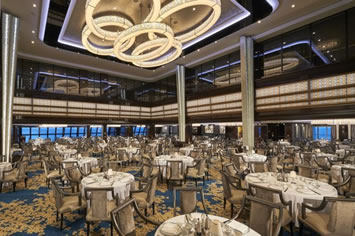 Dining / Food on Norwegian Joy
Serving a wide variety of culinary delights to please every palate, our complimentary dining options include two main dining rooms, a help-yourself buffet and a variety of casual cafés, grills and on-the-go choices. Plus, our Main Dining Rooms offer a menu that changes daily, Chef's Signature Dishes and carefully selected wine recommendations, guaranteeing a different culinary adventure with every visit.
Enjoy a night of gastronomic proportions at one of our many specialty restaurants. Sip your favorite cocktail as you select from choice cuts of Angus Beef at Cagney's Steakhouse. Enjoy delicious pasta made with the freshest ingredients inside our chic Italian eatery, La Cucina. Or savor French cuisine at Le Bistro. No matter what you choose, our specialty dining options feature the tastes you'll crave.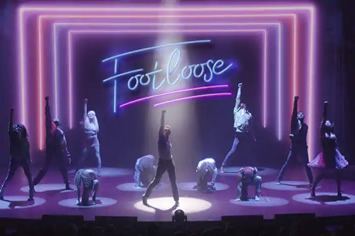 Entertainment on Norwegian Joy
When it comes to entertainment on Norwegian Joy, you won't believe your eyes or even your ears. Get mesmerized by the awe-inspiring acrobatics in Elements. On Norwegian Joy it's showtime, all the time.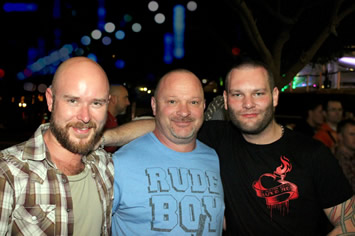 Only for Bears!
• All Our Events are exclusively for our LGBTQ & Bear Guests and most events are private
• Fun and entertaining Private parties just for our guests.
• Prizes for best costumes and other fun events.
• Private Dance Parties
• Dedicated travel professionals of Bearibbean will escort you along the way to help answer all your questions, hosting this event and to ensure a wonderful time.
• Crazy and Fun Gaymes for everyone to enjoy.
• Private optional gay group excursions with vetted tour guides so you can be yourself.
• Host hotel in Gay Friendly Seattle, Washington with Reduced rates and transport to the ship if you come in early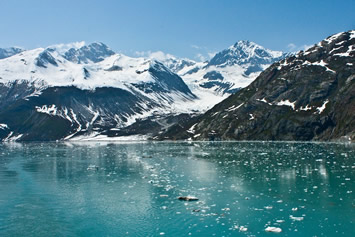 Bearibbean Alaska
Gay Bears Cruise Itinerary


Date

Port

Arrive

Depart

26 Sep
Seattle, Washington
5 PM
27 Sep

Fun Day at Sea!

28 Sep
Ketchikan, Alaska
7 AM
3 PM
29 Sep
Juneau, Alaska
7 AM
1:30 PM

29 Sep

Endicott Arm & Dawes Glacier Cruising
30 Sep
Icy Strait Point, Alaska
7 AM
5 PM

01 Oct

Fun Day at Sea!

02 Oct
Victoria, British Columbia, Canada
12 PM
7 PM

03 Oct

Seattle, Washington
6 AM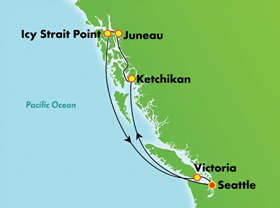 • Disembarkation usually begins 2 hours after docking.
• Due to security reasons, all guests must be on board 2 hours before sailing.
• Itinerary is subject to change at any time without notice.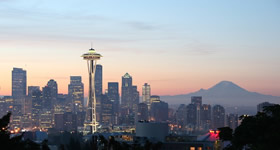 Seattle, Washington
Seattle
sits on the slip of land between Puget Sound and Lake Washington, with the Olympic and Cascade Mountains serving as a dramatic backdrop for this oh-so cosmopolitan city. Soar up the futuristic Space Needle and experience the views atop this stunning landmark created for the 1962 World's Fair.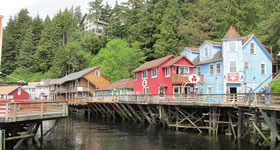 Ketchikan, Alaska
Its Tlingit Indian name, Kach Khanna, means "spread wings of the eagle". Chances are you'll see one of these magnificent birds perched atop a Sitka tree. Thanks to its abundant rainfall, Ketchikan is surrounded by some of the world's most lush wilderness.
Ketchikan was originally founded as a Native American fishery before growing during the 1898 Gold Rush to the Klondike. Much of the town's colorful past is still evident, both in the city center and especially in the nearby Native American villages, where visitors will be enchanted by colorfully carved totem poles and the fascinating legends that surround them.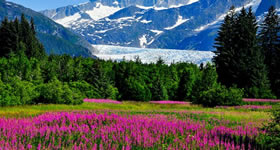 Juneau, Alaska
Juneau, Alaska's remote capital, sits in the state's panhandle, at the base of 3,819-ft. Mount Roberts. It's a popular cruise-ship stop, reachable only by boat or seaplane. A tram carries visitors 1,800 feet up Mount Roberts to an alpine area with hiking trails, wildflowers and views of Gastineau Channel.
Juneau has been called "Alaska's peak experience", certainly due in part to its unparalleled glacier viewing from such places as Tracy Arm Fjord, the Juneau Icefields and Glacier Bay National Park. Kayak up one of the area's many protected waterways, go flightseeing, tour historic downtown or try your hand at panning for gold. The majestic Mendenhall Glacier lies nearly 12 miles outside Juneau, a treck worthwhile.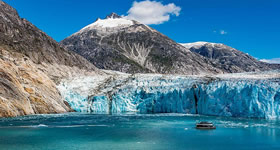 Endicott Arm & Dawes Glacier
This is why visitors come to Alaska-to see glaciers as magnificent as Dawes-and getting there is half the excitement. From Stephens Passage, your ship will turn into the glacially carved fjord of Endicott Arm, the southern sister fjord to Tracy. However, Endicott is special. It's the fjord less travelled, and at its head, Dawes Glacier. But first, the 31-mile fjord. Sheer granite walls. Plunging waterfalls. Spruce and hemlock trees clinging to the steep sides. It is the definition of pristine.
Look for "bergy bits," floating chunks of glacial ice, some looking more like sculptures, some with resting seals on top. Keep an eye open for bears, mountain goats and whales, too. As we approach the glacier, listen for thunderous cracks and have your camera ready. Dawes is an active tidewater glacier that recedes daily causing calving, where huge hunks of ice plunge into the sea. At 600 feet tall and a half-mile wide, this blue-hued, powerful glacier may be the highlight of your Alaska cruise.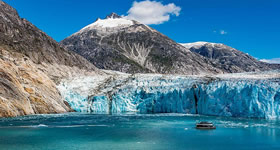 Icy Strait Point, Alaska
Venture "where the north wind doesn't blow." Known for this famous saying, Icy Strait Point is the ideal landing spot for adventurers seeking a new experience. Breathtaking and exciting, Icy Strait Point truly takes you where the wild things are. It's one of the few places in the world where wildlife outnumbers the human population. A trip here certainly satisfies your taste for adventure. Take a cruise from Icy Strait Point and enjoy Alaska's awe-inspiring scenery and the many excursion options that Norwegian Cruise Line has to offer.
Icy Strait Point offers something for every traveler. Extreme adventurers can explore the beautiful wilderness by going mountain biking, ocean kayaking, alpine hiking or deep-sea fishing. Those seeking a more relaxed adventure can watch a Native dance performance, learn about the town's historic cannery at the museum or shop for arts and crafts.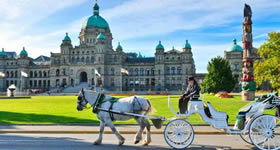 Victoria, British Columbia
Roam the spacious lawns of stunning Butchart Gardens with its exotic flora, unusual topiary and exquisite fountains. Explore historic Bastion Square, the treasures of Chinatown and the many sights and sounds to be found along the boardwalk of the Inner Harbour.
British, and darn proud of it. The shops are stocked with Harris tweeds, Irish linens and Scottish woollens. The locals play croquet, double-decker buses wend their way through the well-kept streets, and afternoon tea is served daily at the Empress Hotel. In fact, genteel Victoria, British Columbia so closely resembles an English seaside town that it almost seems out of place among the majestic snow manteled mountains and cedar forests that surround it. This juxtaposition, of course, only adds to its charm.