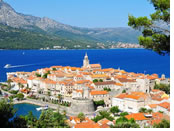 A unique small ship gay cruise on the lavishly designed new deluxe MS Apolon. Cruise along the charming Croatian coastline and islands from Dubrovnik to Dubrovnik including exciting sightseeing experiences and visits to the Elaphiti Islands, Split, Mljet, Hvar, Bol, Makarska, Korcula, and more. Indulge all your senses, explore inspiring destinations, fishermen's villages and small and cosy restaurants on shore for tasting local Adriatic cuisine and nightlife.
With only 40 passengers on board, this is a relaxing gay cruise experience within a very friendly atmosphere. Intention of this cruise is to show beauty of Croatia islands and thousand year old cities and their rich history, to present Croatian lifestyle and heritage.
The Itinerary is carefully prepared in order to give you right enough time to experience current history, sufficient time to undertake your own explorations of medieval towns and islands (Split, Brac, Hvar, Korcula, Dubrovnik, etc.) and have time for sightseeing, wine tastings, enjoy island's dinner at cosy restaurants...
During this amazing gay cruise you will have the opportunity to visit the various gay and nudist beaches of the beautiful islands. Naturism is authorised on the sundeck, except when we are docked in the port.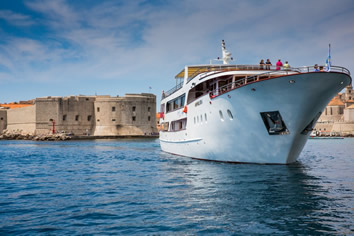 Croatia Deluxe Gay Cruise 2020 Itinerary
Day 1 - Saturday, September 26, 2020
Dubrovnik, Croatia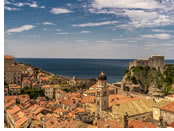 Bok! Welcome to Dubrovnik. M/S APOLON will be docked in port of Gruž in Dubrovnik
where you can board during the entire day.
Welcome cocktail and dinner on board. It is an opportunity to meet the captain, the crew and your fellow passengers. Boarding is possible all day. Passengers who arrive in the morning cannot access their cabin before 1pm. However, they can leave their luggage on board. Captain will wait for all passengers arriving late at night and these guests will be provided with cold dinner.
Overnight stay in Dubrovnik.
Day 2 - Sunday, September 27, 2020
Dubrovnik / Elaphiti Islands / Mljet National Park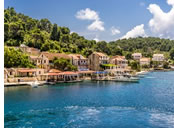 After breakfast departure to the National Park of Mljet. Boat trip through the wonderful Elaphiti Islands, with a bathing stop on the way. Lunch on board.
Upon arrival in Mljet free time to discover the park, the Big and Small Lake, the island of St. Mary and its Benedictine monastery of the 12th century. (entrance ticket to the national park not included, ± € 15).
Free evening. Overnight stay in Mljet.
Day 3 - Monday, September 28, 2020
Mjlet / Hvar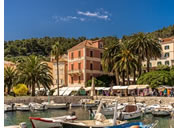 In the morning we set course to the island of Hvar. On the way we make a stop near the island of Korcula to dive in the sea. Lunch and another stop in one of the bays.
Hvar is one of the most famous islands of Croatia and a gathering place for the international jet set. Visit of the city of Hvar with a local guide to discover the cultural and historic aspects and their way of life.
Free evening. Overnight stay in Hvar.
Gay friendly Hvar: Carpe Diem bar (10m from the boat) / Jerolim Islet (can be reached by taxi boat from the harbour, 10 minutes crossing +/- 40 kunas return)
Day 4 - Tuesday, September 29, 2020
Hvar / Bol / Split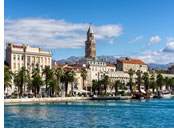 After breakfast, departure to Bol, famous for the most beautiful beach of Croatia: Zlatni Rat (Golden Cape). Stop in Bol and free time in the city. After lunch, sailing off to Split and arrival in the afternoon.
Split is the second largest urban center of Croatia and is the capital of the province of Split-Dalmatia. The city was founded about 1700 years ago and the historic city center has been on the UNESCO cultural heritage list since 1979. The historic and cultural buildings are located within the walls of Diocletian's Palace. Furthermore, this city is an important cultural attraction thanks to its numerous museums, national theater, old churches and other archaeological sites. Guided tour in the city and visit of Diocletian's Palace.
Free evening. Overnight stay in Split.
Gay friendly Split: Academia Club Ghetto (old town - Dosud ulica 10) / Duilovo Beach (10km from the city centre, can be reached from the Old Town by public bus with bus 15) / Bacvice area (15 min walking from the boat)
Day 5 - Wednesday, September 30, 2020
Split / Pucisca (Island of Brac ) / Makarska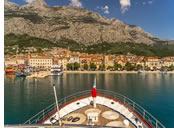 After breakfast, sailing off to the island of Brac, swim stop on the way and navigation to Pucišca. Pucišca is the largest village in the north of the island with an authentic Mediterranean architecture, a rustic atmosphere and white stone facades. Pucišca is also famous for its quarry. The stones have, amongst other things, been used for the construction of the White House in Washington DC and the parliament in Vienna. The only stone mason school in Croatia is located in Pucišca, where students carve limestone with traditional and unconventional tools that have been in use for centuries.
Lunch on board and departure to Makarska. Free evening and overnight stay in Makarska.
Gay friendly Brac: Paklina Naturist Beach
Day 6 - Thursday, October 01, 2020
Makarska / Korcula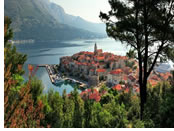 Breakfast and departure to the island of Korcula. Swim stop on the way before lunch and arrival in Korcula in the afternoon. Visit of the city. Discover the city with its old palaces in Venetian style and the small house where Marco Polo is said to be born. In the evening free time to dine in one of the restaurants.
Overnight stay in Korcula.
Gay friendly Korcula: Przina beach (in Lumbarda – 6km from Korcula centre)
Day 7 - Friday, October 02, 2020
Korcula / Dubrovnik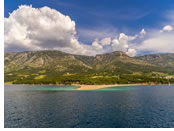 After breakfast, trip through Mljet and the Elaphiti Islands with a swim stop on the way and lunch.
Arrival in Dubrovnik in the afternoon. Guided tour in Dubrovnik, also called "The Pearl of the Adriatic". Transport from the place where the boat is anchored to the city walls is done by public transport (5min). During the tour we will see the most important points of interest and make a few photo stops. After the visit free time during which you can visit the city walls or take the cable car up the mountain. Return by public transport at 6pm or by yourself.
Overnight stay in Dubrovnik.
Gay Friendly Dubrovnik: Troubadour Hard Jazz Cafe (old town - Buniceva poljana 2) / Lokrum Beach (can be reached by boat from the harbour, 15 min crossing +/- 100 kunas return).
Day 8 - Saturday, October 03, 2020
Split / Departure
It is time to say farewell to all your new friends after breakfast.
Remark : the order of the visits can be changed. This can be determined due to the weather and falls under the captain's decision.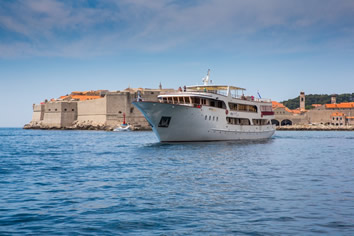 Your Ship - M/S Apolon
The new yacht-like ship M/S APOLON with its perfect size, maneuvering abilities and its elegant 20 cabins will satisfy your refined expectations for a comfortable cruise along the Adriatic Coast.
Croatian flag, length overall 49 meters and 8,50 meters in width, with two powerful engines + three generators for air-conditioning system and 220 Volts with standard cruising speed of 9 knots, bow thruster and all electronic equipment.
Experienced crew of 6 (Captain, two waiters, chef, two sailors) will make your cruise unforgettable.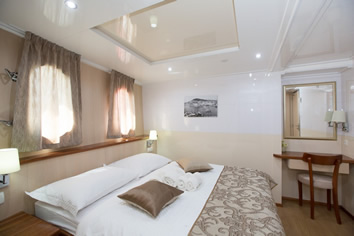 Apolon has 20 very spacious cabins with private facilities and air-conditioning providing elegance cruise for up to maximum 42 persons. Passenger cabins are situated on two decks while crew members are accommodated in separate living quarters reserved for them.
All guest cabins are very comfortable, fully air conditioned, with independent ventilation system for fresh air all the time, conveniently designed with modern private en suites, toilet and shower in cabin.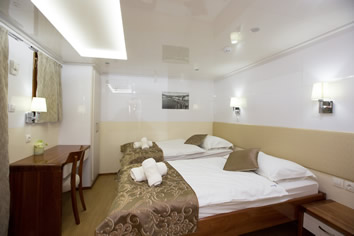 All cabins are equipped with beds in size 200×90 cm or 200×180 cm with independent air-conditioned control board, designed wallboards, working table and chair, mirror, night lamps, safe deposit box, radio, hair dryer, 220 V electric supply, lifejacket, large wardrobe and luggage space under bed, as well as the latest safety & fire alarm and sound system for notifications of a cruise manager or group leader.
Standard cabins have two portholes and dual ventilation system while main deck cabins have two windows, smaller in bathroom and larger cabin window. Cabins are sound-proof and have fire-proof door.
Mostly all of the cabins have possibility to have twin or double bed configuration and some of them a third bed on the floor (not bunk bed).