Norwegian Prima
Ship Facts
Occupancy: 3099
Crew: 1388
Tonnage: 142,500
Length: 965 feet
Decks: 20
Registry: Bahamas
Year Built: 2022

>

Iceland & Norway Gay & Bears Cruise 2023
10 nights from Reykjavik, Iceland to London (Southampton), UK
June 15 – 25, 2023
NCL Norwegian Prima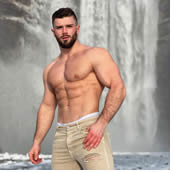 Join your gay & bear buddies and friends on remarkable and memorable BearCruise from Iceland to Norway & London, aboard one of the newest and most innovative ships, the Norwegian Prima. Experience breathtaking natural wonders up close, like the unique Blue Lagoon in Iceland, heated with geothermal energy, and full of therapeutic minerals. Enjoy a scenic drive from Akureyri to Husavik to embark upon a whale watching tour where you may encounter Humpback, Minke and Orcas before returning shoreside to visit the unique Husavik Whale Museum.
Alesund's unique layout and art nouveau architecture await your exploration, or choose to reel in a grand adventure in what is considered Norway's fishing capital.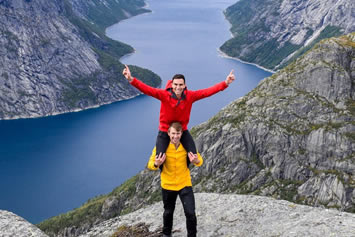 Then discover the charm, history and culture of Amsterdam on a walking tour that takes you to popular landmarks like the floating Flower Market and Dam Square. From Zeebrugge, travel inland and fall in love with Bruges, from the medieval town's meandering canals to its charming historic buildings.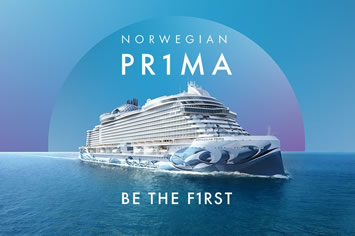 Be The F1rst!
Welcome aboard the first of a new class of ships designed to elevate every expectation. Norwegian Prima is the first cruise ship in Norwegian Cruise Line's new Prima class, and is scheduled to debut in August 2022.
Norwegian Prima has a distinctive look compared to the NCL cruise ships that preceded it. The line's luxury ship-within-a-ship area, The Haven, has been relocated to the back of the ship so all cabins and suites, as well as the area's special sundeck, face the water. This deck plan design makes the ship look like a Miami waterfront condo building.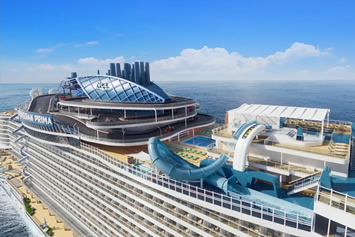 Norwegian Prima's deck plans also have an expanded outdoor space with pools and restaurants on Deck 8 called Ocean Boulevard. The area is 44,000 square feet long and wraps around the entire deck, encompassing not just restaurants and bars, but pools and relaxation space.
A first for Norwegian is The Concourse, an outdoor sculpture garden with installations designed by Alexander Krivosheiw. Two Oceanwalk glass bridges are another new deck plan feature, ready for your Insta feed. La Terraza is a new open-air lounge, meant as a retreat for sea views and as a place for people to take things easy.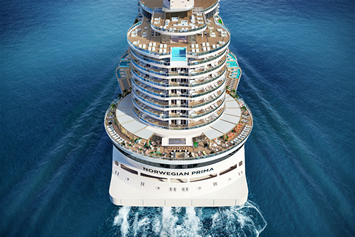 Infinity Beach is another new concept debuting on Norwegian Prima. The highlight here are two infinity pools, each on one side of the ship, to bring people closer to the sea.
Norwegian Prima debuts the line's first three-story Atrium. The glass-walled Penrose Atrium will span decks six, seven and eight will be one of the focal points on Norwegian Prima. The space will include futuristic architecture including a large-scale chandelier inspired by constellations and features moving light fixtures weighing more than 7,300 pounds (3,311 kgs).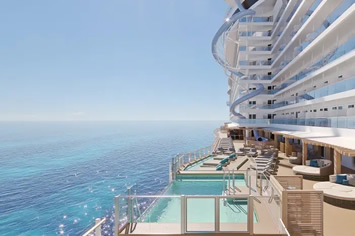 Lining the Penrose Atrium will be a three-deck-high light feature that will convey the feeling of the sun rising on the horizon and surround a three-level wall art piece that will resemble a topographic map.
You'll also find plenty of shops, bars and cafes in the Penrose Atrium, including Starbucks Coffee, the Whiskey Bar and the Prima Casino and The Penrose Bar featuring video poker machines.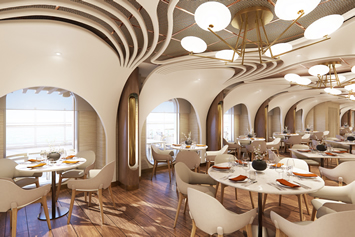 Located at the back of Deck 8, Indulge Food Hall is an upscale open-air marketplace-style eatery, with 11 different venues serving different types of cuisine.
Among the venues that are new on Norwegian Prima include Seaside Rotisserie, serving rotisserie chicken and other items; Nudis, which will have noodle dishes from around the world and Tamara, serving classic Indian dishes and vegetarian options. The Latin Quarter will serve "classic Latin food with a twist," while the Tapas Food Truck will have elevated Latin-inspired street food. Garden Kitchen will serve customized salads. Sweet lovers will gravitate to Just Desserts and Just Ice Cream.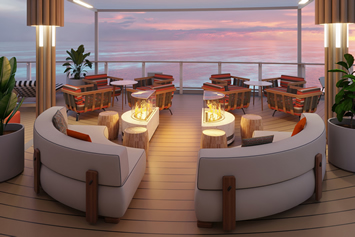 Other new venues include seafood specialty restaurant Palomar, which will feature high-end Mediterranean cuisine; Hasuki, a new take on the traditional "hibachi-style" Japanese restaurant and Nama, a new sushi bar.
Besides these new venues, Indulge Food Hall will be home to the returning restaurant Q Texas Smokehouse, as well as Coco's sweets and Starbucks.
Beyond Indulge Food Hall, Ocean Boulevard will have three specialty restaurants with indoor/outdoor seating. Los Lobos is the line's premium Mexican venue. The Local Bar & Grill has been revamped as an upscale beach club, and will have live music, cocktails and Americana cuisine.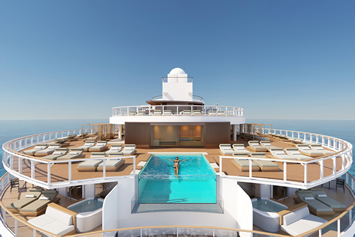 But it's not all new onboard Norwegian Prima, several of the line's most popular dining venues will return, including NCL's signature steakhouse, Cagney's Steakhouse, French specialty restaurant, Le Bistro and Food Republic, the Asian-fusion specialty venue.
Launching under the line's Sail and Sustain program, The Metropolitan Bar will feature responsibly crafted zero-waste cocktails prepared with surplus ingredients as well as offer a fully sustainable spirits menu and more than 20 biodynamic wines.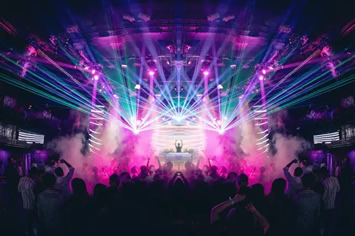 NCL has once again partnered with James Beard Award-nominee and Bar-Lab founder, Gabe Orta to pair quality cocktails with sustainably focused practices. Other new bar and lounge options on Norwegian Prima include The Belvedere Bar, a contemporary cocktail lounge featuring crafted cocktails.
Another must do for thrill seekers is The Drop, a dry, freefall slide with a 10-story plunge - creating what Norwegian is touting as "the highest G-forces of any cruise line." There's also The Rush, with dueling dry racing slides.
Other new activities on Norwegian Prima include The Bull's Eye, a twist on the classic game of darts, but with a video tracking system to automatically calculate scores -- the system can also do instant game replays. Tee Time is a new Vegas-style interactive mini-golf experience with participants competing for prizes.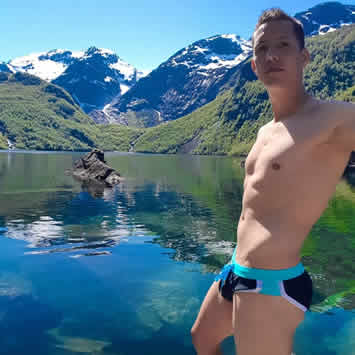 Iceland & Norway Gay & Bears Cruise 2023 Itinerary


Date

Port

Arrive

Depart

15 June
Reykjavik, Iceland
6 PM
16 June
Isafjordur, Iceland
8 AM
6 PM
17 June
Akureyri, Iceland
6 AM
4 PM
18 June

Fun Day at Sea!

19 June

Alesund, Norway
11 AM
10 PM
20 June
Olden, Norway
8 AM
7 PM

21 June

Bergen, Norway
8 AM
5 PM
22 June

Fun Day at Sea!

23 June

Amsterdam, Netherlands
7 AM
5 PM
24 June
Brussels / Bruges (Zeebrugge), Belgium
7 AM
5 PM

25 June

London (Southampton), England
6 AM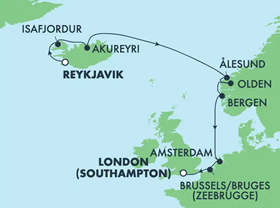 Please Note:
• Disembarkation usually begins 2 hours after docking.
• Due to security reasons, all guests must be on board 2 hours before sailing.
• Itinerary is subject to change at any time without notice.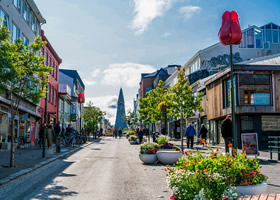 Day 1 - Reykjavik, Iceland
There's a good reason that Iceland is considered a photographer's dream destination. Its terrain is visually stunning, offering views of lava flows, hot springs, unspoiled nature - and colourful, fascinating cities like Reykjavik
. The world's most northerly capital brings together quaint villages, exciting museums, a flourishing music scene and restaurants that rival Europe's finest.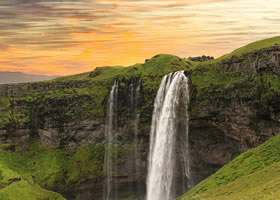 Day 2 - Isafjordur, Iceland
As the largest town in Iceland's remote Westfjords's region, Ísafjörður is a magnet for outdoor enthusiasts. Boasting an enchanting fjord ideal for watersports and a mountainous landscape brimming with opportunities for hiking, biking, horseback riding and more, there's something for everyone to enjoy. Originally a church site and a 16th century trading post, the town of Ísafjörður is home to wonderful museums and historic sites for those wishing to learn about the region's rich heritage and local culture.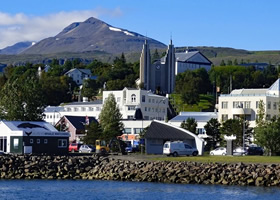 Day 3 - Akureyri, Iceland
Nestled along the shores of one of the most breathtaking fjords in Iceland, Akureyri is the nation's second largest urban area and a centre of Icelandic folk culture. Visit the museums, hike along the extraordinary vistas or explore the botanical gardens. Shop in one of the charming boutiques and then catch a glimpse of the most northerly 18-hole golf course in the world. After you've worked up an appetite, feast on some Nordic specialities like smoked lamb and fresh fish and then indulge in an Icelandic fried pastry.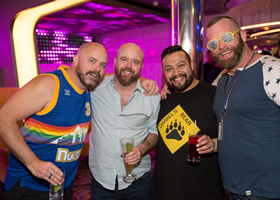 Day 4 - Fun Day at Sea!
While at sea, take the time to recharge before the next adventure. Lounge by the pool, be spoiled at the spa, taste the delicacies or explore the venues on-board, until we arrive at the next amazing destination.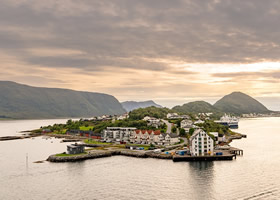 Day 5 - Ålesund, Norway
One of Norway's most beautiful towns, renowned for its Jugend-style architecture and art nouveau style. Cruise visitors will immediately notice Ålesund's unique layout, as it is built on islands extending to the sea, and offers scenic views of fjords and the Sunnmore Alps. Ålesund is the fishing capital of Norway.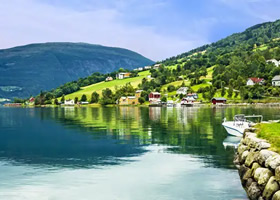 Day 6 - Olden, Norway
The beautiful views from the ship as you cruise into Olden and a natural wonderland are not to be missed. Located on the southern shore of Nordfjord, Olden is an ideal base to explore the surrounding landscape. From the picturesque village, you can journey into Jostedalesbreen National Park to hike amongst rushing waterfalls as mountains rise around Briksdal Glacier. Dramatic vistas outside of Olden are an outdoor enthusiast's paradise with a wide range of attractions and tours to suit all activity levels.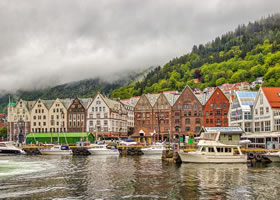 Day 7 - Bergen, Norway
View this lovely and charming Norwegian city from your cruise ship and you'll see how the city is nestled between seven mountains, seven fjords and the North Sea. The Norwegian King resided here, and many historical events took place in this busy port. These events come alive when you amble down the old streets of Bryggen, past picturesque, wooden buildings and the Romanesque-style St. Mary's church.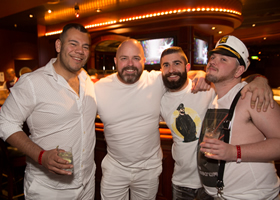 Day 8 - Fun Day at Sea!
While at sea, take the time to recharge before the next adventure. Lounge by the pool, be spoiled at the spa, taste the delicacies or explore the venues on-board, until we arrive at the next amazing destination.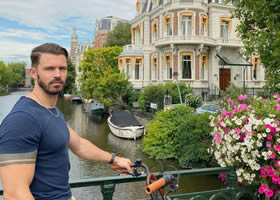 Day 9 - Amsterdam, Netherlands
Affectionately known as the "Venice of the North," Amsterdam is actually situated below sea level and built entirely on stakes driven into the ground. The Anne Frank House, The Hague and a Delft Blue Pottery Factory are but a few of the sights that await your arrival.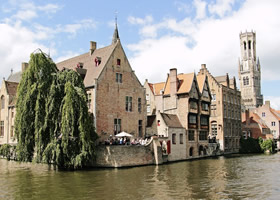 Day 10 - Brussels / Bruges (Zeebrugge), Belgium
The ultimate European city, Brussels has tonnes of museums, fountains, gardens and great shopping. Stroll the Old Town area to see St. Hubert Arcades and its shops, as well as Butchers' Street with its plethora of restaurants and cafes and the Grand Place with its Baroque guild houses.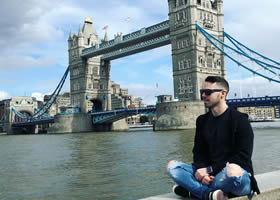 Day 11 - London (Southampton), England
Protected from the frequent storms of the English Channel by the Isle of Wight, Southampton
has survived a turbulent history to serve as a principal port of the United Kingdom today, it is a vibrant waterfront city, serviced by direct trains to London
. Pay homage to one of the most famous ships to sail these shores at the Mayflower Memorial. Visit the stoic walls of Bargate and the Tudor House Museum.