Lisbon & Portugal Douro River All-Gay Cruise 2024
9 nights from Lisbon to Porto, Portugal
September 20 – 29, 2024
Riviera River Cruises MS Douro Splendour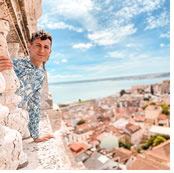 10-day all-gay adventure featuring an all-inclusive, 7 night deluxe Douro river cruise & 2 pre-cruise nights in Lisbon. Your LGBT+, all-inclusive, guaranteed full ship charter adventure begins in Lisbon, the stunning capital city of Portugal and one of the most charismatic and vibrant cities in Europe. You'll spend two days exploring the historic sites of this scenic and romantic city built on the sea. Your visit also includes the beautiful medieval city of Óbidos and lunch at a wine estate.
Your cruise journeys from the picturesque Roman city of Porto, the home of Port wine. Portugal's once-wild river Douro has been tamed by locks into a series of finger lakes, adding greatly to the valley's ambience. Leaving behind the Atlantic influenced greenery of the coast, and you are soon immersed in a Mediterranean land of olives, vines, and picturesque, medieval hilltop villages.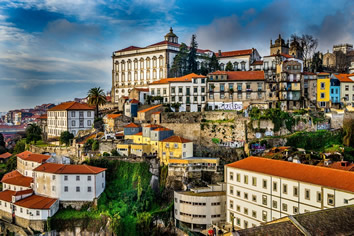 Our destination is the higher reaches of the valley from where we visit Salamanca – home of one of Europe's oldest universities, two of its finest cathedrals, Spain's finest city square and even the Inquisition!
On board the gorgeous Douro Splendor, you will be pampered by a crew of forty ensuring first-class personal service. Plus a friendly 'small ship' feel enables the ever-attentive crew to take care of all those little things – leaving you to simply sit back, relax and enjoy every minute of your sensational all-LGBT+ river cruise experience.
This cruise vacation has it all – historic sites, charming villages, world-class port wines and cuisine and more!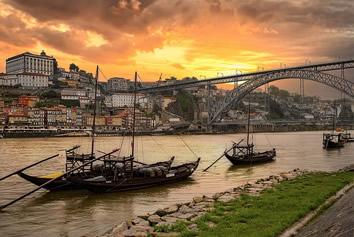 Lisbon & Portugal Douro River All-Gay Cruise Highlights
• Two nights in a 5-star hotel in central Lisbon
• Guided tour of Lisbon with its magnificent squares, Baixa and Moorish quarters, cathedrals and castles
• Seven nights on board the 5-Star Riviera Douro Splendor
• Obidos - a delightful medieval village of white houses adorned with bougainvillea and honeysuckle
• Wine tasting and dinner at a typical Portuguese quinta
• Visits to Castelo Rodrigo, Mateus Palace gardens and Lamego
• Traditional Portuguese folk music show
• A walking tour of Salamanca, followed by lunch and a flamenco show
• UNESCO World Heritage Site of Coimbra University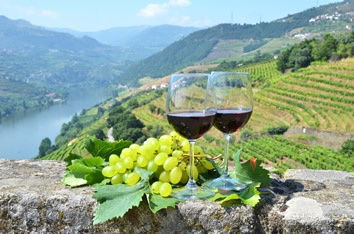 Lisbon & Portugal Douro River Gay Cruise Inclusions
• Guaranteed all-LGBT+ charter
• 2 nights hotel accommodation in Lisbon including daily buffet breakfast
• Welcome reception in Lisbon
• ½ day guided tour in Lisbon
• Transfer from the hotel in Lisbon to the ship in Porto
• Tour of the medieval village of Óbidos
• Lunch at Sanguinhal Wine Estate
• 7 nights cruise accommodation
• Complimentary beer, wine, spirits and non-alcoholic beverages throughout the cruise
• Superb Dining: all meals included during your cruise
• Complimentary shore excursions offered daily
• Brand g signature entertainment
• Full-day tour to the UNESCO World Heritage city of Salamanca
• Airport transfers in Lisbon (LIS) and Porto (OPO)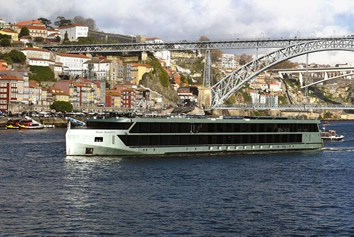 Your Ship - Douro Splendour
If cruising is an art, then this ship has truly mastered it; constructed with the very latest technology and a strong environmental ethic in mind, yet simultaneously retaining a classic, refined elegance reminiscent of cruising from a bygone era, this five-star, fully-air-conditioned river cruiser has been purpose-built to fit the unique size limitations of the Douro's five locks and features all the facilities you would expect in a top-class hotel and more so your cruise will be as relaxing as possible and your stay on board will be a uniquely memorable one.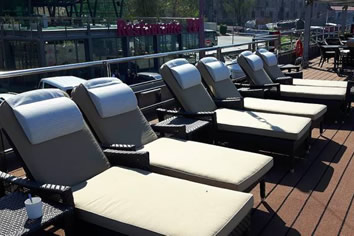 Accommodating just 126 guests in the most exquisite of surroundings, the ship's spectacular design and high specification ensures this vessel feels exceptionally light and airy. The generous ratio of 3:1 guests per crew member ensures a first-class personal service plus the friendly 'small ship' feel so beloved of Riviera River Cruise cruise aficionados, enables the ever attentive crew to revel in taking care of all those little things – leaving you to simply sit back, relax and enjoy every minute of your sensational river cruise experience.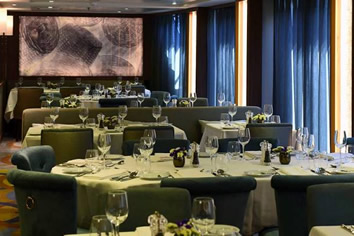 • Stunning restaurant on the Main Deck serving buffet breakfast, buffet lunch and four-course dinner
• Magnificent lounge and bar (where early risers' breakfast is served)
• Elevator from Lower to Upper Deck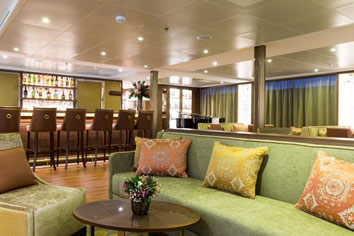 • Laundry Service
• Spa and wellness area featuring a fitness room for those of you who like to enjoy a work-out to kick-start your day
• Boutique gift shop for your vacation souvenirs
• Reception area open 24hrs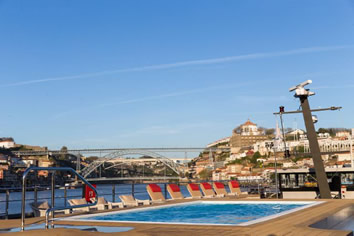 • Outdoor swimming pool located on the Sun Deck
• Thoroughly air conditioned public areas and individual heating controls in the cabins
• Tea and coffee making facilities in every cabin and suite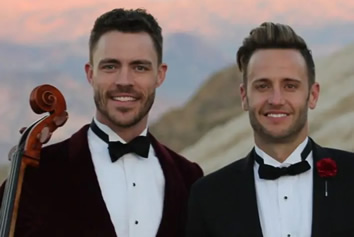 Entertainment
On a Brand g European river cruise, every night is opening night. Our cruises always include two featured acts (occasionally three) who provide nightly entertainment throughout the cruise.
Although the focus of our cruises is mainly on sightseeing and socializing, we do like to mix in a bit of frivolity as well. With that in mind, we're planning a couple of themed deck parties during the cruise. If you should choose to participate great, if you'd rather just be a voyeur that is totally fine as well.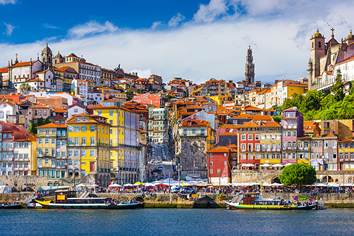 Frequently Asked Questions
When should I schedule my flights?
Arrivals:
You should schedule your flights to arrive in Lisbon Humberto Delgado Airport in Lisbon, Portugal (LIS) on or before September 20, 2024. Your first event will be a welcome cocktail reception at approximately 5:30pm on September 20th.
Departures:
You should schedule your flight from the Porto, Portugal Airport (OPO) to depart anytime on September 29th. All guests to disembark by 10:00am.
The boat is docked in Porto overnight from the 28th, and therefore you may disembark as early as necessary to catch a morning flight.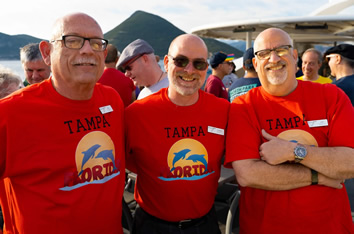 What arrival and departure transfers are included?
Arrival transfers are provided from the Lisbon Airport (LIS) to the Brand g Lisbon host hotel.
Departure transfers are provided from the ship to the Porto Airport (OPO).
If you extend your stay at in Porto, you will be provided with a transfer from the ship to that hotel. You will then need to arrange your own transfer to the airport.
Contact our team to ensure arrangements outside of these arrival and departure transfers will be included. Booked guests should provide their arrival and departure details 45 days prior to the trip to ensure transfer availability.
What should I expect on the included shore excursions?
Excursions during your travel program are mostly in groups of 25 people led by expert English speaking local guides. Utilizing wireless audio guides enables you to hear every word of your travel guide at absolutely all times. It provides maximum flexibility and convenience without missing a moment of fascinating commentary and is compatible with hearing aids.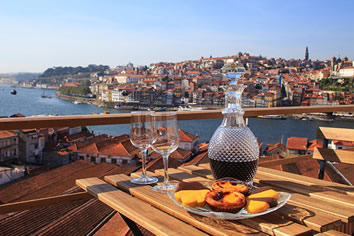 What if I have dietary requirements?
We will make every effort to accommodate special dietary requests. Please inform our office at least 45 days prior to departure of these requests.
Will there be smoking areas?
The comfort and safety of our guests is our first priority. Smoking is not permitted in the suites or enclosed, public areas on board. There is a designated smoking area on the Sun Deck. Land properties will have designated smoking areas.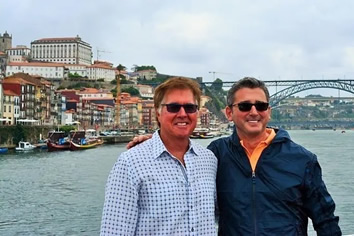 Is there a dress code?
You are on vacation and the last thing we want to impose is a dress code. We will however appreciate you wearing more than a thong or mankini at dinner and in the bar/performance area. Be as dressed up or down as you see fit as long as you are comfortable and dress appropriately for changeable weather.
What weather can I expect from this trip?
During September, temperatures in Portugal can range from low's of 58 to highs in the low 80's. There is rainfall of just under 2 inches throughout the month is some locations, and the humidity can range from quite high to very low.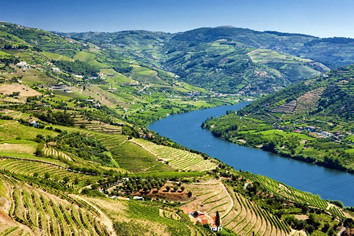 What are pre-paid gratuities?
Gratuities are customary expressions of appreciation for a job well done. It is our goal to ensure that the service you receive is as wonderful as the sites you visit. Gratuities for the included portions of this program have been pre-paid. At your own discretion you may choose to provide additional tips.
What are the passport and visa requirements?
Citizens of most countries are required to have a valid passport, which expires at least 3 months after the last day of your travels in Portugal. Some European countries require 6 months validity. Please check for your specific entry requirements.

Visas are not currently required for US citizens enter The European Union. However, if you are not a member of the European Union, you may be required to register for ETIAS visa waiver. For more information and to apply visit the ETIAS website.
Citizens of all other countries should check with the European Union consulate in their home country to verify entry requirements.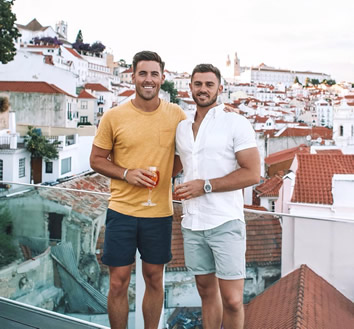 Lisbon & Portugal
Douro River All-Gay Cruise 2024
Itinerary


Date

Port

Meals

20 Sep
Lisbon, Portugal
R
21 Sep
Lisbon, Portugal
B
22 Sep
Lisbon / Obidos / Porto
B, L, D
23 Sep
Porto / Regua
B, L, D

24 Sep

Regua / Vega Terron
B, L, D
25 Sep
Vega Terron / Salamanca / Barca d'Alva
B, L, D

26 Sep

Barca d'Alva / Regua
B, L, D
27 Sep
Regua / Lamego / Entre-os-Rios
B, L, D

28 Sep

Entre-os-Rios / Porto
B, L, D
29 Sep
Porto, Portugal
B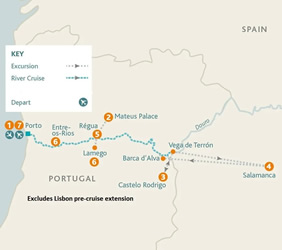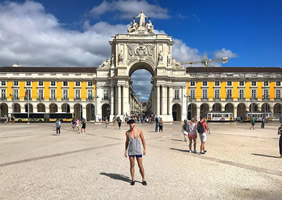 Day 1 - Lisbon, Portugal
Arrive in Lisbon and meet your local transfer representative, who will whisk you away to your hotel (Iberostar Selection Lisboa Hotel
). The balance of the day is free time to start exploring this beautiful city.
Meet your fellow guests at a welcome gathering in the early evening, at approximately 5:30pm. (Welcome Reception)
Welcome Reception, Dinner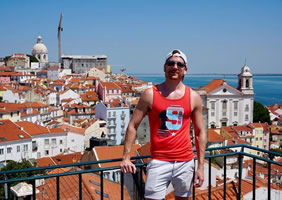 Day 2 - Lisbon, Portugal
After your included breakfast, meet your guides to start a panoramic trip in Lisbon exploring the highlights of the city. Admire the different quarters of Lisbon, with its narrow streets and alleys, and gain understanding of the historical past of the city through your expert local guide. Visit the Belem Quarter, where magnificent monuments await, and the Church of the Jeronimos Monastery. Wander around the Belem gardens and its cobblestoned streets, with the opportunity to taste one of the most famous Portuguese Pastries: our Pastel de Nata!
Breakfast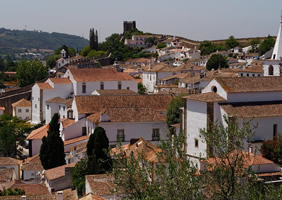 Day 3 - Lisbon / Obidos / Porto (Embarkation)
After breakfast, we depart from the hotel and proceed to Óbidos. Here, a lovely medieval village is ready to be discovered, along with the streets, the Castle and the gift shops. This delightful town of white houses adorned with bougainvillea and honeysuckle is entirely surrounded by medieval walls. Try a local favorite: a sour-cherry liqueur served in a chocolate cup!
Next we proceed to the Sanguinhal wine estate, where you will visit the vineyards, the cellar, and the distillery, and enjoy the lovely wines of this property along with a delicious locally-sourced lunch. Following lunch, sit back, relax and enjoy the rest of the journey to Porto.
Upon arrival to Porto later this afternoon. we will board the 5-Star Douro Splendor, your home for the next seven nights.
Tonight, we gather on board to meet the attentive crew of the Splendor. And after a delicious dinner, enjoy the first of your Brand g signature entertainers in the ship's lounge.
Breakfast, Lunch & Dinner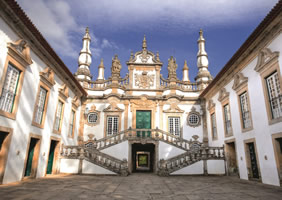 Day 4 - Porto / Regua
After your first delicious breakfast and while you linger over another coffee, you can really start to unwind as we leave the city skyline far behind. Head up on deck to appreciate the changing landscape as the river weaves its way between the lush hillsides; from the first morning on board, it's very apparent that the Douro is one of Europe's most photogenic river valleys.
Following lunch, we arrive to the small town of Peso da Régua, from where we visit the grounds of the splendid Mateus Palace. Anyone familiar with Mateus Rosé and its characteristic 'squashed' bottle will recognize the palace from the label. Whatever your opinion of the wine, it is an impressive 18th-century Baroque edifice, mirrored in its stunning pond, surrounded by landscaped French gardens.
This evening we take the short drive to the 126-acre Quinta da Pacheca for dinner. Enjoying dramatic views over the Douro, it dates back to the 18th century and is simply one of the most beautiful and distinguished properties in the region. It is also notable as being the first quinta – in 1738 – to bottle wine under the name of its owner, the aristocrat Mariana Pacheco Pereira. You have time to wander through part of the estate before sampling a selection of its finest wines at dinner. 
Breakfast, Lunch & Dinner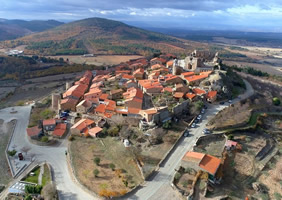 Day 5 - Regua / Vega Terron
This morning, enjoy another leisurely morning on board. One of the benefits of life aboard a river cruise is the sheer sense of relaxation it brings; our elegant ship slips its moorings during breakfast, after which there is plenty of time for a spot of pampering in the on-board spa, or to simply watch the seamless changing of the riverbank scenery passing by from the comfort of a cozy seat in the lounge. We're in port wine territory, where the lush hillsides have largely given way to a patterned landscape of terraced vineyards. Inland from the Atlantic, the climate has changed, too; it's noticeably warmer and drier, while the area has a Mediterranean appearance with orangey, earthy colors replacing verdant greens.
This afternoon, following lunch, we visit Castelo Rodrigo, a delightful 12th-century walled village tucked away in the picturesque highland ranges bordering Spain. Its church was a resting place on the pilgrimage route to Santiago de Compostela and it is said that Saint Francis himself stayed here. The views are simply stupendous, stretching across almost-deserted ochre hillsides.
This evening after dinner we will see a celebratory vintage port wine opened in the traditional way, then head up on to the lounge for another night of fun and frivolity with your Brand g Signature entertainers. Or, head up to the sun deck to listen to the unmistakable sound of crickets and breathe in the scents from the surrounding valley slopes that pervade the warm evening air.
Breakfast, Lunch & Dinner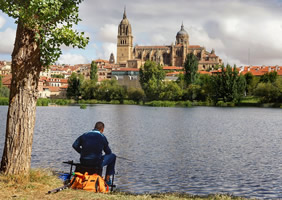 Day 6 - Vega Terron / Salamanca / Barca d'Alva
Today we visit historic Salamanca, one of the many UNESCO World Heritage Sites on this journey, regarded by many Spaniards as their nation's most beautiful city. Founded by the Romans, who erected its 389-yard-long bridge, Salamanca is mostly built from local sandstone that emanates a gorgeous rose-coloured glow in the sunlight. Perched on a hill on a bend in the serene River Tormes, the city is a picture of tranquility; but its history is turbulent, having been successively fought over by Hannibal, the Moors, then the Duke of Wellington and Napoleon.
Salamanca is dominated by its two cathedrals and its university. Founded in 1218, the university is the oldest in Spain and was one of the civilized world's most important seats of study for over 400 years. The Spanish Inquisition's records are still kept here, and as early as the 16th century it boasted some 12,000 students. Seeing its immaculately preserved lecture halls with their vaulted ceilings, it's easy to conjure an image of Christopher Columbus addressing the learned men of the day or legal experts constructing the international laws that originate here.
On arrival in Salamanca, you are free to explore as you wish. You may choose to linger, admiring the ornate interiors of its cathedrals – the more recent dates from the 16th-century – or explore its tiny streets, medieval squares, traditional shops, gardens and marketplaces.
The main square, the Plaza Mayor, was built in the 18th-century in Spanish Baroque style, with colonnaded walkways all around at ground level, ideal for finding a shaded spot to sit and watch the locals pass by.
Over lunch you enjoy a traditional flamenco show. This afternoon, we enjoy a guided tour of the city seeing the main sights.
Following our full-day tour, we return to our 5-star vessel for dinner.
Breakfast, Lunch & Dinner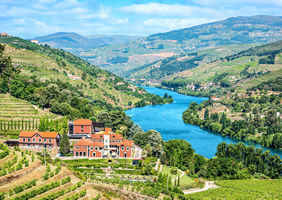 Day 7 - Barca d'Alva / Regua
Another morning of sailing brings the opportunity for pampering in the on-board spa, a workout, catching up on a book, or simply watching the seamless changing of the riverbank scenery passing by from the comfort of a cozy seat in the lounge.
We arrive later in the pretty little town of Peso da Régua. Here, we enjoy a visit to a local historic quinta to learn all about the stages of wine production, from the planting of the vines, harvesting, the wine-making process and finally tasting and labeling. No visit would be complete without sampling some of their excellent vintages, of course, so we enjoy a tasting before returning to the ship for cocktails, dinner and another night of Brand g signature entertainment.
Breakfast, Lunch & Dinner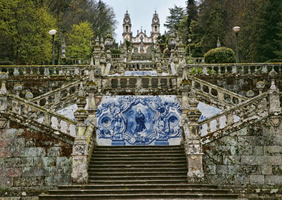 Day 8 - Regua / Lamego / Entre-os-Rios
This morning after breakfast, we take a short drive to historic Lamego, home of Portugal's sparkling wine, Raposeira, and one of the first places to be reclaimed from the Moors in the 12th century. Situated atop the hill overlooking this lovely town is the ancient Sanctuary of Our Lady of Remedies church, its stairways adorned with attractive azulejos, the country's characteristic painted ceramic tiles.
By the time we return to our ship, our chef and his team will be adding the finishing touches to another delicious lunch, ready to be served as we depart for Entre-os-Rios. After lunch, there's the perfect opportunity to take to the sun deck to enjoy the kaleidoscope of Douro views – or perhaps a spot of reading in the lounge over a cup of tea. This evening is the Captain's Dinner, a truly memorable experience featuring exquisite regional specialties, followed by a colorful performance of traditional Portuguese folk music by a local cultural group.
Breakfast, Lunch & Dinner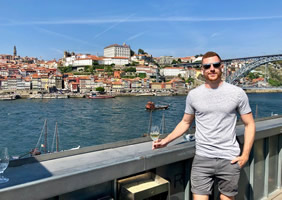 Day 9 - Entre-os-Rios / Porto
There's a perfect opportunity to avail yourself of some of the ship's range of five-star facilities this morning – maybe a little gentle exercise in the fitness room before heading up to the sun deck to enjoy a coffee while chatting with newly-made Brand g friends as our ship makes a graceful arrival in Porto once more, passing under the city's spectacular bridges.
Porto is of course synonymous with wonderful port wine and all the famous port producers are here, such as Cálem, Sandeman and Ferreira, so a visit here would not be complete without a tour of one of them. You'll learn about this fortified wine's fascinating history and its close British connections. Port is made from grapes still pressed in the traditional way – by feet – then lovingly matured, sometimes for decades, before you can enjoy its subtle flavours. Of course, you'll get the chance to sample various port styles at the end of our visit.
After lunch on board, we enjoy a guided tour of Porto. Strategically overlooking the Douro as it empties into the Atlantic, Portugal's second largest city was originally a Roman town, but its wealth derived from its knowledge of the sea routes to India, with fortunes made from trading spices, silks and other fine goods. Our tour unveils some of its major and more surprising sights.
You'll have the rest of the afternoon to explore this truly fascinating city. Return to the terraced streets of the old town and wander the sloping maze of winding, cobbled alleyways, soaking up the atmosphere while stopping to admire the lovely architecture, soaring bell towers, fine baroque churches, golden rooftops and beautiful tiles of this slice of traditional Portugal. Stop for a drink in a cozy café and be tempted by an array of delicious cakes and pastries – perhaps sample another pastel de nata, the traditional Portuguese custard tart.
This evening, enjoy a farewell dinner on board. Afterwards, settle into the lounge to enjoy a final performance from your Brand g signature entertainers and reflect on the splendors of the remarkable River Douro – over a glass of port, of course!
Breakfast, Lunch & Dinner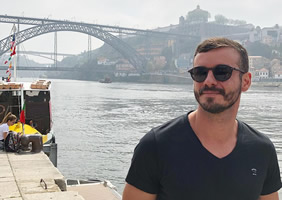 Day 10 - Porto, Portugal (Disembarkation)
This morning, the crew bids you farewell before you disembark with memories of one of the most beautiful and unspoiled corners of Europe. Porto is quite a small city, very easy to get around on foot, and just the right size for a long weekend break. There's plenty to see and do here, new dishes to try, and plenty of beautiful hotels and guesthouses to relax in.
Breakfast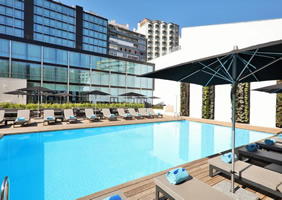 Hotel
Iberostar Selection Lisboa Hotel

September 20 - 22, 2024
The well-located brand-new Iberostar Lisboa is the key to unlocking all that the Portuguese capital has to offer: 5-star rooms, exquisite flavors, local and international cuisine, a buffet breakfast, an à la carte restaurant, and the best cocktails. Infinite relaxation with an outdoor pool with a bar on its terrace and a sun terrace.
The 5-star Iberostar Selection Lisboa is located steps from the Eduardo VII Park and the Marquês de Pombal Square, in the Lisbon centre.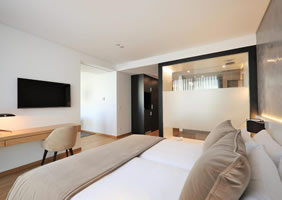 Rooms are over 300 sq ft and feature King or two twin beds, individually controlled air conditioning, safe, tea and coffee -making facilities, free wi-fi, iron and ironing board, and more.
At Iberostar's SPA Sensations, guests can enjoy the heated indoor pool, sauna, sensory shower, Turkish bath and massage services at an extra cost. The gym is free.
Additional pre-program nights available upon request. Please contact us for availability and pricing.