Paris, Normandy & Seine River All-Gay Cruise 2023
7 nights from/to Paris, France
May 24 – 31, 2023
Lüftner Cruises Amadeus Diamond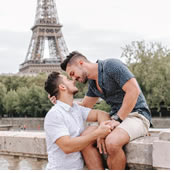 8-Day Seine River All-Gay Cruise from Paris to Paris. This week-long all-gay cruise aboard the Amadeus Diamond takes you along the winding Seine river on a fascinating journey into the past of the Impressionist masters. Follow the footsteps of van Gogh, Cezanne and Gaugin on this tour into Normandy – without doubt one of the most beautiful regions of France. Sail up to Le Havre, on the rugged Atlantic coast, and back to Paris, probably the most romantic city in the world.
Visit idyllic Norman villages that have lost none of the atmosphere that appealed so much to the artists of the 19th and 20th centuries, the "museum town" of Rouen and the picturesque harbor town of Honfleur. Get insights into the life of Josephine and Napoleon Bonaparte from their little Château on the outskirts of Paris, filled with antiques and history.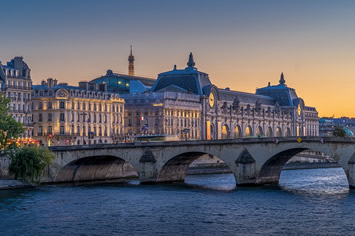 The Seine meanders on a serpentine path through the Norman countryside, an historic region of great pastoral beauty. Drift along dreamy apple orchards and medieval ruins. Explore elegant Paris. See Monet's Giverny home. And honor World War II heroes on Normandy beaches.
It is only 110 miles as the crow flies from Paris to the English Channel, but the Seine River snakes its way through 240 miles of magnificent Norman vistas. There is much to see as this waterway winds through France's history: the riverside cultural monuments of Paris, scenic vistas that still today inspire great artists, farmlands that produce Calvados apple liqueur, and so much more.
This Brand g all-LGBT+ cruise vacation has it all—historic sites, charming towns, world-class wine and cuisine and more!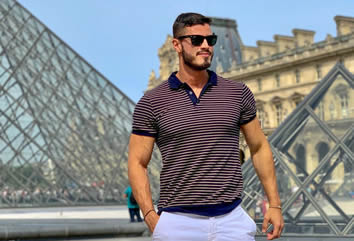 Paris, Normandy & Seine River Gay Cruise Highlights
• Church of Joan of Arc with its magnificent 16th- century stained-glass windows
• Étretat – renowned for its coastal scenery, in particular its white cliffs
• Honfleur – gorgeous maritime city with narrow streets, steeped in history, and in the footsteps of sailors, painters, artists and musicians
• Conflans – In the steps of Vincent Van Gogh & Impressionist inspiration
• Rouen - the city of 100 spires
• Le Havre – Walking tour of the cliff paths of Étretat
• Caudebec-En-Caux – D-Day Normandy landing beaches are charming villages
• Giverny – the former home of Claude Monet, Chateau Gaillard & Monet's garden
• Chateau de Malmaison - once home to Josephine & Napoleon Bonaparte
• Paris – Explore the sights of the Eiffel Tower, the bustling Champs-Élysées
• Montmartre – is the picture-postcard idea of Paris, with its narrow, winding streets peppered with steep stairways and charming lampposts and its cobbled squares filled with watercolor painters and sketch artists
Paris, Normandy & Seine River Gay Cruise Inclusions
• Guaranteed all-LGBT+ charter
• Transfer from Paris' Charles de Gaulle Airport (CDG) to the ship.
• 7 nights cruise accommodation on deluxe Amadeus Diamond
• Complimentary Wi-Fi access on board
• Complimentary beer, wine, spirits and non-alcoholic beverages throughout the cruise
• Superb Dining: all meals included during your cruise
• Complimentary shore excursions offered daily
• Brand g signature entertainment
• Transfer from the ship to Paris' Charles de Gaulle Airport (CDG) at the end of the cruise
• Services of an experienced cruise director and Brand g host throughout the cruise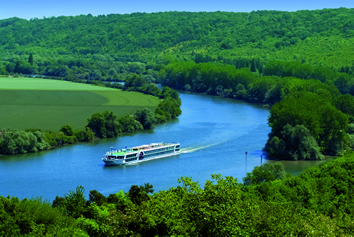 Your Ship - Amadeus Diamond
The Amadeus Diamond, which departs from Paris, travels exclusively along the Seine and allows guests to experience the charm of northern France in an unforgettable way. You will feel at home from the moment you board this stylish cruise ship, where contemporary design meets the highest levels of comfort, inviting you to relax and enjoy the exceptional ambience on board.
The ship has been a highlight of the AMADEUS fleet since it was built in 2009, and is the new jewel on the French waterways after its complete renovation in 2019. Your accommodation on board is both elegant and comfortable. All 12 suites and the majority of the 62 cabins have French balconies, as well as modern bathrooms.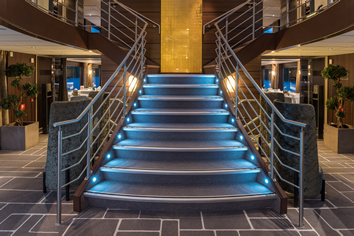 The ship offers countless options for your leisure time, from golf on the Sun Deck, to a fitness studio, to massage facilities, ensuring that every taste is catered for.
Your culinary needs will be taken care of by the Panorama Restaurant, where you can dine in style, enjoying the luxurious ambience while admiring the fascinating passing river landscapes. Diamond friendly personnel will cater to your every wish with famous Austrian hospitality.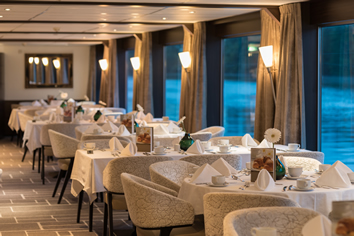 Panorama Restaurant
We set out to indulge and enthuse you through the quality, skill, friendliness and good service we provide in our wonderfully bright Panorama-Restaurant. On each cruise our master chef and his team take their inspiration for creative new ideas from the culture and produce of each country we pass through, thus taking everyone's palate on voyage of discovery as well.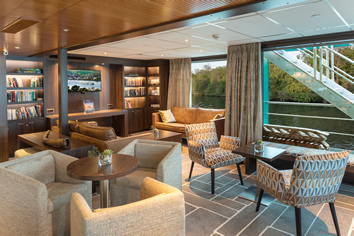 AMADEUS Club
The AMADEUS Club is the perfect place in which to share the pleasures of the day with a glass of wine in the evening and relax to the gentle sounds of jazz or classics. You can also easily send holiday greetings to all your loved ones at home from our Internet stations in the AMADEUS Club.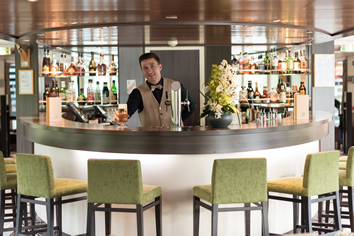 Wellness
Start a feel-good programme of your very own: You could best do this by booking a relaxing massage in our Vital club or arranging for a beauty treatment with our onboard hairdresser. An excellent way to make an active start to the day would be to join the early morning exercise group on the sun deck or visit our well-equipped fitness room, which is open for you round the clock.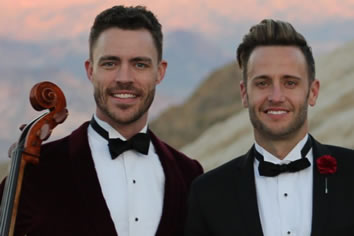 Entertainment
On a Brand g European river cruise, every night is opening night. Our cruises always include two featured acts (occasionally three) who provide nightly entertainment throughout the cruise.
Although the focus of our cruises is mainly on sightseeing and socializing, we do like to mix in a bit of frivolity as well. With that in mind, we're planning a couple of themed deck parties during the cruise. If you should choose to participate great, if you'd rather just be a voyeur that is totally fine as well.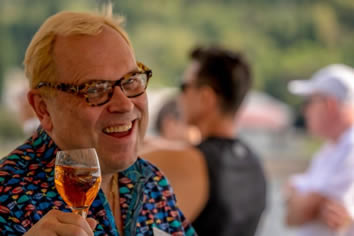 Frequently Asked Questions
When should I schedule my flights?
Arrivals: You should schedule your flights to arrive in Paris (ORY, CDG or BVA) by May 24th. The first scheduled activity will be cruise embarkation beginning at 4:00pm. If you arrive earlier than 4:00pm on the 24th you will be able to drop your luggage at the boat and enjoy the city independently until boarding begins.
Departures: You should plan to depart from Paris, France on May 31st. The boat is docked in Paris overnight from the 30th, and therefore you may disembark as early as necessary to catch a morning flight. All guests to disembark by 10:00am.
What arrival and departure transfers are included?
Arrival and departure transfers are provided from either Orly Airport(ORY), Charles de Gaulle (CDG) or Beauvais Airport (BVA) to and from the ship.
If you extend your stay pre or post trip, you will need to arrange any associated transfers independently.
What should I expect on the included shore excursions?
Excursions during your travel program are mostly in groups of 25 people led by expert English speaking local guides. Utilizing wireless audio guides enables you to hear every word of your travel guide at absolutely all times. It provides maximum flexibility and convenience without missing a moment of fascinating commentary and is compatible with hearing aids.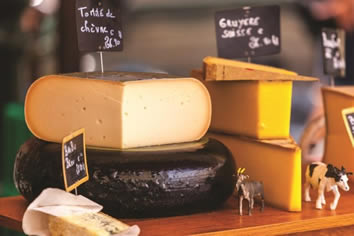 What if I have dietary requirements?
We will make every effort to accommodate special dietary requests. Please inform our office at least 45 days prior to departure of these requests.
Will there be smoking areas?
The comfort and safety of our guests is our first priority. Smoking is not permitted in the suites or enclosed, public areas on board. There is a designated smoking area on the Sun Deck. Land properties will have designated smoking areas.
Is there a dress code?
You are on vacation as the last thing we want to impose is a dress code. We will however appreciate you wearing more than a thong or mankini at dinner and in the bar/performance area. Be as dressed up or down as you see fit as long as you are comfortable and dress appropriately for changeable weather.
What weather can I expect from this trip?
Late Spring in one of the best weather times to visit France and May is no exception . The days are in 60s and the nights are in the 50s.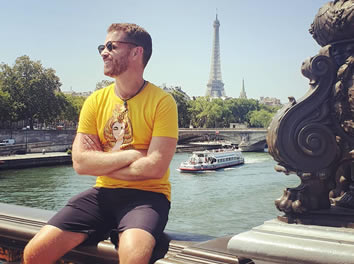 Paris, Normandy & Seine River
All-Gay Cruise 2023 Itinerary


Date

Port

Meals

24 May
Paris, France
D
25 May
Conflans, France
B, L, D
26 May
Rouen, France
B, L, D
27 May
Le Havre, France
B, L, D

28 May

Le Havre / Caudebec-En-Caux, France
B, L, D
29 May
Les Andelys / Vernon / La Mantes Jolie, France
B, L, D

30 May

Paris, France
B, L, D
31 May
Paris, France
B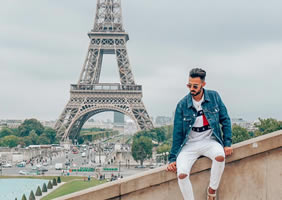 Day 1 - Paris, France
Welcome to the Paris
! Our representatives will greet you at the Charles De Gaulle airport (CDG) and transfer you to our ship. This afternoon, embark the vessel and get settled into your cabin. Embarkation beginning at 4 PM.
This evening, enjoy a Welcome Cocktail, followed by a specially-prepared Welcome Dinner.
Welcome Reception, Dinner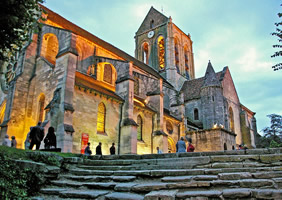 Day 2 - Conflans, France
Arrive in Conflans, at the confluence of the Oise and the Seine. Visit the little town of Auvers-sur-Oise, an inspiration to many of the famous Impressionist masters, including Cezanne, Pissarro and Daubigny. The most famous of these artists is Vincent van Gogh, whose final resting place is located here. Visit Auberge Ravoux, where Van Gogh lived in a very simple and small room only lit by sky light. Inspired by the picturesque site with its inhabitants and surroundings, Van Gogh painted close to 80 canvases here, which come alive in the winding streets of the village.
Breakfast, Lunch & Dinner
Excursion to Auvers-sur-Oise
There are only a few places more touching than this haven of peace, just 35 minutes outside of Paris. Most famous for being the resting place of Vincent van Gogh and his brother Theo, the small village idyll was home to many painters in the 1800s. Relive with your guide the final moments of the life of the artist by following the pictorial and mortuary trail of van Gogh. Be moved by his tragic fate as you climb the path leading to his grave. Experience a multimedia journey into the Château d'Auvers which traces the lives of the great masters who left their mark in the town's history: Daubigny, Pissarro, Cézanne, Monet, Van Gogh etc.
Duration approx. 4.5 hours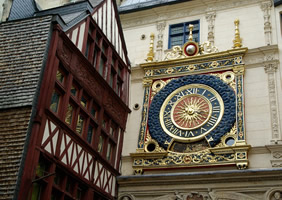 Day 3 - Rouen, France
This morning we reach Rouen, often called the "Ville musée" (Museum Town). If you enjoy museums, visit one of the many art, history, and antiquities museums scattered through the city. Visit the cathedral that inspired Claude Monet and the modern Church of Joan of Arc with its magnificent 16th-century stained-glass windows. See the "Gros Horloge," the astronomical clock, and the Parliament of Normandy. Also in Rouen is the "Place du Vieux Marché", the site where Joan of Arc was burnt at the stake. The vessel leaves Rouen later this afternoon, so you can take the time to stop in a souvenir shop, should you want to take a little piece of the Norman capital and its emotions back home in your suitcase.
Breakfast, Lunch & Dinner
Rouen walking tour
The historical capital of Normandy and a prosperous medieval city, Rouen is known for its many monuments and architectural treasures. The historic city center is a "must-see". Don't miss its fascinating heritage with Gothic churches and mansions, restored, half-timbered houses and well-maintained public gardens. We will start the morning with a walking tour, including an inside visit to the magnificent cathedral that inspired Claude Monet, and the modern Church of Joan of Arc with its magnificent 16th-century stained-glass windows.
The walking tour will also cover the "Gros Horloge", the astronomical clock, pride of the Rouennais, and the Parliament of Normandy, one of France's rare civil constructions in Gothic style in the late Middle Ages. Following this exploration, we encourage you to spend your free time at the "Place du Vieux Marché", the site where Joan of Arc was burnt at the stake.
Duration approx. 2 hours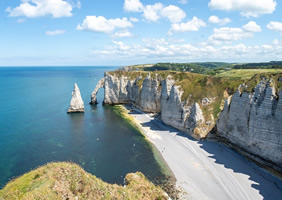 Day 4 - Le Harve, France
Although the harbor of Le Havre was greatly destroyed in World War II, it was rebuilt and continues to be an important port city in Normandy. Explore the Normandy coastline with a walk along Ètretat's cliff-top paths for a view of steep chalk rocks with impressive needle-like formations, which have inspired many well-known artists. Nearby, is the city of Honfleur, where the Seine meets the Atlantic. This harbor town is regarded as a jewel on the Côte Fleurie and is a wonderful way to spend an afternoon.
Breakfast, Lunch & Dinner
Morning Excursion to Étretat
20 kilometers (twelve and a half miles) north of Le Havre, situated on the coast of Normandy. Étretat is renowned for its coastal scenery, in particular its white cliffs. Both the cliffs and the village are scenic highlights of the region and should not be missed. Join us to feel the magic of this place, full of history and legends. This exceptional natural site will take your breath away. Begin with stunning views of the cliffs and rock formations from the clifftop path. Continue with a guided walking tour of the town.
Historically a fishing village with medieval houses and fishing cottages, Étretat became a popular seaside resort during the 19th century. Its popularity was enhanced by the large number of famous artists and authors who were inspired by Étretat. Monet, Maupassant, Victor Hugo and Flaubert were all lovers of the region around the town.
Duration approx. 4 hours
Afternoon Excursion to Honfleur
Follow your guide and enjoy a stroll through the charming city of Honfleur. This gorgeous maritime city is a town of painters and Impressionism, and possesses that something extra that makes it irresistible. The changing light on the Seine estuary inspired Courbet, Monet, Boudin and many others.
Your guide will lead you through its narrow streets, steeped in history, and in the footsteps of sailors, painters, artists and musicians. Stop at the world-famous Vieux Bassin (old port), the Lieutenancy building, from which Samuel de Champlain set out to discover Canada, the Old Salt Stores and St Catherine's Church. Today, dozens of galleries and artists' studios continue to display a wide range of classical and modern paintings. Honfleur is also the perfect place to find local arts and crafts and specialties such as cider, Calvados, caramels and more. Alternatively, you can simply enjoy your time and relax in one of the little cafes.
Duration approx. 4 hours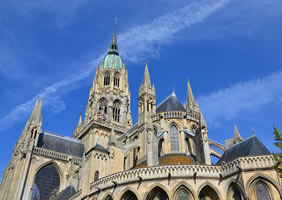 Day 5 - Le Havre / Caudebec-En-Caux, France
Today, join us on a fascinating Norman journey, a land of farmlands, beaches, towns. It is a land with a rich culinary tradition, based on its fine local produce like world-famous cheeses and apples from which cider and the brandy Calvados are made. Normandy also boasts many historic landmarks, such as the Normandy landing beaches and the city of Arromanches, the closest harbour linked with the liberation of Western Europe after D-Day. At the end of this excursion, rejoin the ship in Caudebec-en-Caux.
Breakfast, Lunch & Dinner
Full-day excursion "Fascinating Normandy" with lunch
Join us on a fascinating Norman journey, a land of farmlands, beaches, and towns with their picturesque, half-timbered houses: a bucolic scenery as a backdrop to the WWII tragic events. It is a land with a rich culinary tradition, based on its fine local produce like world-famous cheeses and apples from which cider and the brandy Calvados are made. Normandy also boasts many historic landmarks, such as the city of Arromanches, the closest harbour linked with the liberation of Western Europe after D-Day.
Enjoy a traditional Norman lunch break in Bayeux facing the famous Cathedral. Step into the story of the remarkable ascent of the Duke of Normandy, William the Conqueror in the city of Bayeux. The city boasts a fabulous historic center as well as its world-famous, UNESCO-listed 270-feet-long tapestry depicting the Norman conquest of England in 1066. In the afternoon enjoy a visit and a Calvados tasting to a traditional distillery. Discover the richness of Calvados, its history and production secrets, in the heart of Pays d'Auge. Your Norman journey will end in Caudebec where you will board the ship.
Duration approx. 11 hours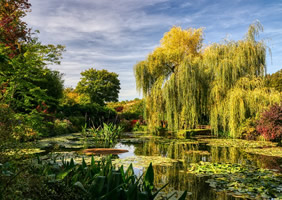 Day 6 - Les Andelys / Vernon / La Mantes Jolie, France
Today, your vessel anchors in the little town of Les Andelys in the shadow of Chateau Gaillard, the one time home to Richard the Lionheart. Relax in town or venture farther afield to nearby Giverny, home to Impressionist Claude Monet, until his death in 1926. The beautiful surroundings and vivid flora, were inspiration for some of his most famous works. Return to the ship in Vernon for lunch.
This afternoon, join an excursion to Château Malmaison, the former residence of Joséphine and Napoleon Bonaparte, to immerse yourself in the privacy of the imperial couple. Rejoin the ship in La Mantes Jolie. In the evening, the Captain's Gala Dinner is a wonderful finish to a fantastic day.
Breakfast, Lunch & Dinner
Monet's house and Garden with stop at Chateau Gaillard
Step into the past with a short drive to the white stone remains of the English king's stronghold: Château Gaillard. It was built at the end of the 12th century on a limestone promontory, overlooking the Seine. You'll be rewarded with stunning views of the river and surrounding countryside.
After a short picture stop you continue to Giverny, a village nestled in the heart of the Vexin, and a source of inspiration for one of the foremost Impressionist painters. When Claude Monet glanced out of the window of his train and caught sight of the village of Giverny, he decided then and there that this was where he wanted to live and work.
Duration approx. 4.5 hours
Afternoon Excursion to Château de Malmaison
West of Paris, surrounded by a beautiful green setting, the Château de Malmaison invites you into the intimate life of Josephine de Beauharnais, wife of Napoleon Bonaparte. The "small" mansion that Josephine purchased in 1797 was just a run-down estate in desperate need of care and devotion when she set her eyes on it while her husband Napoleon was off fighting in Egypt. Your Guide will lead you in the discovery of their daily life during the consulate and First Empire.
Duration approx. 4.5 hours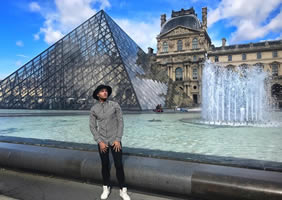 Day 7 - Paris, France
In the early morning, it is once more "Bienvenue" to the French capital. Explore the sights of the Cathedral of Notre Dame, the Eiffel Tower, and the bustling Champs-Élysées. Another interesting area to explore is quirky artists' district of Montmartre and the Sacré-Coeur, located on the highest hill in northern Paris.
Breakfast, Lunch & Dinner
Morning City tour of Paris
Your guide will share the daily life of Parisians, and reveal all the secrets and marvels of the "City of Lights". On the tour you will, of course, see the most important monuments in Paris. The sightseeing program includes the incomparable Eiffel Tower, Les Invalides, famous as the burial place of Emperor Napoleon I, the fabulous Louvre Museum, the famous and elegant Champs-Elysées, the Jardin des Tuileries, former palace gardens laid out in the French style and much more.
Duration approx. 3.5 hours
Afternoon Montmartre Tour
The hill "la butte Montmartre" is located in the 18th arrondissement and boasts a magnificent, panoramic view of Paris. With its narrow, winding streets peppered with steep stairways and charming lampposts and its cobbled squares filled with watercolor painters and sketch artists, Montmartre is the picture-postcard idea of Paris. You'll sense the contrasts of this legendary and picturesque place, where wine flowed freely and romance alternated with madness.
Duration approx. 3 hours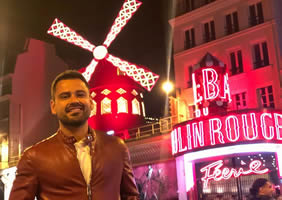 Day 8 - Paris, France
After breakfast we bid you "adieu" and hope to see you again soon! Morning disembarkation. Transfer to Paris airport (CDG) or you have the option to make your own post cruise
arrangements.
Breakfast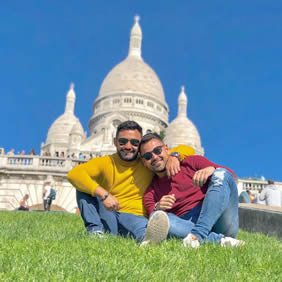 Length: 110 m • Width: 11.4 m • Guests: 146 • Year Built: 2009 • Renovated: 2019 • Decks: 4 • Guest Cabins: 74

Paris, Normandy & Seine River All-Gay Cruise 2023 Rates

Amadeus Suite
Mozart Deck (301 - 312) Suites are 22 m² / 237 sq.ft. with floor-to- ceiling sliding glass doors with French balcony, mini-bar, ample closet space, choice of bed configuration (double or twin bed), flat-screen television, individual climate control, en-suite bathroom with bathtub/WC, bathrobe, hair dryer, direct dial telephone and in-room safe.
$ 6,199

$ 6,699

Category A-1
Mozart Deck (315 - 331). (15 m² / 161.5 sq.ft.) Floor-to- ceiling sliding glass doors with French balcony, ample closet space, choice of bed configuration (double or twin bed), flat-screen television, individual climate control, en-suite bathroom with shower/WC, hair dryer, direct dial telephone and in-room safe.
$ 5,199

$ 5,699

Category B-1
Strauss Deck (201 - 228, 230). (15 m² / 161.5 sq.ft.) Floor-to- ceiling sliding glass doors with French balcony, ample closet space, choice of bed configuration (double or twin bed), flat-screen television, individual climate control, en-suite bathroom with shower/WC, hair dryer, direct dial telephone and in-room safe.
$ 4,799

$ 5,299

Category B-4
Strauss Deck (229, 231, 232, 234). (15 m² / 161.5 sq.ft.) Floor-to- ceiling sliding glass doors with French balcony, ample closet space, choice of bed configuration (double or twin bed), flat-screen television, individual climate control, en-suite bathroom with shower/WC, hair dryer, direct dial telephone and in-room safe.
$ 4,599

$ 5,099

Category C-1
Hayden Deck (101 - 106). (15 m² / 161.5 sq.ft.) Panoramic windows (cannot be opened), ample closet space, choice of bed configuration (double or twin bed), flat-screen television, individual climate control, en-suite bathroom with shower/WC, hair dryer, direct dial telephone and in-room safe.
$ 4,099

$ 4,599

Category C-4
Hayden Deck (107 - 110). (15 m² / 161.5 sq.ft.) Panoramic windows (cannot be opened), ample closet space, choice of bed configuration (double or twin bed), flat-screen television, individual climate control, en-suite bathroom with shower/WC, hair dryer, direct dial telephone and in-room safe.
$ 3,799

$ 4,299

Category C Single
Hayden Deck (111 - 112). (10 m² / 107.5 sq.ft.) Panoramic windows (cannot be opened), ample closet space, single bed, flat-screen television, individual climate control, en-suite bathroom with shower/WC, hair dryer, direct dial telephone and in-room safe.
$ 5,199

$ 5,699

The fares above are per person USD, based on double occupancy (except Single Cabins).

Port Charges of $180 per person are additional.

Pre-paid Gratuities of $175 per person are additional.

Initial deposit is $1,000 per person. The balance of the trip is due 120 days before departure on Tuesday, January 24, 2023.

Single Travelers Single supplement of $2,500 applies to single occupancy bookings in staterooms A-1 through C-4.
Amadeus Suites, 100% single supplement applies.

Traveling alone? Ask about our single roommate share program to help you avoid the single supplement charges.

Early booking rate available until May 31, 2022.

Special Airfares








Pre-Cruise Hotels







Post-Cruise Hotel