Mediterranean Odyssey Luxury All-Gay Cruise 2024
9 nights from Venice, Italy to Valletta, Malta
August 14 – 23, 2024
Atlas Ocean Voyages World Traveller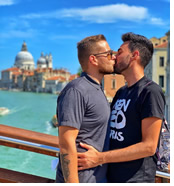 We are teaming up with Atlas Ocean Voyages to charter their brand-new small luxury-expedition ship, the World Traveler exclusively for our Brand g all-gay cruise guests. This remarkable vessel has been exquisitely designed to bring today's discerning luxury travelers extraordinary cultural experiences and adventures to remote and fascinating destinations around the world. Explore. Laugh. Dance. Smile. Relax on this unforgettable adventure of the senses.
This cruise will be preceded by our 7-day customized 5-Star luxury Tuscany, Italy vacation offering a gastronomic and cultural experience from August 7 – 14, 2024. This trip add-on will be announced soon.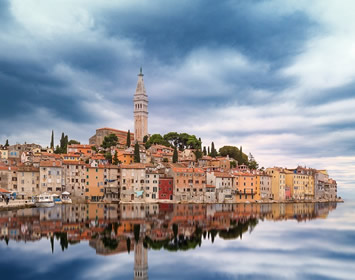 We begin our sojourn in Venice, the Northern jewel of Italy, rich in culture and a perfect location to start a 10 day Adriatic & Mediterranean luxury gay cruise adventure, built on a group of 118 small islands that are separated by canals and linked by over 400 bridges and home to many museums, historic building and landmarks.
The Po Valley opens up to the glorious Adriatic Sea, bridging the gulf between the Italian and Balkan Peninsulas. This northern most arm of the Mediterranean Sea, is home to the Croatian gems, Rovinj and Sibenik as well as the Jewel in the crown, Dubrovnik.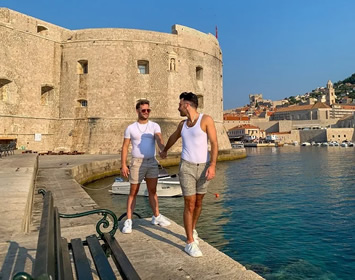 Your Mediterranean gay cruise odyssey continues south to Monopoli in the Apulia region of Italy, then back across the Adriatic to Albania before returning to the Italian Apulia region and the once ancient Grecian fishing village of Gallipoli.
Enjoy a leisurely day at sea before returning to Italy's most famous island, Sicily. Finally sail to the beautiful island of Malta, once the jewel in the British Crown and home to the late, HM The Queen.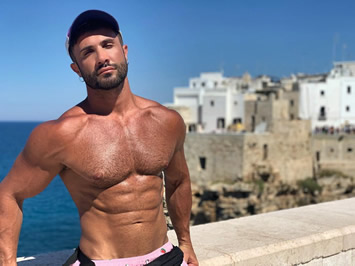 Mediterranean Odyssey Gay Cruise Highlights
• Set sail from the beautiful city of Venice
• The best of Croatia including Rovinj, Sibenik and Dubrovnik's Old Town
• See historical old port of Manopoli, Italy
• Visit Sarandë (Butrint), Albania
• See the southern Italian town of Gallipoli where the Greek dialect Griko is spoken.
• Enjoy a full day at Sea to relax and enjoy the ship.
• See beautiful and historic Noto in the Syracusa district of Sicily.
• Disembark in Valetta, Malta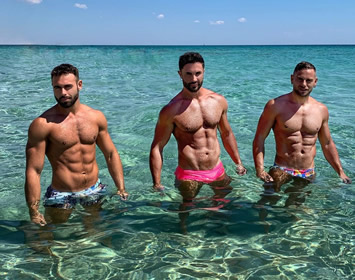 All-Inclusive Experience
• 10 Days luxe cruise accommodation
• An intimate, yacht-style cruise with impeccable service in an elegant, yet relaxed ambiance.
• Exceptional culinary adventures with five included onboard dining options with ever-changing menus inspired by global cuisines
• Unlimited wines, premium craft cocktails and brews to share with like-spirited travelers
• Personalized in-room food and beverage service
• Luxurious L'OCCITANE bath amenities
• Included Wi-Fi
• Adventure Shore Excursions with cultural immersion on every voyage
• Arrival and departure airport transfers
**Not included: International flights to and from the cruise, pre or post stays, spa treatments, optional excursions. Cruise port charges and pre-paid gratuities.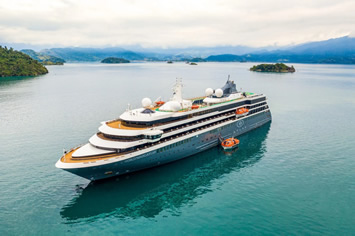 Your Ship Luxury World Traveller
Sister ship to the World Navigator, the newer World Traveller, is a yacht-style ship designed for a highly personalized and all-inclusive experience. Designed with a 1940s aesthetic inspired by the new millennium, she's a modern classic. Complete with comfortable accommodations, globally inspired gourmet cuisine and unlimited premium beverages, and an onboard life that cultivates connection with yourself and fellow travelers, she is made for you to explore your world in relaxed luxury.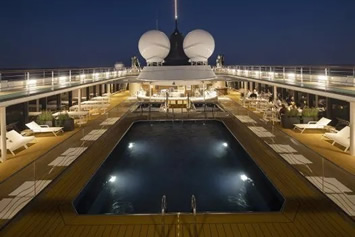 Launched in late 2022, World Traveller is equipped with the latest hybrid power management and propulsion system, maximizing fuel efficiency and consuming as low as one-fifth the fuel compared to conventional cruise-ship systems.
Navigating both remote ports and renowned destinations made for explorer spirits, allowing you to delve further into culture, history and exploration encouraging your sense of discovery and catering to your discerning tastes.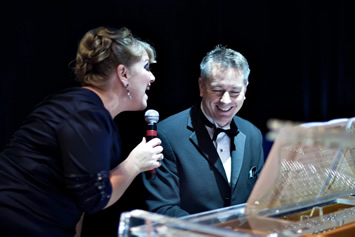 ENTERTAINMENT
Our onboard Brand g Signature Entertainment is carefully curated to create dazzling experiences, with some of our community's hottest cabaret acts, drag queens, piano artists, lecturers and much, much, more!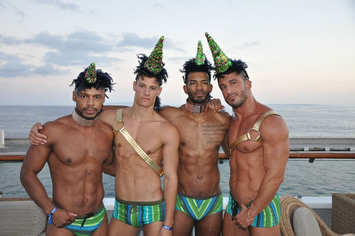 PARTY THEMES
Although the focus of our cruise is mainly on sightseeing and socializing, we do like to mix in a bit of frivolity. With that in mind, we normally plan a couple of themed deck parties during the cruise. You can choose to participate (with costumes as over the top as you'd like) or just be a voyeur! Party themes will be announced four months prior to departure.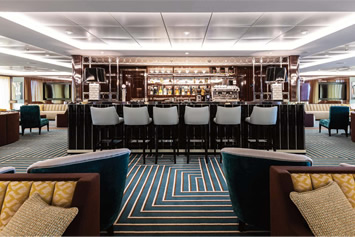 APRÈS SEA & BAR
After a day of exploration and discovery, return aboard with the day's adventures still fresh in your mind. Après Sea creates a "come as you are" atmosphere that invites travelers to get to know each other better.
ATLAS LOUNGE
Amid the vintage style of décor and a talented pianist providing the entertainment, it's easy to develop a sense of camaraderie with your fellow travelers.
THE DOME OBSERVATION LOUNGE
Relive the day's adventures with like-spirited explorers as you stargaze with 270-degree and overhead views with drinks in hand. Sip on a craft beverage as you admire the views of your bucket-list destination.
ZEPHYR LOUNGE
Aft on Deck 5 find the elegant ambiance of Zephyr Lounge. As you enjoy a glass of wine or after-dinner coffee, watch the outline of the port grow smaller and the horizon grow wider.
7-AFT POOL BAR
Lean back and relax for a casual moment at the 7-AFT Pool Bar. From fresh-pressed juices and smoothies to craft beer options, you'll find the perfect refreshment to share with new friends.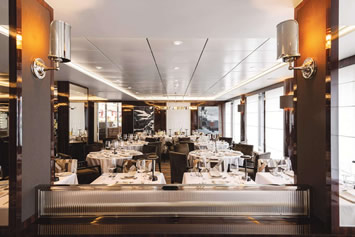 DINING
Offering 5 dining choices onboard, exerience world-class, globally inspired gourmet cuisine with our always-included onboard dining that offers extraordinary culinary adventures. 
PORTO
The main dining venue, Porto, serves breakfast, lunch, and dinner daily with an array of delectable fare, including their special ALMA menu featuring homestyle Portuguese dishes just like grandma makes.
PAULA'S PANTRY
Stop by the cozy café for a grab 'n' go snack or breakfast, including muffins, doughnuts, boost drinks, specialty teas and La Cimbali, fresh- pressed coffees. Or for a midday snack, choose from sandwiches, wraps and salads.
THE DOME OBSERVATION LOUNGE
Remember to look up or take in the 270-degree window views after your day of exploring while enjoying a wide selection of teas and a delectable spread of finger sandwiches, cookies and more.
IN-ROOM DINING
Enjoy breakfast in bed or tapas from the "always available" menu with room service delivered to your balcony or solo accommodations. As part of our suite extras, when you book a suite enjoy full room service dining.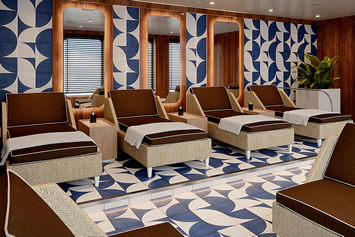 HEALTH AND WELLNESS
Some of the most remarkable journeys are the ones taken inward. Throughout your voyage, take the time to relax and stretch as well as challenge yourself and keep up with a workout routine
FITNESS STUDIO
Outfitted with state-of-the-art exercise equipment, our Fitness Studio gives you the tools you need to keep your body at peak strength.
SEASPA BY L'OCCITANE
Pamper yourself with an optional, signature treatment from SeaSpa by L'OCCITANE. Sink into total relaxation with a massage or simply sit and breathe within the heat of the sauna.
JOGGING TRACK
Take a lap or two at the jogging track on the top deck, complete with breathtaking horizons and exercise stations located throughout.
POOL, HOT TUBS & SUN DECK
Feel free to take it slow with a dip in the pool or at one of our two hot tubs. Catch the rays of the sun with an easy morning or afternoon on the sun deck. Find serenity during a yoga session with a view of the horizon. The choice is yours.