Emerald Princess
Ship Facts
Gross Tonnage: 113,561
Length: 951 feet
Beam: 195 feet
Draft: 26 feet
Cruising Speed: 21.5 knots
Guests: 3,078
Crew: 1,200
Ships Registry: Bermuda

Alaska Gay Bears Cruise 2021
7 nights from/to Seattle, Washington (USA)
May 15 – 22, 2021
Princess Cruises Emerald Princess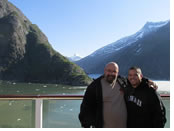 Join us on Alaska Gay Bears Cruise. We are not in the habit of telling you what to do, but after our first sailing to Alaska a few years ago we strongly suggest you visit if you have never been before. No film or book can truly capture the stunning beauty of this land - when you look out to a view that has not changed since the first men to brave this area in a hulled-out canoe laid eyes on it, it will take your breath away. You'll always remember Alaska – its forests, fjords and ice-blue glaciers, plus the welcoming towns, from Ketchikan and Skagway to Juneau... it's simply like no place else on earth.
On an Alaska cruise, you'll encounter massive tidewater glaciers, iconic wildlife, Klondike Gold Rush history and fascinating Native Alaskan cultures. You'll travel to the best places for viewing wildlife and experience scenic cruising along Glacier Bay, your Alaska vacation is a pleasure from start to finish.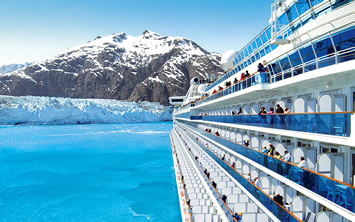 During our seven day voyage we will stop at three of Alaska's most iconic towns, Skagway, Juneau and Ketchikan. At Ketchikan and Skagway take advantage of participating in such magnificent day trips on the famed Mendenhall Glacier or a train ride on the vintage train through the White Pass. Dog sledding anyone?
In addition we visit the charming and very British town of Victoria, British Columbia (Canada) with its quaint Victorian architecture. He you may also visit the famed Buchart Gardens. Technically past rainy season (although it could still drizzle) the magnificent wild flowers will be in full bloom along with lush forests of tall pines. The temperatures will be pleasantly cool and quite comfortable.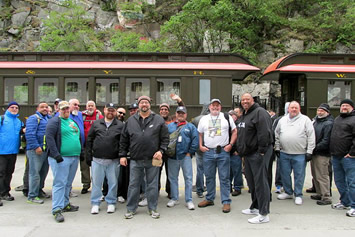 We invite you to experience an Alaska cruise vacation as only Princess can show you. One word is all you need to describe Alaska. Breathtaking! Being part of our gay group we will have private cocktail parties and events to bring us together as one happy family. By the end of the week you will have made many new friends.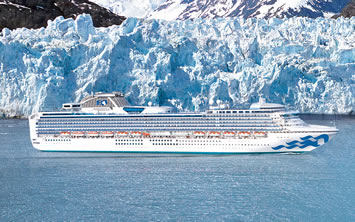 Your Ship - Emerald Princess
Emerald Princess is a modern and lavish cruise ship, with so many choices that you'll be amazed when you walk on board! Choose from different dining options, choose from spa treatments, and choose which swimming pool you want to relax by! This ship has 900 balcony staterooms, as well as endless options for entertainment! So make the right choice, and choose to take a vacation aboard Emerald Princess!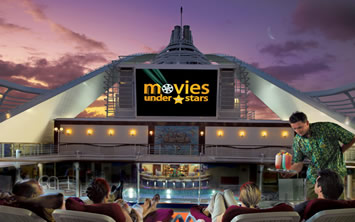 Activities on Emerald Princess
Emerald Princess has great amenities, and they're so diverse there's something for everyone to enjoy! The ship will keep you on the run - there's basketball, paddle tennis, a jogging track, shuffleboard, a gym and fitness area, and more! Check out the Lotus Spa® for an all-day pampering, or take a dip and swim against the current in the special pool! There's a nine-hole putting course, and even a virtual golf simulator so you can practice your swing! Once you've worked up a sweat, cool off poolside at the Calypso Reef, or Neptune's Reef - both of these pool areas feature two hot tubs, as does the Lotus Spa pool! There's also the Terrace pool or the Sanctuary, which is adults-only!
Head over to the boutiques on this wonderful ship, and enjoy duty-free shopping and great deals on designer clothing and gifts! There's an art gallery that features an auction, a library, a wedding chapel, conference center, and a 24-hour Internet Café with wireless accessibility! The ScholarShip@Sea makes learning fun with cooking classes, seminars about your destination, and other interesting lectures! So get ready to explore what this great ship has to offer!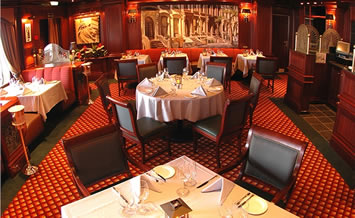 Dining / Food on Emerald Princess
Speaking of choices, dining on Emerald Princess is all personal, and all your choice! Choose the traditional dining and enjoy your meal at the same time each day in a formal dining room like the Boticelli! Anytime dining is offered in the Michelangelo Dining Room, and in the Da Vinci Dining Room. The ship even has two specialty restaurants and a very special program that serves you your meal with a breathtaking view on the balcony - Ultimate Balcony Dining! Sabatini's is an Italian restaurant with amazing food, and the Crown Grill serves steak and seafood!
There are also other options for good eats - head over to the Horizon Court Buffet and Bistro, or check out the Café Caribe! Vines is a wine and seafood bar, and there's also the Trident Grill, which serves burgers and hot dogs. The International Café is open 24-hours a day! Afternoon tea is available, and there's a pizza and ice cream bar too! Don't forget, the ship has 24-hour room service!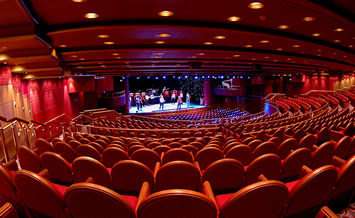 Entertainment on Emerald Princess
Emerald Princess has lots of onboard entertainment, and there's something for everyone! Get ready for a great time, featuring professional performances of musicals, live music, and comedy acts! Head to the Princess Theater to catch a show, or see a first-run movie at the Movies Under the Stars® poolside movie theater! Gatbsy's Casino has all of your favorite casino games - poker, roulette, slots, and more! The Explorers Lounge features a nightclub-style performance, while the Skywalkers Nightclub makes you feel like you're dancing in the stars - it's 15 decks above the ocean! Don't forget to check out Club Fusion!
For something a little more laidback, head over to the bars and lounges - the Wheelhouse Bar, the Adagio Bar, and the Crooners Bar are all great places to relax, enjoy a cocktail, and reminisce about the day! The Speakeasy Lounge also lets you smoke cigars, so grab a good stogie and start a great conversation!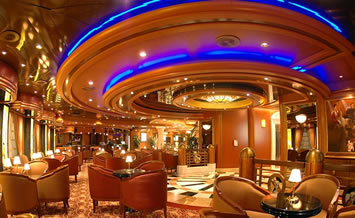 Your Bear Cruise package includes but is not limited to:
• 7 nights' accommodations
• Shipboard meals
• Limited beverages (coffee, tea and iced tea)
• Group credentials
• All cruise ship's entertainment
• Private CBC online group access to get to know others & to stay abreast of trip details
• Access to negotiated pricing at the official CBC host hotel
• Access to exclusive pre-cruise and shipboard private CBC events
• Access to group dining
• Access to optional private CBC shore excursions
• Exclusive gifts for CBC attendees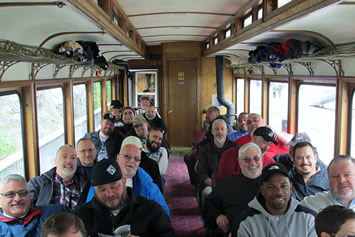 Alaska Gay Bears Cruise 2021
Itinerary


Date

Port

Arrive

Depart

15 May
Seattle, Washington, US
4 PM
16 May

A Day at Sea!

17 May
Juneau, Alaska
11 AM
10 PM
18 May
Skagway, Alaska
7 AM
8:30 AM

19 May

Glacier Bay Cruising, Alaska
6 AM
5 PM
20 May
Ketchikan, Alaska
7 AM
1 PM

21 May

Victoria, British Columbia, Canada
7 PM
11:59 PM
22 May
Seattle, Washington, US
7 AM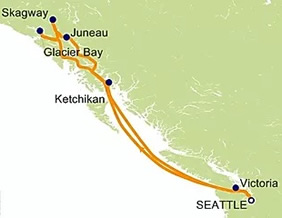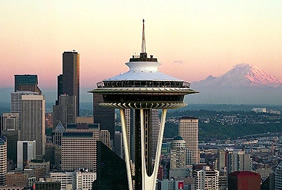 Seattle, Washington, USA
Seattle
, a city on Puget Sound in the Pacific Northwest, is surrounded by water, mountains, evergreen forests, and contains thousands of acres of parkland. Washington State's largest city, it's home to a large tech industry, with Microsoft and Amazon headquartered in its metropolitan area. The futuristic Space Needle, a 1962 World's Fair legacy, is its most iconic landmark. Just east of downtown, the Capitol Hill neighborhood has long been the city's gay epicenter, with rainbow-painted crosswalks and many ways to dive into the LGBTQ scene. Aside from Capitol Hill, there are gay-friendly and gay-owned establishments just about everywhere in town. Summer features two annual Pride festivals, while the Seattle Men's Chorus and Seattle Women's Chorus are the largest LGBTQ-identified men's and women's choruses in the world.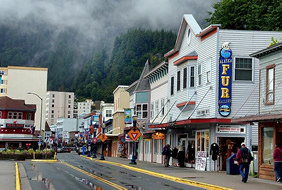 Juneau, Alaska
Juneau - the capital of Alaska - stands on one of the largest wilderness areas in the United States. Here you can spend your time viewing wildlife, taking the fishing trip of your life, exploring atop glaciers or enjoying the city's shops, restaurants and artistic flare. The second largest city in the United States by area, Juneau has been the state's capital since 1906. There are no roads connecting the city to the rest of Alaska or to the rest of North America (although ferry service is available for cars). The absence of a road network is due to the extremely rugged terrain surrounding the city. This in turn makes Juneau a de facto island city in terms of transportation, since all goods coming in and out must go by plane or boat, in spite of the city being on the Alaskan mainland. Downtown Juneau sits at sea level, below steep mountains which rise about 3,500 feet high. Atop these mountains is the Juneau Icefield, a large ice mass from which about 30 glaciers flow.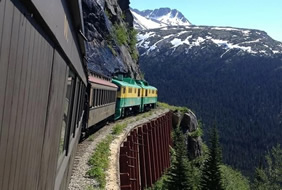 Skagway, Alaska
Skagway, also known as the Gateway to the Klondike, is a borough in Alaska on the Alaska Panhandle. The port of Skagway is a popular stop for cruise ships, and the tourist trade is a major factor for the area's business. The White Pass and Yukon Route narrow gauge railroad, part of the area's mining past is now in operation purely for the tourist trade and runs throughout the summer months. Skagway is also part of the setting for Jack London's book The Call of the Wild, Will Hobbs's book Jason's Gold, and for Joe Haldeman's novel, Guardian. The John Wayne film North to Alaska (1960) was filmed nearby.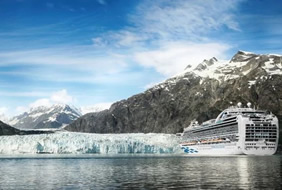 Glacier Bay National Park
Like most visitors to Glacier Bay National Park and Preserve we will arrive via our cruise ship, an ideal viewing platform for this absolutely magnificent experience featuring the spectacular scenery and wildlife that make this truly one of the most spiritual locations on Earth. The ship travels into the heart of the Fairweather Mountains for a trip back into the ice ages. Watch for icebergs and calving glaciers. Scan the shorelines for wildlife; brown bears, mountain goats, sea otters, sea lions, harbor seals, bald eagles, and a variety of seabirds are regularly seen. In addition to cruising the preserve for a full day, we will dock adjacent to a major tidewater glacier with plenty of time to reflect on the remains of what has existed for thousands of years prior to our arrival. National Park Service park rangers provide illustrative narratives and cover important aspects of our visit.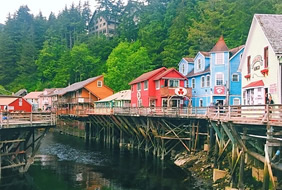 Ketchikan, Alaska
Facing the Inside Passage along Alaska's southeastern coast, Ketchikan is a popular cruise port of call featuring an easily accessible array of shopping, bars and restaurants in a setting so beautiful it almost seems like a film set. Visitors will find many Native American totem poles, on display throughout town. Nearby Misty Fiords National Monument is a glacier-carved wilderness featuring snow-capped mountains, waterfalls and salmon spawning streams. Ketchikan is also home to rich wildlife including black bears, wolves and bald eagles.
Victoria, British Columbia, Canada
Victoria, capital of British Columbia, sits on the craggy southern end of Vancouver Island. With abundant parkland, it's known for outdoor activities. The city's British colonial past shows in its Victorian architecture, including stately Craigdarroch Castle mansion. Butchart Gardens, with 55 acres of vivid floral displays, plus statuary, water features and a carousel, is one of many formal gardens in the city.