Caribbean Princess
Ship Facts
Gross Tonnage: 112,894
Length: 952 feet
Height: 193 feet
Decks: 19 feet
Cruising Speed: 22 knots
Guests: 3,142
Crew: 1,200
Ships Registry: Bermuda


Eastern Caribbean Gay Bears Cruise 2023
7 nights from/to Fort Lauderdale, Florida
November 12 – 19, 2023
Princess Cruises Caribbean Princess
Explore the sparkling magic of the Eastern Caribbean. Known for it's world-famous beaches, natural surroundings and limitless water activities, this is the perfect option for a sunny Caribbean gay bears cruise vacation. Soft sandy beaches, warm winds blowing through palm trees and crystal-clear waters stretching as far as the eye can see... that's the Eastern Caribbean cruise experience. Enjoy the calm waters around the islands and snorkel, swim and sail your way through engaging activities. Relax on world-famous beaches, cool drink in hand, for a day of rejuvenation topped off by luxurious shopping. Dive in; the Caribbean is waiting.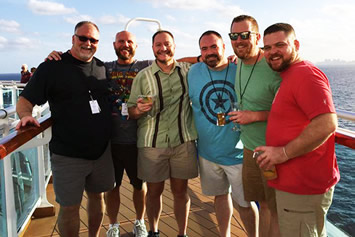 With just a little exploration on a Caribbean cruise, you can open up a world of jungle adventures, breathtaking barrier reefs and powerful cultural connections unlike any other.
With a half mile of white-sand shoreline and 40 acres of relaxation, shopping and picturesque beaches, Princess Cays is one of the best private Eastern Caribbean cruise line ports in the world. Relax in a private cabana, dive into the dozens of available water activities, explore the gorgeous back roads of Eleuthera in a dune buggy, or indulge in shopping from local craftspeople.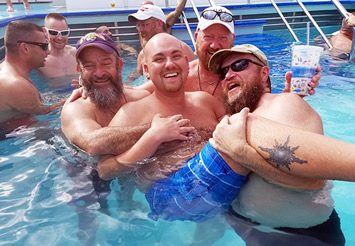 Surrounded by some of the most vibrant, healthy coral reefs of the Caribbean and filled with Bermudan-British history, Grand Turks is a rich island destination for anyone looking for the complete Caribbean cruise experience. Explore the nearby Gibb's Cay and swim with stingrays, discover the vibrant history of the island from 700 A.D. to today, or explore the beauty of the island from a dune buggy.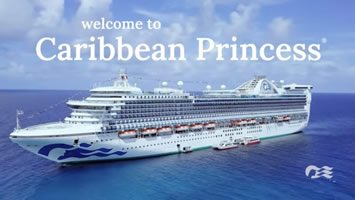 Your Ship - Caribbean Princess
Savor carefree moments at sea with enticing cuisine, engaging entertainment and venues to match every mood. Exciting adventures await aboard Caribbean Princess following her multi-million-dollar array of luxurious enhancements. From staterooms that offer a more restful sleep, to endless tempting new dining options, fresh experiences, plus other upgrades, you'll find Caribbean Princess herself has come back new.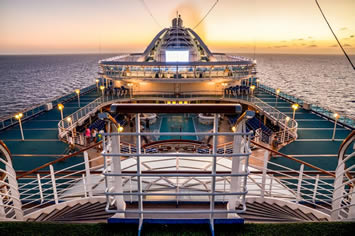 Come back new from a cruise vacation on the Caribbean Princess, one of the stars of the destination that bears her name. At her launch, this incredible cruise ship introduced Movies Under the Stars - a giant poolside movie theater featuring first run movies, concerts and sporting events. Here you can relax in a cushioned lounger with freshly-popped, complimentary popcorn under the night sky. Onboard, guests can also enjoy a variety of street performing acts in the Italian-inspired Piazza, indulge in a soothing massage from an outdoor cabana at The Sanctuary, or savor a premium steak cooked to order in the Crown Grill!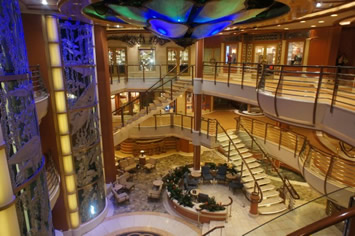 Activities on Caribbean Princess
Caribbean Princess is designed to stimulate, entertain, inspire, educate - and make you sweat! Work up a sweat in the sports facilities, where you can enjoy the gym and fitness area, a nine-hole putting course called Princess Links, virtual golf simulators, a jogging track, a basketball/volleyball court, shuffleboard and a unique swim-against-the-current pool!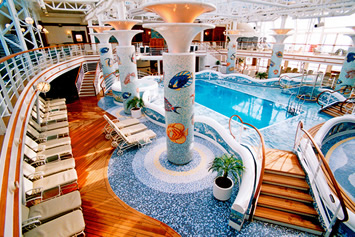 Speaking of pools, visit each of the five pools on this ship and relax in the sun! With names like the Calypso Reef (with two hot tubs), Neptune's Reef (also with two hot tubs), the Pirate's View hot tub and splash pool, the Terrace Pool, and the Lotus Spa Pool (which has two hot tubs) - you know you're in for a watery treat!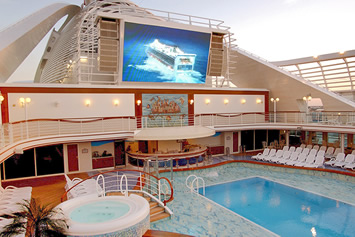 Splash around, dip your toes, or just enjoy the sun! Go shopping and browse through the great boutiques on board, which offer an art gallery, designer clothing, and gifts (all duty-free)! There's also a Hearts and Minds Wedding Chapel, a library, 24-hour Internet service (including wireless), and the ScholarShip@Sea seminars! Your day will be filled with activity!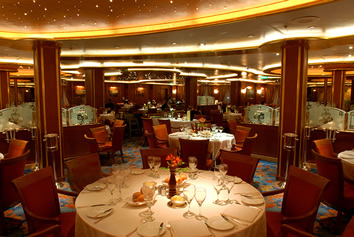 Dining / Food on Caribbean Princess
The only dining on Caribbean Princess is fine dining! Choose from Traditional Dining at the Island Dining Room, where your meals will be served at the same time every day - or go with Anytime Dining at the Coral Dining Room! The ship also offers an Italian restaurant called Sabatini's as well as the Sterling Steakhouse, and there's even Ultimate Balcony Dining, where your food will be served with a breathtaking view!
Don't forget the casual dining options, like 24-hour dining in the Horizon Court, the Café Caribe, the Lobby Bar and patisserie, the Prego Pizzeria, the Trident Grill, and the Scoops ice cream bar! There's also afternoon tea, a wine bar, and 24-hour room service!
Entertainment on Caribbean Princess
Caribbean Princess is packed with great hotspots! Sip your favorite cocktails at one of the bars and lounges, like the Wheelhouse Bar, the Churchill Lounge, the Crooners Bar, or the Jokers Card Room - and enjoy a cigar while you're at it! The Grand Casino has all of your favorite card games and slots!
The Explorers Lounge has nightclub-style performances, and the Skywalkers Nightclub is located up at 15 decks above the water! Head out into the night and dance, dance, dance! Don't forget to check out the stellar acts at the Princess Theater - and the Movies Under the Stars outdoor theater shows first-run feature-length films!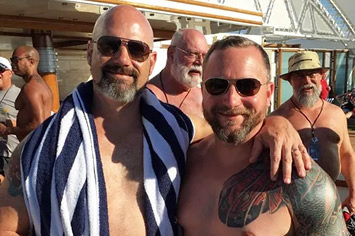 Caribbean Bear Cruise (CBC) package includes but is not limited to:
• 7 nights' accommodations on Caribbean Princess
• All shipboard meals
• Limited beverages (coffee, tea and iced tea)
• Group credentials
• All cruise ship's entertainment
• Private CBC online group access to get to know others & to stay abreast of trip details
• Access to negotiated pricing at the official CBC host hotel
• Access to all exclusive pre-cruise and shipboard private CBC dances, parties and events
• Access to private group dining area
• Access to optional private CBC shore excursions
• Exclusive gifts for CBC attendees
• Princess Cruise Line's Unlimited Beverage Package
• WiFi for one device per guest
• Gratuities for your Dining Room Staff and Cabin Stewards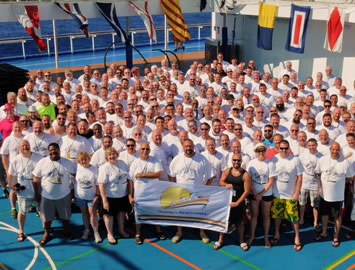 Eastern Caribbean Bears Cruise 2023
Itinerary


Date

Port

Arrive

Depart

12 Nov
Fort Lauderdale, Florida
3 PM
13 Nov
Princess Cays, Bahamas
9 AM
4 PM
14 Nov

Fun Day at Sea!

15 Nov
San Juan, Puerto Rico
7 AM
4 PM

16 Nov

Amber Cove, Dominican Republic
9 AM
6 PM
17 Nov
Grand Turk, Turks & Caicos
8 AM
5 PM

18 Nov

Fun Day at Sea!

19 Nov
Fort Lauderdale, Florida
7 AM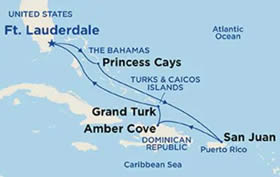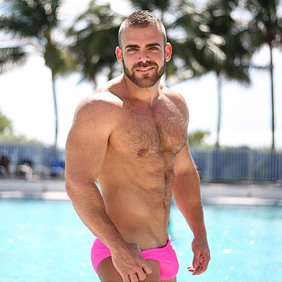 Fort Lauderdale, Florida
Experience Greater Fort Lauderdale's 23 miles of promenade-lined beachfronts and explore a destination that boasts luxury hotels, an impressive art scene, world-class restaurants, craft breweries, nightlife, shopping, casinos, and the Everglades on its doorstep. Cruise along the "Venice of America", explore shipwreck dive sites in the "Wreck Capital of Florida", and get lost in botanical gardens with lush tropical plants and native wildlife.
Fort Lauderdale is Florida's lesbian, gay, bi-sexual, transgender and family capital, and is proud to have hundreds of LGBT-owned and operated businesses in an open and welcoming community.
Plan to stay a few days before or after
your sailing to enjoy this resort-style town; have a beach day, shop and grab a drink in Wilton Manors... you'll be glad you did.
Princess Cays, Bahamas
With a half mile of white-sand shoreline and 40 acres of relaxation, shopping and picturesque beaches, Princess Cays is one of the best private Eastern Caribbean cruise line ports in the world. Relax in a private cabana, dive into the dozens of available water activities, explore the gorgeous back roads of Eleuthera in a dune buggy, or indulge in shopping featuring the wares of local craftspeople.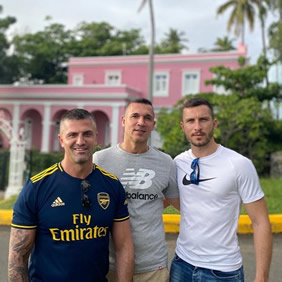 San Juan, Puerto Rico
Puerto Rico's capital and largest city, San Juan sits on the island's Atlantic coast. Its widest beach fronts the Isla Verde resort strip, known for its bars, nightclubs and casinos. Cobblestoned Old San Juan features colorful Spanish colonial buildings and 16th-century landmarks including El Morro and La Fortaleza, massive fortresses with sweeping ocean views, as well as the Paseo de la Princesa bayside promenade.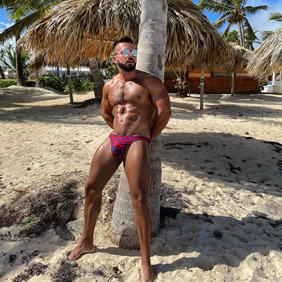 Amber Cove, Dominican Republic
Located in the province of Puerto Plata in the Dominican Republic's north coast region, Amber Cove merges the historic colonial architecture with the modern contemporary amenities of the greatest ports in the world. Amber Cove encompasses 30 acres of waterfront property and features a welcome center with myriad of retail and entertainment options.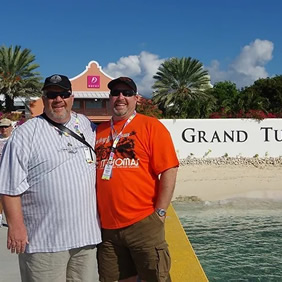 Grand Turk, Turks & Caicos
Grand Turk is the historical center of the Turks and Caicos, and is the second most populated island in the country after the island of Providenciales. Originally founded by settlers from Bermuda as a site for sea salt production in 1681, Cockburn Town on Grand Turk has been the official capital of the Turks and Caicos since 1766. Several important historic events have taken place around this small island, including being the likely spot of Columbus's first landfall in the New World, and the first dry land American astronaut John Glenn stepped foot on after orbiting Earth in 1962.