Poz Cruise Retreat 2022 - Mexican Riviera HIV Gay Cruise
7 nights from/to Los Angeles, California (USA)
January 15 – 22, 2022
Princess Cruises Majestic Princess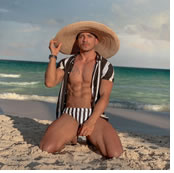 Welcome to the 16th Annual Poz Cruise Retreat! With 300+ guests expected, you will feel at home right from the first day. Our group of amazing men (and women) are very welcoming so it very easy to make long lasting friendship. Included are private events such as cocktail parties and exclusive shore excursions plus a fun game or two. In the dining room we will have our own block of tables which is always a great way to get to know people.
Feel free to table hop each night so you can meet as many people as possible. Or if you prefer enjoy the informal buffet, complimentary room service, or outstanding specialty restaurants. Our mission has always been and continues to be camaraderie and the embracing nature of the group. You will feel at ease from the very beginning.
Although a predominantly gay group, we welcome everyone of all sexual persuasions. Our core group of heterosexuals, who come every year always have a blast and add tremendous energy to the entire group. We welcome your negative family and friends. People of all sexualities are encouraged to join us for our bonding and camaraderie; family, friends, partners/spouses regardless of sero-status are also welcomed.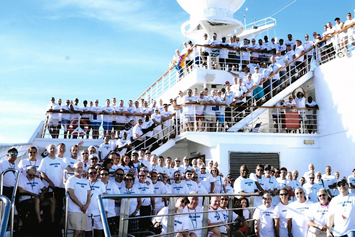 The Majestic Princess is quite stunning, sleek and elegant. Princess is well known for its excellent international cuisine and outstanding Eastern European service. Aside from our main dining room, enjoy seven dining options including Alfred's Pizzeria, Trident Grill (BBQ). One of my favorites is the International Café (open 24 hours) for breakfast before excursion or late night snacks. The Royal also offers four additional specialty restaurants that have a nominal surcharge (Crown Grill, Sabatini's, Crab Shack and Ocean Grill).
Traveling solo, fear not. Our cruises attract a large number single travelers. We offer a roommate match program to help keep your costs down. Normally a single occupancy cabin are double the normal rates.
It is most gratifying to see the large number of strong long lasting friendships that develop each year. Your new "family" awaits you . We are privileged to have many, many cruisers join us for three, five and ten years. Some never miss a year! These repeat guests give you an inkling of a new extended family waiting to meet you.
Your Cruise Retreat rate includes all your meals, basic beverages and entertainment as well as our private events.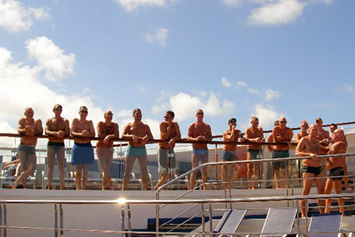 Traveling solo, fear not. Our cruise attracts a very large number of other single travelers. In fact, if you need a roommate, we do provide a roommate match program. However, if you prefer a single occupancy cabin, there will be a single supplement.
It is most gratifying to see the large number of strong long lasting friendships that develop each year. Find your new extended family. We are privileged to have many, many cruisers join us for three, five and ten years. These repeat guests give you an inkling of a new extended family waiting to meet you. Although we can not guarantee it, dozens of people have met their partner on our cruises.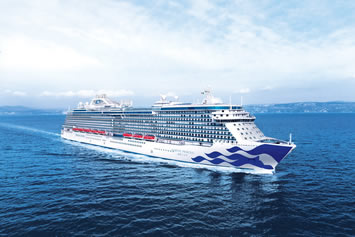 Your Ship - Majestic Princess
Majestic Princess from its breathtaking piazza-style Atrium to the dramatic views from the glass-floored SeaWalk®, Majestic Princess is sure to delight. Relax at The Sanctuary, a tranquil haven reserved for adults, watch the mesmerizing Princess WaterColor Fantasy light and water show, or dine on tantalizing cuisine at venues like Crown Grill and more.
Sail aboard Majestic Princess, the newest member of Princess fleet and enjoy the signature favorites you've always loved along with so many new exciting additions not found on any other Princess ship, including two new specialty restaurants with dinner menus crafted by two Michelin-star awarded chefs. Come aboard and find out what makes this ship so special!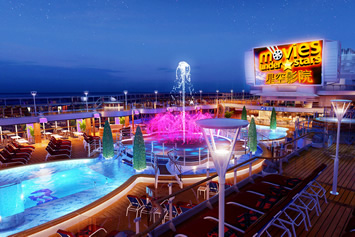 Activities on Majestic Princess
Explore the magnificent Majestic Princess and you will discover that there are so many activities to enjoy that you won't know where to begin! The Movies Under the Stars screen on this ship is the largest in the fleet, so you can enjoy first-run movies on deck; The SeaWalk and SeaView Bar offer an exciting view of your surroundings and the ocean. The ship boasts several pools, including one top-deck pool that is the largest in the fleet, as well as a spa, fitness center, and much more.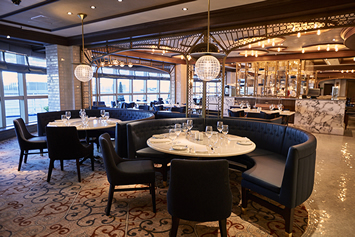 Dining / Food on Majestic Princess
Whenever you're hungry, you'll be tantalized by a variety of tempting aromas wafting from each of the restaurants and dining spots on Majestic Princess. Experience delicious cuisine prepared specially for you from scratch, no matter if you opt to dine in one of the formal dining rooms or at a casual venue! Guests can choose to eat in the privacy of the Chef's Table Lumiere, the ship's traditional dining room where you'll be assigned a set time and table to enjoy your meal at each time you go. If you'd rather a more flexible schedule, there are two forward dining rooms that offer a special menu - and you can eat whenever and with whomever you'd like.
The specialty restaurants on Majestic Princess offer menues that reflect regional cuisines from around the world, and the dishes are made with the freshest ingredients. Guests can choose from Sabatini's, an Italian restaurant, as well as the Crown Grill (a steak and seafood restaurant), as well as many others!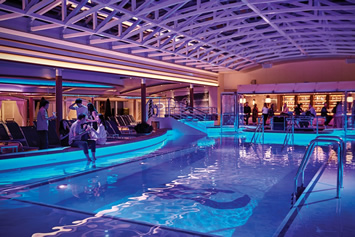 Entertainment on Majestic Princess
Each evening on the Majestic Princess will be an exciting adventure. Enjoy dazzling performances, Movies Under the Stars, and much more. The Atrium on Majestic Princess promises to be the heart of the party, with several exciting venues for drinks and entertainment. Guests can relax in Bellini's, a cocktail bar with an Italian inspiration, or the Wheelhouse Bar, which has live piano entertainment and a club-like atmosphere. Crooner's Lounge and Bar is another intriguing option, offering 75+ varieties of martinis, as well as entertainers who offer a lively performance at dueling glass pianos! Majestic Princess promises to offer the best in entertainment.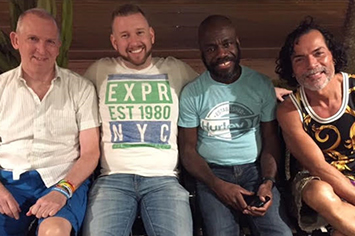 For Poz Retrat Cruise Travelers Only
Ship Board Activities:
The first night of every cruise we host a welcome cocktail party exclusively for our guests. This is the first time the entire group will have a chance to meet and mingle. We will make many useful announcements. Other private events are also planned for the week. Full details of our daily itinerary will be made available to you upon check in on the ship.
Dining:
We have confirmed a block of tables together at 7:30 PM each evening. Since we have a block of tables, you may feel free to move from table to table each evening. We encourage this so that you get the chance to get to know as many people as possible. Two nights are designated as "formal" nights meaning jacket & tie, suit or tux. Dining the rest of the evenings is casual meaning slacks and either button down or polo type shirt. All meals in the buffet are always casual.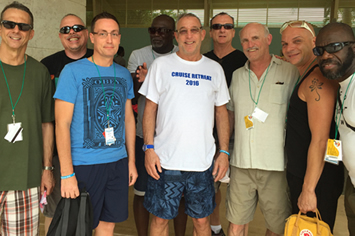 Room Mates:
We offer those who are traveling alone the opportunity to be paired up with other solo travelers. Roommate shares are not available in all categories. You may find your own roommate until final payment date. We assign roommate at the time of final payment. After you have been assigned a roommate we will introduce the two of you by email.
Shore Excursions:
The ship will offer many excursions to purchase. We however, will offer at least two or three of our own including a chartered catamaran for swimming, snorkeling and fun. Our trips are usually lower priced and include more than what the ship will offer. Information regarding our excursions will be sent to you about 60 days prior to sailing.