Explorer of the Seas
Ship Facts
Gross Tonnage: 137,308
Length: 1,020 ft
Beam: 157.5 ft
Draft: 29 ft
Cruising Speed: 22 knots
Guests: 3,286
Crew: 1,185
Passenger Decks: 14
Registry: Bahamas

Greek Isles & Italy Gay Daddy Cruise 2020
9 nights from/to Rome, Italy
August 30 – September 8, 2020
Royal Caribbean Explorer of the Seas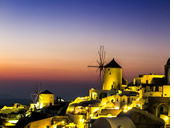 Come join our intimate and super-friendly group of Gay Daddies, admirers and friends for a special 9-night cruise to Greece, Italy & Turkey aboard the Explorer of the Seas
. Get set for out-of-this-world adventures on your fabulous Mediterranean cruise. Imagine awe-inspiring treasures in Ephesus, clear blue waters off Santorini or Play Emperor or Empress with a once-in-a-lifetime tour of Italy's eternal city. The Colosseum is yours to conquer.
Live the dream and take a holiday to Greece, where idyllic islands and ancient treasures make for the holiday of a lifetime. On your Greek islands cruise, be as active or as laid back as you wish, relaxing on heavenly beaches of gold, pink or black volcanic sand, drinking cocktails in a harbourside taverna, or swimming in waters so clear you'll see tiny fish darting between your feet.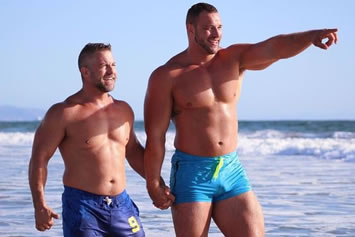 The ancient treasures of Greece are simply breathtaking, from the commanding Acropolis of Athens to the ruins of ancient Olympia near Katakolon, where the first Olympic Games were held. Stunning sunsets, picture perfect villages and delicious food all add to a magical holiday to Greece.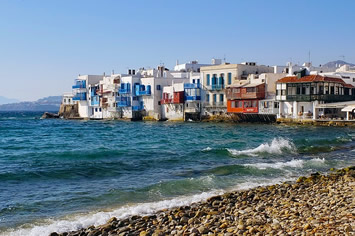 You'll be hooked by an adorable Italy cruise, where the art, architecture and scenery are enchanting and the mouthwatering food is unforgettable. Be inspired by Michelangelo's magnificent ceiling in the Sistine Chapel or the dramatic Colosseum in Rome.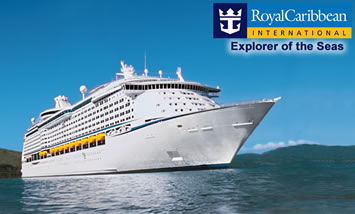 Your Ship - Explorer of the Seas
CruiseCritic gives the Explorer of the Seas
4.5 stars out of 5 and she won the 2018 award for Best Service in the large cruise ship category. After a 2015 complete renovation, she now includes an indoor ice skating rink, a 3D movie theater, rock climbing wall, surf simulator, 9-hole miniature golf course, spa/solarium complex and fitness center (called "one of the best at sea" by AvidCruiser.com), the 3-story "Palace" live theater, a huge casino, jazz club, and much more—there's something for everyone!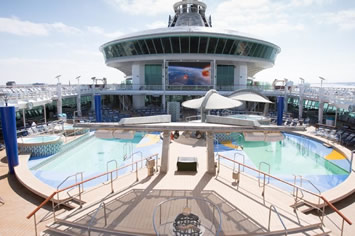 The Explorer of the Seas is a state-of-the-art, high-tech cruise ship! It's so high-tech it even hosts the University of Miami Ocean Lab, which does atmospheric and oceanographic scientific research! Not only this, but the ship also is loaded with fun things to do - there's an ice-skating rink, a rock-climbing wall, and a one-of-a-kind Royal Promenade lined with shops and fine dining! Add enhanced staterooms to the mix, and you'll never want to leave! Get ready for the trip of a lifetime, on board the Explorer of the Seas!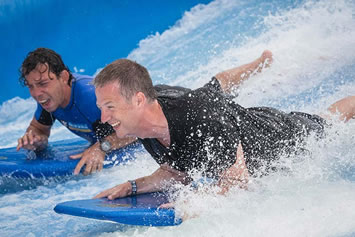 Activities on Explorer of the Seas
On Explorer of the Seas, you know you'll find something amazing to do at every turn! Do you like rocker skating? There's an in-line skating area! Prefer to ice-skate? There's an ice-skating rink onboard! If you're feeling a little more adventurous and you're not afraid of heights, climb around on the rock-climbing wall! Take a walk through the Royal Promenade and enjoy the sights and sounds of a bustling ship - and the Promenade is open 24 hours a day!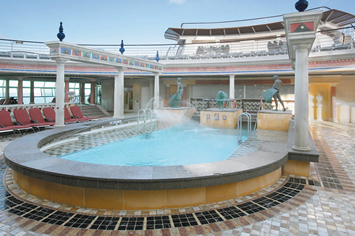 Kick back and relax poolside, or go exercise in the gym. If you want to get pampered, enjoy a day at the spa! Drop the kids off at Adventure Ocean® and enjoy a worry-free day (and the youngsters will be entertained for hours)! The ship even has organized sports and group activities! There are so many things to do on the Explorer of the Seas - the only question is, what will you do first?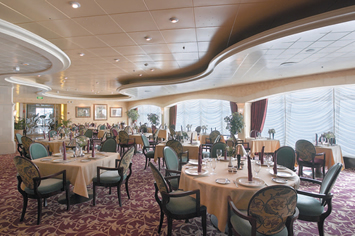 Dining / Food on Explorer of the Seas
The Explorer of the Seas features expanded dining options, including a Johnny Rockets® '50's style restaurant, themed bars, and a Portofino Italian Restaurant! The regular (and now expanded) dining options offer a full range of delicious foods, all cooked to taste! You'll find your favorite foods, and then some! Plus, there is 24-hour room service, so if you get hungry late, you can choose from the full breakfast, lunch or dinner menus! Get ready to satisfy your appetite!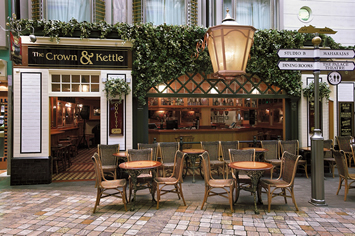 Entertainment on Explorer of the Seas
Once the sun goes down, the fun doesn't stop! You've got plenty of choices to entertain you! There are Broadway-style shows, live music performances of jazz, big band, and other kinds of music - and even parades! The parades and parties all have themes, and so do all of the bars and lounges! So check out all the different places to hang out and have a great cocktail while you do it!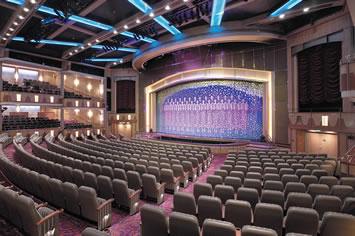 If this isn't enough, don't forget that there's a casino onboard - the Casino Royale, where you can try your luck with great friends! Dance the night away in the nightclub, or just enjoy a romantic evening with that special someone on deck looking at the stars! You'll be entertained all night long on the Explorer of the Seas!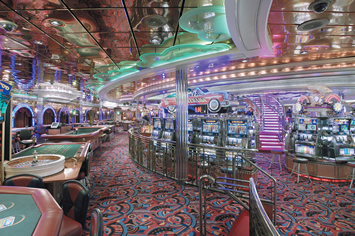 Exclusive extras for our group only
• Pre-cruise private Facebook page—start meeting and connecting with your cruise mates online long before you even leave home.
• Cruise Eve Dinner—meet your fellow travelers face-to-face, get a jump start on your vacation and a taste of your host city the night before we sail.
• Welcome Aboard Party (with free drinks!)—come meet your fellow Daddies and friends in a warm, welcoming, and casual atmosphere. Play our fun mingling/get-to-know-you activity, and start forging friendships that will last a lifetime.
• Free Welcome Aboard Gifts including a lanyard for your sailing card...and then some surprises!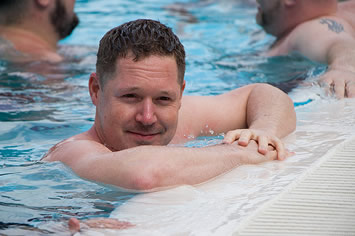 • Specially reserved group dining in the main restaurant—you'll always have a seat for dinner, surrounded by a bunch of Daddy Cruise friends.
• Onboard Host/Cruise Director—I'll be there to make sure you have a great vacation. Our colleagues will resolve any issues that may arise, answer questions, and help you enjoy your cruise to the utmost. We'll coordinate and host activities and parties each day—all of which are optional (it's your vacation: pick and choose what you want to be a part of).
• Exclusive excursions just for our group (additional fee applies)—including at least one Impact Activity where we connect with local people while performing a helpful service for the community.
• Special Daddy group activities on board (card games, trivia contests, happy hours, parties, and more)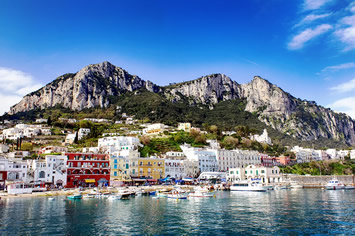 Greek Isles & Italy Gay Daddy Cruise 2020 Itinerary


Date

Port

Arrive

Depart

30 Aug
Rome (Civitavecchia), Italy
5 PM
31 Aug

Fun Day at Sea!

01 Sep
Chania (Souda), Crete
11 AM
8 PM
02 Sep
Mykonos, Greece
7 AM
7 PM

03 Sep

Ephesus (Kusadasi), Turkey
7 AM
7 PM
04 Sep
Santorini, Greece
7 AM
7 PM

05 Sep

Athens (Piraeus), Greece
6 AM
6 PM
06 Sep

Fun Day at Sea!

07 Sep

Naples / Capri, Italy
7 AM
6 PM
08 Sep
Rome (Civitavecchia), Italy
5 AM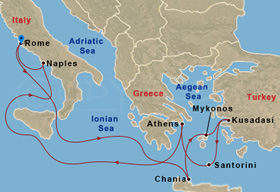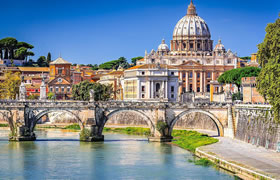 Day 1 - Rome (Civitavecchia), Italy
As we sail from the City of Love, we'll gather for a hosted LetsCruiseAway Party where you'll meet your fellow cruisers and start making new friends right away. We'll cruise down the Italian coast as the sun sets over the Mediterranean Sea.
Follow in the steps of gladiators in the Colosseum, make a splash in the Trevi Fountain or explore the stunning architecture of the Vatican and Sistine Chapel. In Rome you can lose yourself in fascinating history, shop for gorgeous fashions in exquisite boutiques or savour the delights of pizza, cappuccino or gelato. With numerous galleries, gardens and piazzas – ideal for people watching - you'll find plenty to do.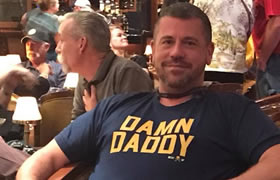 Day 2 - Fun Day at Sea!
Our first full day is at sea. Relax, unwind and get into vacation mode. Lounge on your private balcony or near one of the pools, or maybe even find a quiet nook to settle in with a book. Want to be more active on your day at sea? Play bingo, work out at the gym, scale the rock climbing wall, watch a movie, dance all night, attend a cooking seminar, soak in a hot tub, watch a sunset (or a sunrise), crawl the rope walk, play trivia games, sing along at the piano bar, do some wine tasting, check your email or surf the internet, grab a snack, watch live entertainment, get lucky in the casino, indulge in a spa treatment, go surfing (yes, on board!), catch a game in the sports bar. The list of options for you goes on and on.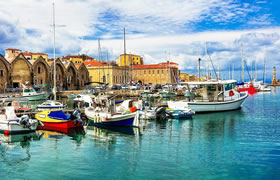 Day 3 - Chania (Souda), Crete
A city of unique beauty, Chania is filled with an abundance of fragrant flowers and boasts a rich cultural heritage that includes ancient and modern monuments. You'll want to see the 7,000 old Minoan ruins at Knossos, one of the most important archeological sites of the Bronze Age.
See gorgeous sunsets from the waterfront bars and restaurants of lovely Chania in Crete, savouring dishes inspired by Greek, Cretan, North African and Middle Eastern flavours. Soak up the sun on the beaches of Costa Costa and Agioi Apostoloi or check out Chania's beautiful old harbour, Venetian lighthouse and atmospheric shops. Nearby there are fascinating ruins and monasteries and dramatic gorges to explore.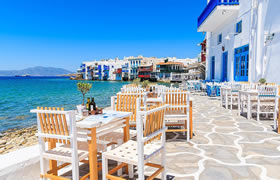 Day 4 - Mykonos, Greece
Widely recognized as a gay haven, Mykonos boasts hip boutiques, Little Venice and windmills. A stroll around town shopping or a trip to the beach are in order here. Also visit the Aegean Maritime Museum, Delos Museum (featuring artifacts from the early Archaic period through the Roman Imperial times), or the Panagia Tourliani Monastery.
Surfing, scuba diving, windsurfing, jet skiing – Mykonos is a paradise for water sports. With its whitewashed houses, iconic windmills and dazzling seas, Mykonos is for relaxation, people watching and fun. Explore the mythological birthplace of Apollo in the ruins of ancient Delos or sip cool ouzo in a beachside bar. For delicious treats, visit the Gioras Wood Medieval Bakery, which still uses a wood fired oven to make bread.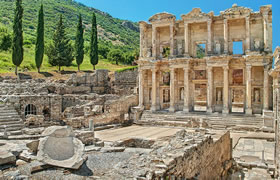 Day 5 - Ephesus (Kusadasi), Turkey
Once a Roman provincial capital, Ephesus is also home to several of Christendom's holiest sites. Be blown away by the Temple of Artemis, one of the Seven Wonders of the Ancient World, in this excavated Greco-Roman city, dating back to 6000 BC. Tread where ancient sailors, traders and pilgrims once came together in this bustling cosmopolitan port and marvel at its breath-taking columns, bath houses, library and Great Theatre. Don't miss the Ephesus Museum for a fascinating insight into the daily lives of gladiators.
Not a historian? Carpet weaving is a cottage industry in Turkey and here you can observe the different stages of the carpet making process (and perhaps find the perfect carpet to bring home with you!).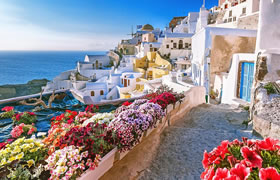 Day 6 - Santorini, Greece
Arguably one of the most beautiful spots on earth, Santorini is a must-see, for sure! Here, whitewashed buildings cling to vertiginous cliffs that plunge into the turquoise sea. Picturesque architecture, cobblestone lanes and a host of welcoming cafes, shops and blue-domed churches will charm and delight you. The vistas, from almost anywhere, are unforgettable.
The sight of spectacular Santorini will take your breath away. Be spellbound by sun-kissed beaches, cobalt seas, dazzling white houses, bright blue domes and dramatic volcanic mountains. Wander in lovely villages with narrow streets and winding steps, tasting a meze, Greek wine or pastry along the way. Secluded coves, hot springs and ancient settlements only increase the charms of this stunning island.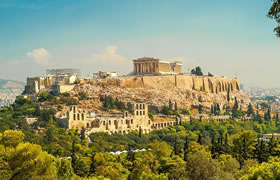 Day 7 - Athens (Piraeus), Greece
The past maintains a vibrant presence in the cradle of Western civilization. Atop the Acropolis, the serene Parthenon sails above the commotion of modern Athens. This is the birthplace of modern democracy. Below, and packed with busy shops and lively tavernas, modern Athens is a colorful counterpoint to classical Greece. Visit the Old Olympic stadium—host of the first modern games in 1896, as well as 2004.
Shop for souvenirs, jewellery, handicrafts and bric-a-brac in colourful Monastiraki Flea Market or explore the narrow streets, taverns and shops of the old Plaka district of Athens. Be impressed by the city's majestic and awe-inspiring classical sites, including the Acropolis, the National Archaeological Museum and Roman Agora, and savour the delights of Greek cuisine in the chic cafes, bars and restaurants.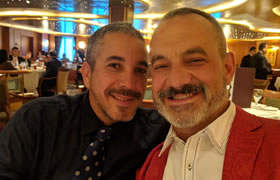 Day 8 - Fun Day at Sea!
After all this, you'll be ready for another full day at sea, either to relax…or to energize one more time! Sit back, kick off your shoes and put your feet up during our 'at sea' days, where you can chill in the bar, lounge by the pool or enjoy a relaxing beauty treatment in the spa. For simple pleasures, why not try a game of table tennis? Or if you're feeling energetic, now's the chance to explore all the amazing activities the ship has to offer, from spectacular, West-End-style entertainment to adrenalin-charged sports.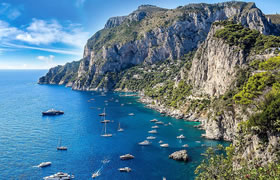 Day 9 - Naples / Capri, Italy
Smile – you're in unmissable Italy. Whizz on a zip-line over a 16th-century reservoir, hike around the rim of scary Mount Vesuvius or indulge in a boat ride to stylish Capri. Sample Limoncello liqueur, salami or fresh mozzarella and explore dramatic Pompeii and stunning Sorrento. In Naples, discover the Royal Palace, the San Carlo Opera House and the Duomo, the city's Cathedral.
Naples is Italy's 3rd-largest city, and a bustling metropolis famed for its stately buildings, crowded streets and of course its signature dish: pizza! But despite that, you'll likely want to leave the city. You face a tough choice, though: Do you tour the fabled Amalfi coast? Miles of beautiful scenery, from the fragrant lemon groves that dot the lush landscape, to the dramatic cliffs that meet the sea below. Or do you take a quick trip to Isle of Capri—posh destination of the rich and famous since Roman times? Or do you walk the ancient streets of Pompeii?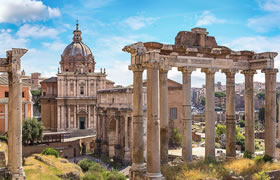 Day 10 - Rome (Civitavecchia), Italy (optional 4-day land tour)
Your cruise ends today, but your vacation doesn't have to end yet. Stick around for a few days and explore Rome with us! We offer an optional 4-day Roman holiday including hotels, tours, meals and more. Yes, see ancient Rome, modern Rome, and gay Rome with some of your newly made best friends!