Cambodia & Vietnam
Mekong River Luxury All-Gay Cruise 2020
8 days from Siem Reap, Cambodia to Ho Chi Minh City, Vietnam
August 21 – 28, 2020
Aqua Expeditions RV Aqua Mekong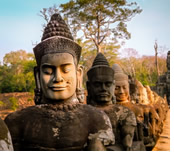 Are you ready to experience a bucket list journey on one of Asia's most legendary rivers? Culture and civilizations have flourished around great rivers throughout history, and the Mekong is no exception. The opportunity to discover rich heritage and traditions enriched by 2,000 years of human history is what makes the Mekong river cruise one of Asia's most epic and worthwhile journeys on water. Embark on a cultural odyssey through Cambodia and Vietnam aboard the finest of river cruise ships in Asia!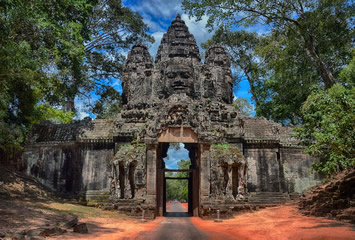 A traveler cruising the Mekong is in close pursuit of a glorious past, retracing significant human accomplishments and cultural highs. From the flourishing of the Khmer empire from the 9th to 15th century from to the prominence of Theravada Buddhism in present-day Cambodia and Vietnam, this is one of the few cultural destinations on Earth that's best explored on a river voyage.
Take this all-gay journey of a lifetime aboard the award-winning Aqua Mekong river cruise ship with a fun group of gay passengers for a truly immersive, meaningful and personalized luxury experience in this culture-rich landscape.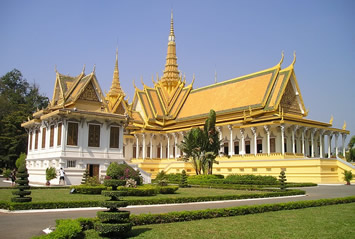 Aqua Mekong Excursions
The Aqua Mekong offers excursion and activity options that run concurrently, so guests get to choose between an active outing or a more laid-back option according to their preferences.
Guests can also do something more active in the morning, and something more relaxed in the afternoon, or vice versa. With groups no larger than 10, excursions are also more insightful and intimate for each guest. A fleet of ergonomically-designed, low-emission sheltered launch boats — the only privately-owned fleet of skiffs on the Mekong — takes guests to shore from the Aqua Mekong, ensuring efficiency, comfort and utmost safety.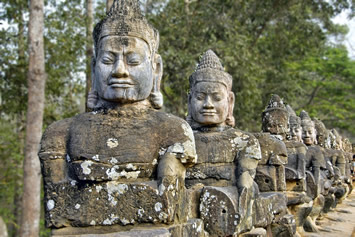 Aside from riding in tuk-tuks, the undulating elevation of the Mekong countryside is perfect for cycling. On the Aqua Mekong, guided cycling excursions are available from Day 2 of the cruise to the penultimate day. Top-of-the-line, all-terrain Cannondale bicycles sail with the Aqua Mekong, able to tackle any terrain in comfort and safety. No two cycling excursions in an itinerary are the same, so guests get to experience a different slice of Mekong life and culture with every ride.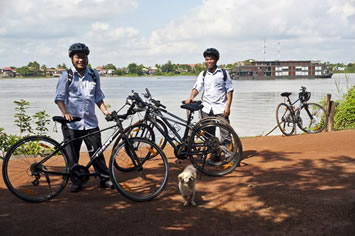 In Cambodia, guests aboard the Aqua Mekong also have the opportunity to kayak, with the ship carrying eight double-kayaks for excursions on the Mekong's waterways. At Koh Oknha Tey, guests can paddle their way to local silk-weavers. Meanwhile, the Moat Khla floating village on the Tonle Sap lake and the Kampong Chhnang's waterways offer the chance to "do as the Cambodians do", engaging in daily life with just a boat and paddle!
No matter your travel style, the Aqua Mekong offers most flexible river cruise itinerary with activity options for every type of traveler.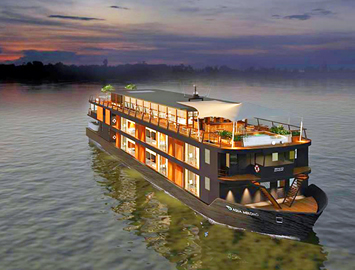 Aqua Mekong Luxury
As the premier river cruise line sailing the Mekong river, Aqua Expeditions is committed to delivering best-in-class personalized luxury hospitality on the 20-suite Aqua Mekong. On-board, guests savour a world-class menu crafted by Michelin-starred chef David Thompson, which showcases the best of the region's myriad flavours. Drinks are also the focus, with an indoor/outdoor bar and an exciting drinks menu designed by cocktail artisans Proof & Co.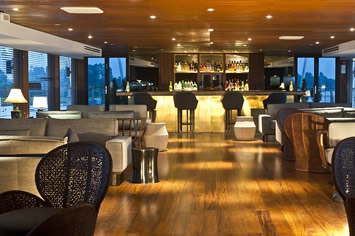 When it's time to rest and relax, enjoy Aqua Mekong's many "big ship" amenities, such as a plunge pool (strategically poised at the bow of the vessel), expansive outdoor lounge area, and a gym that offers a panoramic vistas of the Mekong make spending time on board memorable and worthwhile. Or retreat to the spa, home theatre, or stylishly-appointed suites that offer twice the space compared to other Mekong river cruises. Feel free to lounge in plush daybeds and observe life on the Mekong through floor-to-ceiling windows.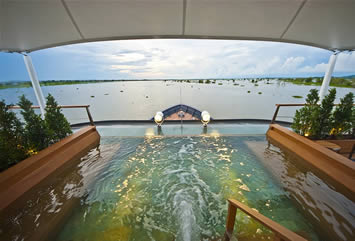 Top-Class Service
Discover a heartfelt and personalized brand of world-class hospitality unlike any other on the Mekong. Led by an experienced cruise director, the Aqua Mekong sails with a 1:1 crew-to-guest ratio made up of a carefully chosen full-time team. Our dedicated Cambodian and Vietnamese crew delivers five-star personalized service on every journey, with immaculate attention to detail and guest needs enabling every interaction, activity and excursion to be orchestrated to a perfect rhythm.
World-Class Dining Program
Experience a world-class culinary journey with a menu designed by Consulting Chef David Thompson, winner of Diners Club Lifetime Achievement Award Asia, who incorporates the diverse culinary traditions of Mekong River cultures with the freshest ingredients to create indigenous inspired dishes.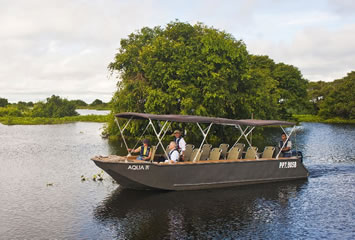 Private Speedboats
Enjoy the all-inclusive, twice daily shore excursions on 4 private speedboats, equipped with four-stroke low emission engines and with a capacity for 10 passengers. Ergonormic, comfortable speedboats will bring you deep into the Mekong's tributaries and up close to life on the river, whenever you wish.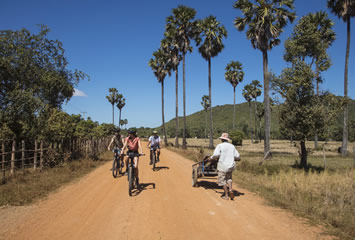 Biking Excursions
Aqua Mekong is the only Mekong River cruise ship to offer complimentary bikes which you can hop on anytime to explore the picturesque riverbanks of the Mekong River.
Observe the exotic rituals of daily life along the mighty Mekong upclose on two wheels, stopping to photograph catfish sellers, the planting of rice paddies or local children playing with the family's water buffalo. Aqua Mekong passengers have the option of 8 to 15 kilometer biking routes.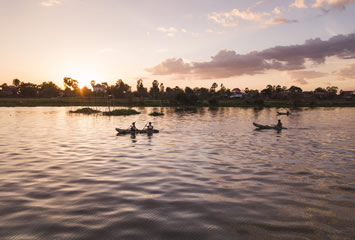 Kayaking Excursions
Guests of the Aqua Mekong can take advantage of eight double-kayaks throughout various locations in Cambodia. Paddle through floating village and get up close to people on the Mekong, see local silk-weaver at work and visit the Moat Khla region by the Tonle Sap Lake.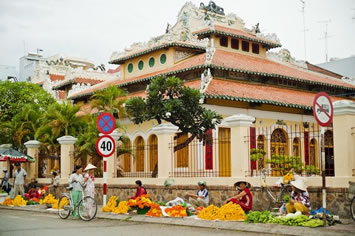 Vietnam & Cambodia
Mekong River Gay Cruise Itinerary


Date

Port

Arrival

Depart

21 Aug
Siem Reap, Cambodia
22 Aug
Prek Toal / Moat Khla, Cambodia
23 Aug
Chhnok Tru / Kampong Chhnang, Cambodia
24 Aug
Koh Chen / Koh Oknha Tey, Cambodia

25 Aug

Phnom Penh, Cambodia
26 Aug
Ka´om Samnor-vinh Xuong Border Crossing / Chau Doc / My An Hung, Vietnam

27 Aug

Binh Thanh/sa Dec / Cai Be, Vietnam
28 Aug
My Tho / Ho Chi Minh City, Vietnam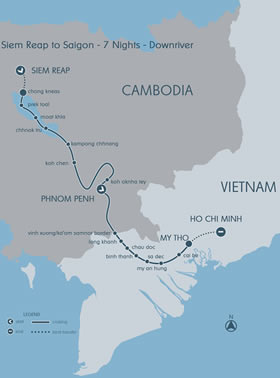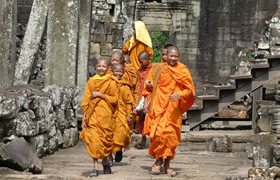 Day 1, Friday, August 21, 2020
Siem Reap, Cambodia

Gather at our Siem Reap meeting point then board our air-conditioned bus for the scenic 45-minute countryside ride to the dock on the Tonle Sap Lake for check-in to your 3-story, five star Mekong abode. Settle into your floating retreat, with its window wall conferring an endlessly captivating panorama. Enjoy these private Mekong moments on your California king bed, terrace or daybed.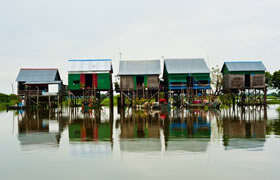 Day 2, Saturday, August 22, 2020
Prek Toal - Moat Khla, Cambodia

Set off by skiff into the 22,000-hectare Prek Toal Core Bird Reserve, one of the largest freshwater bodies in Asia and the last refuge in Southeast Asia for large waterbirds like the spot-billed pelicans, milky stork, black-headed ibis and the elusive masked finfoot.
After lunch, we visit the floating village of Moat Khla, accessible only by water, and attend a Buddhist blessing ceremony in this isolated community.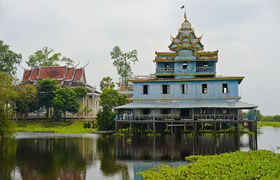 Day 3, Sunday, August 23, 2020
Chhnok Tru - Kampong Chhnang, Cambodia

Explore remote villages around the Tonle Sap Lake, designated as a UNESCO Biosphere Reserve in 1997. In Chhnok Tru, we "slide" into an ice factory and learn from locals what it's like to live in a town where schools, churches, pagodas, and even the karaoke bar and police station all float.
We continue learning about Khmer riverside life in Kampong Chhnang, the 'Port of Pottery' so called because archaeological findings here date to the 6th century.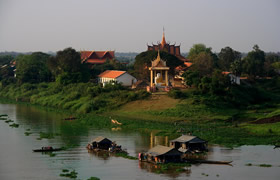 Day 4, Monday, August 24, 2020
Koh Chen - Koh Oknha Tey, Cambodia

This morning, we visit Koh Chen, a silversmith village known for its fine craftsmanship. Keep an eye out for their famous silver bowls, regularly chosen by Cambodia's king as gifts for visiting dignitaries.
In the afternoon, we set off for the Mekong's 'silk islands' where renowned weavers allow us to wander freely, admiring their intricate craftsmanship. Biking is optional for those who wish to explore deeper into the island.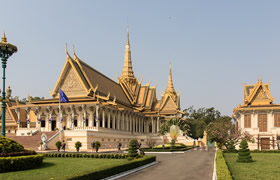 Day 5, Tuesday, August 25, 2020
Phnom Penh, Cambodia

We show off the Cambodian capital to our passengers by motorized tuk-tuk, the Royal Palace, Silver Pagoda and the National Museum of Cambodia, home to the world's largest collection of Khmer art. For those who wish, we visit the Tuol Sleng Museum of Genocide and the Killing Field or shopping at Russian Market.
Celebrate the onward journey towards the heart of this mighty river with a Khmer Apsara performance, an indigenous tradition memorialized on the temple walls at Angkor Wat.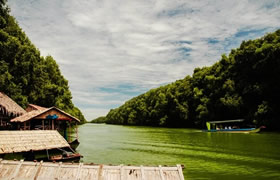 Day 6, Wednesday, August 26, 2020
Ka ´om Samnor-vinh Xuong Border Crossing – Chau Doc - My An Hung, Vietnam
Say 'Good Morning, Vietnam' while we cross the border and sail towards Tan Chau, a vibrant border town where we take the local rickshaw called xe loi for a trip around town or pedal 18 kilometers on the peaceful island of Long Khanh.
In the afternoon, we visit a typical Mekong Delta village called My An Hung where we will walk through verdant plantations. We will be invited to a local's home to taste local fruits while hearing traditional folk songs performed by villagers, followed by a unique Unicorn dance. Biking option is also available for those who wish to explore on wheels.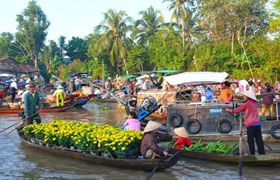 Day 7, Thursday, August 27, 2020
Binh Thanh/sa Dec - Cai Be, Vietnam

Begin the day at Binh Thanh mat weaving village or opt to visit Sa Dec where we will peruse the vibrant market and see the famous house of Marguerite Duras' legendary lover, Mr. Huynh Thuy Le.
We continue downstream for Cai Be, zigzagging in our sampan past lone fishermen on their long tail boats. Later, our skiffs moor at a wooden pier. Here in Cai Be, walk or bike ride among high-roofed open courtyard houses, some dating back more than 100 years, and currently inhabited by gracious locals who will invite us to glimpse their property.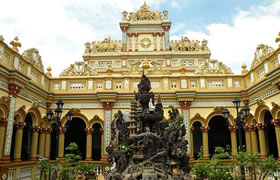 Day 8, Friday, August 28, 2020
My Tho - Ho Chi Minh City, Vietnam

Disembarkation. En route to Ho Chi Minh City
, we stop at Vinh Trang Pagoda, one of the largest Mahayana Buddhist temple in the region. You will notice the mixed architectural style and see three large buddha statues plus an impressive collection of bonsai trees.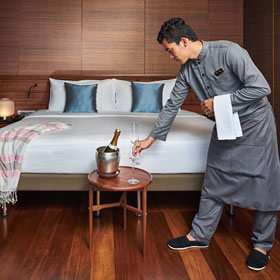 All-Inclusive Journey
Aqua Mekong river cruise is all-inclusive. Included as part of the package are all you need to feel truly at home on the Mekong. This is what you can enjoy:
• Lodging in luxury suites
• Group transfers between vessel and meeting point
• All meals on-board designed by Michelin-starred chef David Thompson
• Premium selected wines and beer, non-alcoholic drinks
• All off-boat excursions, led by our knowledgeable guides
• Use of all sports equipment for excursions, including bicycles and kayaks
• Laundry
• Internet connection (subject to location signal availability)
• Group transfers in Siem Reap and Ho Chi Minh City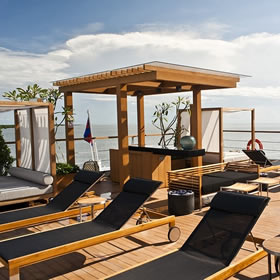 Not Included
• All air tickets
• Incidentals, tips and gratuities
• Visas for Vietnam and Cambodia
• Private transfers
• Spa Services
• Boutique purchases
• Travel insurance
• Some alcoholic beverages