Ambience
Ship Facts
Gross Tonnage: 70,285
Length: 245 m
Beam: 32.25 m
Draft: 8.22 m
Cruising Speed: 16.5 knots
Guests: 1,400
Crew: 652
Staterooms: 789
Refurbished: 2022
Registry: Bahamas

Norwegian Fjords Lesbian Group Cruise
7 nights from/to London (London Tilbury), UK
August 5 – 12, 2023
Ambassador Cruise Line Ambience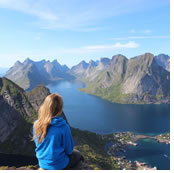 Whilst the world heads south in search of sun, we'll head north to discover Europe's most breathtaking landscapes. Your lesbian group voyage of discovery will take in some of the most magnificent fjords on earth, as well as a visit to Bergen - Norway's second largest city set, amid lofty mountains and complete with a stunning waterfront. Norway's Fjordland offers some of the most dramatic landscapes on earth, with a uniquely widescreen quality. On your Fjords cruise, you can relax in warmth and luxury as towering peaks give way to breath-taking waterfalls, bright blue fjords and impossibly lush green valleys, amongst quaint villages and remote mountain farms. Cruising Norway is truly life in Ultra HD.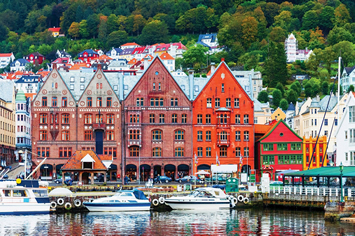 Each day you will wake up and gaze from the ship, stunned by the sheer scale and magnificence of Norway's mighty fjords. This cruise will introduce you to breathtaking views of cascading waterfalls, clear blue lakes and majestic mountains; often described as "nature's own work of art" and in contrast "chocolate box" fjord villages . One of the best times to visit Norway is between June-August as you make the most of the long days; ideal for cruising.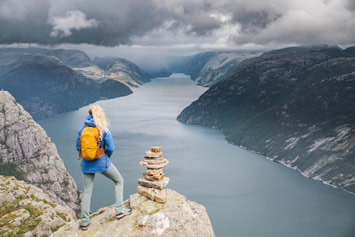 So why not join our hosted lesbian group cruise to the Majestic Fjords of Norway. Your Diva representative will look after you from the moment you arrive to the moment you depart the ship. A holiday where you can meet new friends, share a fantastic cruise experience and have a wonderfully relaxing holiday whilst visiting some of the most beautiful locations in Norway. Our group meet each day for meals; with evenings spent together at one of our hosted events followed by the ship's entertainment programme, all at your disposal. During the full days at sea you can join us for some fun activities on deck. The remainder of your voyage will be taken up going ashore to explore the many sites on offer.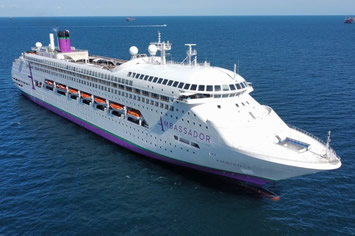 Your Ship Ambience
Here she is, Ambassador Cruise Line flagship of the fleet, Ambassador first lady of the sea: Ambience. Derived from the French word for 'surrounding', ambition at Ambassador is to create the optimum atmosphere onboard; one that brings out the best in each of us. The perfect ambience.
With an average 1,400-guest capacity and careful configuration, she offers both a feeling of spaciousness and freedom, whilst retaining that sense of intimacy and camaraderie we each crave; it's whatever makes you comfortable.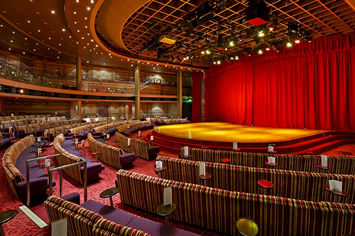 Entertainment-wise, she really will spoil you for choice. Let your hair down at the Observatory and bring out your finest ensembles for The Palladium. Whether you like it shaken or stirred, she has numerous bars to whet your whistle, including Raffles Bar, Botanical Lounge, SW19 and The Purple Turtle Pub.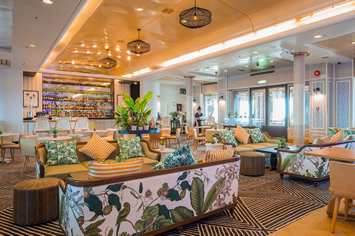 Dining options are plentiful at our Buckingham restaurant or the Borough Market, with plentiful cuisine options, and for those wanting to soak in nature's glory, we have our glorious Alfresco Grill. Wining and dining are more than fine at Saffron*, Sea & Grass* or our deluxe Chef's Table*, where we offer a speciality gastronomic experience that's not to be missed.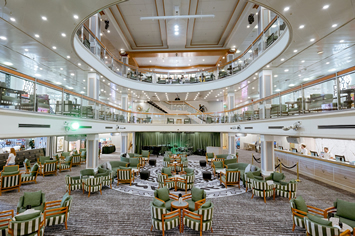 Put your best cards forward at Aces & Eights bridge and card room and the Ambassador Casino, or revive and renew at the gym and Wellness Centre. Other facilities include Kapoor's, our onboard crafting studio, Brontë's library, the shopping galleria, not to mention a swimming pool, two hot tubs and a large screen for outdoor movies. Sound good?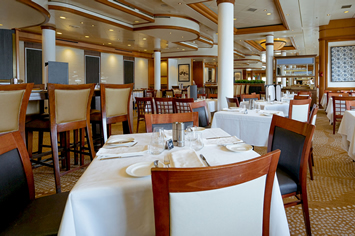 Dining with Ambassador is always tailored to you but exceptional service, authentic flavours and cherry-on-top surroundings are guaranteed each and every meal. So, whether it's a full English for breakfast, a casual lunch, or a six-course gala dinner, your dining wish is our desire!
One of life's simplest pleasures is coming together over great food, which, of course, gets better when you're breathing in the sea breeze in between bites. We've carefully crafted menus to blend traditional plates with locally inspired cuisine, letting our dish choices be crafted by the itineraries themselves - giving you a taste of the finer things in life.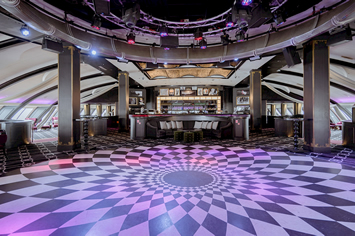 Ambience offers no less than 11 different lounges and bars including Raffles Bar, Botanical Lounge, Observatory, SW19 and The Purple Turtle Pub, so there's a wide choice of contrasting venues to choose from.
Entertainment venues include the multi-tiered The Palladium where the talented Show Team and guest artists will entertain you. The stylish Observatory plays host to cabarets and the late-night disco. In addition, there are various entertainment options around the ship including our classical interludes.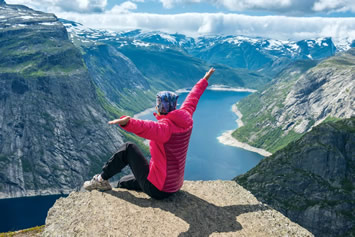 Norwegian Fjords
Lesbian Group Cruise Itinerary


Date

Port

Arrive

Depart

05 Aug
London Tilbury, UK
5 PM
06 Aug

A Day at Sea!

07 Aug
Sognefjord, Norway (Cruising)
11 AM
6:30 PM
08 Aug
Geirangerfjord, Norway
8 AM
6 PM

09 Aug

Bergen, Norway
10 AM
8 PM
10 Aug
Eidfjord, Norway
7 AM
3 PM

11 Aug

A Day at Sea!

12 Aug
London Tilbury, UK
8 AM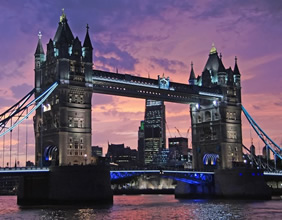 Day 1 - London (London Tilbury), UK
The London Cruise Terminal at Tilbury, Essex is situated on the River Thames just 25 miles east of London. Approximate journey times in good traffic conditions from central London and London City Airport is one hour, from London Gatwick Airport and from London Stansted Airport is one hour fifteen minutes and from London Heathrow allow two hours. There are plenty of ways to get to London Tilbury for your cruise, including by car, taxi or coach. Ambassador Cruise Line offers a special coach service exclusively for passengers between London Victoria Coach station and the London Cruise Terminal on sailing days. The London Cruise Terminal is served by Tilbury Town train station. The train station is about a mile away from the terminal and only a few minutes by taxi.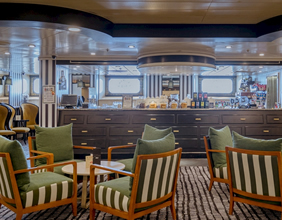 Day 2 - A Day at Sea!
While at sea, take the time to recharge before the next adventure. Lounge by the pool, be spoiled at the spa, taste the delicacies or explore the venues on-board, until we arrive at the next amazing destination.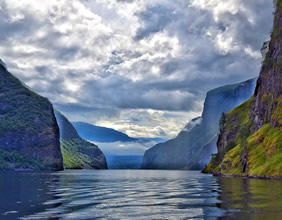 Day 3 - Sognefjord, Norway (Cruising)
The Sognefjord – Norway's longest and deepest fjord, which stretches 204 kilometres inland from the coast north of Bergen. Along the fjord you'll see high mountain peaks, blue glacier ice, mighty waterfalls, and idyllic small farms. The special thing about the Sognefjord is the fjord villages, small communities dotted along the mighty Sognefjord.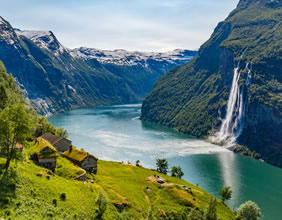 Day 4 - Geirangerfjord, Norway
Geirangerfjord is a UNESCO World Heritage Site and one of the most incredible fjords on our planet. Its fairytale landscape, with snow-covered mountains, wild waterfalls and deep blue waters, will make your jaw drop. The Geirangerfjord is often consideren Norway's jewel in the crown. The fjord extends more than 100 kilometres inland from Alesund on the west coast.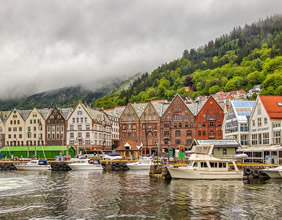 Day 5 - Bergen, Norway
Bergen will welcome you with open arms and plenty of fresh seafood. Norway's beauty shines brighter than ever in Bergen, where colorful wooden buildings line every street. From the historic wharf called the Bryggen to the neighboring fjords just waiting to be explored, a day in port from a fjord cruise in Bergen makes for a fun mix of city and seclusion, outdoor adventure and arts and culture.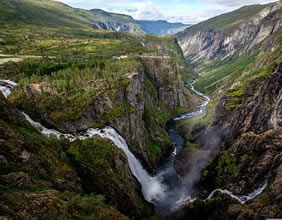 Day 6 - Eidfjord, Norway
Eidfjord will provide you with memories for a lifetime and photographs that will delight your friends. Its perfect location on the magnificent Hardangerfjord has to be seen to be believed. This is a place to experience culture and nature, fjords and mountains in one spectacular setting. Make sure you don't leave Eidfjord without a visit to the Vøringfossen waterfall, one of the grandest attractions in the Hardanger region!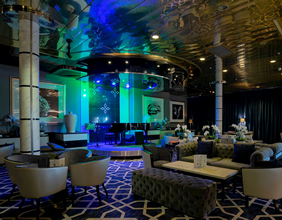 Day 7 - A Day at Sea!
Rest assured, sea days are anything but boring. In fact, experienced cruisers often seek out itineraries that have several sea days. On these special days you can participate in a myriad of activities on your ship or do nothing at all, or perhaps a mix of both.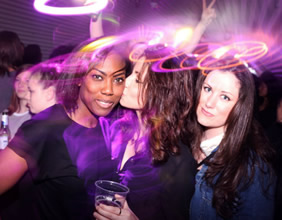 Day 8 - London, United Kingdom
While most people think of Manchester or Brighton when it comes to a lesbian scene, London is up there with the two heavyweights with its long list of pubs, clubs and bars catering directly gay women. From raving clubs, to sophisticated bars and casual, friendly pubs. SHE Soho is popular lesbian bar in the heart of London's gay neighbourhood. SHE Soho claims itself as "a modern space for women and their male guests."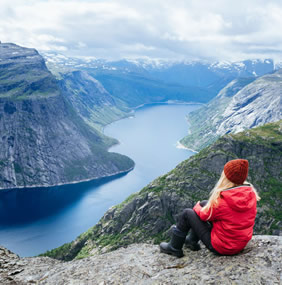 Gross Tonnage: 70,285 • Length: 245 m • Beam: 32.25 m • Cruising Speed: 16.5 knots • Guests: 1,400 • Staterooms: 789 • Crew: 652 • Registry: Bahamas

Norwegian Fjords Lesbian Group Cruise 2023 Rates

Inside Stateroom
Standard twin inside cabins and they can be converted to a double bed. These air-conditioned cabins all offer en-suite facilities with a shower, flat-screen television, hairdryer, fridge, tea & coffee amenities, UK 3-pin plug with USB and a personal safe.
€ 3,089

€ 2,559

Oceanview Stateroom
Standard twin cabins with a picture window ocean view and they can all be converted to a double bed. These air-conditioned cabins all offer en-suite facilities with a shower, flat-screen television, hairdryer, fridge, tea & coffee amenities, UK 3-pin plug with USB and a personal safe
€ 3,599

€ 2,789

Balcony Stateroom
Standard twin cabins with balcony and they can all be converted to a double bed. These air-conditioned cabins all offer en-suite facilities with a shower, flat-screen television, hairdryer, fridge, tea & coffee amenities, UK 3-pin plug with USB and a personal safe
€ 4,489

€ 3,579

Junior Suite
Located on Ambassador Deck 11, there are 36 Junior Suites with a private balcony and sitting comprise of a sitting area and a private balcony. They have twin beds and a majority can be converted to double bed. All suites offer en-suite facilities with bath and shower above, large hanging and storage space, flat-screen television, hairdryer, fridge, tea & coffee making facilities, UK 3 pin socket with USB and personal safe. These cabins are twin occupancy and have a shower only en-suite.
On Request
€ 4,579

All prices are per person, based on double occupancy, and include all meals, accommodations and entertainment!

Taxes of €150pp, and optional insurance are additional.

First deposit of €850 per person is required upon booking. Full payment is due 120 days prior to departure.

ROOMMATE Matchup for Singles: let us help you find a suitable roommate. The €150 non-refundable matchup fee guarantees a roommate to help you save money!

Optional shore excursions will be offered.

Prices are cruise only and DO NOT INCLUDE return airfare! Please ask for airfare add-ons back to your home city.

Fares are subject to availability and may change without prior notice.

Also included are the traditional Diva activities, subject to minimum participation.

Please ask for further details.

Special Airfares








Pre-Cruise Hotels







Post-Cruise Hotel