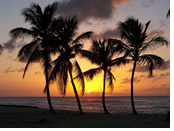 A luxury clothes optional GaySail Exclusive Cruise that starts and ends in Guadeloupe, "Live La Belle Vie!" From gorgeous soft white golden beaches to misty mountains and spectacular waterfalls, the Guadeloupe French Caribbean Archipelago with its "Art the Vivre" and simplicity. Heavenly playground for gay sailing cruise and a true paradise for foodies. Let our Gay skipper guide you over the Caribbean seas, and discover the beautiful Islands of Guadeloupe, Dominica, Les Saintes, Marie Galante and Petits Terre! An unique Gay Sailing vacation with 10 gay guys on a luxury catamaran!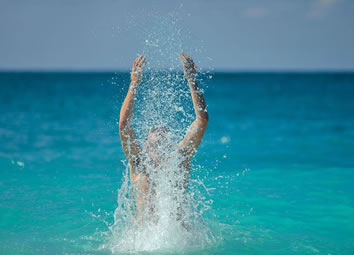 Welcome to Guadeloupe, an archipelago of over a dozen sun-kissed islands, Guadeloupe is a varied place to holiday, with everything from deserted beaches to jungle-wreathed mountains. The country's two main islands look like the wings of a butterfly and are joined together by just a couple of bridges and a mangrove swamp. Grande-Terre, the eastern of the two islands, has a string of beach towns that offer visitors world-class stretches of sand to laze on and plenty of activities. Mountainous Basse-Terre, the western island, is home to thick, lush Parc National de la Guadeloupe, replete with waterfalls and topped by the spectacular La Soufrière volcano.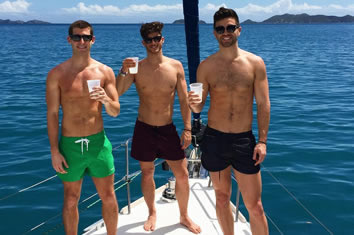 Nearby are Marie Galante, which offers fantastic snorkeling, and the Gosier islet and its large coral reef – we make sure you will visit both on your GaySail Guadeloupe sailing cruise. For anchorages, we will head to Les Saintes and take a stroll around Fort Napoleon on Terre-de-Haut. We won't leave before visiting Jacques Cousteau's Underwater Reserve in the waters close to Pigeon Island for an abundance of colorful coral forests and marine life. This underwater world is considered one of the best dive and snorkling sites you can experience. These are some of the most evocative and untouched destinations in the French Antilles and shouldn't be missed and of course we will visit them with GaySail.
This cruise is on a large luxury 40 feet catamaran. This week is a "clothes optional gay only" cruise, meaning you can stay nude on the frontdeck in the sun and swim nude if you like, the second week is a full nude gay cruise. The catamaran has four double cabins with private bathroom and two small single cabins in the front.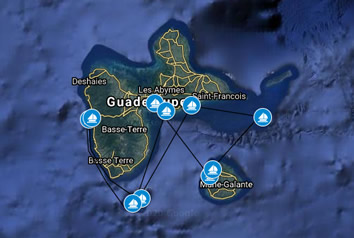 Day 1 - Welcome to Marina Bas Du Fort, Guadeloupe
This trip starts in Guadeloupe, Marina Bas Du Fort at Pointe a Pitre. Just take your luggage from the belt at the airport and in less than half hour you are already on board the yacht. Enjoying the nice outdoors and the great temperature of the tropics. Boarding starts at 5.30 PM. There are plenty of restaurants and bars with creole food, such as mahi mahi, and music at our base, which will entertain you for your first night.
Day 2 - Island of Marie Galante
Our first sailing day we sail to the island of Marie Galante for your first experience of snorkeling in Guadeloupe. Marie Galante is a quiet backwater, an unspoiled haven, an ideal place to wind down, eat good Créole meals, take quiet walks and have good chunk of a Caribbean beach to yourself. You can explore Marie Galante and its beaches and anchorages. If the weather is calm we can stay overnight in the beautiful bay of Anse Canot.
Day 3 - Isles de la Petite Terre
Before breakfast a dive in the warm water, what a great way to start the day! Time to sail to the Isles de la Petite Terre with its lush vegetation, surrounded by a large coral reef. The perfect spot for a swim and snorkel. Overnight stay in Saint Anne or Saint Francois.
Day 4 - Archipelago of Les Saintes
Today we head west to the archipelago of Les Saintes, where are a good number of anchorages in the natural harbor. Les Saintes is irresistible group of Islands with idyllic Gallic charm. Time to discover Les Saintes by scooter, bus, or on foot and don't miss Fort Napoleon and the beautiful beaches
Day 5 - Pigeon Island
After breakfast we pick up the anchor for a great sail to Pigeon Island and its famous Cousteau Underwater Marine Park. You will see rocks, cliffs, coral of all types, octopus and many specimen of fish. Overnight stay in Pigeon Island Anchorage bay.
Day 6 - Terre des Bas
Back to Les Saintes, but this time to Terre des Bas, on of the other Saintes Islands. Time for a relaxing afternoon at the beach.
Day 7 - Ilet du Grosier
We will spending your final night at Ilet du Grosier, a tiny wooded Island with soft white sand beaches and a pleasant old-fashioned lighthouse. You can climb up to the lighthouse to an outside platform. Today, at Friday afternoon, there is a local market to visit with fresh, wonderful and reasonably priced local products.
Day 8 - Marina Bas Du Fort
After a tropical breakfast we have a short sail back to Marina Bas Du Fort in Guadeloupe to disembark. Here you say goodbye to the skipper, cook and your fellow sailors. You can combine this great trip with a few days in a hotel on the beach.
This itinerary is subject to change. Local circumstances such as weather may influence the itinerary.