Le Dumont d'Urville
Flag: France
Capacity: 184
Crew: 110
Cabins: 92
Tonnage: 9,900 t
Length: 430 ft
Beam: 59 ft
Draft: 15 ft
Speed: 12.5 knots
Guest Decks: 5
Norwegian Fjords Luxury All-Gay Cruise 2023
July 31–August 07, 2023
Ponant Cruises Le Dumont d'Urville
7 nights from Bergen to Oslo, Norway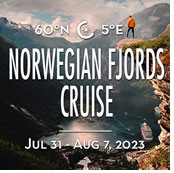 Inescapable beauty in Norway! Sculpted by wind and sea, the beauty of Norway's stunning fjords is almost indescribable. And now, in another first for LGBT+ cruising, you can experience all the wonder with VACAYA as we sail from Bergen to Oslo on PONANT's 5-star Le Dumont D'Urville! Bergen is one of the world's true undiscovered gems and is sure to delight with her perfect blend of rustic cosmopolitanism. As we sail to Oslo, you'll explore the Norwegian coastline with its skyscraper-high fjords, magnificent glaciers, and UNESCO World Heritage Sites. The view alone from Pulpit Rock – an impressive cliff that rises above the waters of the fjord below – will blow your mind! And our call on Gothenburg, Sweden as we near Oslo adds the perfect Swedish twist to these 7 adventure-filled nights.
The beauty of Norway is almost eclipsed by the luxury of our ship – Le Dumont D'Urville from PONANT. Its 5-star open-to-the-sea design, sleek exterior lines, and marina make this the perfect vessel to explore this region. She's our home for 7 perfect nights – a new generation of ships designed to combine discovery and exploration with luxury in the planet's most remote and thrilling destinations.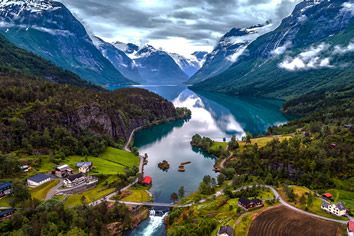 It's Like Alaska on Steroids!
• Explore 8 Stunningly Beautiful Ports of Call
• UNESCO World Heritage Sites
• Fjords, Glaciers, Wildlife, & More!
• 5-star luxury on Ponant's Le Dumont d'Urville
• Bergen to Oslo 7 summer nights
• The World's most stunning landscapes
• All-LGBT+ full-ship charter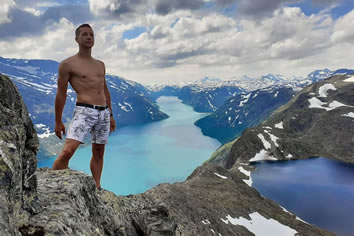 From Bergen, famous for its Hanseatic wharf which still carries a few traces of its rich Viking past, you'll set sail for the small town of Alesund. Be prepared to fall in love with the village's magnificent Art Nouveau architecture. Next up, we sail Geiranger Fjord, a UNESCO World Heritage Site, before we make our way to the village of Hellesylt, which boasts a beautiful waterfall. Then, we're on to Loen, a charming village located a few miles from Jostedalsbreen National Park, which is home to one of the last ice caps in Europe and where you'll admire the magnificent Briksdal Glacier.
Then, we sail to Sandnes, where you'll have the opportunity to hike Pulpit Rock, an impressive cliff that rises 604 metres (1,982 ft) above the waters of the fjord below, offering a breathtaking panorama and the most Instagramable photos you'll ever take. Arendal, once known as the Venice of the North because of its canals, is an utterly charming port of call. On the final leg of our journey, we'll visit Gothenburg – Sweden's main port, which can be discovered via its pretty canals, cultural treasures, and emblematic districts. Our cruise ends in the Norwegian capital of Oslo, a charming city with its own unique Nordic energy.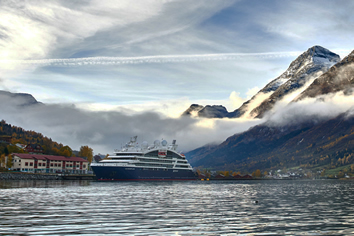 Ponant Sets The Bar
Boasting 92 finely-appointed staterooms and suites, Le Dumont D'Urville is one of 6 identical Explorer-class ships from PONANT. Le Dumont D'Urville gives you a unique yacht-like cruising experience thanks to her cutting-edge design, environmentally-friendly equipment, smaller size, and subtle blend of refinement, intimacy, and comfort.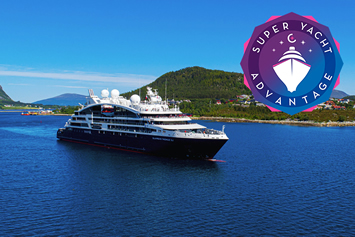 The Super Yacht Advantage
The upside of going on smaller vessels like the super yachts of PONANT is that you can visit seaside cities and towns that don't have ports or harbors constructed with enormous ships in mind. This allows you to get right to the heart of the culture of your chosen destination, and you won't find yourself hampered by all of the Duty-Free outlets that characteristically dominate the larger ports. It's one thing to explore a busy and thriving metropolis. It's quite another to witness the extraordinarily intimate atmosphere of a smaller port of call. And with smaller vessels, you don't have to worry about missing out on larger ports; we can go to those, too! So you'll enjoy plenty of variety during your journey with VACAYA.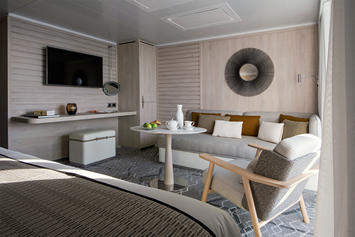 Staterooms
Elegantly-designed staterooms and spacious suites boast a warm contemporary interior design by Jean-Philippe Nuel. The designer took direct inspiration from the destinations and cultures explored during PONANT's stopovers and then punctuated the design with beautiful ethnic touches. Every stateroom onboard boasts a lovely veranda, open minibar (replenished as needed), and unlimited WiFi access, and 24-hour room service. Select suites offer even more luxuries including butler service to tend to your every need including unpacking and repacking upon request. See pricing page for specifics.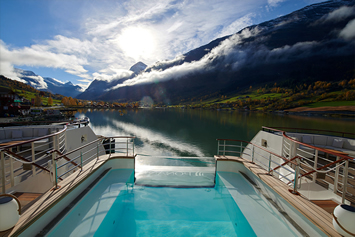 Pool & Nature Viewing Deck
The ship's heated pool offers a panoramic view of our surroundings and is equipped with a counter-current swimming system for those who wish to maintain their lap swimming regimen while on vacation (or show off your physical endurance for the entire shipboard community). This is THE spot for daytime relaxation. There's also an outdoor bar and loungers, chairs, and sofas, perfect for our organized events and parties or simply meeting up with your friends.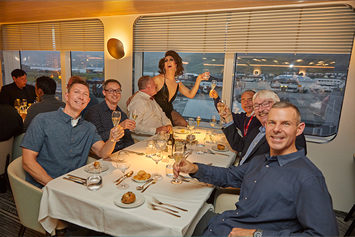 Restaurants
On Deck 4 Aft, you'll find the ship's panoramic restaurant, which can accommodate all of us in a single sitting. This dining area, which opens onto the outside, will have a buffet of salads, desserts, and cheeses at your disposal. And the ship's discrete and attentive crew will provide table service for breakfast, lunch, and dinner. For a more relaxed atmosphere, an outdoor grill on Deck 3 serves grilled meats with a variety of salads and desserts. And of course, complimentary room service is available to you 24×7.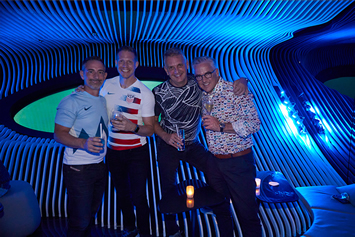 Blue Eye Lounge
Blue Eye is a first-of-its-kind multi-sensory underwater lounge built to transport you to the universe under the sea. The designers' mission is to enable you to see and feel the underwater universe in a way that never ceases to amaze. Bathed in deep blue light, the lounge has windows shaped like whale eyes to bring you closer to the marine mammals you'll see and hear behind the giant portholes. Hydrophones pipe in the natural symphony of the sea. The sofas also vibrate softly to the sounds and images of sea creatures are projected onto digital screens, creating a unique, multi-sensory experience of life underwater without getting wet!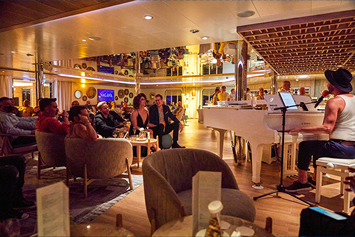 Lounges & Bars
Different lounges enable guests to socialize and share moments together during their cruise. Our ship features a main lounge, an ideal place to meet over a drink and watch daytime or evening events; the panoramic lounge, an intimate bar with a unique view of the horizon; and the outdoor bar, a relaxation area with access to the pool and solarium. The main lounge can accommodate all guests for VACAYA's social activities both day and night.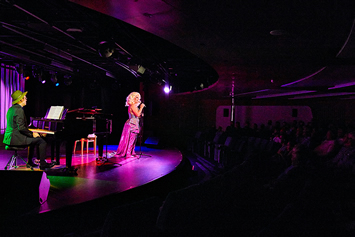 Theater
The theatre seats 188 and is equipped with the latest sound and lighting technology. This will be the showcase venue for VACAYA's all-star entertainment line-up. It's also equipped with an LED wall as the backdrop, allowing for multimedia presentations and destination lectures.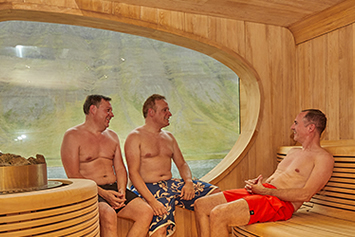 Wellness
The Spa offers a series of luxury treatments. Choose from moisturizing facials, relaxing massages, aromatherapy baths, anti-aging treatments, and enjoy a moment of absolute relaxation. There's a salon as well, offering hair styling, barbering, manicures, and pedicures.
The spa area includes a lovely sauna that's larger than you'd typically expect on a ship this size. With a window facing the outdoors and long curvy benches, it's an enticing retreat after an active expedition. The Fitness Center, boasting picture-perfect views of the open sea, features the latest Technogym machines including a Kinesis Wall.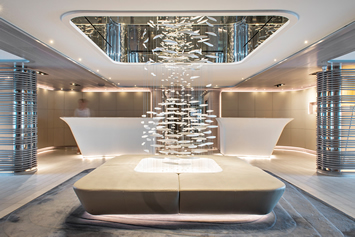 Reception
The ship's common areas are designed and equipped to meet all your needs while preserving the intimacy of the experience. A luxuriously appointed reception area welcomes guests and fulfills a variety of functions from reception and concierge to excursions and boutiques.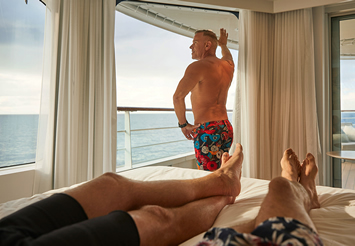 The Value of Luxury
When cruising PONANT with VACAYA, you're choosing comfort, refinement, & discovery...
VACAYA's 2023 Norwegian Fjords Cruise continues our already-robust tradition of redefining all that's possible in the world of LGBT+ luxury travel. Of course savvy travelers recognize "value" rarely means "low price." Instead, value is defined as getting something extraordinary for a great price. And that is exactly what VACAYA's Norwegian Fjords Cruise delivers.
The Vacayans are dedicated to providing you with the very best. That's what drives us, journey after journey. And it's amazing what's included: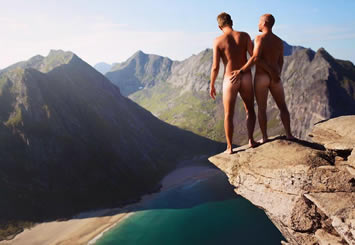 • 7 Nights aboard the stunning Le Dumont D'Urville
• All Meals, featuring subtle and audacious flavors inspired by our ports of call
• Complimentary unlimited Open Bar throughout your cruise (premium alcohol extra)
• Complimentary unlimited Open Mini-Bar in your Stateroom/Suite (premium alcohol extra)
• Complimentary WiFi/Internet*
• Daily Afternoon Tea and Pastries
• 24-Hour Room Service
• 5-Star Service
• 24×7 Stateroom Service
• 24×7 Reception Desk
• Lecturers, Guides, and Naturalists
• Fitness Classes
• The VACAYA Touch
- The Vacayan Hosts
- Signature Entertainment
- Themed Cocktail Parties
- Social Activities
The following services are available for an additional charge:
• Shore Excursions
• Spa Treatments/Massages
• Salon Services
• Laundry
• Satellite Telephone Services
• Medical Services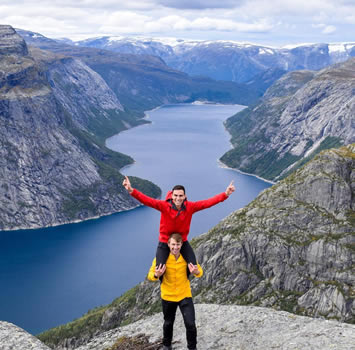 Norwegian Fjords Luxury All-Gay Cruise 2023 Itinerary


Date

Port

Arrive

Depart

31 Jul
Bergen, Norway
3 PM
5 PM

01 Aug

Alesund, Norway
12:30 PM
7 PM

02 Aug

Geiranger Fjord, Norway
8:30 AM
1 PM
02 Aug
Hellesylt, Norway
3 PM
6 PM

03 Aug

Loen, Norway
7 AM
12 PM

04 Aug

Sandnes & Lysefjorden, Norway
9 AM
2 PM
05 Aug
Arendal, Norway
1 PM
7 PM

06 Aug

Gothenburg, Sweden
8 AM
2:45 PM
07 Aug
Oslo, Norway
9 AM

July 31, 2023 - Boarding starts at 3 PM.
August 07, 2023 - Disembarkation by 9 AM.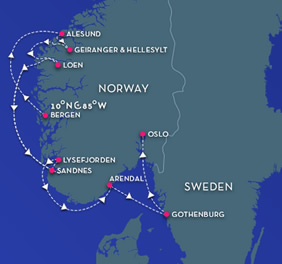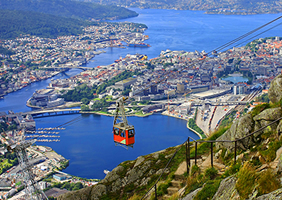 Day 1 - Monday, July 31, 2023
Bergen, Norway
Located at the end of Byfjord, Bergen
was the capital of Norway in the 12th and 13th Centuries and has preserved some very beautiful monuments from the time when it was home to royalty. Wandering through Bergen's streets means going back in time, in search of the hidden treasures that have been listed as World Heritage Sites by UNESCO. A veritable open-air museum, Bergen is home to a thriving artistic community of painters, potters, and jewelers. The Bergen cable car offers you a splendid panorama over the port and the surrounding fjords. Don't miss a visit to the old quarter with its narrow streets, a testimony of the power of the Hanseatic League that controlled trade in Northern Europe at the end of the Middle Ages.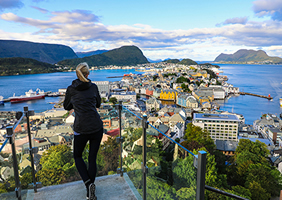 Day 2 - Tuesday, August 01, 2023
Alesund, Norway
Surrounded by a multitude of islands, fjords, and majestic mountains, the town of Ålesund surprises many visitors. In fact, it is internationally renowned for its Art Nouveau architecture. After the terrible fire of 1904 which reduced a large part of the town to ashes, Norwegian architects inspired by the Art Nouveau style contributed to its reconstruction, with a very picturesque result. Not far from Ålesund, you'll also discover Giske, the native island of Rollon, the great Viking leader who commanded the Norse expeditions to Normandy, or the beautiful island of Godoy and the village of Alnes, which offers a grandiose panorama over the Atlantic Ocean and the surrounding islands.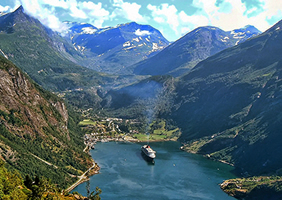 Day 3 - Wednesday, August 02, 2023
Geiranger Fjord & Hellesylt, Norway
A must-see wonder in Norway, Geiranger Fjord is a UNESCO World Heritage site. The splendour of its sheer cliffs, dark rock, and crystalline water are the stars of the show here. The sides of the fjord offer many possibilities for hiking: the Eagle's Road takes you up to a steep stretch offering a gorgeous panoramic view. A visit to Geiranger village will immerse you in the rhythm of life in this little community.
Hellesylt is a small village located 20 kilometres from the Geiranger site. Here, you'll get a taste of a traditional Norwegian village. Colorful houses, wooden walkways, and rustic stalls where you can have a refreshment before heading off to discover more of the local color. The surroundings are simply magnificent with cliffs, mountains, and lakes with peaceful waters. The village is crossed by a river whose charming cascade tumbles into the fjord waters.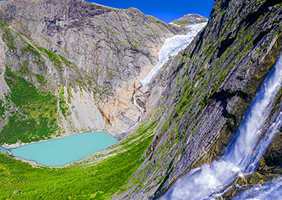 Day 4 - Thursday, August 03, 2023
Loen, Norway
With its breathtaking views of the mouth of the Oldeelva River, Loen looks like a picture post card. Located a few kilometers from Jostedalsbreen Park, home to one of the last glacier polar icecaps, this little village is a definite must for exploring the blue languages of the Briksdal or Kjennalen glaciers. Another gem is Lake Lovatn and its turquoise waters inviting you to quiet contemplation.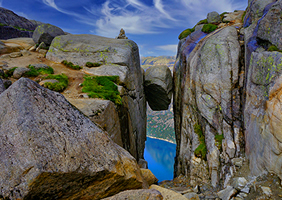 Day 5 - Friday, August 04, 2023
Sandnes, Norway & Sailing in Lysefjorden
In the southwest of Norway, nestled at the head of the Gands Fjord, Sandnes lies surrounded by nature. Known as the "pottery town" of Norway due to its significant ceramics industry resulting from the presence of readily-available clay in the region, Sandnes offers a combination of plains and peaks. A few kilometers from there, you'll discover Pulpit Rock. This astonishing rock formation towers 600 metres (1968 ft) above the waters of the Lysefjord. The stunning view over the fjord from this site makes it one of the most popular hiking destinations in all of Norway.
After leaving Sandnes, we sail into the heart of one of Norway's most breathtaking fjords (not accessible by larger cruise ships), dominated by pristine nature, vertiginous granite cliffs, crystal-clear waters, and luxuriant vegetation. Very close to Stavanger, the quiet waters of Lysefjorden stretch out over around forty kilometers beneath impressive rocks. If you hiked Pulpit Rock yesterday, you'll get the chance to admire it from an entirely different perspective today – from the water. A bit further on, you'll see the world's longest wooden stairway (4,444 steps) in Flørli, and Kjerag, with its mythical boulder wedged between two rock faces, providing an unusual and unforgettable spectacle.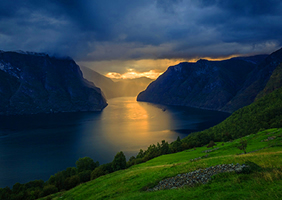 Day 6 - Saturday, August 05, 2023
Arendal, Norway
This port town located on the south coast of Norway is considered to have the best climate in the entire country. Arendal was long reputed for its iron mines from which, in the 19th century, it was able to produce a particularly strong earthy iron ore. But really… does any of that matter? You'll know this town best as one of the Norwegian cities which inspired Walt Disney's Frozen! Let it goooooooooooo!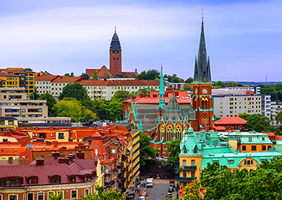 Day 7 - Sunday, August 06, 2023
Gothenburg, Sweden
A lively harbor town, Gothenburg (or more correctly Göteborg) is located on the west coast of Sweden, at the crossing of the Göta älv River and the bay of Cattégat. In the old Haga district, you can peruse hippy-chic fashion boutiques and bohemian cafés in the ground floors of traditional wood houses. On the majestic Gustave-Adolphe Square, you'll see elegant neoclassical buildings. Not far from here is the municipal museum dedicated to the town's history. In addition, you'll be able to sail along Göteborg's numerous canals. As for eating, it's the fish and shellfish which shine in this beautiful port of call.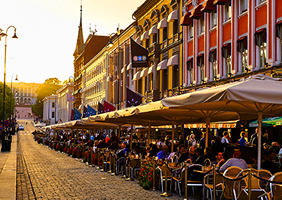 Day 8 - Monday, August 07, 2023
Oslo, Norway
Capital of Norway, Olso
is a green city. Its many parks and gardens have given it a reputation as one of the world's "most pleasant" cities. The 80 hectares of Vigeland sculpture parks and its 212 open air exhibitions, the Munch Museum dedicated to the life and works of the Norwegian artist Edvard Munch, plus the Akershus Fortress which symbolizes Oslo's rich history, are all must-sees. For culture, the National Gallery shelters the largest Norwegian collection of paintings, drawings, and sculptures open to the public. And, for sports enthusiasts, the Holmenkollen district with its Ski museum and famous ski jump offer the most stunning, all-encompassing views of the city. We hope you'll extend your stay in Norway's beautiful capital city. We recommend 2-3 additional post-cruise days. Our recommended hotel is the Radisson Blu Plaza Hotel.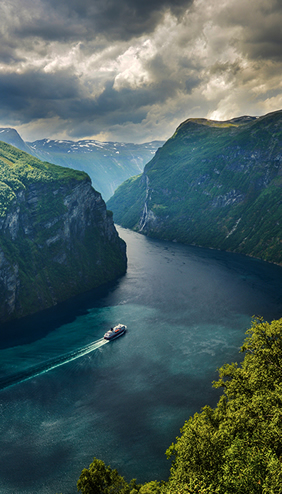 The French Touch
As the only French cruise company, PONANT is an ambassador of the "French Touch" around the world. With a French crew, discrete service, refined cuisine, and partners that embody the same spirit of excellence and refinement, PONANT does their utmost to maintain a unique cruising philosophy.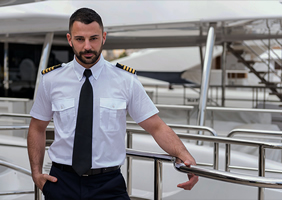 French Crew
The French Touch means, above all, a French crew to welcome you and ensure your comfort and well-being throughout your cruise. In an atmosphere of elegant luxury, you'll find 5-Star Service onboard. It's a unique travel experience that is simultaneously authentic and refined.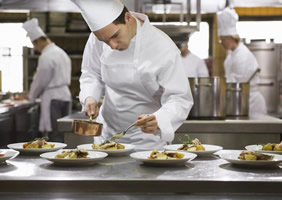 A French Way of Living
The French Touch also means a way of living in which gastronomy takes pride of place. Every day you'll discover fragrant flavors, carefully selected cheeses and wines, and delicious specialty breads & pastries from Maison Lenôtre. Maison Taillevent provides its fine selection of vintage wines by the glass, Maison Veuve Clicquot champagne is served at our gala cocktails, and delicious sweets from the Ladurée bakery are on offer during afternoon tea time.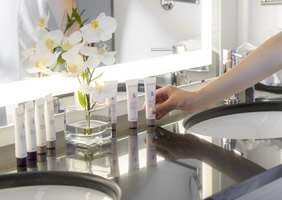 Prestigious partners
Finally, the French Touch is also evident in our choice of partners, whose expertise and passion for their work is in line with our own quest for excellence: interior design by Jean Philippe Nuel, fabrics by Pierre Frey, delicate flavours from Le Palais des Thés, Hermès bath products in all staterooms and suites, spa care products by Sothy's, and signature perfumes from Fragonard.