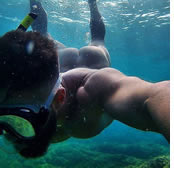 Deluxe naked gay cruise for gay men on deluxe all-wood traditional vessel, sailing amongst islands in Indonesia's Flores Sea. Guys, naked, sailing on a traditional wooden vessel through the Flores Sea. Free, and honest, and fun. True camaraderie. A once-in-a-lifetime experience, this is. A dream that can be fulfilled. Or maybe just something that'll make great memories... The trip begins on the island of Flores - a short 45 minute flight east of Bali.
Sailing the Flores Sea aboard a traditional hardwood pinisi boat is an unusual, unbeatable experience. Standing on deck, sails billow in the wind and exotic islands pass by on both sides. The islands in Komodo National Park are the Galapagos Islands of South-East Asia, packed with astonishing natural landscapes and diverse exotic wildlife. With hazy volcanic cinder cones, tropical forests, wild savanna and natural beaches, the park seems almost prehistoric.
Flores Sea is one of the world's most dynamic marine environments, with nearly every species of coral and tropical fish represented. There are over 1400 different species to observe in these waters. Throughout the entire year one can find larger sea life such as mackerel or tuna. Turtles quite often appear on the slopes in the coral gardens. On many of the flatter sites, even by snorkeling one can experience the unbelievable beauty of this underwater world.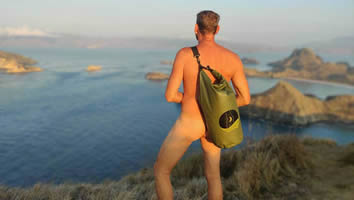 A ship like this commands attention. Both handsome and compelling, from the moment you step on one of the decks with your bare feet, you'll feel the craftsmanship in the wooden grooves of each plank. Cruising the waters, you'll feel a luxurious air on board, as the fresh breezes surround you.
On our deluxe gay cruise, participants can fully immerse themselves: in nature, in quality of experience, and in their practice of naturism. They can expect warm and sunny weather combined with spectacular sights. It's a naked all-male, small group experience with like-minded men. Anticipate delicious meals and drinks that take you away from your home environment into a paradise which is as relaxing as it is inspiring.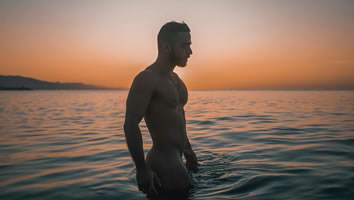 The mood's relaxed. Some guys are in shorts or sarongs or speedos; some are nude. And the crew's adept but mellow, in an island-fashion typical in this part of the world – replete with an overlay of Southeast Asian politeness. You're just 40 minutes away from Bali! This isn't just the way to travel. This is the way to be.
Don't miss the orange globe go down, and the sky miraculously change, literally second by second. Everything happens slower here in the islands… even the sky colors last long after the sun's dropped over the horizon. These are, you realize, the sunsets of your life. And this is the time to let loose.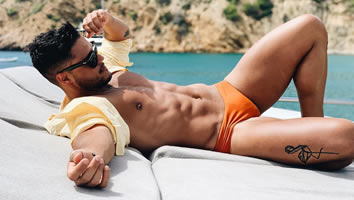 Later, it's nighttime. Post-dinner. Really night. Really dark. A man's night. The deck's got a few men doing what men do when the stars are out and the water's calm and they're naked together. The cabins have their own energy: this one is quiet, one of the guys is reading in it. That one's got a little party of its own kind. My buddy on the trip has chosen to sleep in ours. And without judgement or too much analysis, the vibe's free and relaxed in a way we just can't seem to get on land.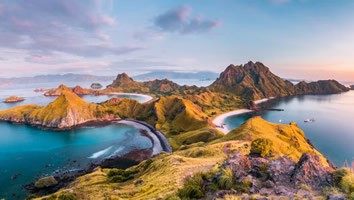 Amongst literally thousands of islands – Indonesia's archipelago boasts nearly 17,000 pieces of land surrounded by water – many are uninhabited, and many are small. Glancing around, you can see craggy rocks, sensuous hills, and mountains – all surrounded by a mix of seas. The sparkling sun reflects off them, and wildlife appears at the strangest times (think flying fish, flying foxes, and bright blue kingfishers flying fast from the trees). As striking as it is wild, the land and the sea and the air and the light all combine to create a spectacular landscape. And the all-male environment turns it into a man's landscape. You're in a place where a man can escape.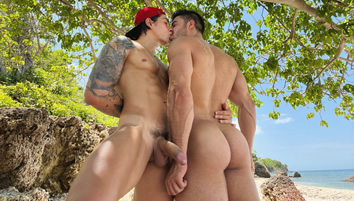 Features
• Snorkel in the Coral Triangle, the most biodiverse marine environment in the world
• Encounter the largest lizard on earth – the Komodo Dragon – in its natural environment
• Hike Padar Island to view its three beaches… with three completely different colors of sand!
• Sunbathe on one of the world's ten pink beaches
• Swim in a stalactite-filled cave with "perfect temperature" turquoise water
• Enjoy an evening on shore: a local bar for sunset, and dinner in the town's best restaurant
• Snorkel with peacefully-gliding manta rays and magnificent marine turtles
• Have a clothing optional dinner on the beach with the catch of the day, naked Twister games, music, drinks… and a renewed sense of freedom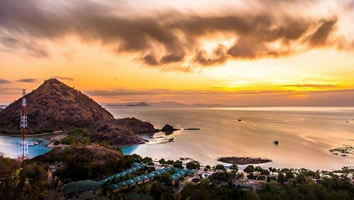 Pre-Cruise - Arrive in Labuan Bajo, Flores (Indonesia)
One day before the ship sails, you'll fly into the airport of Labuan Bajo (LBJ) on the island of Flores. One of our cruise group leaders will meet you at the airport and bring you to your hotel. You'll have time to explore the town, or perhaps enjoy an afternoon at the pool in one of our recommended hotels
. If you're looking for more of a local option, be sure not to miss the local fish market.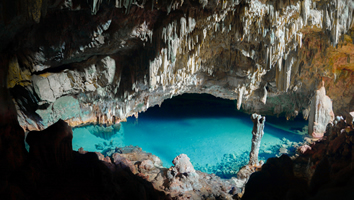 Day 1 - Morning Departure / Rangko Cave
In the morning of our departure, we'll pick you up from your hotel and bring you to the harbor. After a refreshing welcome juice and an introduction to our crew, you'll explore our large all-wooden ship known as "Pinisi".
Our captain and crew will set sail to our first destination, Rangko Cave. Swim, marvel at the sunlight bouncing off the water, or just enjoy a quiet moment as you take in the stalagmite and stalactite-filled tropical wonderland. En route to our night anchorage, we'll snorkel at Pulau Burung, a small but stunning island with turquoise blue water and a white sand beach.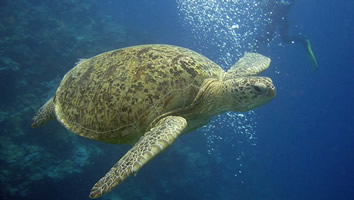 Day 2 - Sea Turtles / Flying Foxes
Amongst literally thousands of islands – Indonesia's archipelago boasts nearly 17,000 pieces of land surrounded by water – many are uninhabited, and many are small. Pulau Siaba, Kelor, and Manjarite are a few of them – and they're on today's itinerary. This is the perfect place to enjoy swimming and snorkeling in tranquil waters with Sea Turtles. If you haven't snorkeled before, it's no problem… just let one of our staff take your hand.
Later in the day we'll anchor at Pulau Kalong Rinca, to watch thousands of flying foxes head out into the sunset. There's nothing quite like seeing the largest bats on Earth, while enjoying a drink from our ship's bar.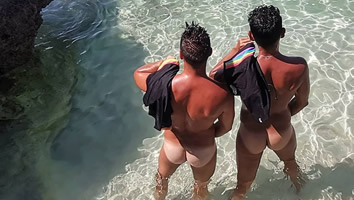 Day 3 - Rinca Island
After an early morning start we'll arrive at Loh Baru. Safely guided by local rangers, we will explore the Flora and Fauna of Rinca Island. Walking through the natural habitat of water buffalos, blue kingfishers and Komodo dragons is a true experience for every outdoorsman.
After a delicious and colorful lunch from our chef, we'll slowly sail along the impressive south coast of Rinca Island. It's one of the most isolated areas on our trip, and the perfect spot to shed your clothes with new friends. Alternatively, you can chill out and browse through a book from our library – or take advantage of our body hair shaving, or enjoy a complimentary massage. It's your experience, so do whatever you'd like. Just before the sun sets on the horizon, we'll arrive at Padar Island to land on the beach for sundowners.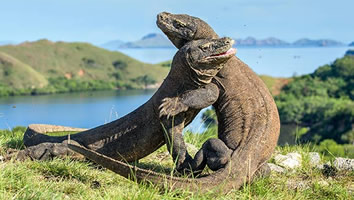 Day 4 - Padar Island / Komodo Dragons
Green mountains surrounded by three turquoise bays? Sure, it sounds lovely. But Padar Island has a surreal quality, due to the different colored sand in each one of its bays – one's white, one's black, and one's pink. To see 'em, we'll go early, while the sun's still low. A thirty minute hike up, and you're in one of the most picturesque places on the planet. Yep – guaranteed.
After a lax morning and snorkel in the crystal clear waters at Long Beach, we'll set sail for Komodo Island. Guided by national park rangers, we will hike through the dragons' natural habitat! These other-worldly beings are truly amazing. And they're endemic to the islands of Komodo, which were declared a World Heritage Site about thirty years ago. Easily the largest lizard on earth, Komodo dragons can grow up to 10 feet. No one knows exactly why, yet almost everyone agrees: there's nothing on the planet quite like them.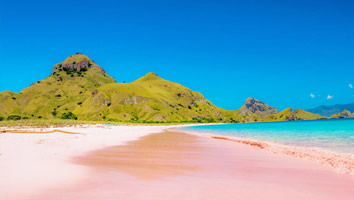 Day 5 - Pink Beach and Manta Point
Wake up early, if you like, and catch the stunning sunrise in the morning. Later, we'll head out to one of ten red beaches on the entire planet. The pink-red color comes from foraminifera, single-celled organisms. Funny that most people don't know them; they've been on earth for the last 540 million years. It's the shells of these guys, that churn up on only a few select beaches in the world. And it's a very small number of guys on the planet who can actually see them. Join the club.
Back on the boat we'll cruise to Manta Point, where the waters of two oceans meet to create a perfect underwater climate for manta rays. With a bit of luck we'll be able to go snorkeling with these calm, gliding giants. In the evening we'll enjoy a personal favorite of the Everything To Sea founders – a clothing-optional dinner on the beach, under a star-filled sky.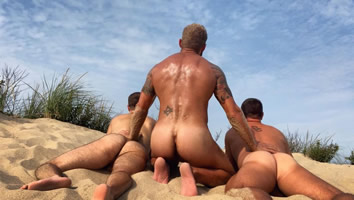 Day 6 - Sebayur / Labuan Bajo
Indonesian islands form an intricate coastline that's the fourth longest in the world. Being so extensive, it's characterized by coral reefs, deposits from volcanoes, and rich marine biodiversity. This is perfectly displayed on our last snorkeling spot – home for hundreds of different fish species, and is nothing short of astounding!
In the afternoon we'll slowly cruise back to Labuan Bajo to give our sea legs a break. Let us show you our favorite spots in town. Paradise Bar – the best place to kick back and enjoy the sunset, followed by a celebration dinner in the town's most delicious restaurant. Afterwards we'll transfer you to one of our excellent hotels.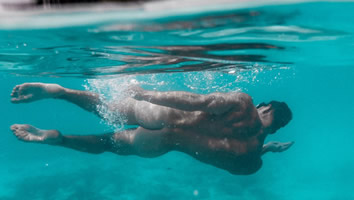 Day 7 - Labuan Bajo / Goodbye
After breakfast, it'll be time to say goodbye to new friends – but we'll have spectacular memories of our time here together. Our driver will transfer you to the airport for your flight out or perhaps to your hotel
, if you decide to stay on.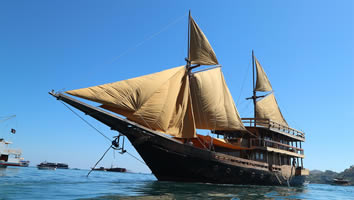 We sail on a "Pinisi" boat – a large wooden sailing ship, made completely without nails, in the traditional Bugis style. Pinisi have been made this way for at least 1,500 years, by craftsmen on the southern part of the Indonesian island of Sulawesi. In 2017, UNESCO designated these ships as an art of "Intangible Cultural Heritage." They last forever, because they're made so well. Neglected, they suffer, like any sailing vessel. But take care of one, and it's a gem...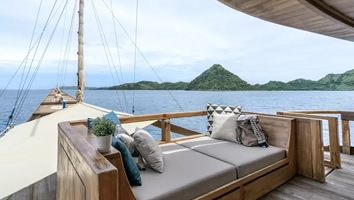 This vessel was built in 2019, and can carry up to 12 guests. There are six cabins: two above deck and four below. Additional space for socializing includes four decks on multiple levels – the upper deck is right out of a Hollywood movie. There's also a spacious indoor lounge. All cabins are air conditioned, have their own bathrooms with stone sinks, and can be reserved as private rooms, if desired. Take a private room, or share with other guys: it's up to you. With plenty of space for naked and non-naked times, the ship's an ideal spot for men to enjoy each other – mind, body and soul.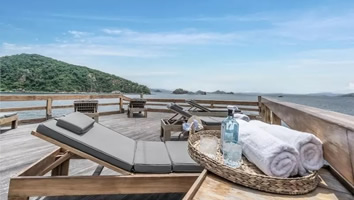 Ship Details
• Built: 2019
• Flag: Indonesia
• Licensed & certified: Labuan Bajo, Flores
• Capacity: 12 passengers
• Crew: 10 men
• Cabins : 6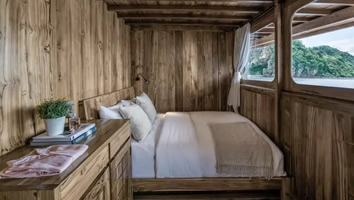 • 2 – Upper Deck Cabins with 1 double bed
• 4 – Lower Deck Cabins with 2 single beds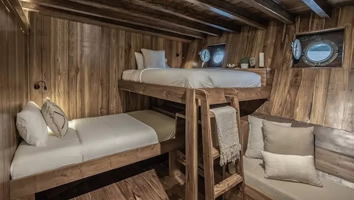 • Passenger Decks: 4
• Tonnage: 123 tons
• Length: 30 meters
• Beam: 8 meters
• Top Speed: 8 knots
• Monohull two-masted sailing ship
• 6D40 double turbo engine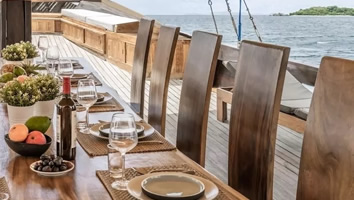 • 4,000 liter water tank and water maker
• 9,000 liter diesel tank
• 2 generators
• Swimming ladder
• Life jackets
• 2 Inflatable life rafts
• 2 dinghys
• Garmin Chartplotter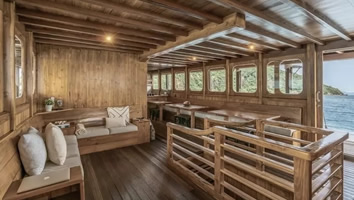 • VHF Radio
• Fire extinguishers
• Fishing lines
• Snorkeling gear
• 220 Volt European sockets
• Sound system
• Air Conditioning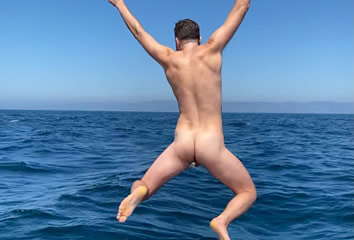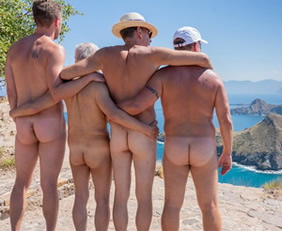 • Three meals per day on boat
• Afternoon snack
• Soft drinks, mineral water, Juice-of-the-Day, coffee, tea
• Beer, wine, arak, vodka, gin, whisky, and rum
• Fruit basket – any time of day or night
• All linens, including towels
• Services of two Western Group Leaders on boat
• Services of Captain and Crew
• National Park access fees
• Wifi
• Two massages
• Body shaving services
• Snorkeling gear (and instruction, if you want)
• Warm welcome with transport from airport in Labuan Bajo, Flores (LBJ) to your hotel, on the day before we sail
• Pick up from your hotel to boat marina on first day
Not Included:
• Accommodations for one night, before we sail
• Tips, if you choose to give gratuity to the crew.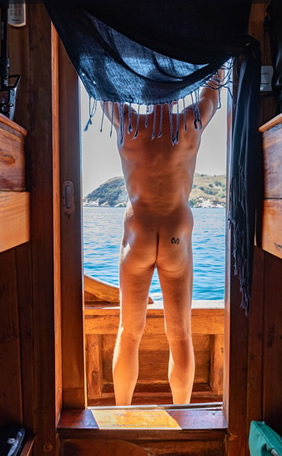 How Do I Get To The Island Of Flores? How Do I Meet Up With You Guys?
• There are many ways to fly in to the country of Indonesia, for example through islands like Java, Sumatra, Sulawesi, or Bali. We recommend Bali for several reasons: it's very proficient in handling travelers arriving from all over the world, it's got great proximity to the island of Flores, and it has several daily flight departures between the two islands. Moreover, a lot of guys like to spend some time in Bali, too. A roundtrip flight from Bali to Flores is fairly cheap.
Airport codes: Bali 'DPS'; Jakarta 'CGK'; Labuan Bajo (Flores) 'LBJ'.
• One day before the ship sails, you'll fly into the airport of Labuan Bajo on the island of Flores. We'll meet you in the airport and bring you to your hotel.
• The next day, you can go to the dock in Labuan Bajo and meet us there, at the boat. Or, let us pick you up from your hotel – your choice.
We request that all travelers come in the day before our departure, and stay in a Labuan Bajo hotel
. Recommendations for hotels are sent in our pre-departure materials.
What Time Does The Trip End On The Last Day?
• At noon. We will be at port by noon on Day 7. This is deliberate so that we will have a relaxed morning together, but with enough time for your onward travel – whether that means you'll be going over land or air.
• Flights out of Labuan Bajo (LBJ) usually make departures until 6pm on any given day. From the harbor to the airport by car typically takes 10 minutes. It's a small, efficient airport. We recommend you're there 45-60 minutes before your flight.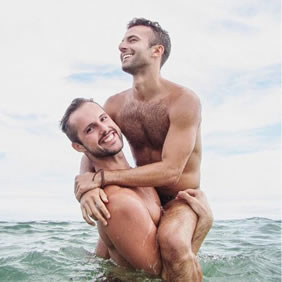 How Much Money Will I Need On The Trip?
Not much. We've aimed to make things all-inclusive on the boat, so that while you're free of clothes, you're also free of costs.
• You'll come in one day before the ship sails. Most hotels in town will range from US$40 - $90 for the night.
• If you want to pick up a souvenir (like a carved Komodo dragon sculpture), or buy various sundries in the town of Labuan Bajo on your first night pre-sail, you should budget for that. Most people would have a hard time spending more than $30 or $40 for such, but obviously there are more expensive works of art that can be had, too.
• The only other thing to anticipate as a cost is tips – but only if you desire to give any to the crew. Suggested range of tips for the whole crew – US$50 – $90.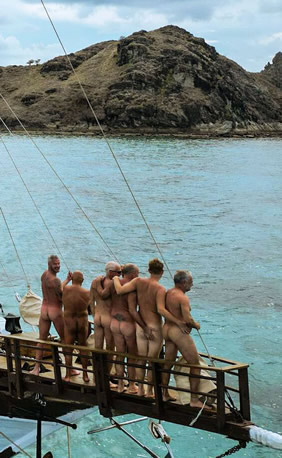 What Are The Meals Like?
• We offer a mix of local dishes and Western meals. Local dishes are mostly noodle and rice-based, with fresh vegetables and meat or fish. It's a good opportunity to try new foods and new flavors – think coconut milk, tofu and tempe, peanut sauces, and even hot chilis, if you desire. Western foods are European or American-based. Our cook is skilled at changing menus so that there's variety for your taste buds. We provide three meals a day, and there's always enough food for everyone. Plus, you should expect fresh Juice-of-the-Day, and island fruits available, all the time. And of course – coffee, tea, and water. Forget about junk food: imagine eating healthy, delicious, fresh food, for the entire time you're on the boat!
• Don't forget that we also include alcoholic drinks, so you may enjoy beer, wine, or cocktails as you like.
• While we can't cater to specific diets, should you have certain food preferences or needs, we're happy to try and accommodate such.
Will There Be Cell Reception And Internet Access?
• The boat is equipped with Wifi. Although internet access can occasionally go down in this part of the world, it usually comes back up rather quickly. Having said that, there is one particularly isolated spot on our trips where we will lose reception for about a day.
• Cell reception varies like on any body of water. Overall, the country has a very strong telecommunications network. You may want to arrange an international calling plan that best suits your needs, with your cell phone provider before you leave. Alternatively, you can buy a SIM card in Indonesia (they're cheap and easy to obtain), and use a local number for calls.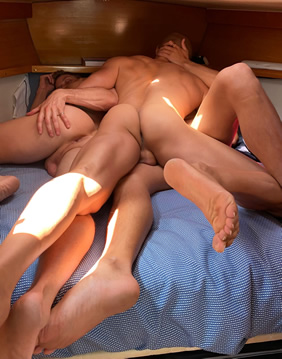 Do I Get My Own Bed? Can I Have My Own Bedroom?
• Yes, you'll get your own bed – unless you're traveling with another guy and want to share it with him.
• Rooms are shared amongst guys, with either two or three men to a cabin.
• Some cabins on The Standard Plus Boat have double beds and single beds in the same room. In that case, the double bed can be reserved, for an additional fee.
• If you prefer to have privacy as a single traveler, you may book a private room (single occupancy surcharge will apply).
What Are The Toilet Facilities Like?
All cabins have private bathrooms equipped with toilets, sinks, and hot water showers. The bathrooms on The Deluxe Boat are one notch up – more sumptuous, if you will – with stone sinks, larger spaces, and beautiful woodwork.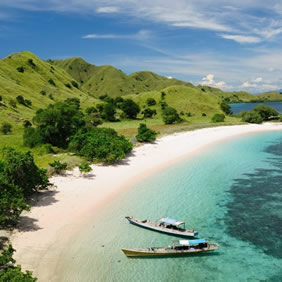 Can I Extend My Trip?
Definitely. We can suggest a few add-on experiences that are our guests favorites:
• Spend time in Bali
, either before or after the sailing trip. Length and activities can be tailored to your desire. People commonly spend anywhere from a few days to three weeks on the Island of the Gods. Activities can include yoga, surfing, visiting the LGBT neighborhood known as Seminyak, learning about the arts and culture, or delving into the spiritual elements offered on the island.
• Scuba diving excursions are available from the islands of Flores, Lombok, or Bali. We can arrange various lengths and locales, so please talk to us about these.
• We can arrange a local guide and/or driver for you.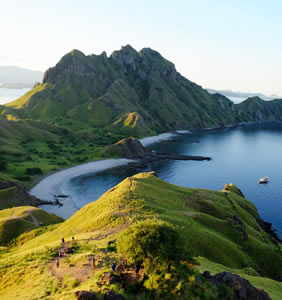 What Travel Documents Do I Need?
For most people, the answer to this is simple: just a valid passport and a valid return airline ticket. But read these details, please:
• Your passport must have an expiration date that's at least six months AFTER the first day you enter Indonesia. Your airline ticket will need to be for onward travel, showing that you'll be leaving Indonesia in the future.
• Although unlikely, you may also be asked to show that you have adequate funds in a bank account.
• Most travelers are eligible for a "Visa on Arrival" – meaning that when coming into the country, Immigration will grant you a free visa, good for a 30-day stay. Although this option exists for nearly 90% of the countries in the world, there are a few countries with which Indonesia restricts travel, and so a visa arranged beforehand would then be necessary. Because of that, you'll want to confirm your specific situation with a visa agent or embassy in your home country, beforehand.
• When on the plane, a flight attendant will give you a customs form to fill out, which you'll turn in as you exit the airport on arrival. It will ask you to list an address for where you'll be staying, and you should list the hotel you'll be in on your first night.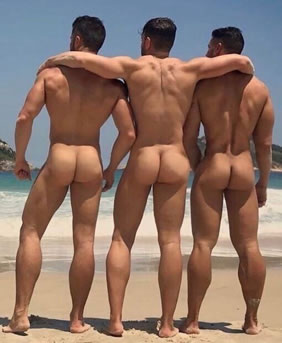 Who Comes On These Voyages?
Men. All kinds of men.
We welcome men of all ages... men of all orientations: gay, straight, bisexual, questioning… men of all shapes and sizes… and men of all nationalities. We welcome men who are nudists, as well as men who like to keep their clothes on. We welcome men who like to look at naked bodies, and men who like to be looked at.
This is an experience of men coming together in camaraderie, to be on a boat cruising around islands in the buff (and at times, clothed, too) - to experience a greater sense of freedom than what they normally encounter in everyday life.We know that guys from every decade have something to contribute, to form an amazing voyage. From muscles and flesh and eye-candy, to knowledge and experience and depth, to humor and positive attitude, it's our firm belief that every man is interesting on some level. Indeed, different backgrounds and life experiences are what makes each of our trips unique, and we hope that everyone - from recent college graduates to grandfathers - will join us for these memorable experiences.
Do I Have To Be Naked?
No. These are Clothing-Optional trips. We know that no matter how "free" they are, most men can experience an even greater sense of freedom – in mind, body, and yes, with their clothes. If that means, for you, just having an extra button opened on your shirt, then do that – it's a valid step. Or perhaps for you, it's about going shirtless. Or showing off that speedo. Certainly, others will be completely naked, and feel comfortable in that way. We're all about personal freedom, without any pressure to do what others are doing.
Although we want men to experience nudity as they like, we also aim to respect the local culture. Should another boat come within our proximity, or should we approach a jetty, we ask that all guys cover up – with either shorts, a swimsuit, or a sarong.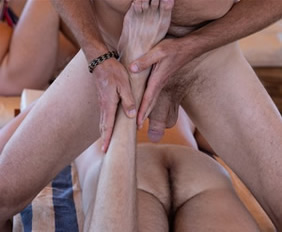 Can I Have Sex On The Boat?
The short answer is: "Yes". We know that being naked with your partner or someone you've just met can be exciting and erotic. And that sometimes leads to a desire to do more than talk.
Remember, though, that our native crew are working on the ship. They have jobs to do – and that doesn't include sex work. Also, occasionally we might pass another boat. We aim to respect the local culture, which much like your own culture, doesn't show sexual activity in public. For these reasons, we ask you to be discreet and use your cabins for play, during the day.
Our boat is constructed with two upper decks. At night, they create a cozy environment to let men do "what men do" when they're naked together. Moreover, if any cabin ends up being free of guests, we'll turn it into a sort of "lounge" for guys.
Fun? Sure. Discreet? Sure. Bottom line? We want you to enjoy yourself as much as possible, while respecting others.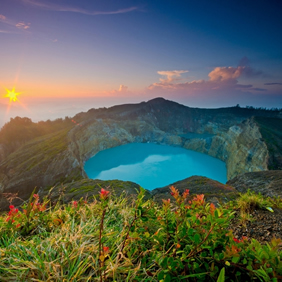 Am I Expected To Help With The Sailing?
Actually, we don't expect you to do anything. If you want to recline in the sun, or chat with the other guys, or keep your eyes peeled for Komodo dragons or flying fish or other wildlife – that's totally up to you. It's your own unique adventure, so we want you to choose whatever you want to do. However, if you're interested in sailing, our crew will be happy to integrate you in the ways of anchoring, tightening a knot, hoisting the sails, or anything else nautical.
Will I Get Seasick?
While we can't give you a 100% "no" on this, it's quite rare for a person to get seasick in this part of the world, on this sort of vessel. Partly due to the size and structure of the boat, and mostly due to the calm waters. We sail around a collection of scattered islands. They create a natural barrier that breaks down the rough waters from the Indian Ocean in the south and the Flores Sea in the north. The result is that we're moving in relatively tranquil waters.
Having said that, it's been theorized that seasickness can even come from… worrying about seasickness. So if it's a concern of yours now, it might be wise to bring some motion sickness medicine with you. It's small enough to carry along, and you'll have peace of mind. You'll probably end up bringing it home with you – which would actually be a good thing, right?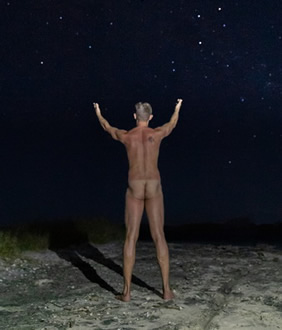 What Do I Need To Bring?
Bring comfortable shoes for walking or trekking, if you'd like to explore any of the islands on foot. Waterproof sunscreen. And a swimsuit for when we're near others – although we'll have baskets on the ship with sarongs to grab, for a quick cover-up, should another boat pass by. Payment on the islands is mostly on a cash basis – so make sure you bring enough cash in Rupiah (the local currency). Overall, pack lightly – you won't be needing many changes of clothes! Soft or hard luggage is fine; we have storage space under most beds for such.