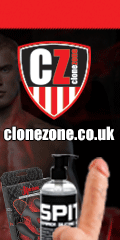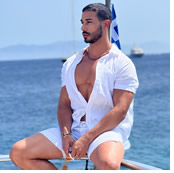 Our Mykonos Greek Islands Gay Cruise is a perfect option for those looking for a blend of on-shore cultural and historical sightseeing, coastal relaxation, on-deck sea-view unwinding and the friendly atmosphere of a small ship all-gay cruise. Exclusive gay parties at pop-star Mykonos, breathtaking sunsets at Syros, great local Greek seafood at Kythnos and even donkey rides at your service! Make new friends, see spectacular sunsets, dive into crystal clear Mediterranean waters, enjoy epic nights with a drink in your hand and local Philoxenia around you! Our experienced tour manager will make your Mykonos gay party cruise a once in a lifetime experience!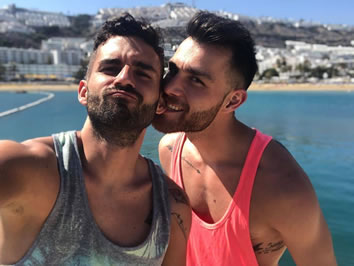 M/S Artemis – our beautiful motorised ocean vessel that can accommodate up to 46 passengers with 16 cabins – operates the Mykonos Gay Cruise. It is best suited for 'young at heart' travellers looking for an adventurous Greece gay sailing trip to some of the most iconic island stops in a round-trip from Mykonos.
This all-gay sailing trip is a fun Greek Isles Cruise focusing on experiencing the true beauty of Greece while still offering fun socialisation options in the evenings in line with the renowned Greek hospitality. What's more, you will be cruising in comfort since all our cabins include a private bathroom and air-conditioning.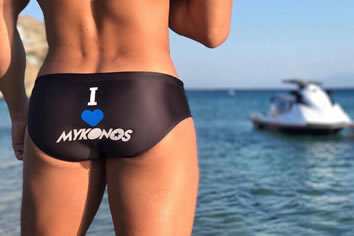 Mykonos is the most popular gay island in Europe, and maybe in the world, being visited by more than 10,000 gay travelers every year. The island is distinguished by its gay-friendly attitude, and, here, we should note that straight acceptance is at pretty high levels as well. The gay bars and clubs of the island host various themed nights every summer! Mykonos is a great place to meet gay Greeks as well!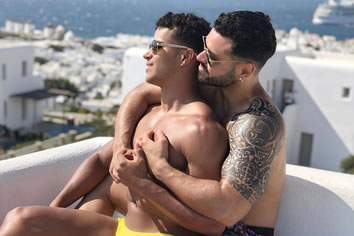 There are many gay bars in Mykonos, all of which are located in Mykonos' Chora. What makes them stand out from the regular gay bars is that they have preserved the unique Cycladic character, giving you a more local experience. Some of the most popular gay bars on the island are Jackie O', Babylon Bar, Porta Bar, Gay Sunset Bar at Elysium, Katerina's Bar and Restaurant, and LOLA Mykonos!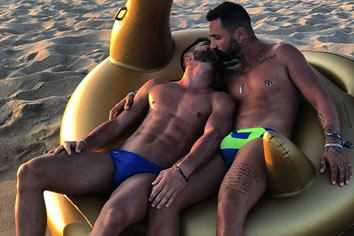 Some of the most popular gay beaches in Greece are actually located in Mykonos, and they are called Elia Beach and Jackie O' Beach (Super Paradise). These beaches are literally crowded during the summer months, while you will notice there is cruising going on nearby them. If you prefer less crowded gay beaches, then you should head to Agrari Beach!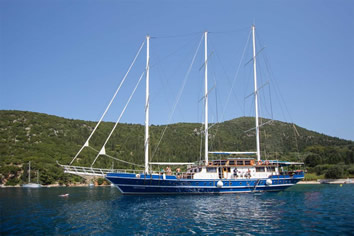 Take a trip of a lifetime aboard a Greek Goddess with Sail in Greece this year… sun, sea and a yacht, all on a budget! What more can you ask for?
The gulet Artemis was built in 1998. After a renovation in 2012 It took its final form that you can all enjoy today. This boat that is 35 m long and 8,5 m large is providing Small Ship Cruise services to our dear guests with its 5 crew members.
Watch MS Artemis Video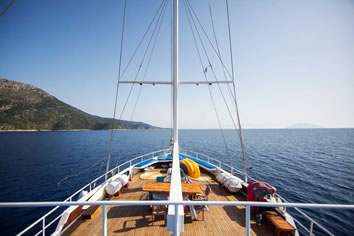 Our yacht that holds 4 twin cabins, 6 Quad cabins, 7 triples and 1 double cabin more elegant and comfy than each other with their own WC and air conditioning, with a total of 16 cabins. It possess a 2 x 440 Hp horsepower and a Fiat-Iveco 40kwa generator.
A dedicated living space fort the crew, a fully furnished kitchen, indoor and outdoor spaces for eating and relaxing, and an American bar are available. Nude sunbathing allowed on sun deck.
More about MS Artemis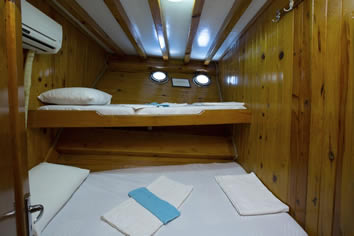 There are enough sun bath cushions, chairs and services for every single guest. This yacht that is built to make our guests live the comfort, ideal for Mykonos cruise on a budget.
Artemis Gulet, fully furnished with navigational devices, Wireless, GSM Phone you will feel in security. Beside that, a LCD TV, a DVD player and a stereo music player are available for guests in the living room. Our sportive guests can optionally participate to water sports excursions such as Wake Board, Water Ski, Wind Surf, Canoe, An occasion for our guests that want to enjoy their Cruise in the virgin bays of Greece.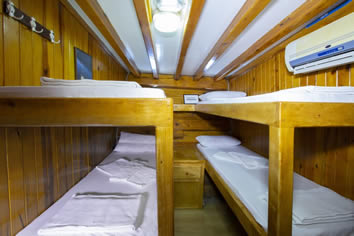 • 7 nights accommodation on board 46 guests M/S Artemis
• Buffet Breakfast daily
• Daily brunch
• Experienced local tour manager
• Private & nude beaches
• Swim stops
• Free shots of OUZO
• Onboard DJ party
• Traditional ensuite ship
• Pub crawl
• Toga party
• Toileteries
• Clothing optional sun deck for nude sunbathing
• Free Wi-Fi onboard (subject to limitations )
• Your flights/transfers
• Travel Insurance
• Meals except breakfasts
• Onboard dinners
• Local transportation
• Optional Excursions & activities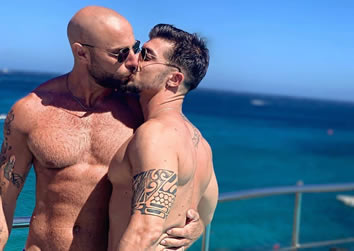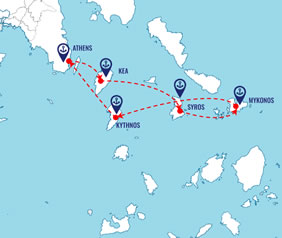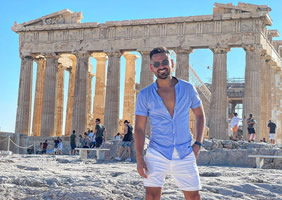 Day 1 - Athens (Lavrion)
Athens, a treasure trove of archaeological monuments and home to a friendly, very Greek gay scene.
Arrival Day. On day one, we board the vessel at around 14:00, and have a couple of drinks, just to start off. We then, start getting to know each other better and of course, start off with the partying!
While we are staying for the first night at Laurium, we can choose between roaming around Laurium's famous bar strip, or staying onboard! It's up to you!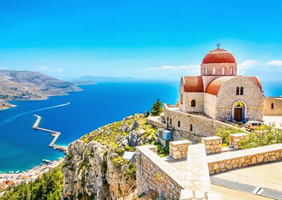 Day 2 - Athens - Kea
After our first day, we will enjoy our lovely brunch as we depart, heading to Kea's Island complex, of course, accompanied by great music and loads of excitement!
During our trip, we'll make a stop at Makronisos, to enjoy our first swim-stop in the crystal clear waters of the Aegean.
The trip to Kea will include our first cove party, though a chance to explore Kea's most beautiful village, Vourkari, as well!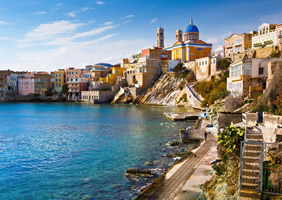 Day 3 - Kea - Syros
We will leave Kea behind, as we sail to Siros, the capital of the Cyclades with the dynamic character and cosmopolitan grace of a queen!
Syros Island is famous for its capital Ermoupoly, its excellent restaurants and its delicious local/traditional sweets, Loukoumi (Turkish delight) and Halvadopita (a soft kind of nougat).
During our stay at Siros, and of course, after our scheduled daily swim-stop, it's time to let the DJ do his thing!
Nothing better than an onboard summer afternoon-party in Greece!!
Dive into the sea if you feel you need to cool off, or grab a cocktail and just relax onboard, with the best party-company out there, as we are just getting started!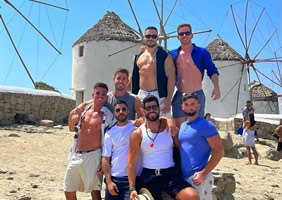 Day 4 - Syros - Mykonos
This is the day! We leave Siros and head to our trip's main highlight, Mykonos!
The stunning aesthetic hits you in between the eyes, and the island's aura is just exceptional. Mykonos is literally packed with high-end shops and stores, worldwide famous clubs and bars and it is the dream of every young person who loves to socialize, party and dance!!
The island of winds, as Mykonos is called, is particularly picturesque with stone-paved alleys, whitewashed houses, country chapels and windmills that ooze calmness and peace!
Before you reach the mainland, enjoy a swim-stop at Rhenia and get ready to experience a combination of, on and off-boat parties, that will make up for a day you will remember for sure!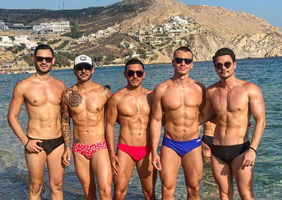 Day 5 - Mykonos
On the fifth day, we will see all the great aspects of this beautiful Aegean Island, as we will roam around its Island complex while partying non-stop!
We will make a couple of private stops, where we will create some moments and after all the "celebrations" we anchor at some cove, where we will make it for the night!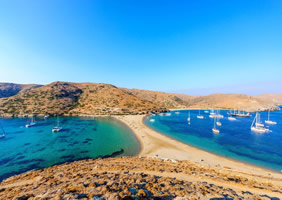 Day 6 - Mykonos - Kythnos
For the sixth day, the plan is to leave Mykonos and travel to Kythnos.
On our way, we will stop at Kolona beach for a relaxing swim and some sunbathing.
The Island's name derives from the ancient Greek word "Kefthemon", meaning a dim place to hide, since Kythnos was chosen by many as a hiding place from intruders and pirates of nearby settlements, during old days!
Kythnos is also well known, for its great local Greek seafood!
Of course, during our stay at Kythnos, we will make it count, as we will be stopping at different coves, during the day, just to have even further fun!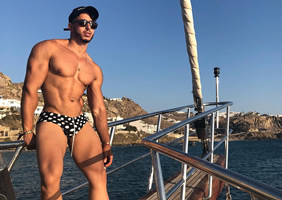 Day 7 - Kythnos - Athens (Lavrion)
After Kythnos, we slowly start to end our trip, as we sail back from where we initially departed from, Laurium!
We arrive at the port, early in the afternoon, though the fun does not stop there, as we have one remaining night to create our last moments!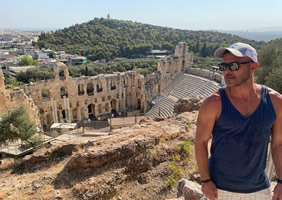 Day 8 - Athens (Lavrion) - Departure
As we have successfully cruised, to and around Mykonos, this is our departure day...
We say goodbye to each other, exchange info with the ones we got close to, take some last photos, head back, or spend few more days in Athens!
Hopefully, though, we will see you again. Maybe next year? Until then, we wish you all the best!
The Mykonos Gay Cruise itinerary is subject to change dependent on weather conditions, difficulties at docking or unforeseen circumstances. This decision will be made solely at your captain's discretion, based on the safety of guests and the ship.